Cauliflower Rice Stuffing
This Cauliflower Rice Stuffing is perfect for a Keto Thanksgiving or Keto Christmas side dish!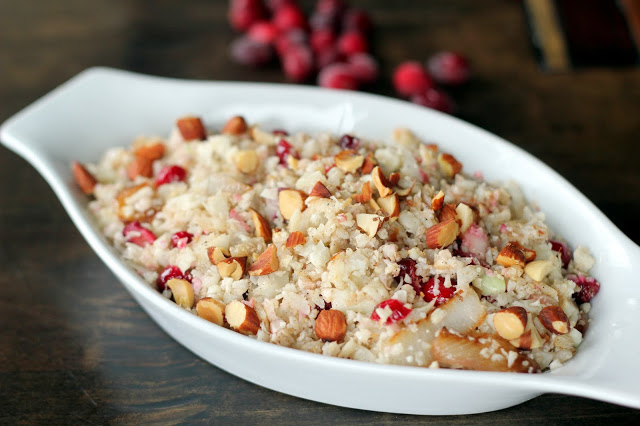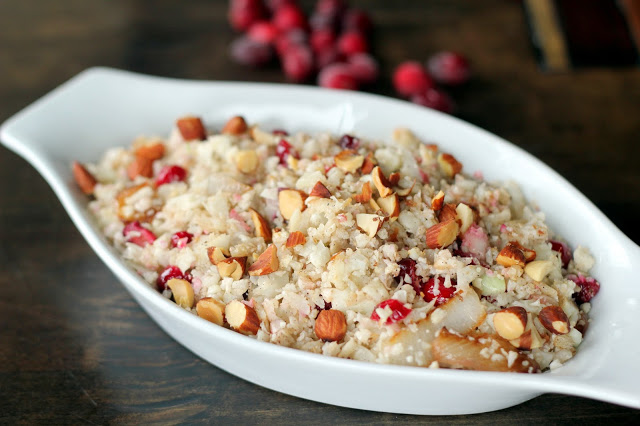 1/2 cup slivered almonds
1/4 cup Kettle and Fire chicken or beef broth
4 cups cauliflower, into rice
3 TBS butter or coconut oil
3 onions, sliced
1 TBS Swerve
1/2 cup cranberries
2/3 cup fresh sliced mushrooms
1/2 tsp orange zest
Celtic sea salt and pepper to taste
Rice: Place cauliflower flowerets in a food processor (click HERE to find the one I love on sale for $30!). Pulse until small pieces of "rice." Heat the oil in a medium saucepan over medium heat.
In a medium skillet, melt butter over medium-high heat. Add onions and sweetener. Saute until butter is absorbed and onions are translucent and soft. Reduce heat, and cook onions for another 20 minutes, until they are caramelized. Stir cranberries and mushrooms into the skillet. Cover, and cook 10 minutes or until berries start to swell. Add in the cauliflower rice and broth to simmer until cauliflower is tender (about 5 minutes). Stir in almonds and orange zest. Salt and pepper to taste. Makes 6 servings.
NUTRITIONAL COMPARISON (per serving)
Traditional Harvest Rice = 273 calories, 11g fat, 5g protein, 42 carbs, 4.4g fiber
"Healthified" Harvest Rice = 153 calories, 10g fat, 5.6g protein, 11.9 carbs, 4g fiber


If you would like to help out a small family, rather than a large business, I am happy to announce that you can now get my books as a high-quality ebook that works on any platform. This is an ebook format that works on any computer or mobile device. It is a beautiful pdf that has all the full-color pages and layouts as the printed books with the clickable table of contents and searching capabilities. This is extremely useful when trying to find a recipe. These books are much higher quality than the ebook platforms (kindle, apple). Plus, most of the profits don't go to Amazon or apple! Just go here to get your copy!
Just Click HERE or select "My Books" above to get your copy now!
Thank you all for your love and support!
Testimony of the Day
"When I began my journey with you I was size 3X. I had terrible mood swings and depression. I was diagnosed with autoimmune diseases such as fibromyalgia, idiopathic thrombocytic purpura (I.T.P.), osteoarthritis, and asthma. I had fatty liver disease, high blood pressure, eczema, rosacea, skin tags, and migraines.
I am now an extra-large, I have no depression or mood swings. Though there is no test to prove it, I feel I no longer have fibromyalgia. I no longer use inhalers for asthma and I feel that has disappeared too. The damage from osteoarthritis, unfortunately, cannot be reversed. My low blood platelets from the I. T. P. use to average a count of 30, 000, and now sit between 70 and 80, 000. My iron count averaged around 2 or 3 and I use to get infusions every 6 months. I now average a count of 10 and haven't had an infusion in over 18 months.
A recent ultrasound shows my liver is now normal. My blood pressure is stable. Skin tags are gone, eczema flare-ups are rare and my rosacea is better. Migraine headaches are a thing of my past. I haven't had a cold in over two years. I have removed 90% of prescription medications from my medicine cabinet. Nobody can convince me that this is a coincidence. I believe 100% there is health benefits to this way of eating." -Terri
If you too want to start healing your body, click HERE for a consult. With the right diet and supplement plan, you can feel like a new person!
BABY ACID REFLUX 
Sadly, parents often think that rice cereal is the first food to introduce to a baby. Dr. David Ludwig of Children's Hospital Boston, a specialist in pediatric nutrition, says some studies suggest rice and other highly processed grain cereals actually could be among the worst foods for infants. Babies don't even produce the enzyme amylase, which is the essential enzyme for breaking down starch. The baby's small intestine basically only produces one enzyme for starch, lactase; which is for the digestion of lactose. Feeding grains too early will cause food allergies later on in life because the protein in the grains sit in the stomach too long. This will cause the baby to have acid reflux.
"The number one ingredient in what we call rice 'cereal' is processed white rice flour. That's all the rice there is. There are also some vitamins and minerals sprinkled in that babies could easily get in other ways. These don't make this gateway junk food healthy … Metabolically, it's not that different from giving babies a spoonful of sugar." Stanford-based pediatrician Dr. Alan Greene.
SO, parents desperately go to the doctor for help; most likely putting the baby on acid blockers. This is the WORST thing to do because the stomach is a very acid environment with a pH at 2 or less. Stomach acid is essential to absorb vitamin B-12 and minerals that allow you to release hormones from the pancreas, without which can lead to the development of diabetes.
Stomach acid also helps breakdown protein. When you don't have stomach acid to breakdown food, undigested proteins sit like a rock in the intestines. This slowly eats holes in your intestines and this inflammation begins a detrimental snowball effect. When you start to have holes in your intestines, food starts to leak into your bloodstream (leading to leaky gut syndrome). This is awful because the immune system goes into overdrive to kill the unknown substances in the blood…NOW we have food allergies! So if you are feeding the baby grains and cow's milk, they will most likely develop a wheat and dairy allergy…oh boy!
There has recently been a 16X increase in the use of acid reflux medicine in infants. Even though a study showed that there was no difference in infants from a placebo! When families eliminate common allergens such as dairy, soy, and wheat from the baby's and breastfeeding mother's diet, by day 3 or 4 the infants no longer suffer from acid reflux. This means a total elimination! Not just the 80/20 rule. It takes a lot of commitment from the family, but it is well worth the effort.
Milk-based formulas often cause allergies while soy-based formulas contain growth inhibitors, mineral blocking phytic acid, and plant forms of estrogens that has adverse effects on hormonal development. Soy formula is also devoid of cholesterol which is essential for the brain (our brains are 60% cholesterol!) and nervous system.
If you have a child or YOU are suffering from acid reflux, click HERE for natural supplements to heal your gut. Please contact me for a consult for additional help!