CAULIFLOWER GRATIN
Cauliflower is such a versatile veggie! This Cauliflower Gratin is perfect for keto Thanksgiving or Keto Christmas!
You can use it for so many things! Inflammation is the stem of all diseases. One question or complaint is why can't I eat "normal?" Sure, there are people who can eat potatoes and rice and pasta and not be overweight, BUT this doesn't mean they are healthy. I have had a handful of clients who were female, 115 pounds, and had very high blood sugar levels and had to be put on insulin. Not only should diabetics and people who want to lose weight limit carbohydrate intake, everyone should. We are all, in an evolutionary sense, predisposed to becoming diabetic. So I want to step you through how fat is stored, but more importantly, this is how we become at risk for diabetes and heart disease:
1) After you eat excess carbohydrates, blood glucose stays higher longer because the glucose can't make it into the cells of the muscles. This toxic level of glucose is like tar in the bloodstream clogging arteries, binding with proteins to form damaging AGEs (Advanced Glycated End-products) and causing inflammation. This high level of glucose causes triglycerides to go up, increasing your risk for heart disease.
2) Starch and sugar get stored as fat (remember starch is just glucose molecules hooked together in a long chain; the digestive tract breaks it down into glucose… so a sugary and a starch diet are the same things!). Since the muscle cells aren't getting glycogen (because they basically have a crust over the cells and are considered "resistant"), and since insulin stops the production of the fat-burning enzyme lipase, now you can't even burn STORED fat! So workout all you want, if you continue to eat oatmeal before your workouts, you will never be a fat-burner, you will remain a sugar-burner and you continue to get fatter until eventually, those fat cells become resistant too.
3) If that isn't bad enough, I have more bad news…Insulin levels continue to stay high longer because the pancreas mistakenly believes "if a little is not working, more is better." NOT GOOD. Insulin is very toxic at high levels, causing cellular damage, cancers, plaque build-up in the arteries (which is why diabetics have so much heart disease) as well as many other inflammation issues such as nerve damage and pain in the extremities. Starch and sugar destroy nerve tissue, causing tingling and retinopathy, which causes you to lose your eyesight.
4) Sorry, but I have more bad news…Our cells become so damaged after a life of cereal and skim milk for breakfast that not only does insulin resistance block glucose from entering muscle cells; the crust we have formed over our cells also blocks amino acids from entering. Amino acids are the building blocks for our muscles that are found in protein. So now you can't even maintain your muscles. And if that isn't bad enough, our muscles become cannibals because your body thinks there's not enough stored sugar in the cells, so they send signals to start to consume valuable muscles to make more glucose (sugar)! You get fatter and you lose muscle.
5) Instead of feeling energetic after you eat, you are tired, and you crave more carbohydrates and since you have less muscle, exercise is getting too darn difficult, and the sad cycle continues.
6) But there is even more bad news… thyroid disorders also happen too. When your liver becomes insulin resistant, it can't convert thyroid hormone T4 into the T3, so you get those unexplained "thyroid problems", which continue to lower your energy and metabolism.
If you don't want this to happen, there is good news! Here are some ways to avoid all of this:
1) Lower your carbohydrates. Not only for you but your kids too! So they don't end up so insulin sensitive like we are!
2) Exercise! Even walking after meals. Moving has a major impact on improving insulin sensitivity since muscles burn your stored glycogen as fuel during and after your workout.
Here is a partial sample of my charts in my books and cookbooks.
Potato Substitutions (Per Cup)

FOOD

Rate

Carbs

Sugars

Fiber

Calories

Potato

Bad

28

2

4

116

Sweet Potato

Bad

27

6

4

114

Cauliflower

Best

3

1

1

28
Rice Substitutions (Per Cup)

FOOD

Rate

Carbs

Sugars

Fiber

Calories

White Rice

Bad

53

0

0

242

Brown Rice

Bad

46

0

4

218

Quinoa

Bad

39

0

5

222

Wild Rice

Bad

35

1.2

3

166

Cauliflower Rice

Best

3

1

1

28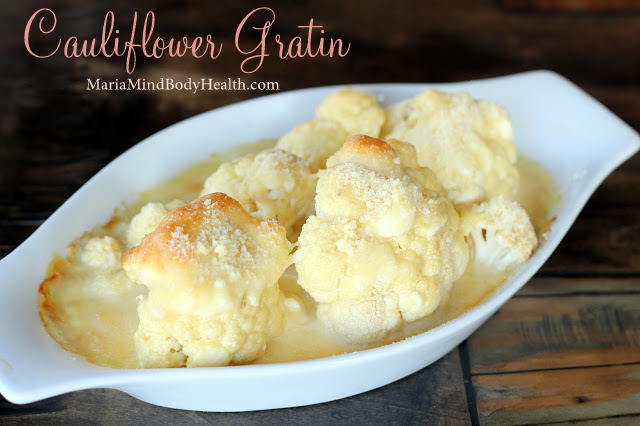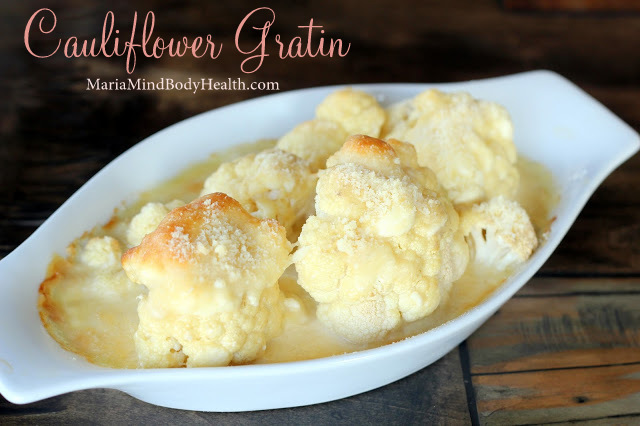 Craig had this wonderful dish at a restaurant while in Chicago. I thought it would be a great addition to Thanksgiving dinner!
NOTE: If you would like to make this dairy-free, use soft goat cheese in place of the cream cheese and use hard goat cheese in place of the fontina and cheddar cheese.
"HEALTHIFIED" GRATIN
2 large heads cauliflower, cut into 1-inch florets
4 TBS butter or coconut oil (divided)
1 tsp Celtic sea salt
2 tsp dry mustard
1 cup Kettle and Fire chicken or beef broth
3 ounces cream cheese (or soft goat cheese)
2 cups freshly grated fontina cheese (or other soft white cheese)
2 cup freshly grated sharp cheddar (or hard goat cheese)
Freshly ground black pepper, to taste
3 TBS freshly grated Parmesan cheese (if desired)
OPTION 1: Preheat oven to 400 degrees and line a baking sheet with foil. In a large bowl, combine cauliflower, 2 TBS melted butter, salt, and toss to combine. Place on a baking sheet and roast until the desired degree of tenderness (about 10 minutes for crisp-tender, 20 for very tender). Remove from oven and place cauliflower in a gratin pan. (I liked this way better because I love the "caramelized" flavor cauliflower can have).
OPTION 2: Bring a large pot of chicken broth to a boil. Place cauliflower in the broth and boil for 5 minutes or until tender. Remove from heat and strain the cauliflower well. Place in a gratin pan. (Craig liked this way better because it was a soft and tender cauliflower that reminded him of a potato).
Meanwhile, in a medium saucepan over medium-low heat, melt 2 TBS butter. Whisk constantly until starting to lightly brown, about 2 minutes, and slowly add chicken broth and cream cheese. Once completely combined, add shredded cheese and stir to combine until smooth.
Pour cheese mixture over top of the cauliflower, sprinkle Parmesan cheese on top if using, and place in the oven on the middle rack. Turn broiler on low and cook until cheese sauce bubbles slightly. Remove from oven and serve immediately. Serves 8.
NUTRITIONAL COMPARISON:
Using Potatoes: 499 calories, 49.3 carbs, 4.4 fiber
Using Cauliflower: 332 calories, 3.8 carbs, 1.7 fiber
Testimony of the Day
"Maria, it's amazing – after just one day on the supplements no bleeding or pain during and after #2 for the first time since August! Thank you :)"
To get started on your path to health, click HERE. 
Another Client Testimony
"Hi, Maria! I have to tell you about a recent doctor's visit. I told my doc that I'd started working with a nutritionist (you) and changed my diet rather dramatically and he asked a bunch of questions about it. I told him that I completely eliminated both sugar and grains. He seemed really pleased about that and kept asking questions. I told him that he may be horrified by this, but I added way WAY more fat into my diet. He said that he wasn't horrified at all, and really pleased to hear it. Then he looked through my chart and told me that I'd lost about 13 pounds since the last time I'd been in (maybe a year ago). We decided it would be good to get some blood work done at this time, just to see where I compare to my last blood workup.
He left a rather long-winded message on my cell phone last night, and suffice it to say, he was waxing lyrical about my results. He said they were really, really great all around. Even my thyroid labs which had been a problem in the past. He ended the diatribe by saying that with regards to my cholesterol, he joked that he was going to hang the results on the wall to let everyone gawk at. haha! -MJ"