Carnivore Pizza Crust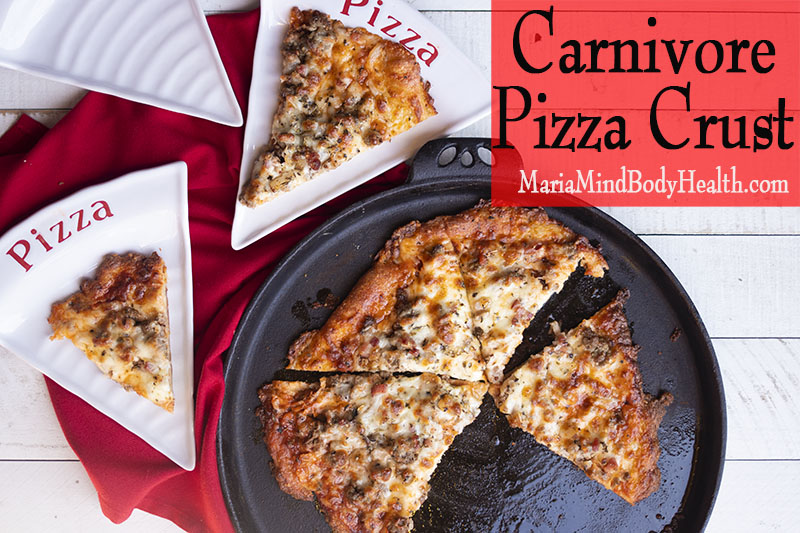 The Fat Head Pizza crust has been a craze in the keto community. I love that people are getting off grains and finding new ways to enjoy their favorite foods like pizza!
For me though, I do not eat nuts or nut flours since they always kept me back from losing weight. This is why most of my books are NUT free! I have many books that are nut free (and some nut and dairy free too such as The 30 Day Ketogenic Cleanse, Easy Dairy Free Ketogenic Recipes AND my Protein Sparing Modified Fast Cookbook) to help people be successful on the ketogenic diet.
I have a few nut free pizza crust recipes but my husband Craig wanted a crispier pizza crust that reminded him of our childhood of growing up in Medford, Wisconsin which is where the first frozen pizza started! Tombstone pizza! It started in a bar located across the street from a graveyard. My dad worked at the bar making pizzas for his friend who owned it. When the pizzas started to get popular, my dad's friend asked him if he wanted to be a part of the business. He politely said no, since my grandpa owned a plumbing and heating business and my dad always knew that he was destined to be a plumber (which he is to this day, as are my brothers). But it does make me think of the "butterfly effect" and how my destiny could have been different if he had said yes! I'm happy he declined, though—not only because I love my job, but also because I know how to fix plumbing and lay in-floor heating!
Anyway, growing up in Medford meant we ate Tombstone pizza all the time! Even at school lunches! They usually gave us the pizzas that had deformities but they still were delicious!
This pork rind pizza crust is like the Fat Head dough, but instead of using almond flour, I used ground up pork rinds (or pork panko) to make it into a Carnivore Pizza Crust. One of my recipe testers said it tasted like a cheezy cracker crust! YUM! It is SO good, I am making a triple batch of Carnivore Crust dough and I am going to make my own frozen pizzas for easy dinners!
So this recipe Carnivore Pizza Crust is dedicated to my love, Craig Emmerich. I hope you enjoy!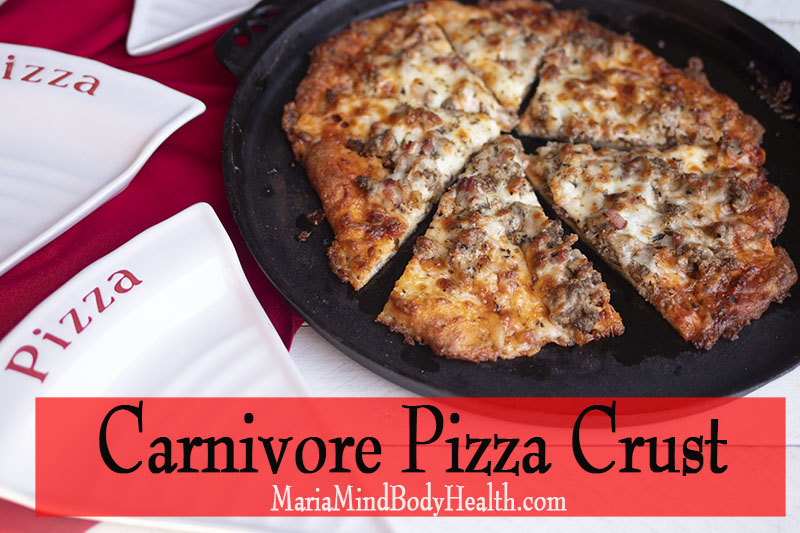 If you want to watch us make this delicious pizza crust, subscribe to our new YouTube Channel to get updated when the video comes out which will be in a day or two, and comment below on what video recipe we should make next!
Carnivore Pizza Crust
Ingredients
DOUGH:
1 3/4

cup

shredded mozzarella cheese

2

tablespoons

butter or cream cheese

3/4

cup

powdered pork rinds

Pork Panko

1

large

egg

1/8

teaspoon

Redmond Real salt
OPTIONAL TOPPINGS:
Marinara Sauce

or a carnivore sauce

Favorite Pizza Toppings
Instructions
If you have a pizza stone, place it into the oven. Preheat oven to 425 degrees F.

To make the dough, place the mozzarella and the butter in a heat safe bowl and microwave for 1-2 minutes or until the cheese is entirely melted. Stir well.

Add the powered pork rinds, egg and salt and using a hand mixer, combine well.

Put the dough on the greased piece of parchment paper on a flat baking sheet and pat out with your hands to make a large round circle.

If you are using a pizza stone, transfer the pizza on the parchment and slide it onto to the hot pizza stone in the oven by sliding the parchment and pizza from the baking sheet onto the stone. Bake for 5 minutes or until the crust starts to get a little golden.

Remove from oven. Spread pizza sauce all over the top of the crust and mozzarella cheese and your favorite toppings.

Bake the pizza until the cheese is melted, about 10 minutes.

Store extras in an airtight container in the refrigerator for up to 3 days. Reheat slices on a baking sheet in a preheated 350°F oven for 5 minutes or until warmed through.
Nutrition
Calories:
186
|
Fat:
14
g
|
Protein:
16
g
|
Carbohydrates:
0.1
g
|
Fiber:
0
g
|
P:E Ratio:
1.1
TESTIMONY OF THE DAY
"Hi Maria, Thank you for the Protein Sparing ebook! I finally busted thru my stall by doing the protein sparing fast info. The recipes are really delicious too! Under 200 pounds again :)"
Most people I consult are doing keto totally wrong. Get fast results with the my NEW Keto Packages!