Testimony of the Day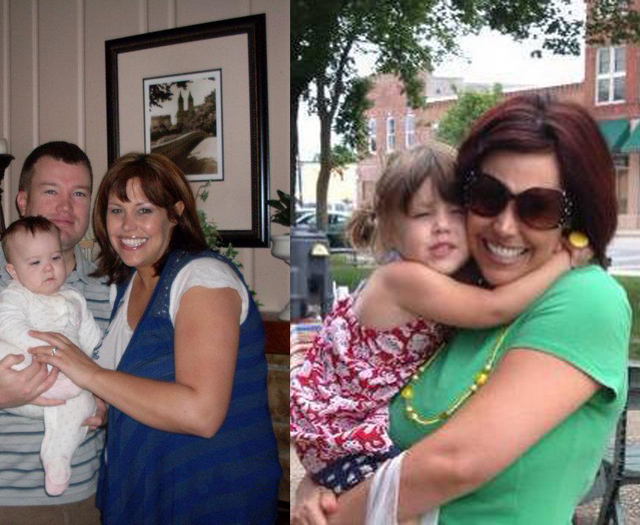 "Dear Maria,
A year and a half ago I met with a doctor and found out I had a huge list of health issues….
Adrenal fatigue
Digestive problems
Severe candida
Horrible migraines
… And several other problems as well. To top off the list, I found out that I was also expecting my fourth baby (my oldest was only three at the time) my body was sick, depleted, and tired. Then I found you!
I purchased your health assessment and meal plans. I followed your guidelines carefully.
With lOVE, JG"
If you want to get started on your after photo, click HERE. Don't wait another day!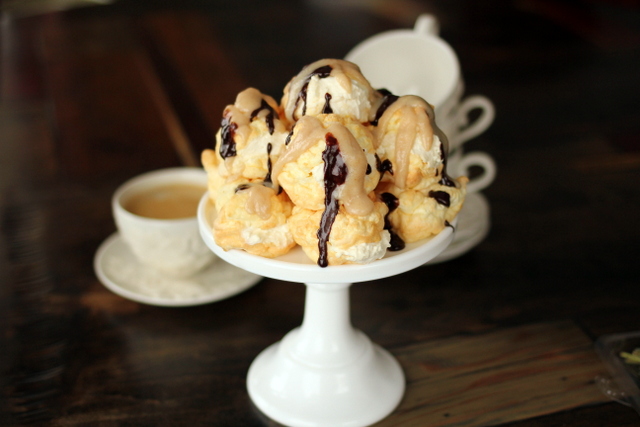 These are a fun dessert to serve when you are in a pinch! I made the puffs a week ahead of time and kept in the freezer. I also made the caramel a few days ahead. All I had to do was whip some fresh cream fill the puffs and top with caramel.
PUFFS:
9 eggs, separated
2 TBS Swerve confectioners
Preheat oven to 300 degrees F. In a bowl, whip egg whites with cream of tartar until peaks are very stiff (about 5 minutes). Slowly mix in whey protein. In separate bowl, blend cream cheese and stevia. Slowly add the cream cheese mixture into the stiff egg whites. (Save yolks for a different recipe:) Grease a cookie sheet or a medium size muffin tin. Bake for 20 minutes (or until golden brown). Remove pans from oven and let cool on a cooling rack. Once cool, use a knife to cut a small hole in the puffs to insert the cream filling.
Cream Filling:
1 cup heavy cream (or Kite Hill cream cheese with 2 tablespoons cashew milk if dairy free)
4 TBS Swerve confectioners (or to taste)
Whip the cream until very fluffy, then slowly add in the sweetener to your liking. Place in a large Ziplock bag, cut a small hole in the corner and use to fill the puffs.
CARAMEL SAUCE:
1 cup Swerve confectioners (or xylitol)
6 TBS organic butter
1/2 cup organic heavy whipping cream
Before you begin, make sure you have everything ready to go – the cream and the butter next to the pan, ready to put in. (If you are using Xylitol click HERE for directions). If you don't work fast, the sweetener will burn. Heat butter on high heat in a heavy-bottomed 2-quart or 3-quart saucepan. As soon as it comes to a boil, watch for specks of brown (this is brown butter….SO GOOD on veggies!). Immediately add the Swerve and the cream to the pan. Whisk until caramel sauce is smooth. Let cool in the pan for a couple minutes, then pour into a glass mason jar and let sit to cool to room temperature. Store in the refrigerator for up to 2 weeks. Use to drizzle all over the cheesecake just before serving. You can also top with "healthified" chocolate. Makes 24 cream puffs.
Nutritional Comparison (per 2 puffs with 2 TBS caramel sauce):
"Traditional" Recipe: 335 calories, 30 carbs, 0.5 fiber
"Healthified" Recipe: 195 calories, 3 carbs, 1.5 fiber
Here is a video showing how to make the caramel sauce! 
Making Caramel from Maria Emmerich on Vimeo.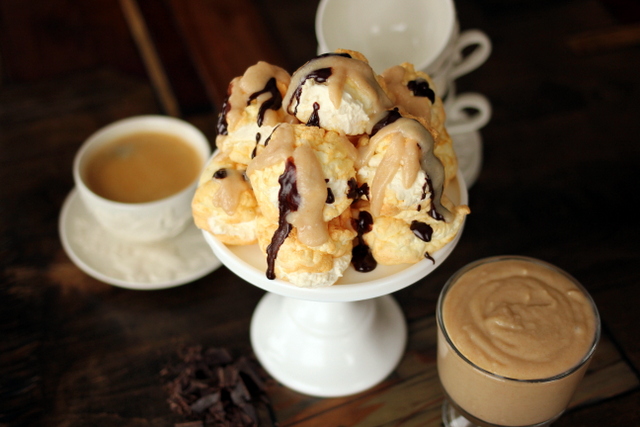 Another Awesome Testimony of the Day
"I'm officially down 28 pounds since November 12th. I couldn't be more ecstatic and proud to actually say those words. 28 lbs …. seems like a dream. The best part is I've gone from a size 10/12 to a 4!!! I couldn't believe it. I don't recall the last time I was a 4. And I feel amazing. So thank you for all of your support, advice, returned emails, etc. I couldn't have done it without you and I tell everyone I about your books and services!!" – Tera
Transform your life with my 30 day meal plan package like Tera did! Click HERE to get started!