TESTIMONY OF THE DAY
From a phone client who is a bodybuilder and was stuck at a plateau:
"Good morning!! I have great news!! Even though I am still waiting for the results from my blood work I weighed myself this morning and I lost 3.5 pounds since Wednesday!! I don't know why I wasn't losing weight before I haven't changed anything. I have been feeling great too, I don't think I've had anxiety at all this past week!! Thank you!!" Jessica
If you want to get past your plateau, click HERE to get started!  You deserve it!
MY TESTIMONY
When my dog, Teva, started losing her hair in patches, the first thing my veterinarian asked me was, "What are you feeding her?" Yes! What a good question! But you know what? I have never been asked that question at the doctor. Not once. Not even when I was a teenager suffering from IBS and acid reflux. I was just given a prescription. Nothing frustrates me more than getting a Band-Aid for the symptoms and not addressing the underlying cause of my issues which is why this job is so important to me. I want people to start feeling amazing, eliminate migraines, get off cholesterol-lowering drugs, increase serotonin naturally, balance hormones to alleviate PMS. And do it with food and natural supplements so you can feel like a happy and healthy person I finally became after years of IBS, estrogen dominance and low moods.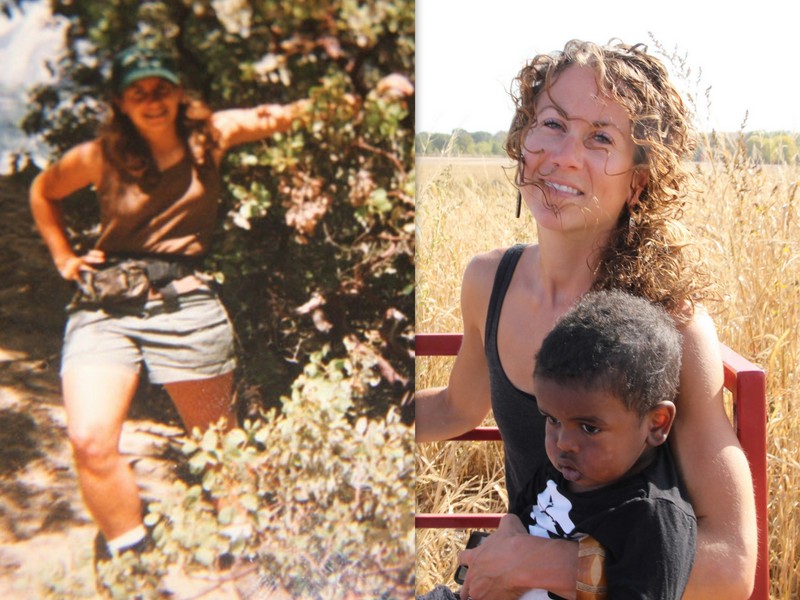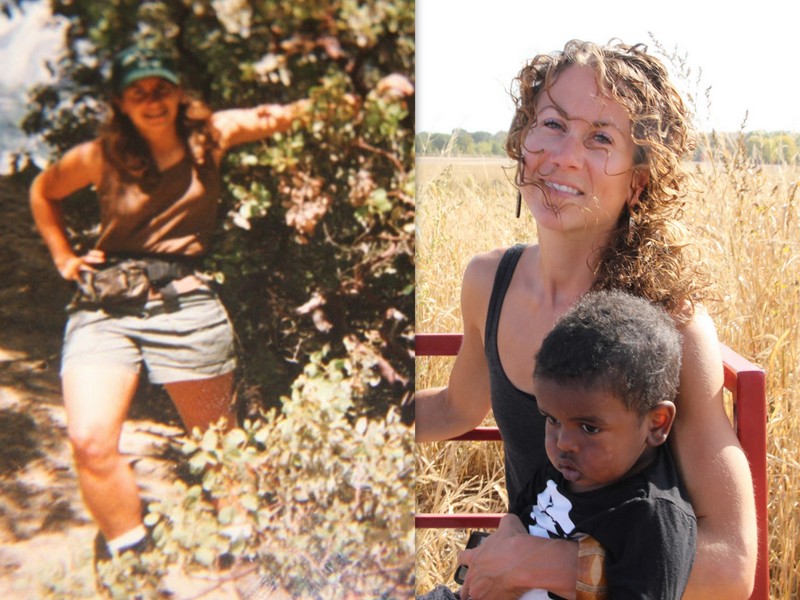 In my "before" photo, I was 15 years old where I was on a camping trip in Colorado. I already lost 12 pounds in this photo due to giardia (a parasite in the water), but you get the idea that at age 15 I was going down the wrong path. I decided enough was enough and I was like everyone and thought I needed a caloric deficit in order to lose weight. So I took up running. My love for movement and exercise did not come easily for me. Sure, I liked to play as a kid, but when it came to phys-ed, let's just say I wasn't the first kid picked to be on any team. I still remember when I was in middle school, pacing back and forth in my parents' yard and contemplating how to get out of the dreaded "mile run" that I had to do in phys-ed the next day. My anxiety about this was getting the best of me. I remember thinking how I could break my leg so I didn't have to run because if I were just to say that I was sick that day, the teacher would just make me run it the next week. I had to think of something more long term. Not wanting to actually break my leg, how could I fake a broken leg? All of these ridiculous ideas went through my head!
Eventually, I started to like running and I ran at least 11 miles daily and was still 150 pounds (at 5'2). I often ran in the morning and then another run in the afternoon. I also started training for marathons. What gives? I ate Special K with skim milk for breakfast and dinner, dried fruit for lunch, and still was too heavy for my frame. Sure, once the weekend hit, I was so hungry, I ate junk. It was impossible to balance my neurotransmitters and control my cravings on a diet like that!
As I learned more about nutrition, neurotransmitters like serotonin, and the ketogenic lifestyle, I started to switch my running to lifting weights and yoga. I do run a bit in the morning, but the neighbors all laugh at me because I am usually looking down at my phone answering emails! It is a relaxing run. 
I'm telling you about my exercise regime because I want you to realize that it is NOT about calories in and calories out. Albert Einstein's definition of insanity = doing the same thing over and over again and expecting different results, yet we all seem to be succumb to this lie. Our bodies are more complex than that. It isn't a simple answer. Our hormones and mitochondria determine our fat loss and fat gain. I want you to know that you do not have to kill yourself at the gym in order to lose weight. I certainly was sick of running all the time and living off of diet food like fat-free pretzels; which FYI, are higher on the glycemic index than jelly beans!
Anyway, my testimony is to help you feel encouraged and empowered to take control and understand that you deserve this and you do not have to live off of salads or live at the gym. If you are willing to take the time to prepare meals, even if they are slow cooker meals, you CAN do this! You deserve to feel amazing too!
I look forward to your "after" photos too!" – Maria
I love this little tea shop called The Tea Garden. They serve something called "Bubble Tea." The unique ingredient of Bubble Tea is tapioca pearls, but in this case, I used Miracle Rice.
Tapioca pearls are about the size of pearls and they have a consistency like gummy candy, but Miracle Rice creates the same gummy texture. The big difference is in the nutritional value. The carbohydrates in tapioca pearls are starch where Miracle Rice is made from fiber.
A typical "Bubble Tea" drink at The Tea Garden uses between 25 and 75 of these tapioca pearls, and each pearl contains 14 calories of pure starch. So that means that just the tapioca in the drink is hundreds of calories. And that's without the sugar! Most "Bubble Teas" range from 400 – 1000 calories, depending on the size and the ingredients.
Bubble Tea
Ingredients
6

large

egg yolks

1/2

cup

unsweetened almond milk

1/4

cup

Natural Sweetener

or erythritol and 1/4 tsp stevia glycerite

1/4

cup

butter

or coconut oil, melted

1

package

Miracle Rice

2

cups

steeped TEA of CHOICE

strawberry, chai, lemon, etc

1

teaspoon

strawberry extract

or vanilla, lemon, mango, etc
Instructions
Whisk egg yolks, almond milk, and natural sweetener in medium metal bowl to blend.

Slowly mix in the melted butter so the eggs don't cook unevenly.

Set bowl over saucepan of simmering water.

Whisk mixture constantly and vigorously until thickened and instant-read thermometer inserted into mixture registers 140°F for 3 minutes, about 5 minutes total (or coats the back of a spoon).

Remove mixture from over water. Stir in the Miracle Rice. Add in the steeped tea of your choice and extract.

Serve warm or chilled.
Nutrition
Calories:
185
|
Fat:
18.6
g
|
Protein:
4.3
g
|
Carbohydrates:
1.1
g
|
Fiber:
0
g
|
P:E Ratio:
0.2