Breakfast Asparagus
Breakfast asparagus, with bacon and eggs
I am sharing one of my favorite breakfasts…breakfast asparagus, with eggs and bacon, keep reading for the recipe.

Subscription Site NEW features for Platinum Members!
We are really excited about our new site.  It gives members tons of support, Q&A support, weekly webinars with Maria and Craig, tons of exclusive recipes and even the ability to make meal plans and grocery lists on your own!  We just added some great new features to the meal planner for platinum members. Check them out here:
Just CLICK HERE to sign up for these great features!
I'm all about quick and easy meals! That is how I have to roll, especially with homeschooling and keeping up with phone clients. That is why I love one-pot-meals!
This breakfast looks difficult, but it really isn't. All you need is one skillet, a few minutes and a tasty breakfast is served!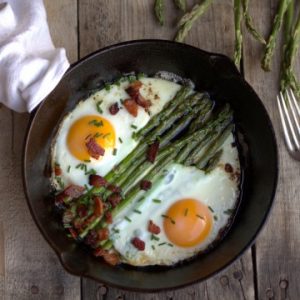 Breakfast Asparagus
Instructions
Trim the asparagus and discard the woody stems.

Heat the diced bacon in a cast iron skillet and cook on medium heat for 4 minutes or until crispy. Remove bacon pieces from skillet, leaving the drippings.

Add the asparagus to the hot pan and cook until asparagus is crisp tender, about 5 minutes (depending on how thick the asparagus is). Crack 2 eggs over the asparagus. Sprinkle with chives, salt and pepper.

Saute on medium-low just until whites are set and yolks are soft.

Add diced bacon and serve. Best served fresh.
Notes
Nutritional Information:
335 calories, 24g fat, 25g protien, 5g carbs, 2g fiber
Find more one-pot ketogenic recipes and multiple 30 day meal plans in my new book: Quick and Easy Ketogenic Cooking! It is also filled with video tutorial recipes!
Happy Eating and thank you for your love and support! 
My husband sent me this photo… I think Amazon doesn't understand ketogenic diets… I am listed as the #2 seller in "Low Fat" diet books! LOL!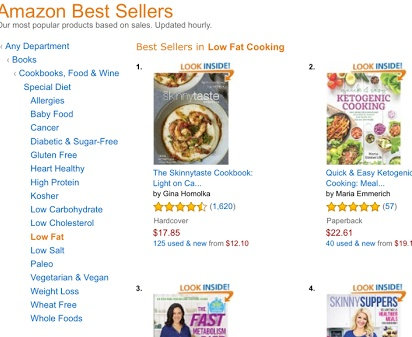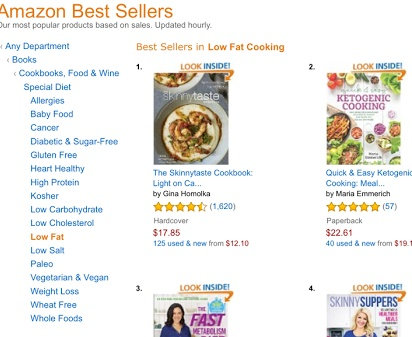 TESTIMONY OF THE DAY
Down 11 pounds in 8 days! Kyle is following my Advanced 30 day meal plans!
"Hi Maria, I just want to say a massive THANK YOU. I have been on your advance Keto 30, so far I have lost over 5kg my start weight was 91.5kg on day 8 I am down to 86kg, the food is amazing my family think I am silly eating this way. They have been on slimmers world for some time and lost a few stone. But I told them in never hungry and they eat all the time. I can't believe how good everything is going. Thank you again. " – Kyle
Click HERE to get your family started on the path to healthy healing!