PHOTO CONTEST OF THE WEEK
This week, post your favorite blog recipe of mine (either my photo or a photo of your finished product) on Maria Mind Body Health Facebook page and you could win one of my ebooks of YOUR choice!
Contest starts now! Good luck!
Photo of my boys enjoying my Easy Almond Joys!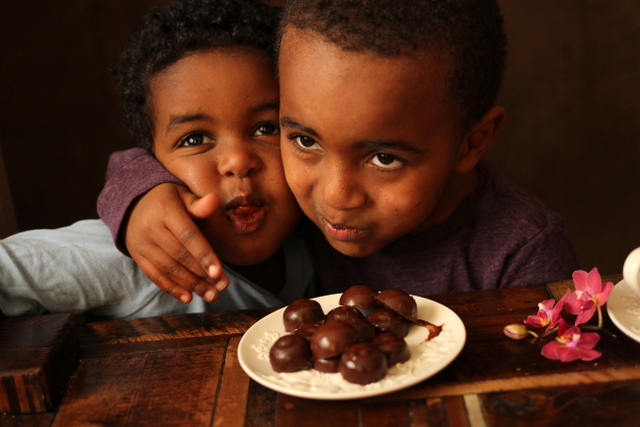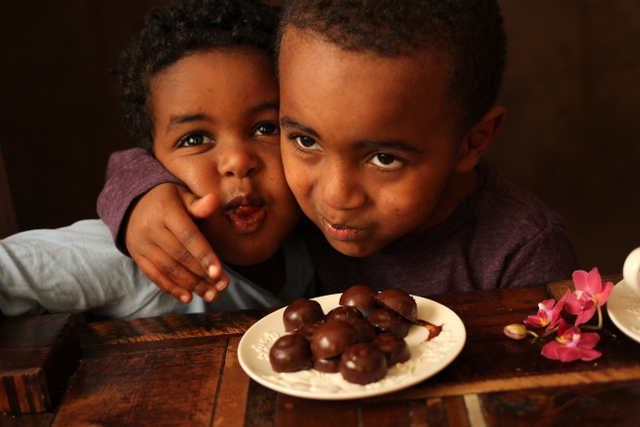 BABIES THRIVE IN KETOSIS
Breast milk is naturally very high in fat. If a newborn is breastfed, it spends a lot of time in ketosis and is therefore keto-adapted. Keto-adapted babies can efficiently turn ketone bodies into acetyl-coA and myelin. Ketosis helps babies develop and build their brains. Click HERE to read a great article about Babies in Ketosis.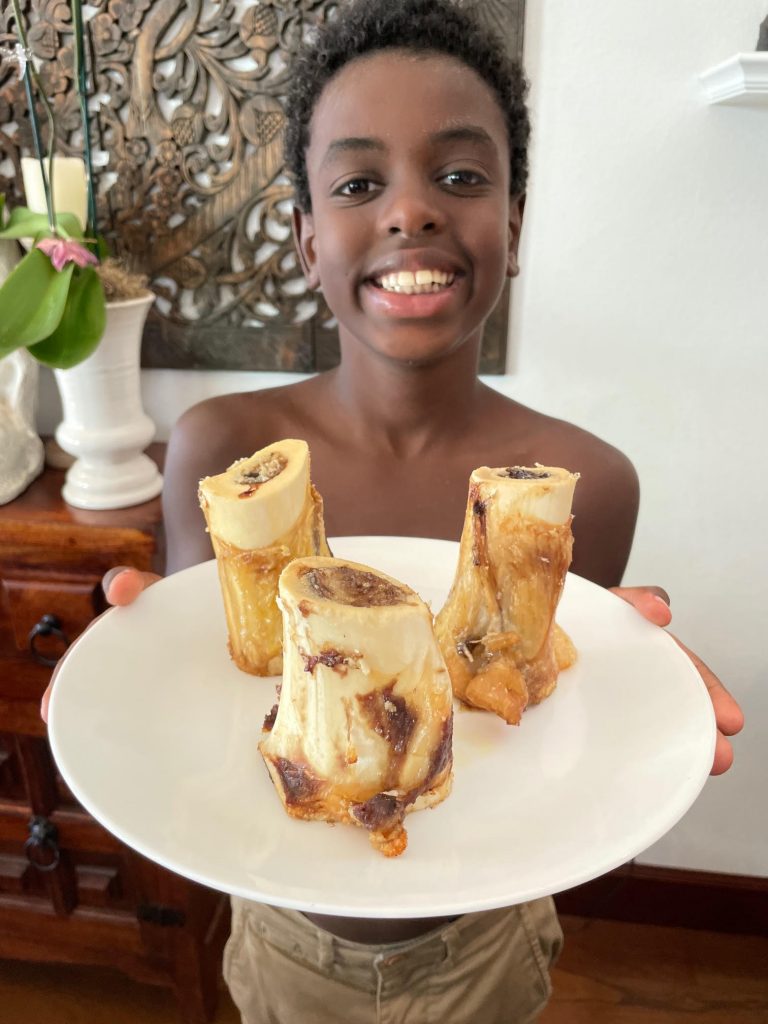 The lean human body is 74% fat and 26% protein (broken down by calories). Fats are a structural part of every human cell and are the preferred fuel source of the mitochondria, the energy-burning units of each cell. A fetus naturally uses ketones before and immediately after birth. Many studies done on pregnant pigs that are placed on ketogenic diets show fetuses with increased fetal brain weight, cell size, and protein content. In the early stages of pregnancy, there is an upsurge in body fat accumulation, which is connected to hyperphagia and increased lipogenesis. In the later stages of pregnancy, there is an accelerated breakdown of fat depots, which plays an important role in fetal development. The fetus uses fatty acids from the placenta as well as two other products, glycerol and ketone bodies. Even though glycerol goes through the placenta in small proportions, it is a superior substrate for "maternal gluconeogenesis." Heightened ketogenesis in fasting conditions, or with the addition of MCT oils, create an easy transference of ketones to the fetus. This transfer allows maternal ketone bodies to reach the fetus, where the ketones can be used as fuels for oxidative metabolism as well as lipogenic substrates.
Fat-soluble vitamins like A, D, E, and K which are essential in the formation of healthy fetuses. Full fat dairy is also filled with healthy cholesterol, but I do find some clients to be dairy sensitive. For those particular clients, I suggest finding other sources of saturated fats such as coconut oil and quality animal fats, seafood, egg yolks and bone marrow!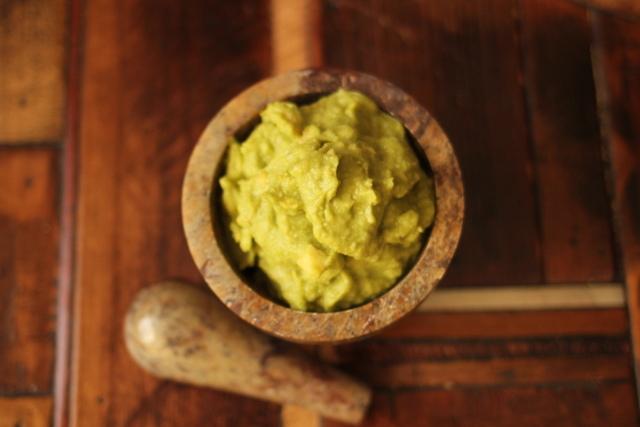 I know it sounds crazy, but this was one of the first foods I fed my boys when we brought them home from Ethiopia. If your kids aren't ready to eat bone marrow on their own, I suggest mixing it into chili, meatballs, meatloaf or make a puree of "baby food" by pureeing it with avocado. Here's to happy and healthy babies!
To read more tips on the benefits of a ketogenic diet, check out my book, Keto-Adapted.

Click HERE to get a limited edition of the Hard Cover.
Click HERE to get a soft cover.
Thank you for your love and support!
Bone Marrow or "Dog Bones?"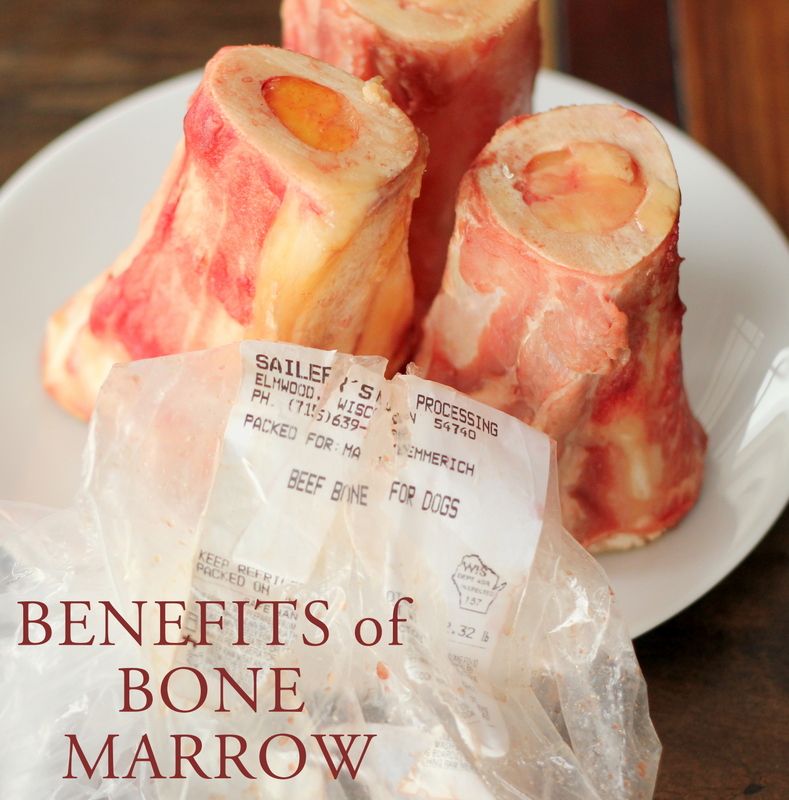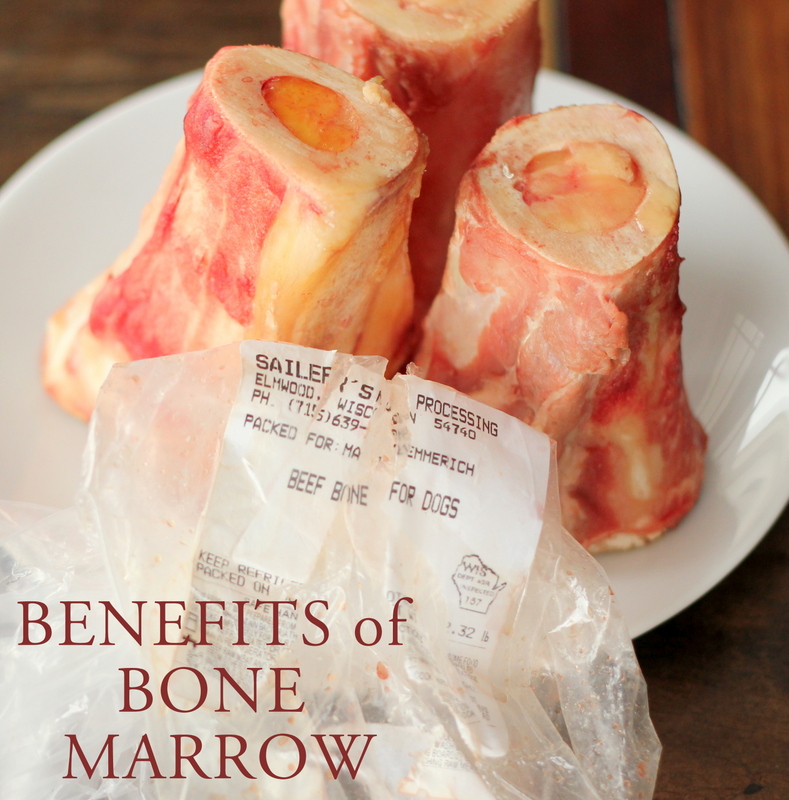 After I opened my package of marrow bones, I realized just how sad the label was. If you are familiar with Anthony Bourdain, author of Kitchen Confidential and host of the Travel Channel's television show No Reservations, would be so distressed if these marrow bones went to the dogs! This is his favorite meal!
I know that this meal may sound a little crazy, but let me list the ways why you should re-consider bone marrow:
1. Marrow is made of osteoblasts which form bone cells using minerals and it is also made of osteoclasts which are responsible for bone rebuilding.
2. Marrow is also made of adipocytes (fat cells) and fibroblasts which form connective tissue.
3. It is one of the only natural sources of K2 (which is different than K1). K1 is a blood clotter, K2 helps reverse artery calcification, reverse Alzheimer's, increases fertility and has anti-aging properties as well as many other healing properties.
4. Bone marrow is one of the best, densest source of fat-soluble vitamins.
5. It great high fat, moderate protein source for a keto-adapted diet.
6. Not to mention that the taste and creaminess is incredible! You can enjoy it right from the bone, spread on my Protein bread or remove the marrow and add it to a hearty stew or my Keto chili recipe.
To read more on the nutrients in meat, click HERE.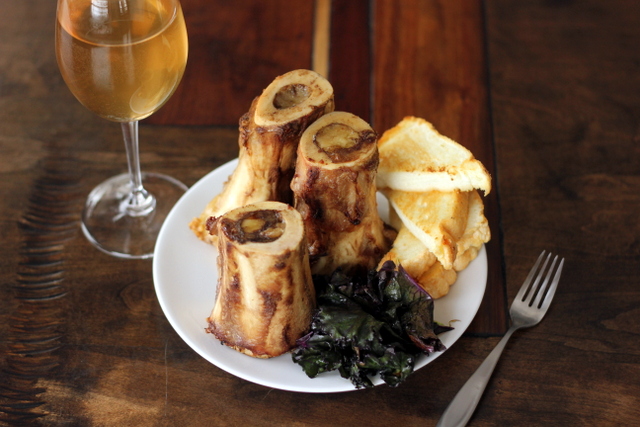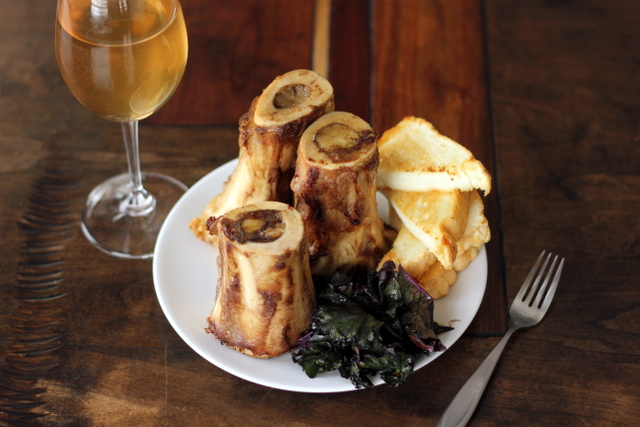 Served with sauteed red kale, Protein bread made into toast and a glass of iced Peach Tea.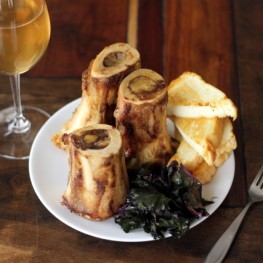 Bone Marrow and Craig's Testimony
Ingredients
6

marrow bones

4

slices

Protein Bread

2

glasses Peach Tea

served in wine glasses
Instructions
Preheat the oven to 450°F (230°C).

Rinse, drain and pat the bones dry.

Place them in a roasting pan.

If the bones are cut lengthwise, place them cut side up. If the bones are cut crosswise, place them standing up.

Roast for 15 to 25 minutes (this will depend on how large the bones are), until the marrow has puffed slightly and is warm in the center.

To test for doneness, insert a metal skewer into the center of the bone, there should be no resistance when it is inserted and some of the marrow will have started to leak from the bones. Serve marrow immediately with spoons and smear onto Protein Bread if desired.
Notes
NUTRITIONAL COMPARISON (per 1 ounce serving and 2 slices toast)
Traditional Marrow with Toast = 328 calories, 27.9g fat, 3g protein, 28g carbs, 1g fiber
"Healthified" Marrow with Protein Bread = 271 calories, 27.9g fat, 8g protein, trace carbs
(89% fat, 11% protein, 0% carbs)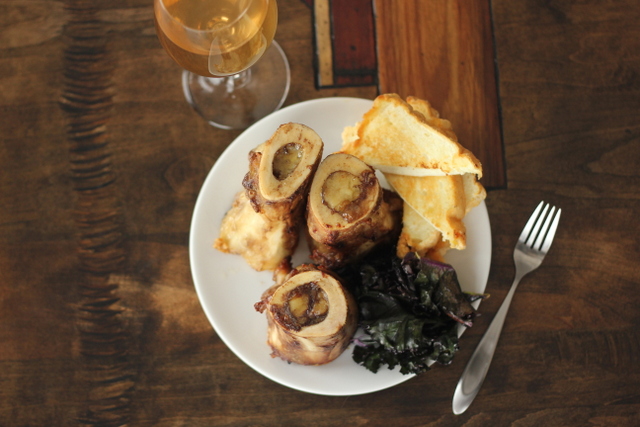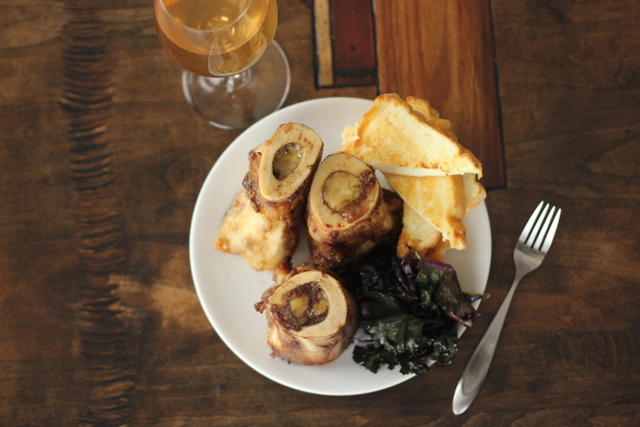 Testimony of the Day
"Hi Maria, You have been helping me get my life back by getting healthy. My main request was to help me get pregnant. Since starting your way less than 3 months ago I have lost 31 pounds and am off all my autoimmune disease medications. And today, I can tell you that I found out I am expecting. I am only a few weeks along and so I can't share with everyone yet but I owe you my gratitude. After a year long emotional journey, your way restored my body back to health." Carrie
Get started on your path to health today with the recently improved 30 day accelerated package! Now every day has calculations for percent of fat/protein/carbs. It has never been easier to follow the keto-adapted lifestyle.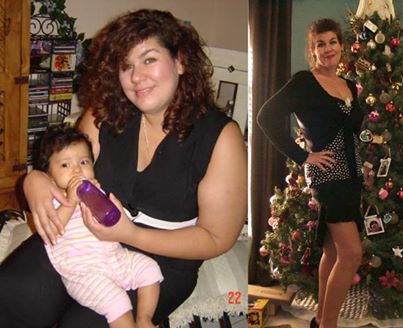 "This last year I lost 65 pounds (following  low carb-keto genic dieting, ) that I had diligently carried around with me since before I had adopted my two little girls, about 8-10 years.  The yo-yo dieting was rough and enough was enough!  Other than pre-menopausal symptoms, I had not really suffered from any ailments to speak of, but losing the weight has definitely helped me boost my self confidence and regain vigor again.  My skin is the best that it has ever been!  I am so very grateful that I have found Maria's site, and I am continually blessed when I read of other success stories and how ketogenic dieting has changed so many people's lives and health for the better.  I look forward to taking the last 10-15 vanity pounds off the Maria way, and indulging on all her yummy recipes! And dare say it, take up yoga on a regular basis! I posted one before and 2 most recent pictures from this years end. Blessings to all!"