Blue Moon Ice Cream
EXITING NEWS! I started a CLOSED Facebook group called KETO. This way you can ask keto questions or post recipes of mine that you made without your Facebook friends seeing your post. Click HERE to join!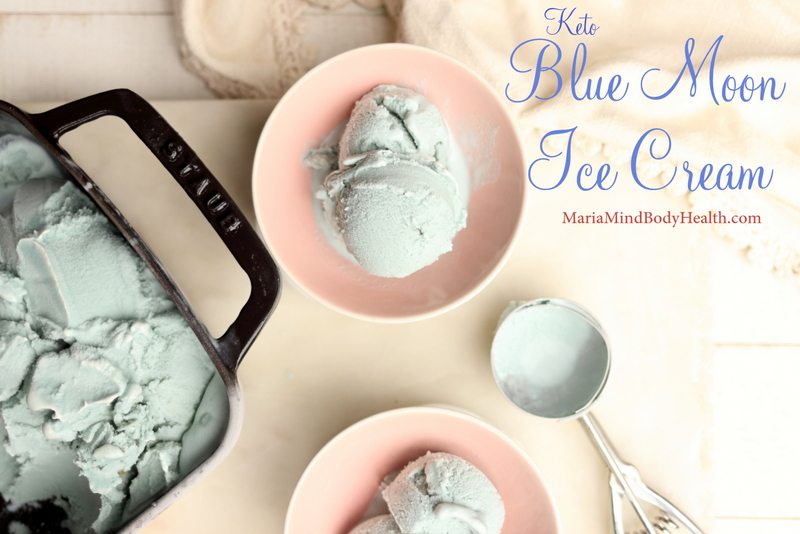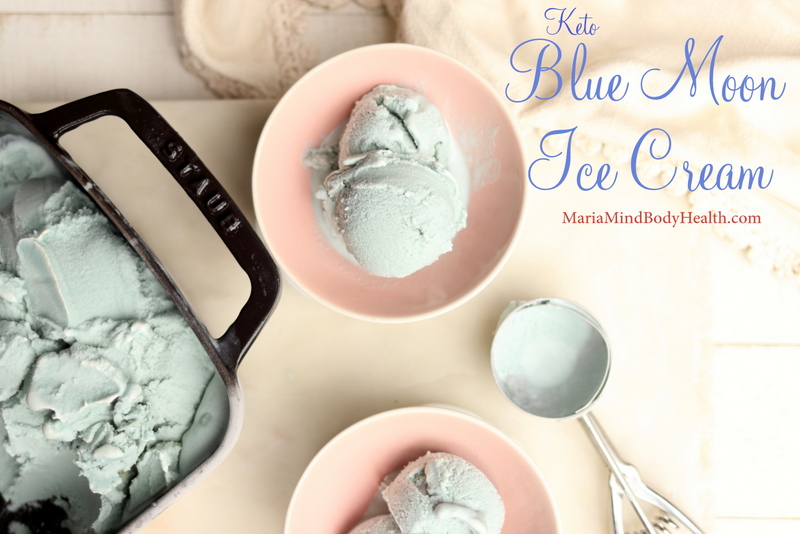 When I was a little girl I adored going to our little town of Medford Wisconsin and enjoying the 4th of July events along a cute river. Every year I would get a huge cone filled with Blue Moon Ice Cream. The Fourth of July was the only time I could get Blue Moon Ice Cream so on that day I savored every bite!
I had no idea what was in the delicious flavor of Blue Moon Ice Cream. It may have been the bright blue color that attracted me to the flavor, as well as the fact that my mom thought the flavor was disturbing and told me not to order it (even at a young age I liked to do the opposite of the "norm.")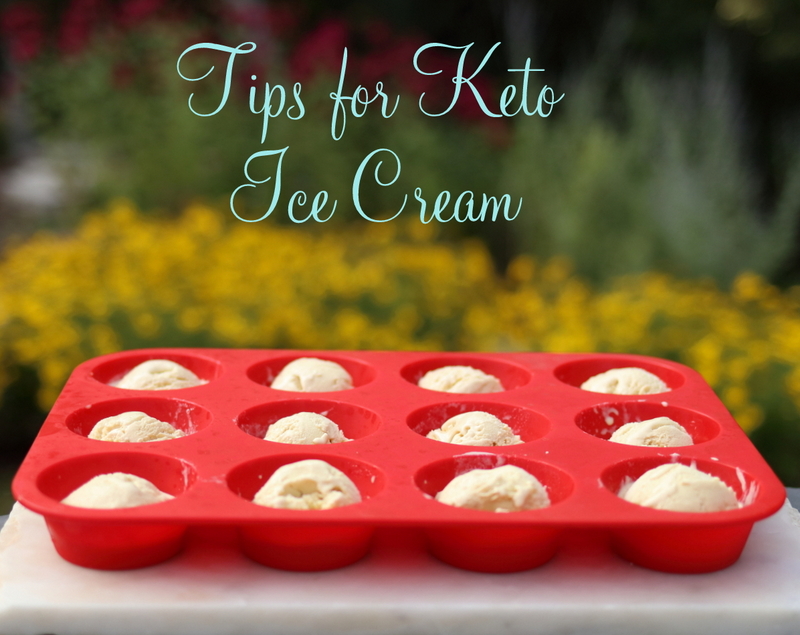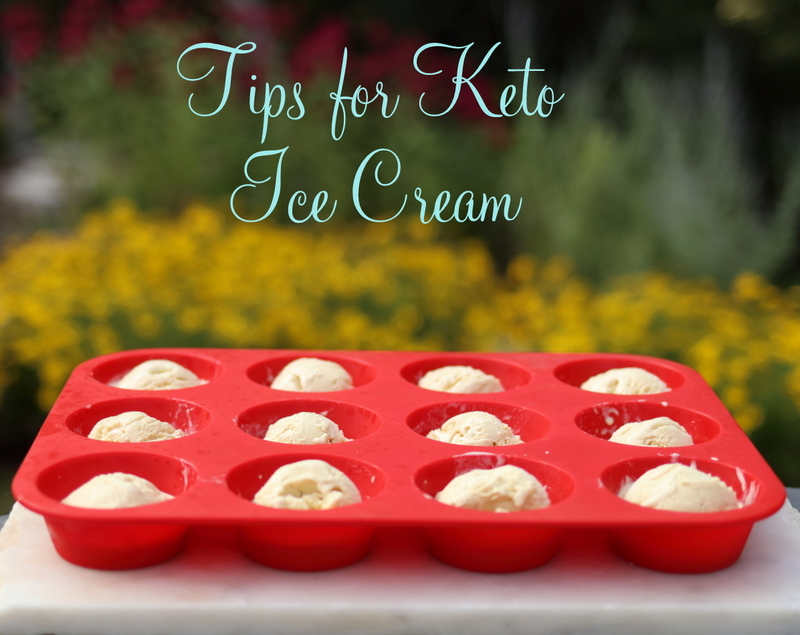 As I tested and tried this Blue Moon flavor of ice cream I discovered it was really quite easy! One thing that people complain about with low carb ice cream or Keto ice cream is that it hardens like a rock. I have a few tips to stop Keto ice cream getting too hard:
1. Add a pinch of salt: salt helps keep the ice cream soft. Salt also should be added to desserts! Click HERE to read why.
2. Use less Swerve (or erythritol): erythritol doesn't melt and instead it crystallizes which causes low carb ice cream to get hard. Plus when you blend sweeteners you get a better flavor profile. What I often do is use less Swerve and I use a few teaspoons stevia glycerite which is a non-bitter stevia which is a thick honey-like sweetener. Click HERE to find stevia glycerite.
3. Use Allulose instead! It keeps ice cream soft and tastes just like sugar yet it doesn't impact blood sugar levels! Click HERE to find Allulose!
Do NOT add alcohol. Some food bloggers recommend a tablespoon or two of vodka which may help keep low carb ice cream soft but if you are like me you will gain weight and most likely be kicked out of ketosis. On my trip to Italy, we discussed food a lot! Lani, a lovely woman on our trip told me she added little vodka to her ice cream to keep it soft and she was out of ketosis for 3 days! Not worth it!
With those tips, I highly suggest you make this delicious Blue Moon Ice Cream AND please post your lovely photos on my Facebook page Keto Adapted OR post on Instagram and tag me @mariaemmerich . Happy Fourth of July! 🇺🇸
Click HERE to get the ice cream maker on sale. When mine broke (because of over-use) they sent me a NEW one for FREE! Love Cuisinart!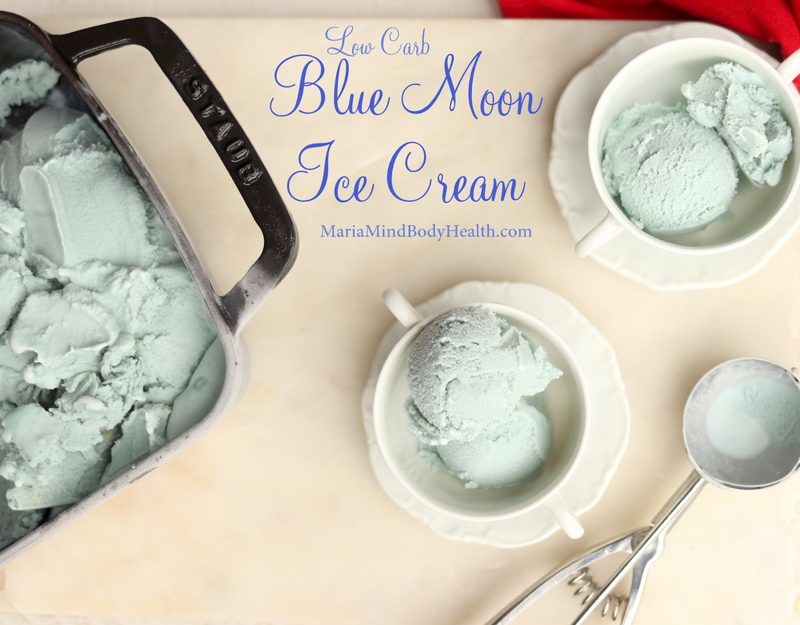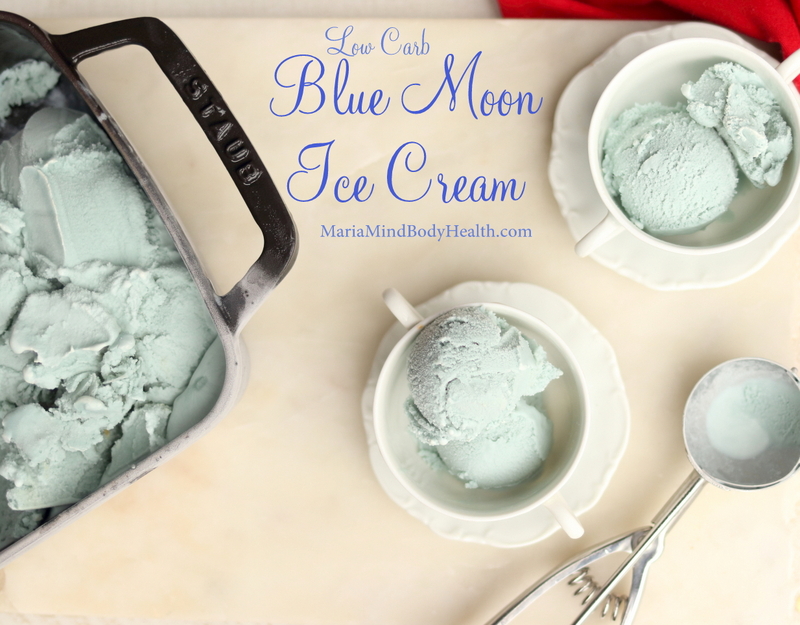 OPTIONAL: Add 1 to 2 scoops of Further Foods collagen for an added health benefit!
Click HERE to order and use MARIAMINDBODY to SAVE!
Blue Moon Ice Cream
Ingredients
1

cup

heavy cream

1

cup

unsweetened almond milk

2

large

egg yolks

1/3

cup

allulose

2

teaspoons

stevia glycerite

1/2

teaspoon

vanilla extract

1/2

teaspoon

lemon extract

1/2

teaspoon

raspberry extract

1/4

teaspoon

almond extract

1/8

teaspoon

Redmond Real salt

Optional: few drops natural blue food coloring

1

scoop Futher Food Collagen

coupon: MARIAMINDBODY for 5% off
Instructions
Heat heavy whipping cream, almond milk and sweetener in a sauce pan over high heat. Bring to boil then remove from stove.

Place eggs, extracts, salt, natural dye and collagen in a blender. Place on low and slowly add the hot cream mixture into the blender to slowly cream the eggs. Taste and add sweetness to your liking.

Place in fridge to cool for 2 hours or overnight.

Place mixture into ice cream maker and churn until set. Store in airtight container in the freezer for up to 1 month.
Nutrition
Calories:
187
|
Fat:
20
g
|
Protein:
2
g
|
Carbohydrates:
2
g
|
Fiber:
0.1
g
|
P:E Ratio:
0.1
TESTIMONY OF THE DAY
"Hi Maria! I wanted to share; Because of the transformation Keto made for my husband and me, so many of my friends on Facebook keep sending me messages wanting to know about it. I am posting Maria's book The 30 Day Ketogenic Cleanse for all to see.
Our bodies and well being can be an advertisement board! Everyone needs to know the truth about food and health! I had started off Paleo in beginning then switched Keto. Wow! Instant change for the better. People are amazed that we are in our 70's and so healthy and active. Thank you Maria and Craig! My biggest size was size 18. I am now in size 4. I wasn't that small as a child. If I did it anyone can! It's the easiest journey I ever took! " – Lillian
Most people I consult are doing keto totally wrong. Get fast results with the my NEW Keto School!