Big Mac Chaffles
GREAT NEWS!!!!
You all know that I would rather be on my outside enjoying nature rather than driving to the store and waiting in line to get groceries! That is why I get just about everything mailed to my front door and my favorite delivery twice a month is Butcherbox!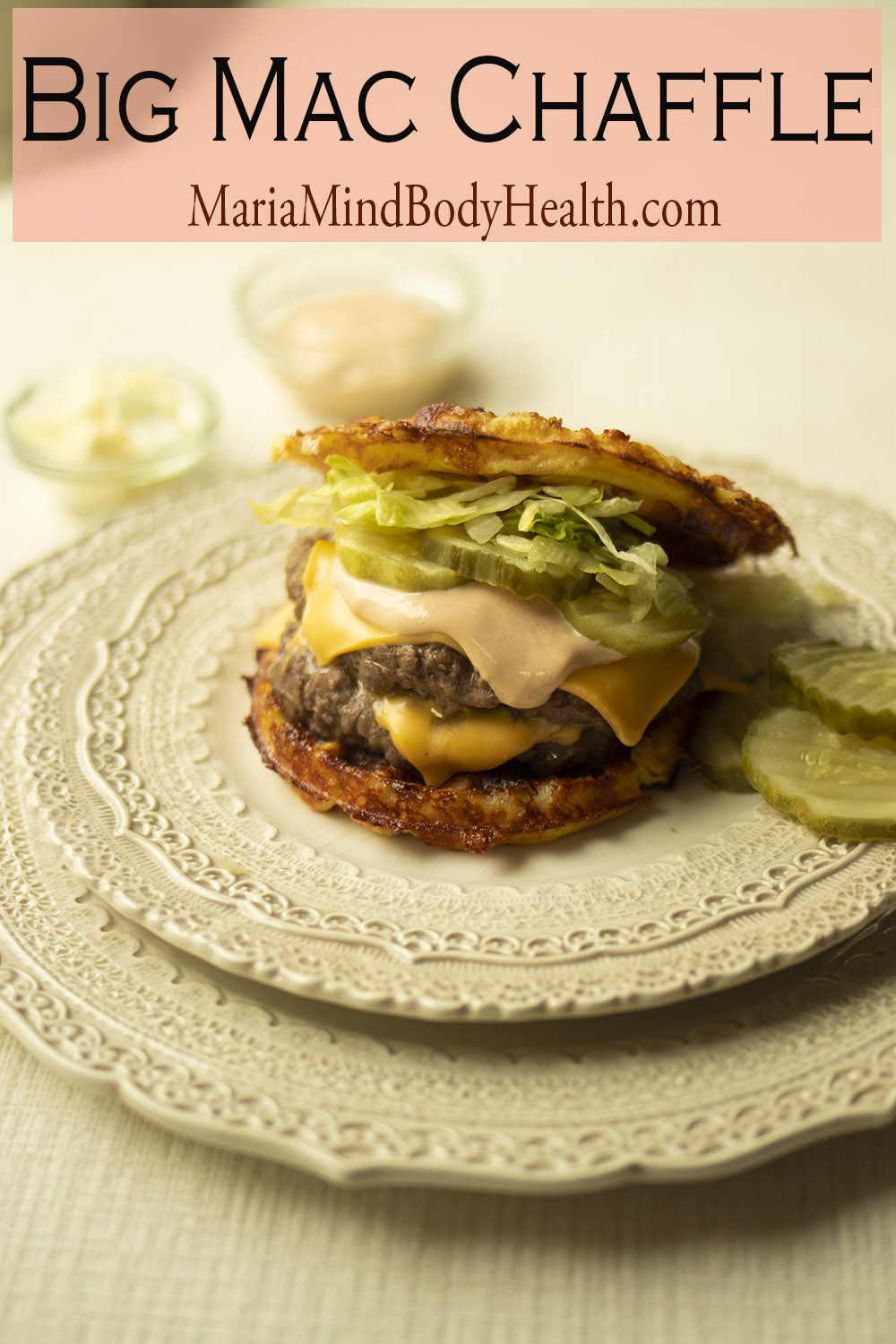 If you miss a Big Mac, you must try my Big Mac Chaffles! It is a simple yet delicious recipe that my recipe testers love! This Keto Big Mac will keep you asking for more!
The special sauce is just like McDonald's Big Mac sauce and makes these chaffles extra delicious!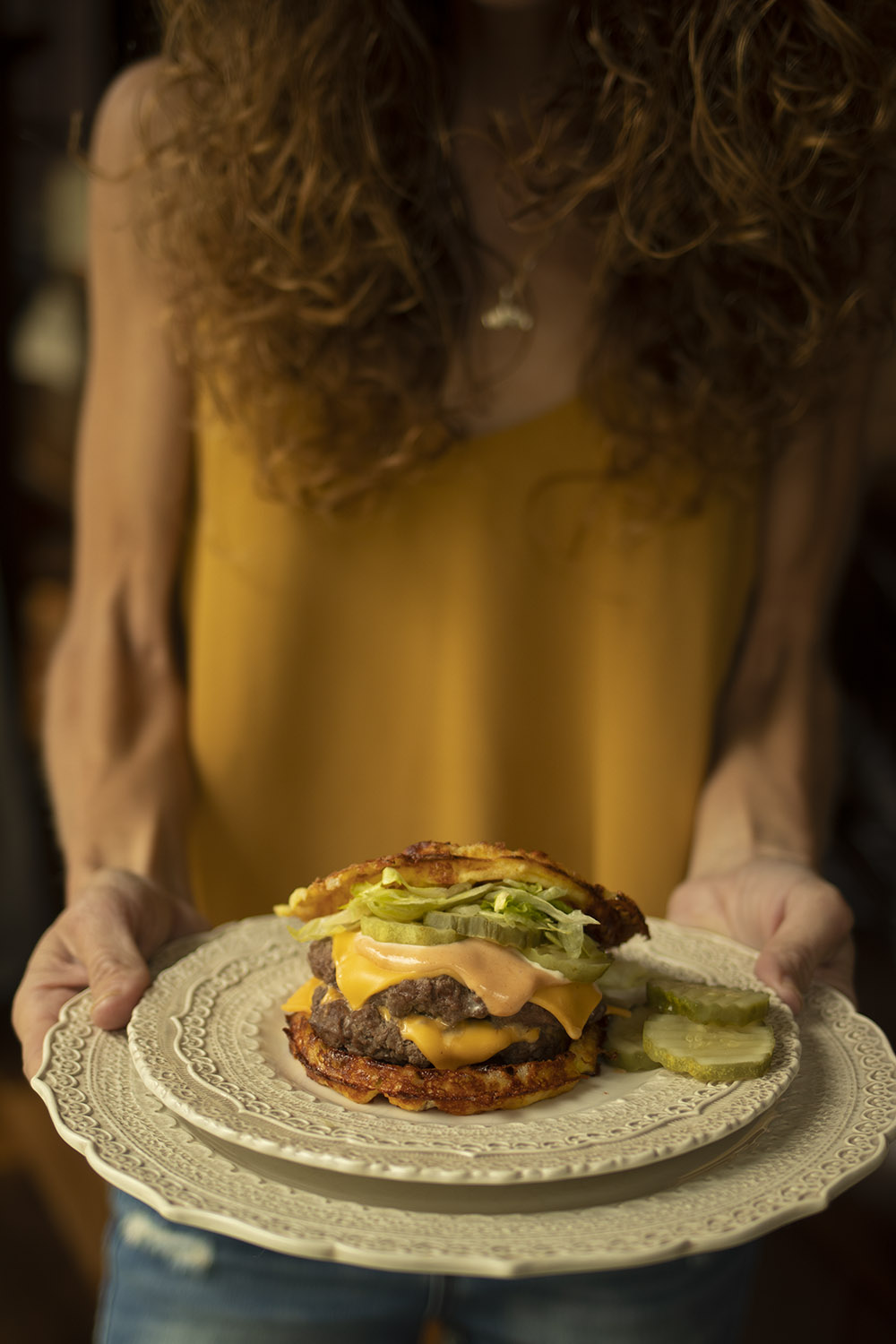 We made a YouTube video of us making this delicious keto Big Mac and when I made the patties, I conveniently opened a package of pre-made ButcherBox patties (click HERE to check out Butcherbox)! If you use a fattier cut of ground beef to make the Big Mac pattties in your chaffle maker, you may have a lot of grease drip out of the chaffle maker.
I understand that life gets busy and sometimes we need to find shortcuts. I once always made my own mayo, bone broth, sauces, marinara sauces, but that's because there weren't any good store-bought options. Now I find myself making my Special Sauce for my Big Mac Chaffles with Primal Kitchen Mayo and Ketchup! They are delicious, organic and they do not have any sugar nor vegetable oils in the ingredients!
Primal Kitchen products are not only filled with top quality ingredients, it is also delicious! I love that I can easily open a jar and use it to make my Big Mac Special Sauce in an instant!
Primal Kitchen is SO generous that they are doing a special discount for all of my readers! Use code: Maria for 20 % off!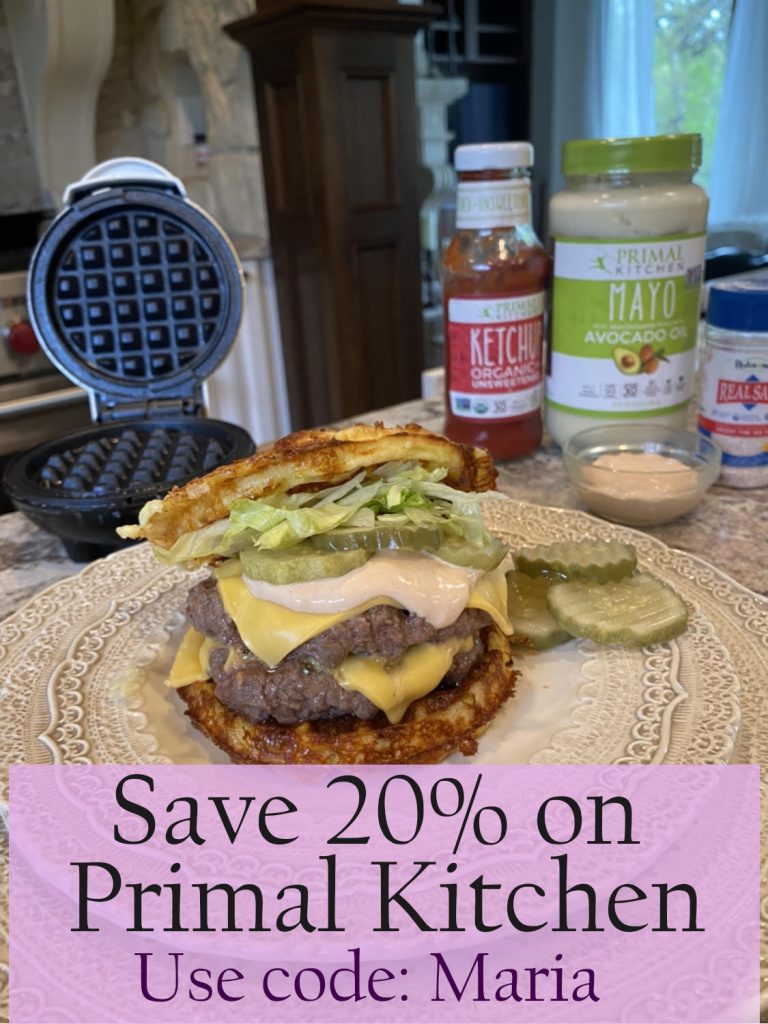 If you want to watch us make this amazing BIG MAC CHAFFLE recipe, subscribe to our new YouTube Channel and comment below on what video recipe we should make next!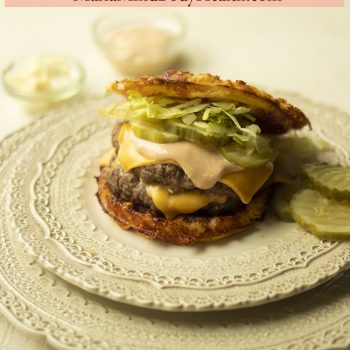 Big Mac Chaffles
Equipment
Ingredients
CHAFFLES:
1/2

cup

shredded cheddar cheese

1

large

egg

Primal Kitchen Avocado Oil Spray

for greasing chaffle maker
GARNISH:
2

leaves

shredded lettuce

1/4

cup

yellow onion

diced

1

teaspoon

Toasted sesame seeds

for garnish

4

Slices

Dill Pickles

for garnish
SPECIAL SAUCE:
½

cup

mayonnaise

I used Primal Kitchen Mayo

¼

cup

Dill Pickles

chopped

3

tablespoons

tomato sauce

I used Primal Kitchen ketchup

1

teaspoon

stevia glycerite

or monk fruit extract or a few drops liquid stevia

1/8

teaspoon

Redmond Real salt

1/8

teaspoon

fish sauce

optional, for umami flavor
Instructions
Preheat a mini chaffle maker.

Place the cheese and egg into a small bowl and use a fork to combine well.

Grease the chaffle maker with duck fat spray (or other spray) and place 1/2 of the mixture into the chaffle maker and press the maker down. Cook the chaffle for 2 to 3 minutes or until golden brown and cooked through.

Repeat with remaining chaffle batter.

Set chaffles aside.

Divide the beef into 2 balls and form into a flattened hockey puck shape. Season the outsides with salt.

Place one ball into the chaffle maker and press down. Cook for 1 1/2 to 2 minutes or until cooked to your liking. Remove from chaffle maker and repeat with the rest of the beef.

Place one chaffle onto a plate, top with the beef patties, top with sliced cheddar cheese, slices of dill pickle, shredded lettuce and drizzle with a tablespoon of Special Sauce. Garnish with sesame seeds if desired.

Best served fresh.
Notes
Nutritional Information (Big Mac Chaffle with 1 serving (2 tablespoons) Special Sauce)
Nutrition
Calories:
883
|
Fat:
70
g
|
Protein:
56
g
|
Carbohydrates:
8
g
|
Fiber:
1
g
|
P:E Ratio:
0.7
TESTIMONY OF THE DAY
Hi Maria! I wanted to say thank you for your instruction. In the first three months I have been able to lose 24 pounds and, most importantly, lower my A1C from 6.3 to 5.6…reversing my pre-diabetes designation. I refuse to ever be diagnosed. My mother and grandmother both suffered terribly and died from diabetes. It is firmly written on my genetic wall. With your help, I have happily "discovered I have control over this supposed curse. I am really grateful. My next goal is anA1C under 5! ️
My mind set is always one of looking forward and getting better each day, but stopping to take in how far I've come makes me feel proud of myself. This side by side I did made my jaw drop!  45 pounds gone in 18 months (26 in the last 4 months since adding PSMF), no longer pre-diabetic, and feeling better at 50 than I did in my 20s. I owe a huge part of my success to your instruction. Grateful for you!
Showing my stomach is a big step for me. I've had 2 c-sections (to get my amazing sons…so worth it!), a double hernia operation as a child, and my Gallbladder removed. It feels a little like a road atlas. Lol! I never thought I'd see definition again without surgery."  Shelly
Most people I consult are doing keto totally wrong. Get fast results with the my NEW Keto Packages!