Big Mac Casserole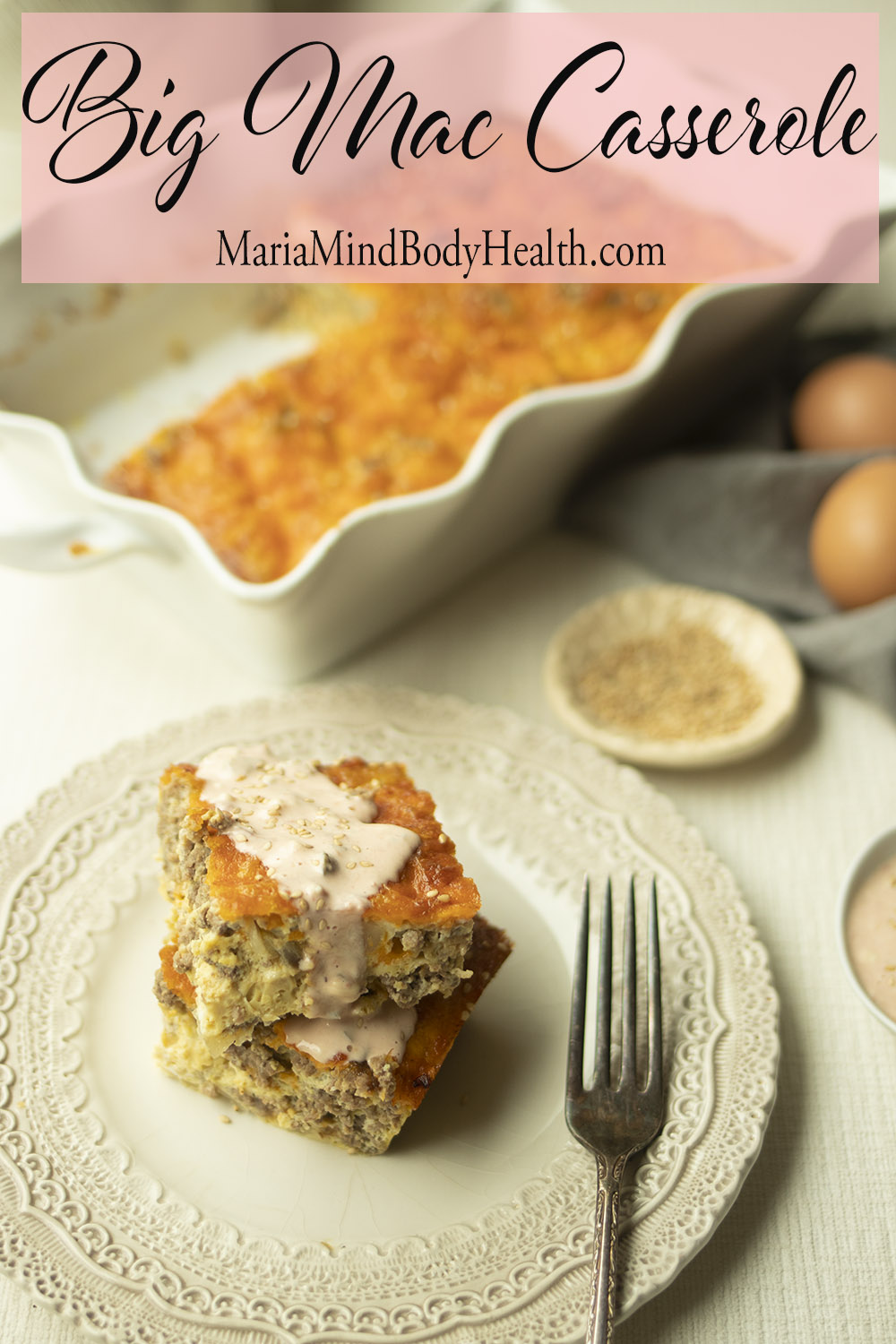 If you miss a Big Mac, you must try my Big Mac Casserole! It is a simple yet delicious recipe that my recipe testers love! This Keto Big Mac will keep you asking for more!
The special sauce is just like McDonald's Big Mac sauce and makes this casserole extra delicious!
When Craig lost his job, and we couldn't afford to go out to eat, I started cooking our favorite restaurant meals at home! Not only was it a great way to save money, but we both lost a lot of weight eating healthier versions at home! I also feel that my homemade Big Mac Casserole taste way better than any restaurant anyway!
I understand that life gets busy and sometimes we need to find shortcuts. I once always made my own bone broth, sauces, marinara sauces, but that's because there weren't any good store-bought options. Now I find myself making my Big Mac Special Sauce with Primal Kitchen Mayo and Ketchup! They are delicious, organic and they do not have any sugar nor vegetable oils in the ingredients!
Primal Kitchen sauces and dressings are not only filled with top quality ingredients, it is also delicious! I love that I can easily open a jar and use it to make my Big Mac Special Sauce in an instant! I also find myself making a double or triple batch of my sauce now since it is so easy! I love having this sauce in my fridge to add to a burger!
Primal Kitchen is SO generous that they are doing a special discount for all of my readers! Use code: Maria for 20 % off!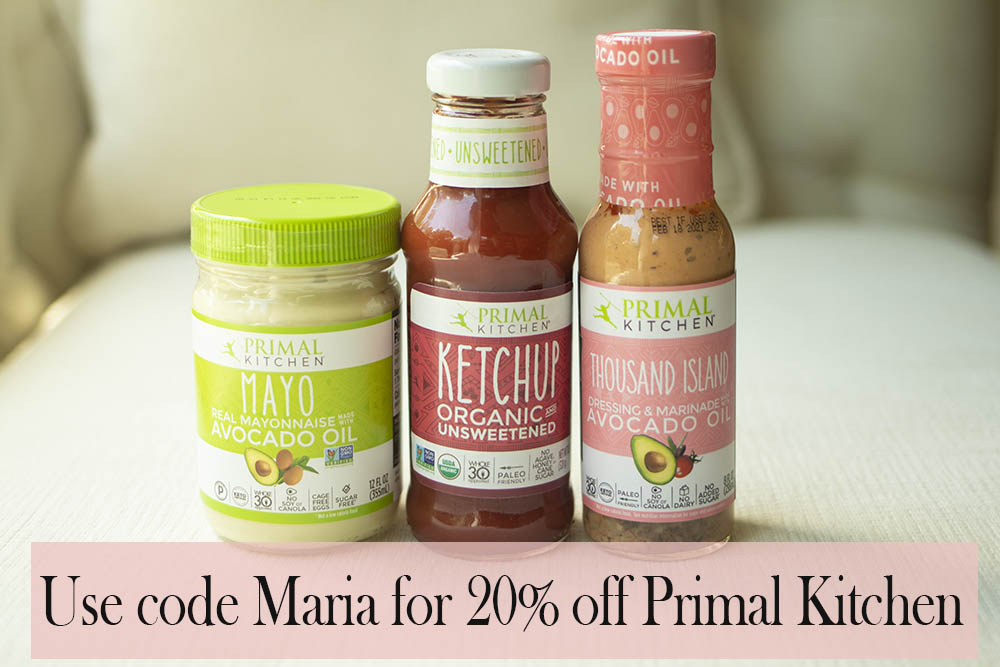 If you want to shorten the bake time, you can make Big Mac MUFFINS! To bake as individual muffins. Grease a 12-well muffin pan and follow the recipe as written through Step 4. Then transfer the mixture to the greased muffin cups, filling each about two-thirds full. Bake for 10 to 13 minutes, until golden and puffed. Allow to cool slightly in the pan, then transfer the muffins to a serving platter and serve warm. Makes 12 muffins (2 per serving).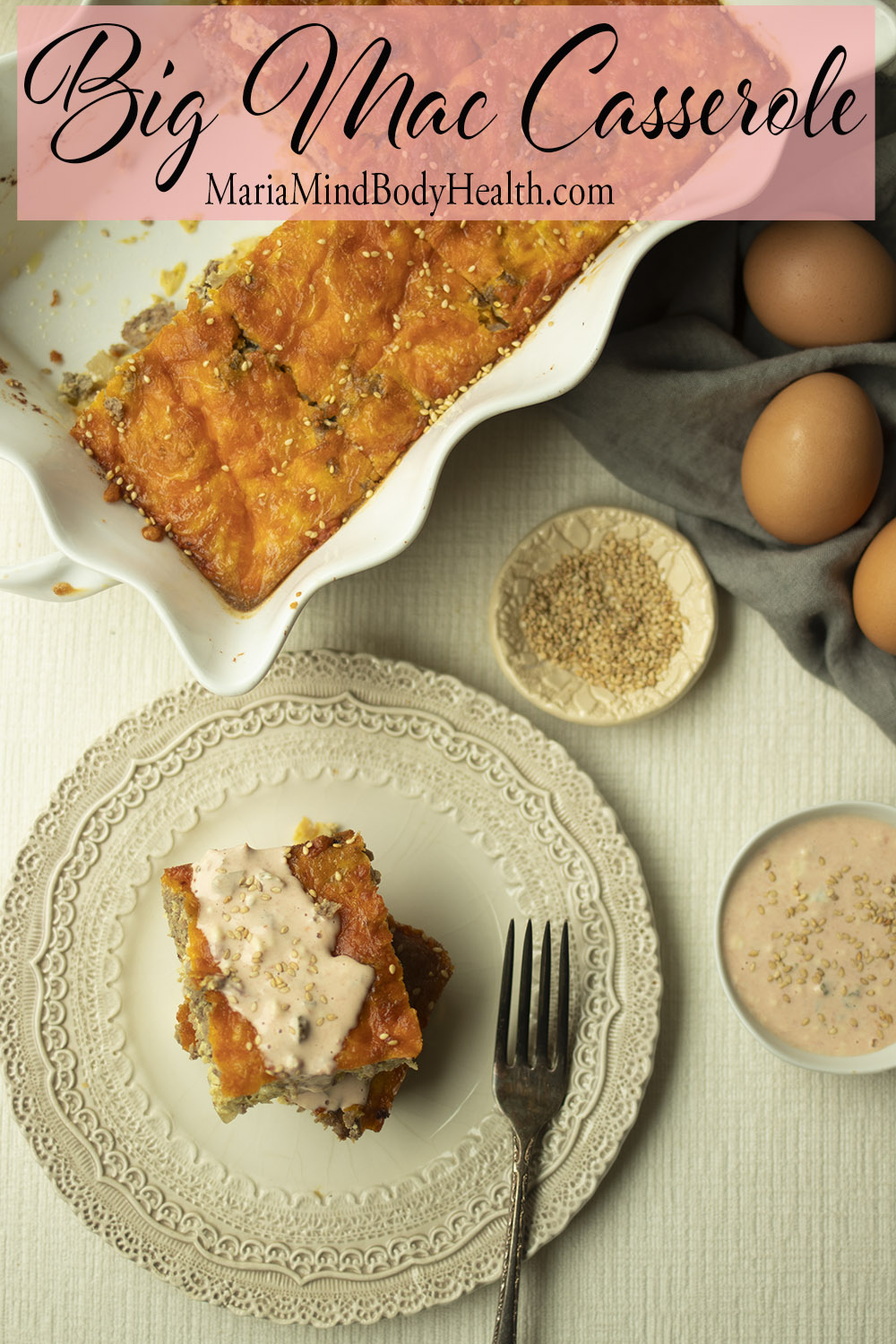 To watch us make this tasty Big Mac Casserole, subscribe to our new YouTube Channel to get updated when the video comes out which will be in a day or two, and comment below on what video recipe we should make next!
Big Mac Breakfast Pie
Ingredients
1

pound

ground beef 85% lean

½

cup

chopped onions

1

clove

garlic

minced

2

teaspoons

Redmond Real salt

divided (use code Maria15 for 15% off

¼

cup

Primal Kitchen Ketchup

or tomato sauce

8

large

eggs

beaten

¾

cup

shredded cheddar cheese

about 3 ounces

2

tablespoons

Primal Kitchen mayo

2

teaspoons

yellow mustard

1/4

teaspoon

black pepper
GARNISH:
2

tablespoons

Toasted sesame seeds

for garnish

12

slices

dill pickles

for garnish

6

Cherry tomatoes

halved
SPECIAL SAUCE:
½

cup

Primal Kitchen mayonnaise

¼

cup

chopped dill pickles

3

tablespoons

Primal Kitchen Ketchup

2

tablespoons

Natural Sweetener

or 1/2 teaspoon stevia glycerite or a few drops liquid stevia

1/8

teaspoon

Redmond Real salt

1/8

teaspoon

fish sauce

optional, for umami flavor
Instructions
Preheat the oven to 350°F.

In large oven-safe skillet, over medium heat. Add the ground beef, onions, and garlic and season with 1 1/2 teaspoon salt. Cook while crumbling with a wooden spoon until the beef is cooked all the way through and the onions are translucent, about 7 minutes. Add the tomato sauce and stir well to combine.

In large bowl, mix together the eggs, cheese, mayo, mustard, 1/2 teaspoon salt, and pepper.

Add the beef mixture to the egg mixture and stir to combine. Pour the mixture into a greased 9x13 casserole dish. I sprayed mine with Primal Kitchen Avocado Oil Spray.

Place the dish in the oven and bake for 25 minutes, or until the eggs are cooked through in the center. Remove from the oven and let rest for 10 minutes, then slice and serve. If desired, garnish with fresh sesame seeds and pickles and serve with secret sauce. Store leftovers in an airtight container in the fridge for up to 3 days. Reheat in a 350°F oven for 3 minutes or in the microwave for 30 seconds, or until heated through.
Nutrition
Calories:
387
|
Fat:
33
g
|
Protein:
20
g
|
Carbohydrates:
3
g
|
Fiber:
1
g
|
P:E Ratio:
0.6
TESTIMONY OF THE DAY
"Thank you Maria for your help and guidance! In 2012, I was diagnosed with Parkinson's after having gone through 2 years of chemo. I asked the doctors if that could have been the catalyst. Of course it was "no". I began my own research. 
Long story short, after working with you and eating keto for awhile now, my PD symptoms arrested and medication lowered from 3 pills/day to one. My neurologist told me this wouldn't have any effect so I did it on my own. My last visit, he was shocked at my lack of symptoms. Said," the medicine is working great, wouldn't change it if you paid me!" Didn't tell him..waiting until I'm off totally! Also, have lowered Prozac from 60mg to 20mg. Thank you for your help and saving my life!!" Rebecca
Most people I consult are doing keto totally wrong. Get fast results with the my NEW Keto Packages!