Bacon Wrapped Tenderloin
It is hard to find bacon without sugar and if you do, it is really expensive! That is why I order Pederson's Farms bacon! Click HERE to get sugar-free bacon! 
If you want to get my favorite keto BUNDLE of meaty goodness from Pederson's Farms, you get a great deal!
Maria's Mind Body Health Bundle contains 10 of Pederson's Natural Farms Whole30 Approved No Sugar Added products. Included with this bundle is:
1 package No Sugar Added Hickory Smoked Uncured Bacon
1 package No Sugar Added Smoked Kielbasa
1 package Uncured No Sugar Grass Fed Added Beef Hot Dogs
1 package Fully Cooked No Sugar Added Mild Breakfast Sausage Links
1 Uncured No Sugar Added Half Ham, Boneless and Spiral Sliced
1 package No Sugar Added Italian Ground Sausage
1 package No Sugar Added Chorizo
1 package No Sugar Added Uncured Old World Kielbasa
1 package No Sugar Added Uncured Hot Dogs (Made with Pork & Bacon)
1 package 100% Grass Fed Organic Ground Beef
Bundle is normally $225.00 but with code: MARIAEMMERICH it is only $161.00! Click HERE to get it! 
If you have never had tenderloin, you are in for a very juicy and soft steak! Tenderloin is a little tricky, if you over-cook it or usually like your steaks medium or well done, you most likely will end up with a chewy loin. I highly suggest making tenderloin rare to medium rare. My kids were a little afraid of the pink at first but once they took their first bite, they smiled and gobbled it up!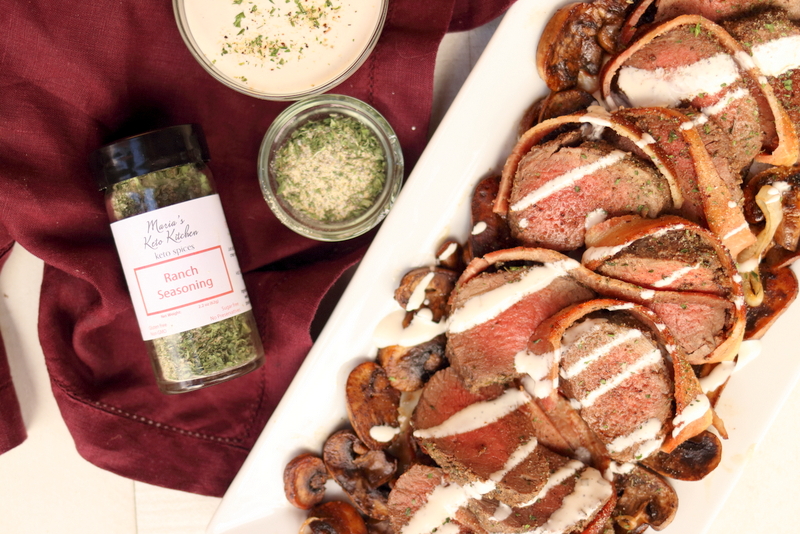 Bacon Wrapped Tenderloin
Dairy Free Option Nut Free Egg Free
Ingredients
4 slices bacon
1 (1 pound) venison tenderloin
3 tablespoons butter, divided (or coconut oil or lard if dairy free)
1½ tablespoons plus ½ teaspoon ranch seasoning, divided (see below)
8 ounces sliced mushrooms
½ cup sliced onion
Ranch dressing for serving (click here to find recipe)
Instructions
Preheat oven to 425 degrees F. Place bacon on a slotted baking sheet with edges, laying them next to each other with edges lining up. Bake bacon in the preheated oven until partially cooked but still flexible, about 6 minutes.
Brush venison tenderloin with 1 teaspoon melted butter or oil and season with 1½ tablespoon ranch seasoning. Place tenderloin roast on one end of the strips of partially cooked bacon. Wrap bacon strips snugly around loin and place with the ends on bacon under the loin so the bacon secures around the loin. Bake for 15 minutes for medium rare loin. Remove from oven and allow to rest on cutting board for 10 minutes before slicing.
While the tenderloins bake make the mushrooms and ranch dressing. Place the rest of the butter in a large saute pan over medium heat. Add the mushrooms and onions and saute while stirring occasionally for 7 minutes, or until mushrooms are golden brown. Season with ½ teaspoon Ranch seasoning.
To make the Ranch dressing, place all the ingredients in a blender and puree until smooth. I store this tasty dressing in my fridge at all times.
Place mushroom mixture on a serving platter. Slice the loin into ½ inch slices and place onto the platter. Drizzle with Ranch dressing if desired.
Ranch Seasoning
Instructions
Place all the ingredients in a jar and shake well to combine. Use in recipes like this Bacon Wrapped Tenderloin or my homemade Ranch Dressing.
TESTIMONY OF THE DAY
The 30 Day Ketogenic Cleanse Testimony: "30 day cleanse result! Full body pic on left was taken in August right taken today. . Face pic left take week before cleanse on right taken a week ago. I am actually blown away at my results! Got rid of 20.4 lbs I have energy all day long, the last 4 days I have been eating once a day and feeling great my two favourite transformations: I have no headache (suffered from a permanent headache day in day out) my mind is sharp! And I am sleeping (previous crazy active sleeper walker talker for all my life) like a log the alarm doesn't even wake me up. I am also proud of the fact that I stuck it out I have never completed any sort of cleanse at all, this was enjoyable the food js amazing I don't miss sugar/fruits/bread I wouldn't mind trying dairy but I'm a lil scared too haha.
My inspiration to try keto came from my big sis Athena who has been an inspiration in health to me for many many years and helped me with the start of my keto journey. i wont go back life feels to good this way my body feels like a body should feel! 30lbs to get rid of to reach my goal my plan is to eat only from Maria's books so it takes the macro counting work out for me and work out 5 times a week. if you are struggling stick with it so worth every struggle!" – Dani
 Thank you for your love and support!