Bacon Cheeseburger Pizza
It is hard to find bacon without sugar and if you do, it is really expensive! That is why I order Pederson's Farms bacon! Click HERE to get sugar-free bacon! 
If you want to get my favorite keto BUNDLE of meaty goodness from Pederson's Farms, you get a great deal!
Maria's Mind Body Health Bundle contains 10 of Pederson's Natural Farms Whole30 Approved No Sugar Added products. Included with this bundle is:
1 package No Sugar Added Hickory Smoked Uncured Bacon
1 package No Sugar Added Smoked Kielbasa
1 package Uncured No Sugar Grass Fed Added Beef Hot Dogs
1 package Fully Cooked No Sugar Added Mild Breakfast Sausage Links
1 Uncured No Sugar Added Half Ham, Boneless and Spiral Sliced
1 package No Sugar Added Italian Ground Sausage
1 package No Sugar Added Chorizo
1 package No Sugar Added Uncured Old World Kielbasa
1 package No Sugar Added Uncured Hot Dogs (Made with Pork & Bacon)
1 package 100% Grass Fed Organic Ground Beef
Bundle is normally $225.00 but with code: MARIAEMMERICH it is only $161.00! Click HERE to get it!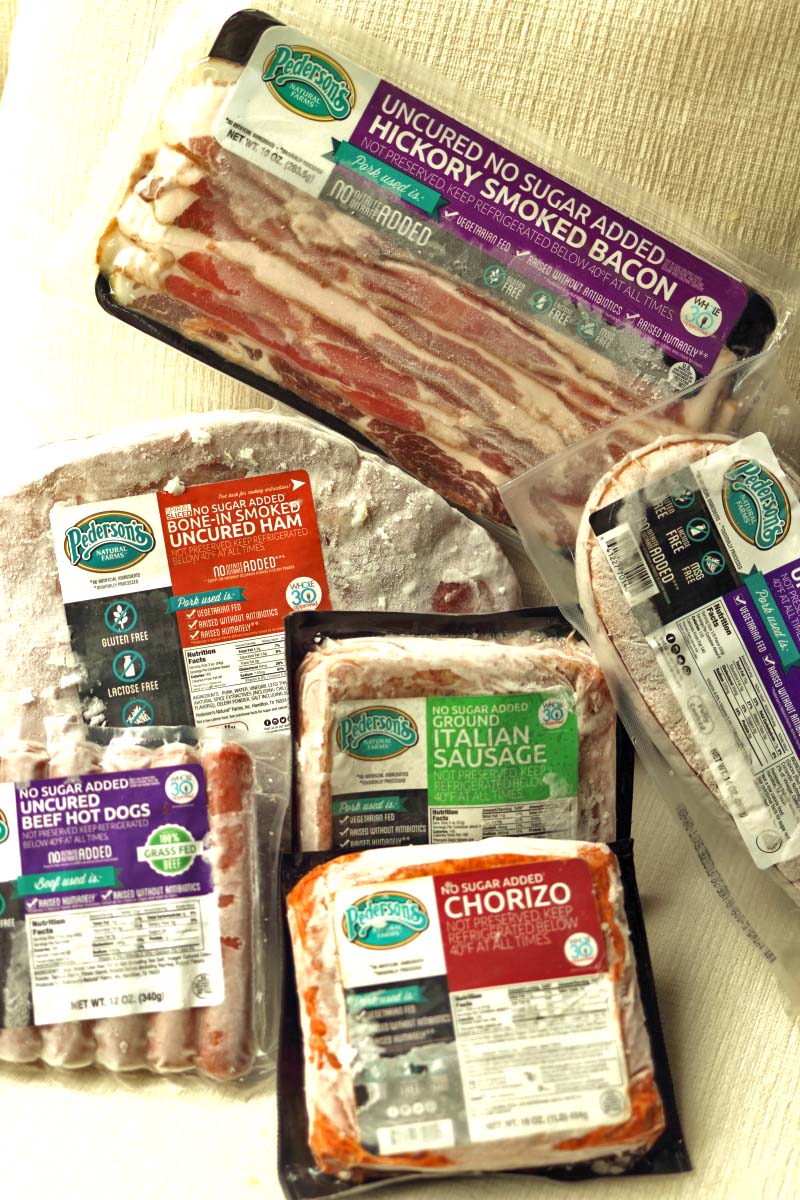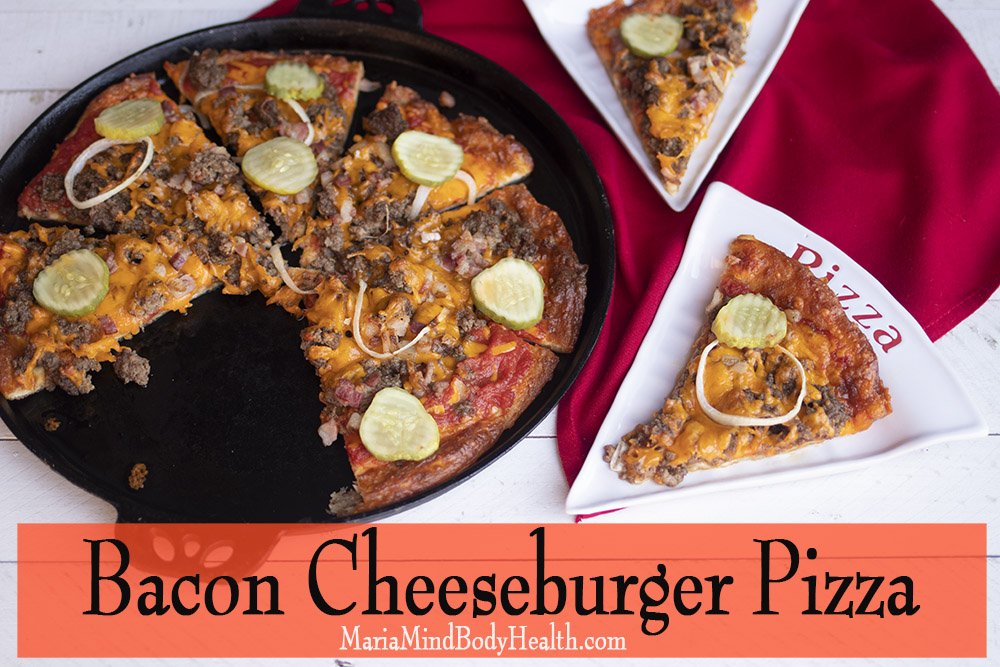 If you tried my Carnivore Pizza Crust and you want another way to enjoy the crust, I HIGHLY suggest trying my Bacon Cheeseburger Pizza recipe!
Craig loves pizza and I love hamburgers! What's a girl to do? Instead of debate on what to have for dinner, I married the two and created a Bacon Cheeseburger Pizza to satisfy both of our cravings!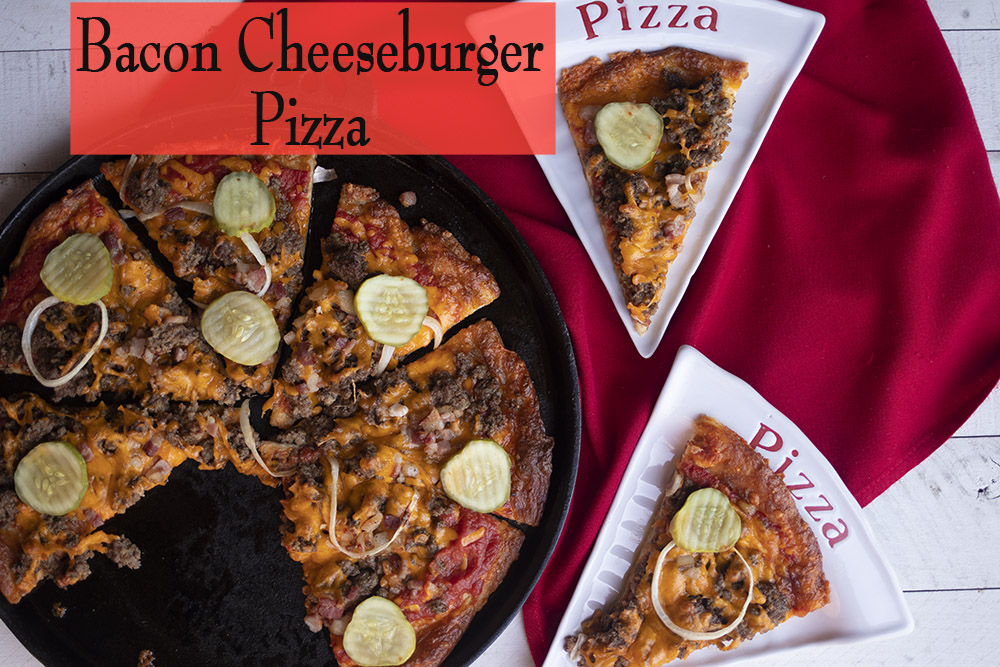 Many of you may love the Fat Head pizza dough, however, I do not eat nuts or nut flours since they always kept me back from losing weight. This is why most of my books are NUT free! I have many books that are nut free (and some nut and dairy free too such as The 30 Day Ketogenic Cleanse, Easy Dairy Free Ketogenic Recipes AND my Protein Sparing Modified Fast Cookbook) to help people be successful on the ketogenic diet.
This pork rind pizza crust is like the Fat Head dough, but instead of using almond flour, I used ground up pork rinds (or pork panko) to make it into a Carnivore Pizza Crust. One of my recipe testers said it tasted like a cheezy cracker crust! YUM! It is SO good, I am making a triple batch of Carnivore Crust dough and I am going to make my own frozen pizzas for easy dinners!

We made a NEW pizza video!!!! It isn't the same as the Carnivore Pizza Crust video! If you want to watch us make this delicious Bacon Cheeseburger pizza , subscribe to our new YouTube Channel to get updated when the video comes out which will be in a day or two, and comment below on what video recipe we should make next!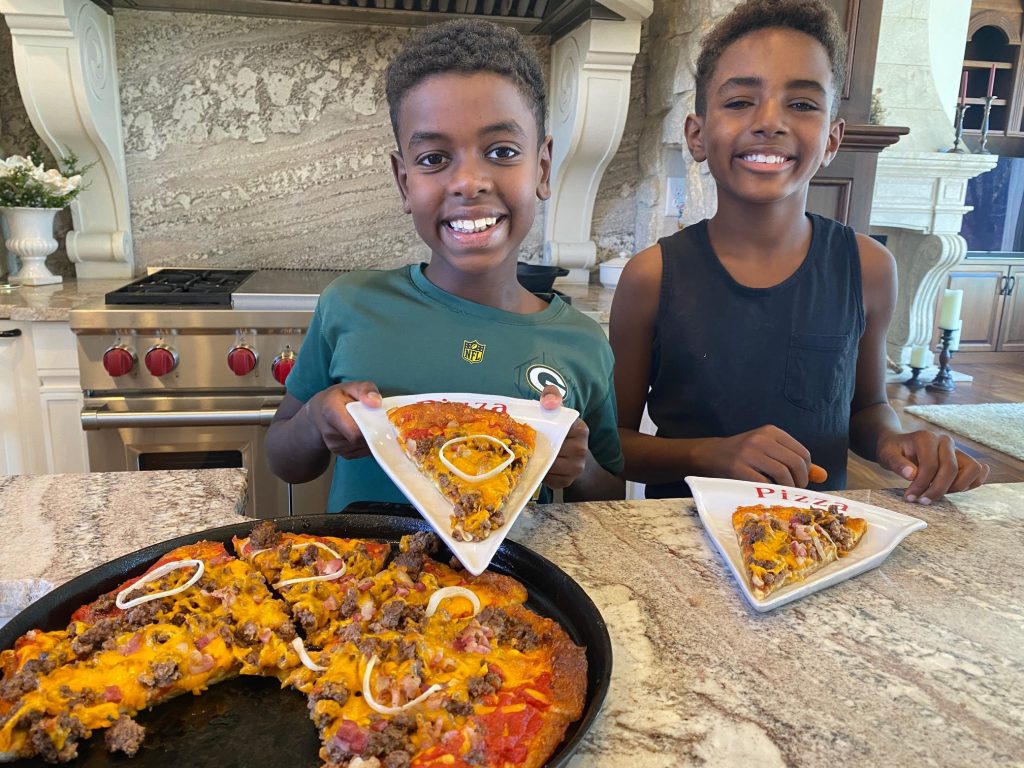 Bacon Cheeseburger Pizza
Ingredients
Crust:
1¾ cup shredded mozzarella cheese
2 tablespoons butter (or cream cheese)
1 egg
⅛ teaspoon Redmond Real salt
SAUCE:
¾ cup Primal Kitchen Ketchup OR tomato sauce
2 tablespoons yellow mustard
1 teaspoon stevia glycerite (or a few drops of liquid stevia)
TOPPINGS:
½ pound ground beef
1 teaspoon Redmond Real Salt
1 cup shredded cheddar cheese
3 slices bacon, diced
Few slices of yellow onion
Slices of dill pickle
Instructions
If you have a pizza stone, place it into the oven. Preheat oven to 425 degrees F.
To make the dough, place the mozzarella and the butter in a heat safe bowl and microwave for 1-2 minutes or until the cheese is entirely melted. Stir well.
Add the powered pork rinds, egg and salt and using a hand mixer, combine well.
Put the dough on the greased piece of parchment paper on a flat baking sheet and pat out with your hands to make a large round circle.
If you are using a pizza stone, transfer the pizza on the parchment and slide it onto to the hot pizza stone in the oven by sliding the parchment and pizza from the baking sheet onto the stone. Bake for 5 minutes or until the crust starts to get a little golden.
Meanwhile, place the ground beef into a cast iron skillet and season with salt. Cook over medium high heat while crumbling often, for about 5 minutes or until cooked through. Remove from heat.
Make the sauce by placing all the ingredients into a small bowl and stir well to combine.
Remove pizza crust from oven. Spread the sauce all over the top of the crust and top with ground beef, cheddar cheese, diced bacon and slices of onion if desired.
Place back into the oven and bake the pizza until the cheese is melted, about 10 minutes. Remove from oven and top with slices of pickles if desired.
Store extras in an airtight container in the refrigerator for up to 3 days. Reheat slices on a baking sheet in a preheated 350°F oven for 5 minutes or until warmed through.
Notes
Nutritional Information (crust):
186 calories, 14g fat, 16g protein, 0.1g carbs, 0g fiber

Nutritional Information (Pizza with toppings):
588 calories, 46g fat, 45g protein, 4g carbs, 1g fiber
TESTIMONY OF THE DAY
"Hi Maria and Craig, I am a huge fan! I made many of your recipes over the years with cheese Danish recipe my favorite to date. I've lost almost 200lbs! Keto was great but I stalled.
Carnivore has made a drastic change in my joints. Just last year was considering hip replacement,  but happy to say that's water under the bridge. Never realized what oxalate did to your body until traveling down the carnivore road. Energy level through the roof, just a whole new person in that manner. Attached is my blood work done on 3/19/20 day before my 58th birthday….I only feel 28″ – Susan
Most people I consult are doing keto totally wrong. Get fast results with the my NEW Keto Packages!