Testimonies of the Day
 HAQ Testimony: "I bought the $149 supplement plan. It took a huge leap of faith to go forward with this. Yesterday I forgot to take my supplements and I was sluggish and miserable by mid afternoon. I took them today as recommended and I'm firing on all cylinders. It's hard to believe I suffered so long with thyroid problems. Went to so many different doctors and no one could help me. I'm a happy customer." Denise
30 Day Accelerated Testimony: ""I just wanted to let you know that I was a little concerned when I looked at your meal plan, everyone I seen on your blog had a lot of weight to lose. I only had 15lbs to get to my goal weight. The last 15 are always the stickest!!! I was spending 2 1/2 hrs in the gym aday, running 10 miles and lifting. I have been eating the Maria way for 1 week and am down 7lbs!!!! I feel amazing!!! I now am in the process of adjusting my whole family. My husband is a professional athlete and usully eats a very large amout of calories to just get him through his workout and daily activities. He is now eating normal sized meals and has tons of energy!!! This plan I thought was going to be super expensive just to feed him! It is saving us money at this point! Just want to give you a big THANK YOU!!!" – Kristin
PHOTO TESTIMONY: "Hiya Maria and Craig! My name is Whitney Bray, and though we have never had a conversation before- you have changed my life.
I grew up in a paycheck to paycheck household that lived on microwave dinners and fast food. I was not encouraged to join sports or do outdoor activities, and was often told that my weight was 'genetic' and 'inevitable'. I spent 22+ years of my life believing that.
I had tried a few things like name brand diets, high end diet pills that I had seen my mom take, nothing worked and I was completely miserable. At 5′ 2″ I weighed in at over 225lbs and I was very weak. My digestive system was a wreck, I couldn't jog down to the end of the driveway, and I was miserable.
Then after a journey of learning to love myself, instead of hating myself, a friend told me about Keto. And it wasn't long after that, that I found your book Keto-Adapted. I had already read two other lchf books first- but they were not easily accessible. They didn't truly explain the importance of being keto-adapted, and how to get there, and didn't address pre-existing problems caused by carb intolerance. Your book was a miracle in my life. I bought all of your cookbooks for my kindle app on my phone and I check your site almost daily!! I make your low carb bread and fudge cookies almost weekly for my 2 year old son and my husband.
Since eating the Maria Way I've lost 50lbs!!! And more importantly, I feel better than ever before!! I am doing things I never thought I'd do. I went from trying my hand at yoga and being timid that my weight would keep me from gaining anything from the practice- to doing Aerial Yoga every week! So it's not just about the fat loss, it's also about how much I've gained from improving my health.
So thank you, thank you so very much for giving me confidence in providing my son with a much healthier beginning than I had when I was growing up, for helping my husband repair his leptin response and aid him in his new journey to do powerlifting competitions, and thank you from the bottom of my heart for showing me what it feels like, to be healthy.
Forever grateful, Whitney Bray"
If you want to get past your plateau, click HERE to get started!  You deserve it!

Maria's Favorite Things Giveaway!
Today I am giving away a 3 pack of Mikey's English Muffins! Ingredients are: Eggs, Almond Flour, Purified Water, Coconut Flour, Baking Soda and Kosher Salt!
All you have to do is 3 things:
1. "Like" my Facebook page and share my info with your friends and family:).
2. "Like" Mikey's Muffins on Facebook.
3. Leave a comment below on what is your favorite recipe of mine is.
A winner will be picked July. 11th. Good Luck!

Why I Allow Treats
While I was on the Low Carb Cruise one of the ketogenic doctors that spoke asked why I even allow sweet treats even if they are made with stevia or Swerve? I proudly stood up and found the most confident voice I could. I stated how I have 2 toddlers who are bombarded with images of cupcakes, candy, juice boxes, cereal at birthday parties and advertisements all with fake bright colors to catch their attention. So in order for my kids to not rebel and eat that junk, I offer safe treats at home. Micah even asks if certain things will give him an "owie in his belly" and I will say probably. He asks if we have cupcakes at home that won't give him an "owie" and I either say yes or we can bake some. He gladly chooses the safe treat. (He doesn't have celiac, but the sugar and grains make him feel ill which often happens to clients after months of not having sugar/starch).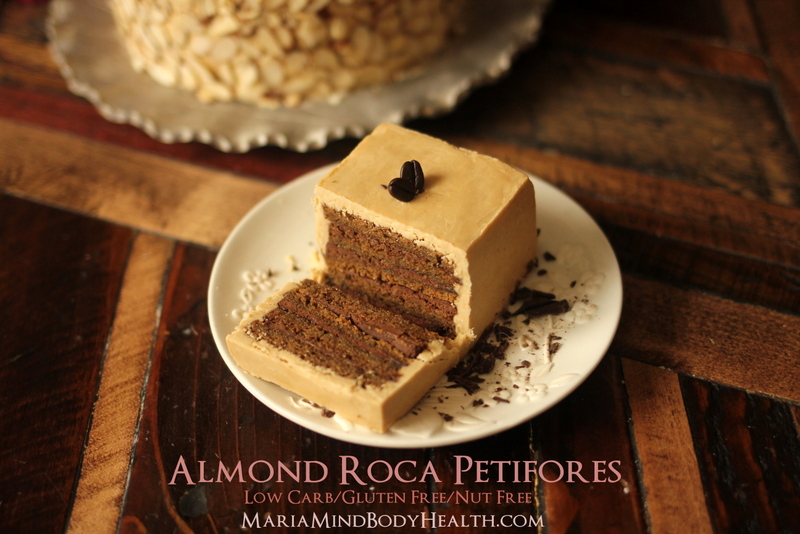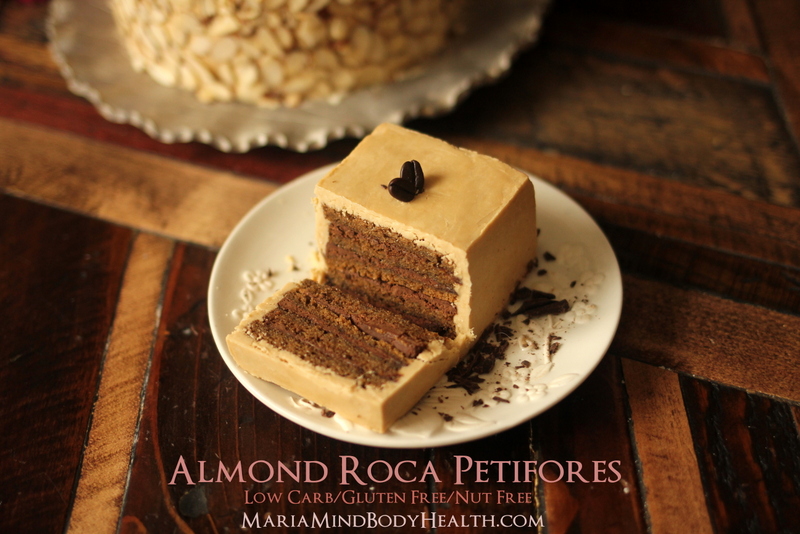 I found it interesting that this doctor was so critical of my treats since he has triplets that are in elementary school. I think he too could benefit from my treats for his kids during special occasions instead of giving them sugar-filled "food." He also joked about almond milk and that you "can't milk an almond!" When I told Craig what he said, Craig replied, "What do you think tea is? It is infused water, just like almond milk." I don't get fired up much, but criticizing my practices hurts. I never feel the need to cheat on my ketogenic lifestyle of eating because I can have "healthified" treats once in awhile. If I couldn't, I know I would be too tempted to grab junk.
I also love to entertain and serve desserts that we can all enjoy; I even love to throw parties for dolls! My son Micah has a doll that he named Libby. He loves her very much and most days at nap time I have to tell Libby to close her eyes and stop talking to Micah (he talks to her non-stop during nap time). Anyway, Micah came up to me and told me it was Libby's birthday in 3 days. So I decided to take him seriously and decided to throw a party!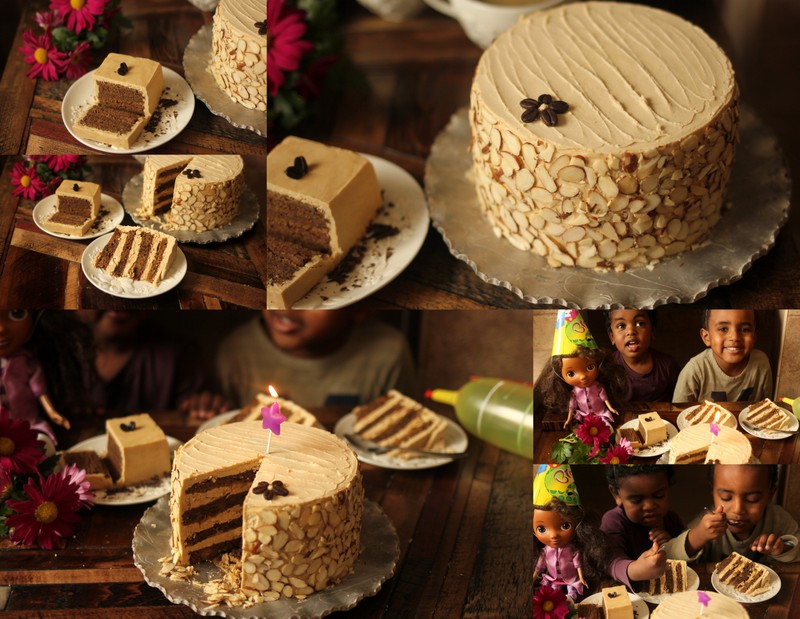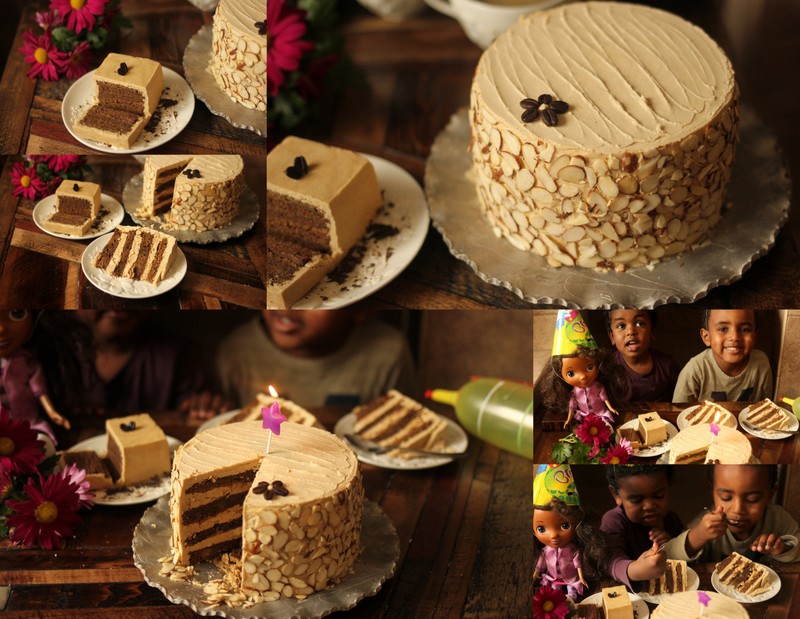 Almond Roca Mocha Cake
Ingredients
CAKE:

3/4

cup

coconut oil

or organic butter

7

oz

unsweetened baking chocolate

chopped fine

1 1/4

cups

Natural Sweetener

or equivalent

1

tsp

vanilla extract

1

tsp

almond extract

6

large eggs

SOAKING SYRUP:

2/3

cup

decaf espresso

or organic coffee

3/4

cup

unsweetened vanilla almond milk

1/3

cup

Natural Sweetener

1

tsp

Kahlua extract

ESPRESSO MOUSSE:

1/2

cup

Natural Sweetener

or erythritol and 1 tsp stevia glycerite

1/4

cup

decaf espresso

or organic coffee

2

large eggs

1

TBS

unsweetened cocoa powder

4

TBS

butter or coconut oil

1

tsp

vanilla extract

1/2

tsp

almond extract

BROWN BUTTER FROSTING:

1

cup

butter

1

8 oz package mascarpone or cream cheese

1/2

cup

unsweetened almond milk

1/4

cup

Natural Sweetener

1

tsp

stevia glycerite
Instructions
Preheat oven to 325 <g class="gr_ gr_291 gr-alert gr_gramm gr_inline_cards gr_run_anim Grammar multiReplace" id="291" data-gr-id="291">degree</g> F. Grease a 15 x 10-inch sheet of parchment paper. Line 15x10x1-inch baking sheet with prepared parchment.

Place the coconut oil/butter in a saucepan on medium heat and slowly add the chocolate (don't burn the chocolate). Add the natural sweetener and extracts. Let cool in <g class="gr_ gr_234 gr-alert gr_gramm gr_inline_cards gr_run_anim Grammar only-ins replaceWithoutSep" id="234" data-gr-id="234">fridge</g> for <g class="gr_ gr_210 gr-alert gr_spell gr_inline_cards gr_run_anim ContextualSpelling ins-del" id="210" data-gr-id="210">awhile</g>.

While it is cooling, separate the eggs. Place the whites in a stand mixer and whip until stiff peaks form. Once the whites are stiff, slowly add the yolks.

Once the chocolate mixture is cooled a bit and warm to touch, add that to the egg mixture.

Pour the mixture into the prepared cake tin, smooth the top.

Bake cake until tester inserted into <g class="gr_ gr_221 gr-alert gr_gramm gr_inline_cards gr_run_anim Grammar only-ins replaceWithoutSep" id="221" data-gr-id="221">center</g> comes out clean and cake begins to pull away from pan, about 18 minutes. Cool cake in pan on rack 30 minutes.

Cut around pan sides. Slide spatula under parchment to loosen from pan and invert cake onto work surface. Peel off parchment. Cut cake crosswise into 4 rectangles, each about 10 x 3 1/2 inches. Or if you want a round cake, cut into circles about 10 inches round.

While cooling, make the Syrup, Filling and the Frosting.

NOTE: This cake will be more cake-like after resting a night. You can make the cake part the night before if desired.

For soaking syrup: Bring espresso, almond milk, natural sweetener and extract to boil in small saucepan.

FILLING: Combine natural sweetener, espresso, 2 eggs and cocoa powder in <g class="gr_ gr_259 gr-alert gr_gramm gr_inline_cards gr_run_anim Grammar only-ins replaceWithoutSep" id="259" data-gr-id="259">heavy</g> medium saucepan and whisk to blend; add coconut oil or butter. Whisk constantly over medium heat until mixture thickens and coats back of <g class="gr_ gr_260 gr-alert gr_gramm gr_inline_cards gr_run_anim Grammar only-ins doubleReplace replaceWithoutSep" id="260" data-gr-id="260">spoon</g> thickly (do not boil), about 12 minutes. Pour mixture through <g class="gr_ gr_261 gr-alert gr_gramm gr_inline_cards gr_run_anim Grammar only-ins doubleReplace replaceWithoutSep" id="261" data-gr-id="261">strainer</g> into medium bowl. Stir in the extracts. Place bowl in larger bowl filled with ice water and whisk occasionally until filling is cooled <g class="gr_ gr_262 gr-alert gr_gramm gr_inline_cards gr_run_anim Punctuation only-del replaceWithoutSep" id="262" data-gr-id="262">completely,</g> about 15 minutes. Can be made 1 day ahead.

To make the Filling: place the butter in a saucepan and heat on high until the butter sizzles and you can see lots of brown (not black) flecks.

Remove from heat and add the mascarpone or cream cheese, almond milk <g class="gr_ gr_214 gr-alert gr_gramm gr_inline_cards gr_run_anim Punctuation only-ins replaceWithoutSep" id="214" data-gr-id="214">and</g> natural sweetener.

Stir until very smooth. Set aside to cool. This will thicken overnight.

ASSEMBLE: Place 1 cake rectangle on <g class="gr_ gr_254 gr-alert gr_gramm gr_inline_cards gr_run_anim Grammar only-ins doubleReplace replaceWithoutSep" id="254" data-gr-id="254">platter</g> (I made mine into a round cake, but rectangles work too). Brush 2 tablespoons soaking syrup over. Spread 1/3 of espresso mousse (about 3/4 cup). Repeat 2 more times with cake, syrup<g class="gr_ gr_255 gr-alert gr_gramm gr_inline_cards gr_run_anim Style replaceWithoutSep" id="255" data-gr-id="255">,and</g> mousse. Top with fourth cake layer; press lightly to adhere. Spread the brown butter frosting over top and sides of torte to seal, then sprinkle with slivered almonds if desired. DO AHEAD: can be made 1 day ahead.
Notes
NUTRITIONAL COMPARISON (per serving)
Traditional Cake = 416 calories, 18g fat, 8g protein, 42g carbs, 0.6g fiber
"Healthified" Cake = 306 calories, 31.7g fat, 5.9g protein, 4.2g carbs, 2g fiber
91% fat, 6% protein, 3% carbs
 Another Great Testimony
Hi Maria! I have had troubles with constipation since I was 6 or even smaller. I was in the ER constantly for pain and constipation all throughout my childhood and even adulthood. I would have to take ExLax often! I tried adding fiber and drinking water but nothing would work!!
The pain is so severe from being constipated that I thought that I was constipated and ended up going to the ER but only to find out I had kidney stones. From that appt on they told me to use MiraLax. I used MiraLax for about 12 years and when I read your post I knew that I wanted to try the supplements and try and get off MiraLax. I tried not taking MiraLax for 3 days here and there and then would become constipated so I would always have to go back on it.
I have been taking the supplements you suggested for 3 weeks now and I am having bowel movements regularly. Just wanted to say thank you for your help!
To get your body on the right path, click HERE to get suggestions on what supplements your body needs.