Kentucky Hot Brown
It is the Kentucky Derby on May 5 and 6th and if you want to celebrate from home, I suggest making my keto bread, low carb Kentucky Hot Brown. This is a traditional sandwich that someone mentioned they wanted me to recreate and make a ketogenic Kentucky Hot Brown.
If you are looking for more tasty Keto Comfort Foods, check out my latest cookbook: Keto Comfort Foods! On sale today!
Thank you for your love and support!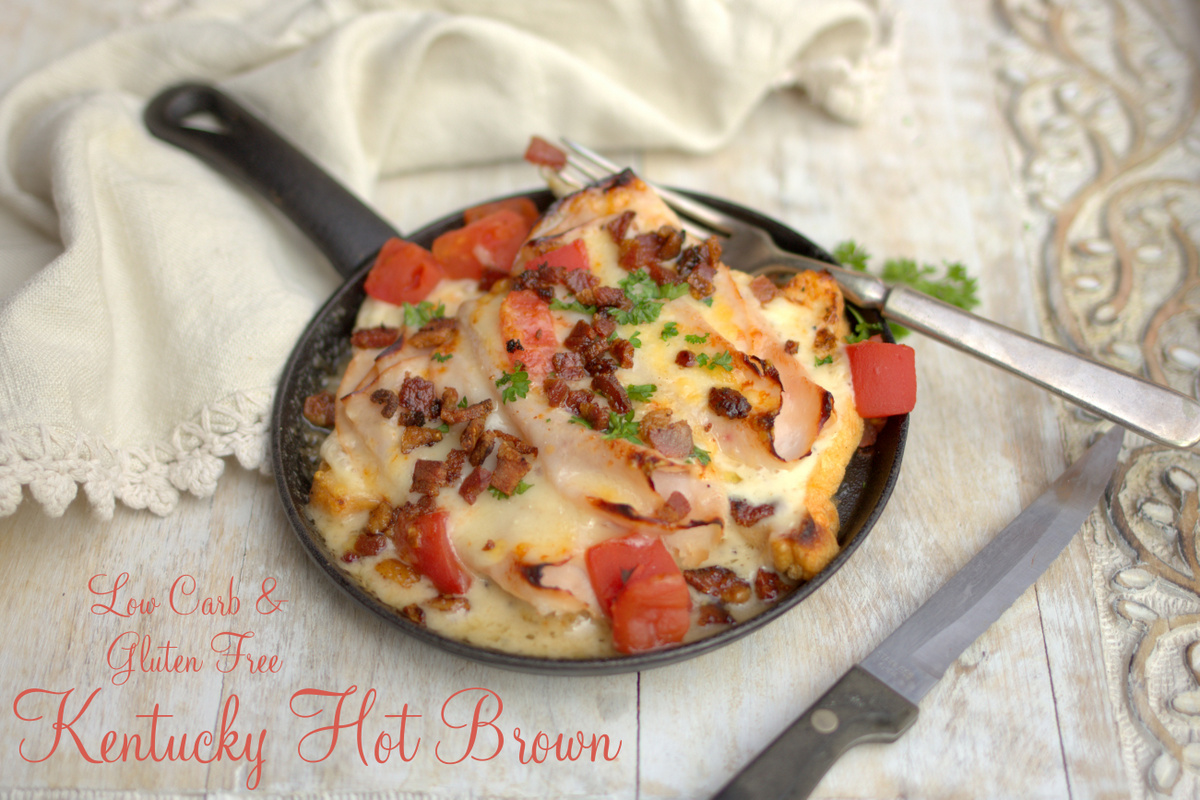 Kentucky Hot Brown
Ingredients
For the cheese sauce: EASY OPTION: Use my homemade Ranch dressing instead
1 cup unsalted butter
1 cup beef or chicken broth
2 oz cream cheese
1.2 lbs extra sharp cheddar cheese, shredded
½ tsp Celtic sea salt
For the egg bread:
4 large eggs
¼ cup unsweetened cashew/almond milk
⅛ teaspoon fine grain sea salt
8 (1/2-inch) slices Keto Bread
4 tablespoons butter
4 tablespoons coconut oil
For assembly:
Egg battered Keto bread
Roasted turkey breast, sliced into ⅛-inch thick slices
3 ripe beefsteak tomatoes, cut into ½-inch thick slices and griddled until slightly charred and just cooked through
1½ cups grated sharp white Cheddar
½ cup freshly grated Parmesan
16 thick slices slab bacon, diced and cooked until crisp
Finely chopped fresh chives
Finely chopped fresh flat-leaf parsley
Instructions
To make the cheese sauce, place the butter in a large saucepan and heat on high for about 5 minutes. Whisk while heating.
The butter will start to sizzle and fluff up. Watch for brown flecks (not black!) and remove from heat.
Slowly add the organic broth, cream cheese and shredded cheese. Add salt to taste.
Heat lightly just until cheese is pretty much melted.
Remove from heat and place in a blender to combine until very very smooth. Use for sandwiches.
For the egg bread:
Whisk together the eggs, cashew milk and salt in a medium bowl. Dip each slice of bread in the mixture.
Heat 2 tablespoons of butter and 2 tablespoons of oil in a large healthified nonstick saute pan over medium-high heat. Cook 4 slices of the bread at a time until golden brown on both sides. Remove and place on a baking sheet. Repeat with the remaining bread.
For assembly:
Preheat broiler. Place the egg bread on a baking sheet, place under the broiler and heat on both sides for 20 seconds just to warm through.
Top each slice of bread with 2 to 3 slices of turkey and 2 slices of tomato, ladle sauce over the top and divide the cheddar cheese and Parmesan over the top of each slice. Place under the broiler and cook until bubbly and the top is golden brown. Remove from the oven, top each slice with diced bacon bits and sprinkle each slice with chives and parsley.
Notes
Nutritional Information:
720 calories, 63g fat, 35g protein, 3g carbs, 0.1g fiber
TESTIMONY OF THE DAY
"But the unbelievable update that I MUST share with you is this…. I watched a few of the classes and specifically the supplements class. I'm 53 years old and experiencing a wide variety of hormone related issues. I immediately purchased the recommended supplements and added to my regime.
A few days later, I woke up at said to my husband, "You know what? I feel great! I cannot remember the last time I woke up and felt this good.
It has been at least a YEAR since I've gotten out of bed and wasn't depressed, tired, foggy and hurting somewhere". And this has been the case every days since. I'm going on 4 days of sleeping all night, and wake up feeling really GOOD!
I can't thank you enough….! I finally feel like I've found my answers and a place to start healing." – Robin