Kentucky Hot Brown on Protein Sparing Bread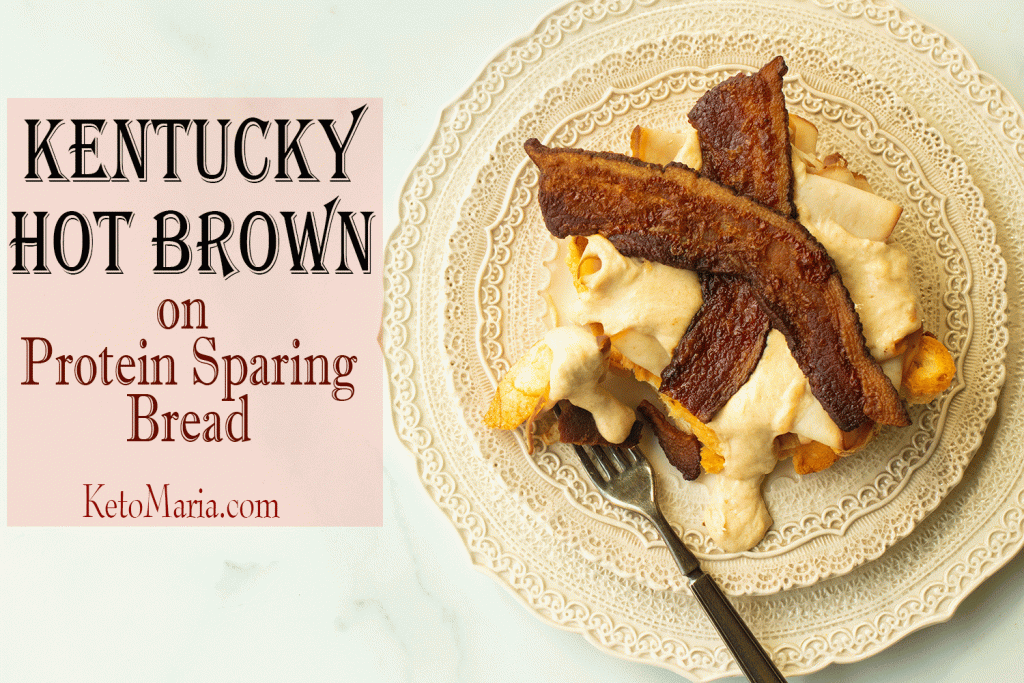 Have you ever had a Kentucky Hot Brown?
It is the Kentucky Derby next weekend and if you want to celebrate with me, I suggest making my protein sparing bread, to make my delicious keto Kentucky Hot Brown!
A Kentucky Hot Brown is a traditional sandwich made with turkey, cheese sauce and bacon that someone mentioned they wanted me to create a Keto Kentucky Hot Brown. Since I always have a loaf of my protein bread in the freezer, I quickly got to work to create the BEST Kentucky Hot Brown recipe!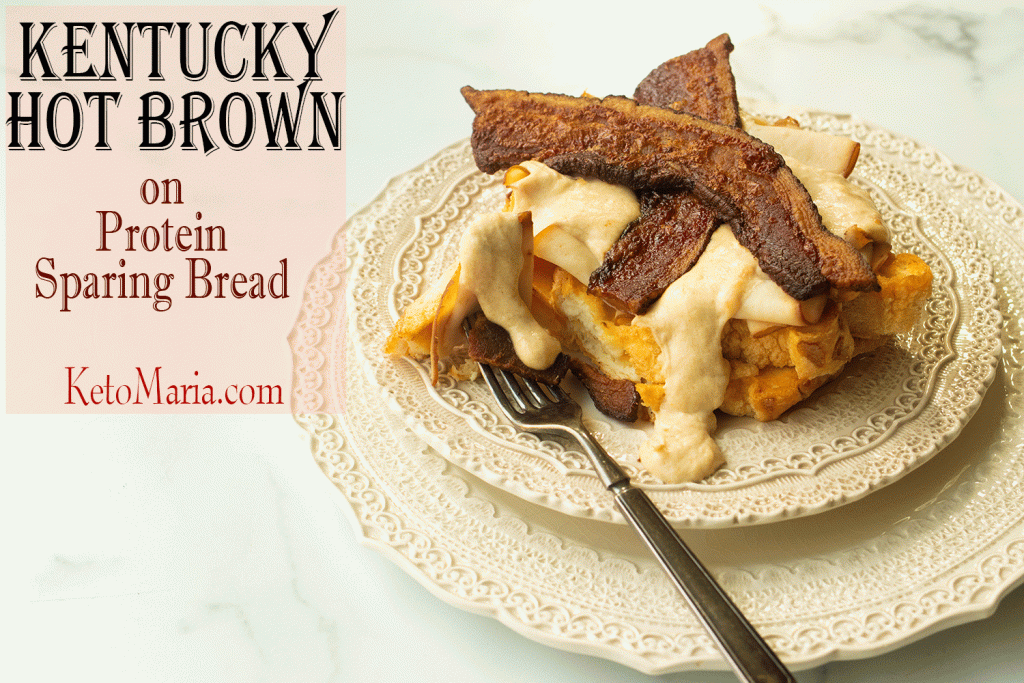 HOW TO MAKE A KENTUCKY HOT BROWN
Kentucky Hot Browns usually have bacon. To make my Kentucky Hot Brown, I used sugar free Butcherbox bacon. It is hard to find bacon without sugar and if you do, it is really expensive! That is why I order Butcherbox products! They also have NO SUGAR in their bacon, hot dogs or any of their high quality cuts of meat and wild caught seafood!  Click HERE to get sugar-free bacon! 
It is hard to find bacon without sugar and when you do it is VERY expensive! That is why I order Butcherbox bacon! It is sugar free and it is mailed to my front door!
If you LOVE bacon like my son does, you are going to want to check this out!
Butcherbox is doing a special deal when you sign up now!
If you're an existing ButcherBox member I've got deals for you too.
Skip the stores with all the temptations and get quality food mailed to your front door!
Click HERE to access member deals and specials. You'll find exclusive and limited time offers as well as new product launches like lobster, ground bison, seafood sampler, cast-iron favorites, their legendary bacon blast (10 packs of bacon for just $5/pack), and so much more. Their member deals are constantly changing so be sure to click HERE!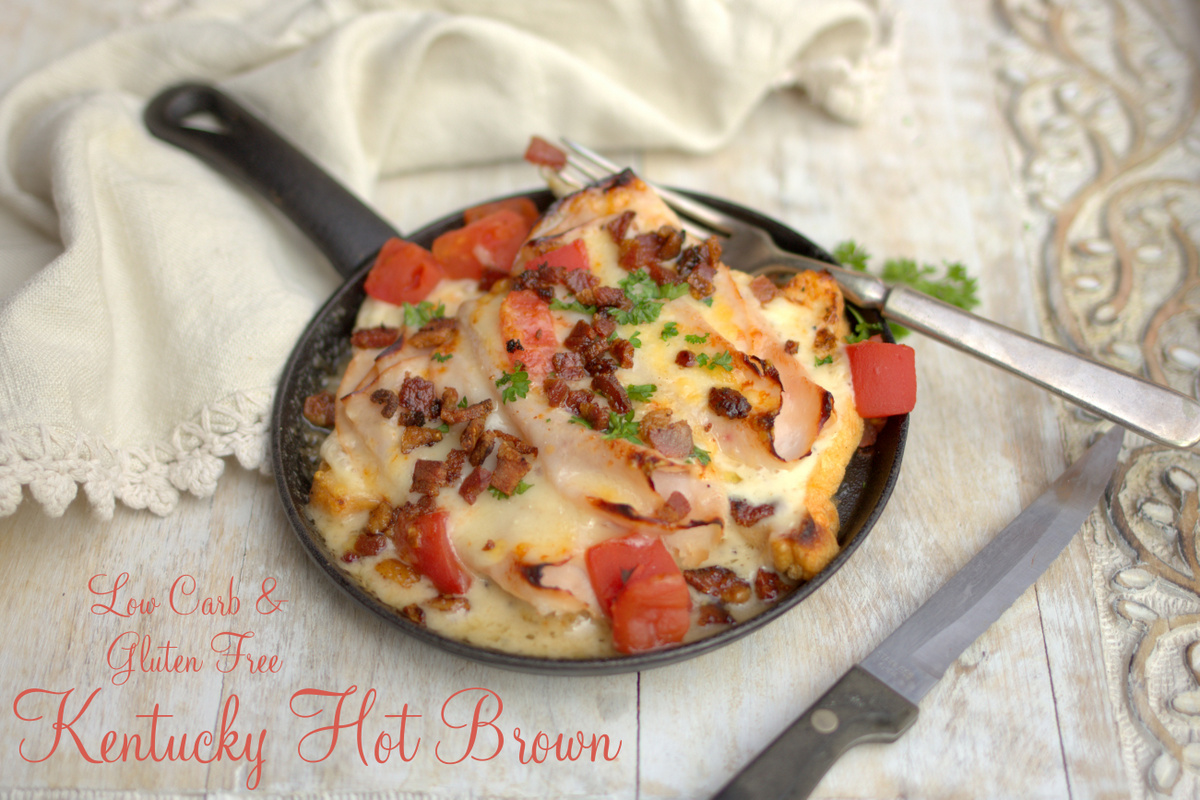 If you like my Protein Sparing Bread Kentucky Hot Brown, you can find many more protein sparing recipes in The Art of Fat Loss!

Thank you for your love and support!
Kentucky Hot Brown on Protein Sparing Bread
Ingredients
BROWN BUTTER CHEESE SAUCE:

1

cup

unsalted butter

1

cup

beef or chicken broth

warm or room temperature

2

oz

cream cheese

softened

1.2

lbs

extra sharp cheddar cheese

shredded

1/2

teaspoon

Redmond Real salt

FOR THE HOT BROWN:

4

large eggs

1/4

cup

unsweetened almond milk

or hemp milk if nut free

1/8

teaspoon

Redmond Real salt

8

1/2-inch slices Protein Sparing Bread

4

tablespoons

butter

4

tablespoons

coconut oil

ASSEMBLY OF KENTUCKY HOT BROWN:

Egg battered Protein Sparing bread

Roasted turkey breast

sliced into 1/8-inch thick slices

3

ripe beefsteak tomatoes

cut into 1/2-inch thick slices and griddled until slightly charre

1/2

cups

grated sharp Cheddar

1/2

cup

freshly grated Parmesan

16

slices

SUGAR FREE bacon

cooked

Finely chopped fresh chives

Finely chopped fresh flat-leaf parsley
Instructions
To make the cheese sauce, place the butter in a large saucepan and heat on high for about 5 minutes. Whisk while heating. The butter will start to sizzle and fluff up. Watch for brown flecks (not black!) and remove from heat. This is brown butter. I LOVE BROWN BUTTER!

Slowly add the warm broth, cream cheese and shredded cheese. Use a stick blender (click HERE to find)and puree until smooth. Taste and add salt if needed. Set aside.

To make the hot brown, in a medium shallow bowl, whisk together the eggs, almond milk and salt. Dip each slice of bread in the mixture.

Heat 2 tablespoons of butter and 2 tablespoons of oil in a large healthified nonstick saute pan over medium-high heat. Cook 4 slices of the bread at a time until golden brown on both sides. Remove and place on a baking sheet. Repeat with the remaining bread.

For assembly of the Kentucky Hot Brown: Preheat broiler. Place the egg bread on a baking sheet, place under the broiler and heat on both sides for 20 seconds just to warm through.

Top each slice of bread with 2 to 3 slices of turkey and 2 slices of tomato, ladle sauce over the top and divide the cheddar cheese and Parmesan over the top of each slice. Place under the broiler and cook until bubbly and the top is golden brown. Remove from the oven, top each slice with sugar free bacon. Best served fresh!
Notes
Nutritional Information:
520 calories, 43g fat, 35g protein, 3g carbs, 0.1g fiber
TESTIMONY OF THE DAY
"Ok well this is my 4th post today.  I'm sorry, but I'm so excited I'm crying!  I mentioned before that I have been keto/ carnivore for 3 years.  I felt amazing but my weight-loss was stalled for the last two years and I couldn't reach my goal.  That's a long frustrating stall.  I thought I was doing everything right and working so hard at it.  When I started Maria and Craig's way I broke my stall! 
Focusing on eating enough protein and lowering my fat has made me more satiated than ever in my life.  I can't believe I'm now one of those people that just isn't hungry.  I'm so over joyed to not be the hungry girl anymore and I know I will reach my goal now. 
Thank you so much Maria and Craig!!!  You are both changing the world in big ways and saving so many lives ️" – Katie
Most people I consult are doing keto totally wrong. Get fast results with the my NEW Keto Packages!