Testimonies of the Day
"My journey with Maria began 3 months ago. I was hoping to feel better in a month or so … I felt better the very next day! Talk about return for your investment of time and incentive to continue down this path. I have less pain, dropped inches and pounds, more energy and terrific support to continue this Life Style." -Pam
"Last year ( before I started eating Maria's way) I felt awful, and asked THREE of my doctors : OB GYN, GP &  allergist if they could recommend a nutritionist or nutrition plan. NOT ONE had an answer. My girlfriend Charlotte Hart Estess pointed me to Maria Emmerich and subsequently changed my life- haven't taken any meds for a year, dropped 30 lbs & still dropping, 75 +miles a week on my bike & never EVER have I felt better. Also haven't been back to the docs.  ;-)" Sarah
To get started like Pam and Sarah, click HERE.  I'd be honored to help you too!
WhoNu Marketing Could Be So Deceptive?!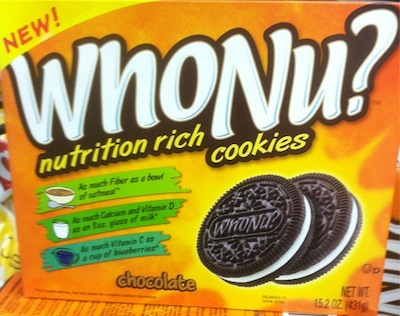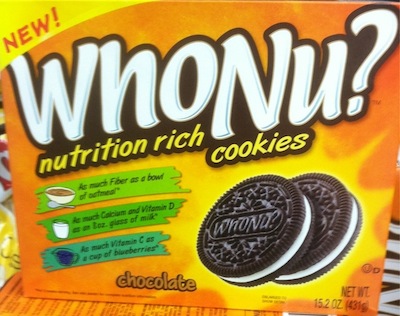 With an advertisement like this, you would expect these cookies to be healthy right?
* As much fiber as a bowl of oatmeal * As much Vitamin C as a cup of blueberries * As much Calcium and Vitamin D as an 8 oz. glass of milk * As much Iron as a cup of spinach * As much Vitamin E as two cups of carrot juice * As much Vitamin A as an 8 oz. glass of tomato juice * As much Vitamin B12 as a cup of cottage cheese and fruit
If you look deeper into the ingredients list, it is just a cookie sprinkled with vitamins along with inflammatory vegetable oils, wheat and sugar! My cookie has more calcium, vitamin E, vitamin B, Magnesium and fiber than these cookies and that is from a natural source, not a synthetic vitamin powder.
WhoNu cookie ingredients: Sugar, Wheat Flour, Vegetable Oils (Canola, Palm, Palm Kernel Oil, Soybean Oil And Partially Hydrogenated Cottonseed And Coconut Oil), Cocoa, Dextrose, Polydextrose, Yellow Corn Flour, Corn Syrup, Baking Soda, Soy Lecithin, Salt, Natural & Artificial Flavor, Monoglycerides, Vanilla Extract. Vitamins & Minerals (BASICALLY SPRINKLED THE COOKIE WITH A MULTI VITAMIN!): Calcium Carbonate, Vitamin C (Asorbic Acid), Iron Orthophosphate, Zinc Oxide, Copper Oxide, Manganese Gluconate, Iodine, Chromium Chloride, Vitamin E (Tocopherol Acetate), Vitamin A (Palmitate), Biotin, Vitamin B3 (Niacin), Vitamin B5 (Pantothenic Acid), Vitamin D3, Vitamin K (Phytonadione), Vitamin B1 (Thiamine Mononitrate), Vitamin B6, Vitamin B2, Vitamin B12, Folic Acid. 
My recipes use Almond Flour and Coconut Flour which are NATURALLY high in: 
B-VITAMINS: These are our anti-stress vitamins. Vitamin B contents also promote healthy growth of hair as well as nails. I use almond oil on my skin everyday. A deficiency can cause memory issues, confusion, bad breath, dark tongue, dry hair, rough skin, tender muscles, and irritability.
CALCIUM: 1 ounce (about 23 almonds) 20-25 almonds has more calcium than 1/4 cup of milk! A deficiency in calcium can cause, brittle fingernails, eczema, tooth decay, and strange numbness and tingling in arms/legs.
VITAMIN E: Almonds are the best whole food source of vitamin E, in the form of alpha-tocopherol, which helps prevent cancer. A deficiency can cause issues such as losing hair at rapid rates, cataracts, and muscle weakness. Vitamin E is a fat-soluble vitamin, so eating a low to no-fat diet will cause a deficiency even if you consume vitamin E.
PROTEIN: Almonds have protein. Using almond flour helps give us the protein we need to build proper bones (yes…bones need protein), helps us to focus, builds muscle and staves off sarcopenia. Sarcopenia is a natural process of losing 1% of you muscle per year starting at age 25!
MAGNESIUM: What mineral is needed by every cell in the body, yet odds are you don't get enough of it? Hint: It's not calcium. Give up? It's magnesium. Deficiencies cause muscle spasms, pain, insomnia and fatigue. Magnesium assists in maintaining muscle mass, nerve function, a regular heartbeat, helps our immune system, and keeps bones strong. Diabetics benefit from magnesium as it helps regulate blood sugar levels. In addition, magnesium normalizes blood pressure, and is known to be involved in energy metabolism and protein synthesis. Almonds contain more magnesium than oatmeal or even spinach. For every molecule of sugar we ingest, our bodies uses 54 molecules of magnesium to process it! No matter where the carbohydrates come from; 4 grams of carbohydrates equal one teaspoon of sugar in our body. Let me say that again…4 grams of carbohydrates equal 1 teaspoon of sugar in our body. So with that thought, a small Blizzard has 530 calories and 83 grams of carbohydrates; which equals 21 teaspoons of sugar. A nine ounce bag of potato chips equals 32 teaspoons of sugar…add a soda, that's another 16 teaspoons of sugar.Are your kids having a hard time falling asleep? Most people are deficient in magnesium, including children.
A magnesium deficiency can have serious consequences, including low serotonin. Magnesium and serotonin don't just help to regulate your mood, they also can affect your physiology in many ways. Serotonin is a neurotransmitter that sends signals of satiety, satisfaction and relaxation. It also regulates our appetite and influences sleep cycles; if serotonin is low, melatonin will be low. So low magnesium can lead to over-eating, depression, insomnia and other serious issues including migraine headaches. Find more fun facts like this in my kids color cookbook. Click HERE to find.


Insulin stores magnesium, but if your insulin receptors are blunted and your cells grow resistant to insulin, you can't store magnesium so it passes out of your body through urination. Magnesium in your cells relaxes muscles. If your magnesium level is too low, your muscles will constrict rather than relax, which will increase pain (including migraines/headaches/fibro). To fix this problem, eat a low carb diet and consume magnesium glycinate (click HERE to find).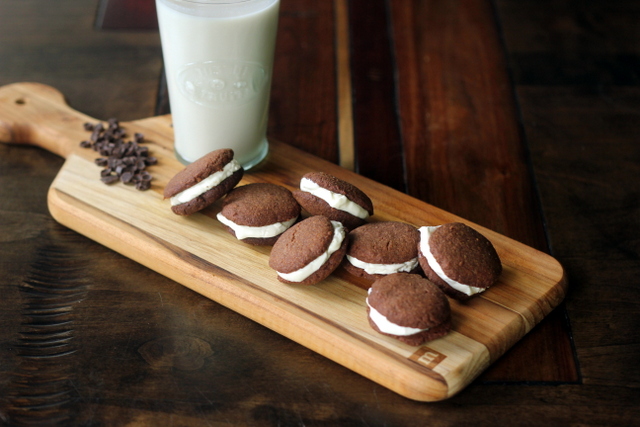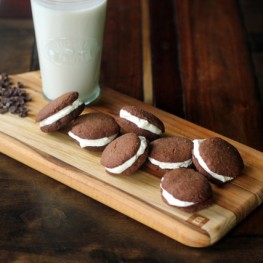 Low Carb Cookies
Ingredients
FILLING:
8

ounces

cream cheese

or coconut cream if dairy allergy

2

tablespoons

unsweetened vanilla almond milk

4

tablespoons

Natural Sweetener

or a few drops of stevia
Instructions
Preheat the oven to 325 degrees F. In a medium bowl, cream the butter, sweeteners and egg. Cream for a few minutes until very fluffy. In a separate bowl mix together the almond flour, coconut flour, baking powder, and salt. Slowly add in the dry ingredients to the wet and mix until smooth. Add in chocolate. Roll 2 TBS of dough into a ball in your hands (for uniform shape) onto a cookie sheet, then press down to they are about ¾ of an inch thick. Place cookies about 2 inches apart. Bake in preheated oven for 17-20 minutes or until golden around the edges. Cool completely on the baking sheet before removing and enjoy! I keep mine in the freezer (for portion control!:) Makes 24 cookies.

FILLING: Mix all the ingredients well and use to hold two chocolate cookies together.

Serve with unsweetened vanilla almond milk (which has twice as much calcium as dairy milk)! Dip and enjoy! Makes 12 servings.
Nutrition
Calories:
137
|
Fat:
13
g
|
Protein:
3
g
|
Carbohydrates:
4.2
g
|
Fiber:
3.9
g
|
P:E Ratio:
0.2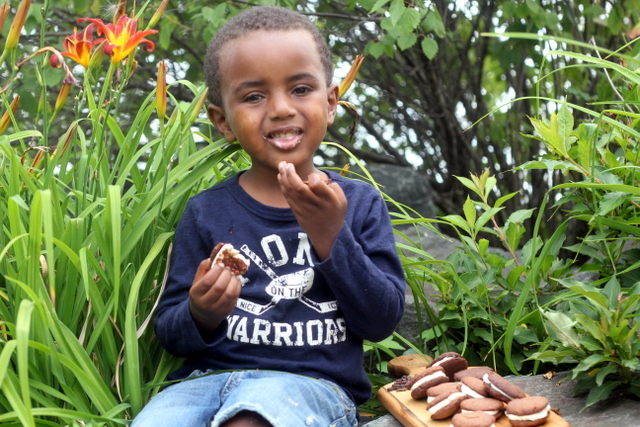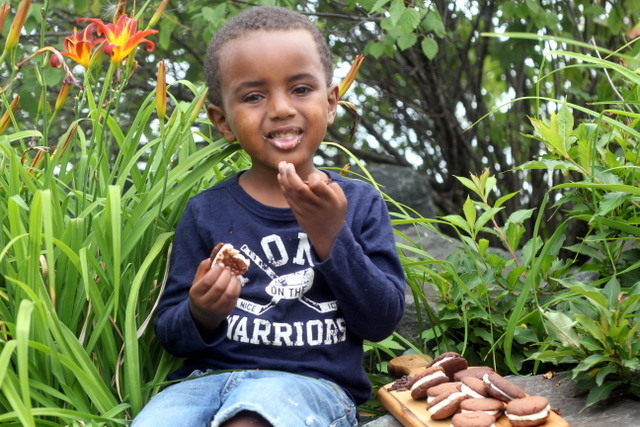 Another Cute Testimony
"I have to say a huge THANK YOU to you.  Your blog and books are awesome and so easy to follow.  I started on this path just over a month ago and have lost 15 lbs of the 30 I am shooting for.  I feel great and have no doubts I this will change my life and my families lives forever!" TARA