TESTIMONY OF THE DAY
"My heaviest weight was 456lbs. I needed a total lifestyle change. My heart was enlarging, I couldn't walk very far, hard to breathe, asthma, acid reflux.. The only thing I had on my side was my age.. I was only in my early 20s. I had even dropped out of high school because of my weight. After moving to a new town I focused on myself. I adopted the low carb way of eating and shed so much weight so fast. About 2 years ago I hit a plateau that lasted almost a year. No matter what I changed it wasn't coming off.. I found Maria's blog and learned so much about my body and the way it works. With the help of Maria's knowledge and recipes I broke through my plateau and have shed another 70lbs bringing my total loss to 254lbs to date and still losing… My asthma is gone, my heart is ok now, I can walk with no issues, I actually run 80 minutes a few times a week.. I feel amazing!! This is the best lifestyle for me.. I will continue to follow for the foreseeable future.. Thank you Maria for sharing your knowledge and amazing recipes with us.." Ashley
To get the results like Ashley, click HERE for easy to follow keto-adapted meals.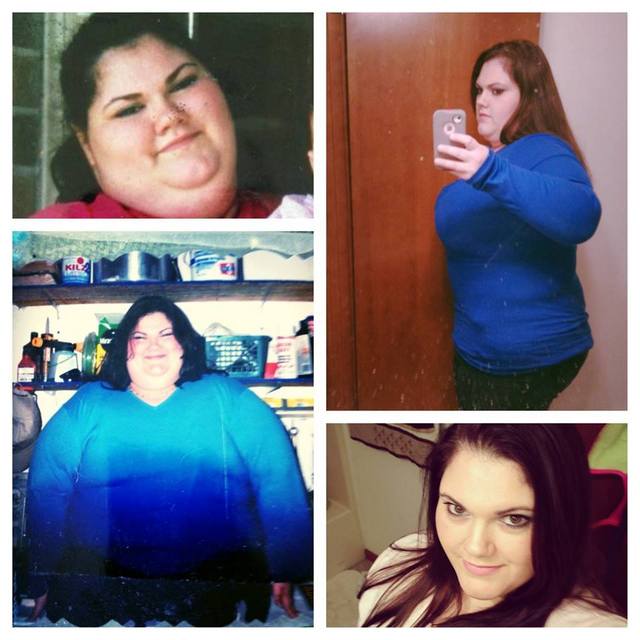 Best Facebook Post of the Day!
"Dairy Queen I've missed you for the last 5 months;( . But when this arrived today , I said whoo hoo! Bring on the healthified chocolate/almond butter sugar free ice cream treats for the summer! No more missing the frozen tasty treats that I love so much!
Thanks Maria for letting us know the ice cream maker was on sale! I would spend more on blizzards and larger pants this summer then what this little beauty cost me! 50% off this awesome little kitchen toy! Happy DANCE!" -Lori
Click HERE to get the ice cream maker on sale. When mine broke (because of over-use) they sent me a NEW one for FREE! Love Cuisinart! 

ICE CREAM TIPS
Making low sugar ice cream is tricky. If you use an erythritol-based sweetener it hardens to a rock, but if you leave it out before serving, it will soften. If you would like more tips to keep ice cream soft, click HERE.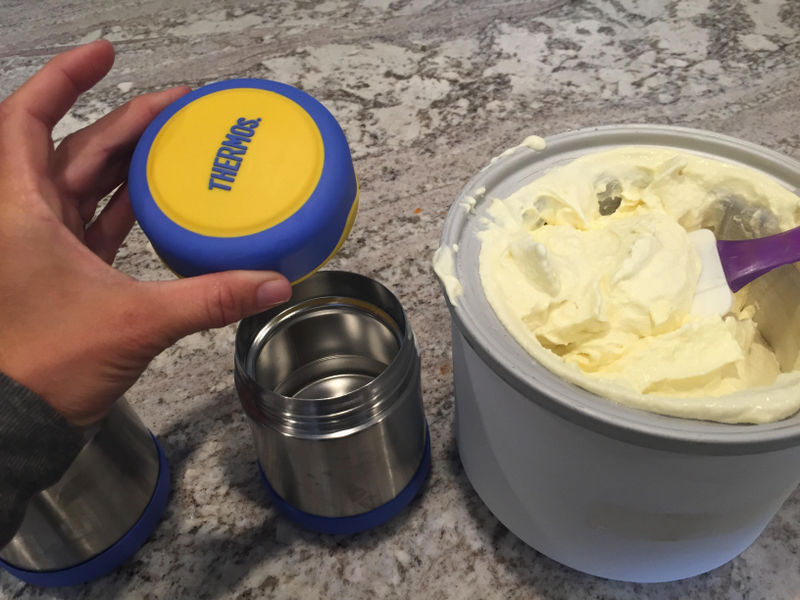 Want to make your kids smile at lunch? Pack them "healthified" ice cream. By the time lunch comes, the ice cream is nice and soft. Click HERE to find the thermos I use.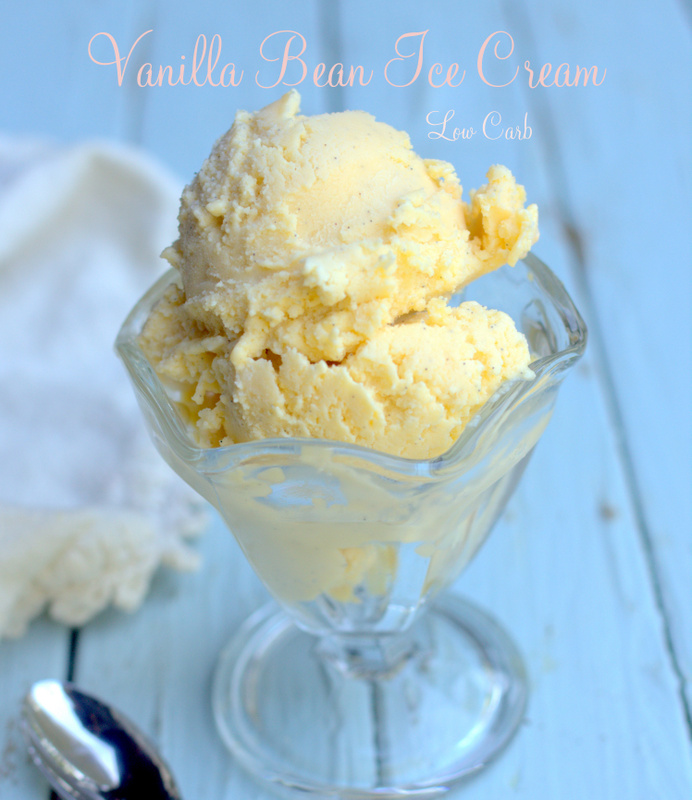 VANILLA ICE CREAM:
5 egg yolks
1/2 cup Allulose (keeps ice cream soft)
1 cup heavy whipping cream
1 cup unsweetened vanilla almond milk
1 vanilla bean, scraped clean (or 1 teaspoon vanilla extract)
1/4 tsp Redmond Real salt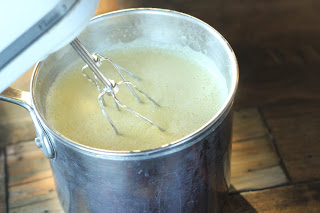 In a medium saucepan place the egg yolks and sweeteners in to mix on high with a hand mixer. Whip yolks until light in color and double in size. Stir in the whipping cream.
OPTIONAL to cook the custard (I skip this since I am not afraid of raw eggs): Place the saucepan onto medium heat on the stove and cook, stirring constantly ( see photo). Stir until thickened into a custard. Remove from heat and stir in the almond milk, vanilla bean seeds and salt. Let cool completely.
Place into your ice cream machine (click HERE to find the one I love AND it is 1/2 off the original price!!!) and watch the magic happen within 45 or according to your ice cream maker's directions.
Freeze until set for vanilla ice cream or stir in your favorite swirl flavor to mix it up. Makes 5 servings.
NUTRITIONAL COMPARISON (per 1/2 cup serving)
Ben & Jerry's Vanilla Ice Cream = 230 calories, 23 carbs, 0 fiber, 4 g protein
"Healthified" Vanilla Ice Cream = 226 calories, 23g fat, 4g protein, 4g carbs, 0g fiber
I couldn't help myself!!! When I was little, my dad would take me to Tasty Treat and we would get butterscotch malts! I topped my keto vanilla bean ice cream with my zero-carb butterscotch fat bomb and it gave it the most delicious crunchy texture! MY FAVORITE keto treat yet!!!
Click HERE to find my Butterscotch Crispy Fat Bomb.