Tiramisu Fudge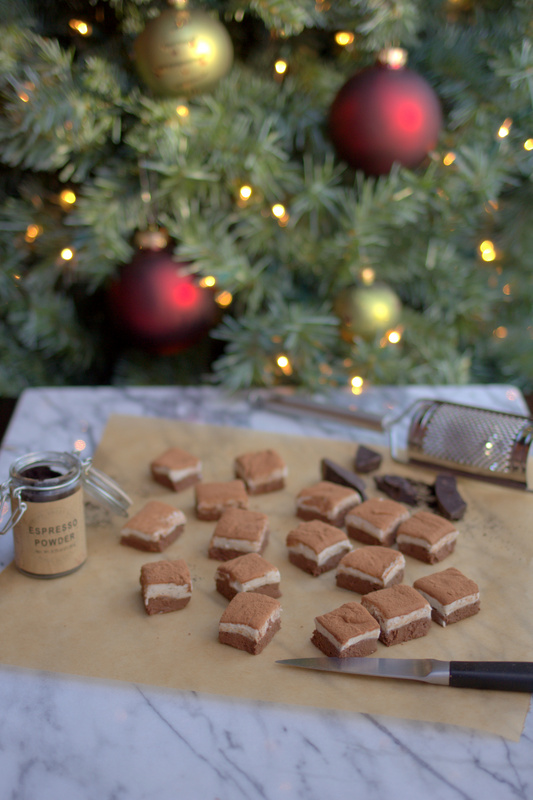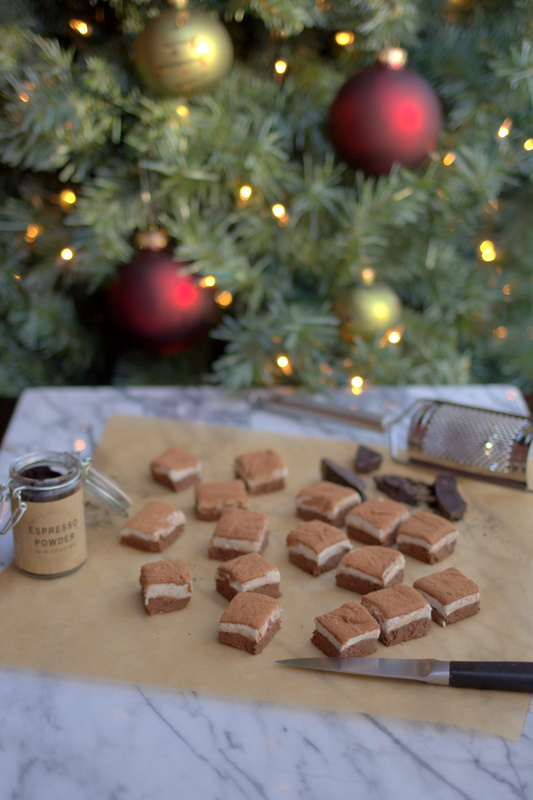 I grew up working at coffee shops starting at the age of 15. I adored this job. I didn't even mind getting up at 5am to make muffins, scones, cinnamon rolls and all the goodies for the day. I loved greeting the daily customers that came in for their mocha or a latte. I remembered how they liked their drink and often knew what time it was just by who I was making a drink for. I also grew a love for anything coffee flavored which leads me to my favorite dessert; tiramisu!
When I had my first bite of tiramisu, I was hooked! It was at a tiny pizza shoppe called Bambinos in Tomahawk Wisconsin. I thought it was a very hard dessert to make but it isn't! You can find my traditional Tiramisu recipe in Keto Restaurant Favorites cookbook but if you want to make a Tiramisu Fudge for the holidays, try this recipe! It is a hit with my boys who are traditional Ethiopians and LOVE coffee!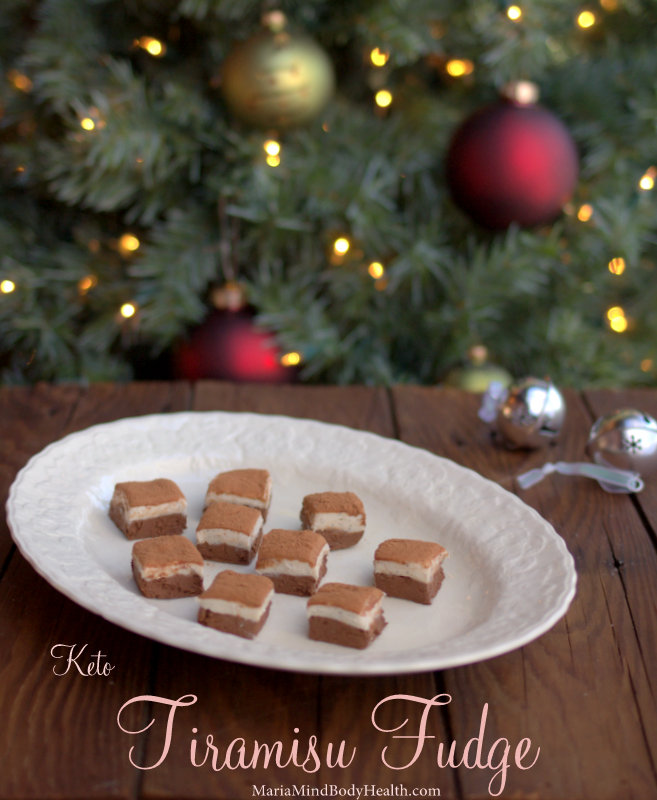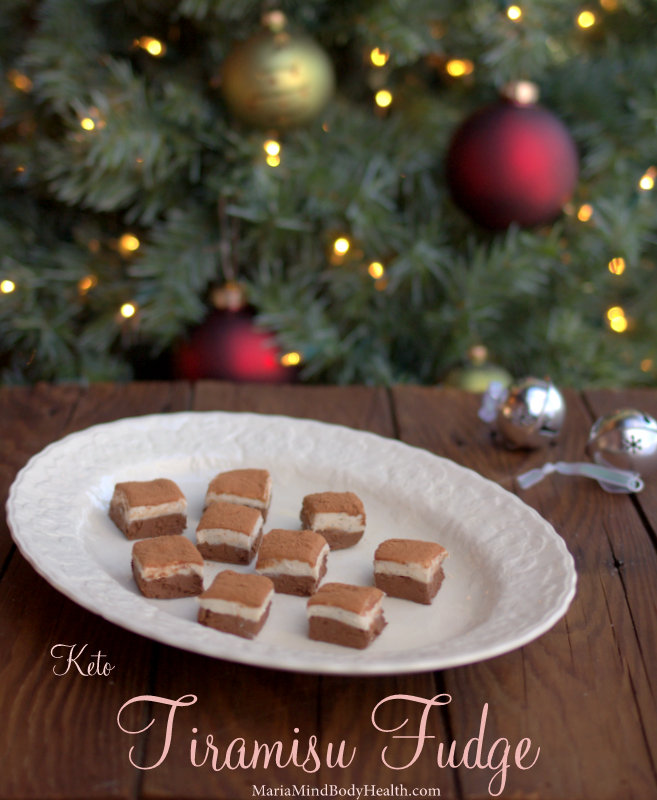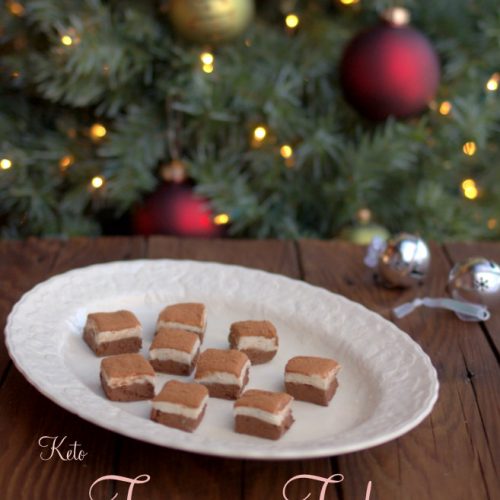 Tiramisu Fudge
Ingredients
1

cup

heavy cream

8

oz

mascarpone

or cream cheese, softened

1/4

cup

decaf espresso

1/2

cup

Natural Sweetener

1

tsp

stevia glycerite

1/2

tsp

rum or Kahlua extract

4

oz

unsweetened baking chocolate

chopped fine

CREAM LAYER:

1

cup

mascarpone

or cream cheese, softened

1/4

cup

Natural Sweetener

1/2

tsp

rum or Kahlua extract

GARNISH:

Unsweetened cocoa powder
Instructions
Place a piece of parchment paper into an 8x8 inch pan.

Grease the parchment lightly for easy removal.

In a small saucepan over medium heat, stir together the heavy cream, mascarpone, espresso, natural sweeteners and extract.

Bring to a light simmer then remove from heat and add the finely chopped chocolate. Stir until smooth and the chocolate is totally melted.

Pour chocolate mixture into the prepared pan and spread evenly to the edges. Place pan into the freezer for about 30 minutes or until firm.

Meanwhile, place softened mascarpone in a small mixing bowl. Stir in natural sweeteners and extract.

Remove chocolate layer from freezer and mascarpone layer overtop, spreading to the edges. Sprinkle with unsweetened cocoa powder.

Cover and refrigerate until set, about 2 hours or overnight. Cut into 24 squares.
Notes
Nutritional Info:
145 calories, 14g fat, 2g protein, 2g carbs, 1g fiber
TESTIMONY OF THE DAY
30 Day Accelerated Testimony: "Hi Maria! I wanted to let you know that yesterday was my 30 day mark on your plan. I lost 15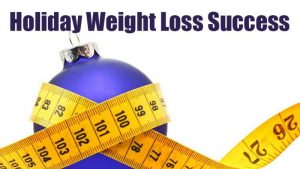 pounds!!! I am in full ketosis (per blood test)! I have also been intermittent fasting without even trying to — I'm just not hungry.
This is a first for me — to "not" be hungry. On every fad diet I've been on, I've always been "hangry" and never stuck with it. Your keto plan keeps me full and happy. I am thrilled! I am down one full pant size and am wearing shirts I haven't worn in a very long time because they were too tight. I am going into another 30 day round with some huge obstacles coming up that I plan to continue keto-ing through — two family vacations in four weeks! Fingers crossed I can stay strong! Thank you!!!!!" – Amara
Click HERE to become the happy and healthy person you deserve to be!
Another Testimony of the Day