The BEST Hot Chocolate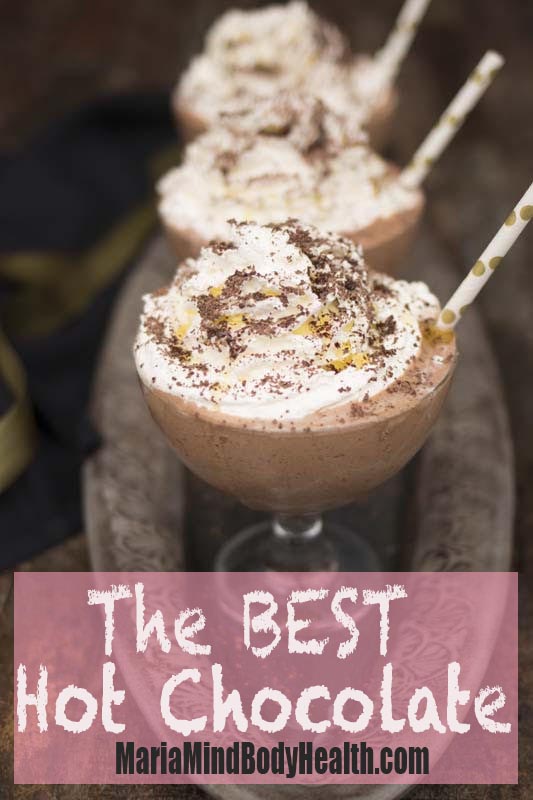 My boys love that I celebrate National food holidays in a "healthified" way and tomorrow is National Hot Chocolate Day! If you want to celebrate with us, you must try this recipe for the BEST Hot Chocolate!
Have you ever made hot chocolate and the cocoa powder clumps up and floats at the top? Not in this recipe!
When I make my hot chocolate, I make a paste with the unsweetened cocoa powder and high quality butter!
I like to use a quality unsweetened cocoa powder that is a cocoa powder verses most cocoa powders that are reduced fat and not as rich and flavorful.
Same with butter, I love Kerrygold because it has a higher fat content than most.
If you want to make this the BEST hot chocolate, I highly suggest using browned butter which creates a caramel-like flavor that is rich and nutty! I brown a whole stick of butter and have extras in the fridge to add to fish, shrimp or steak! But if you don't want to brown the butter, you still will have a delicious hit chocolate!
To brown butter, check out this video:
One of my recipe testers called this hot cocoa "Heaven in a Cup!"
The BEST Hot Chocolate
Ingredients
1

tablespoon

unsweetened cocoa powder

OR 1 scoop Equip chocolate protein powder

2

tablespoons

browned butter

or coconut oil for dairy free

2

tablespoons

Natural Sweetener

skip if using Equip protein powder

1/8

teaspoon

Redmond Real Salt

skip if using Equip protein powder

Few drops chocolate stevia

or English Toffee stevia

Pinch

of cinnamon

optional

1

cup

unsweetened almond milk

or heavy cream or full fat coconut milk if you are feeling decadent!

OPTIONAL GARNISH: Whipped cream

or my coconut cream for dairy free sweetened with a few drops monk fruit extract
Instructions
Place the butter into a sauce pot and heat over high heat while whisking often. Stay close, the butter will froth up and turn brown. Immediately remove from heat.

Add the cocoa powder (or Equip chocolate protein powder), natural sweeteners, cinnamon and salt into a small pot. Heat over low heat and stir well to make a paste .

Slowly whisk in unsweetened almond milk. Heat over medium heat just until heated through. Do not boil. Taste and adjust sweetness to your liking. Pour into 2 glasses and garnish with whipped cream if desired.
Nutrition
Calories:
129
|
Fat:
13
g
|
Protein:
1
g
|
Carbohydrates:
2
g
|
Fiber:
1
g
|
P:E Ratio:
0.1
TESTIMONY OF THE DAY
Jozie and her mom came to my house 5 months ago! Jozie has TS and I am SO proud of her! I had to share her testimony! Doesn't she look AMAZING???
"Ok, for those looking for my latest Keto updates on Jozie and I here it is…

Jozie went from a women's small/medium to a children's size 10. She lost 25lbs.

Her daily battles with blood sugar and feeling unwell are GONE!

Her lymphedema is GONE!

Having to eat every couple of hours is GONE!

Anxiety is almost GONE!

Food worries GONE!

Sugar cravings GONE!

She has more energy, has gotten sick less, is happier, never feels hungry, she grew a couple inches which is HUGE for her TS, and she overall feels GREAT!

I lost 50 pounds! My asthma is non existent, my allergies are non existent, my gallbladder issues are gone, my pancreatitis is not active, my skin is better, my hair is thicker and growing, my headaches are better, my back, neck and aches and pains are better, I have more energy, I sleep better, my mood is better, I'm happier, my digestion is better and in general everything is BETTER!

Before we started Keto I prayed for God to help me accept my weight, be healthier and be a better person mentally and physically to better serve Him or help me lose weight to do those things. He aligned our journey with Keto. All the Glory goes to God for helping me which then completely transformed Jozie's health and future health!

I am so thankful and feel so blessed the Lord gave us the tools and Maria Wojcik Emmerich and Craig Emmerich to completely change our health and ultimately our lives!" – Linda and Jozie
Most people I consult are doing keto totally wrong. Get fast results with the my Mind-blowing Keto School!