The BEST Coconut Fish
Are you looking for the BEST fish fry for Friday?
I grew up in Northern Wisconsin where every Friday was fish fry night! I even worked at High View as a waitress where we specialized in fish fries!
I hated fish when I was a kid but now I eat fish everyday! And this is how I make it!
If you love ginger, you are going to love this tropical sauce! It tastes great on chicken, shrimp or just about anything!
Tag me in your coconut ginger photos they warm my heart!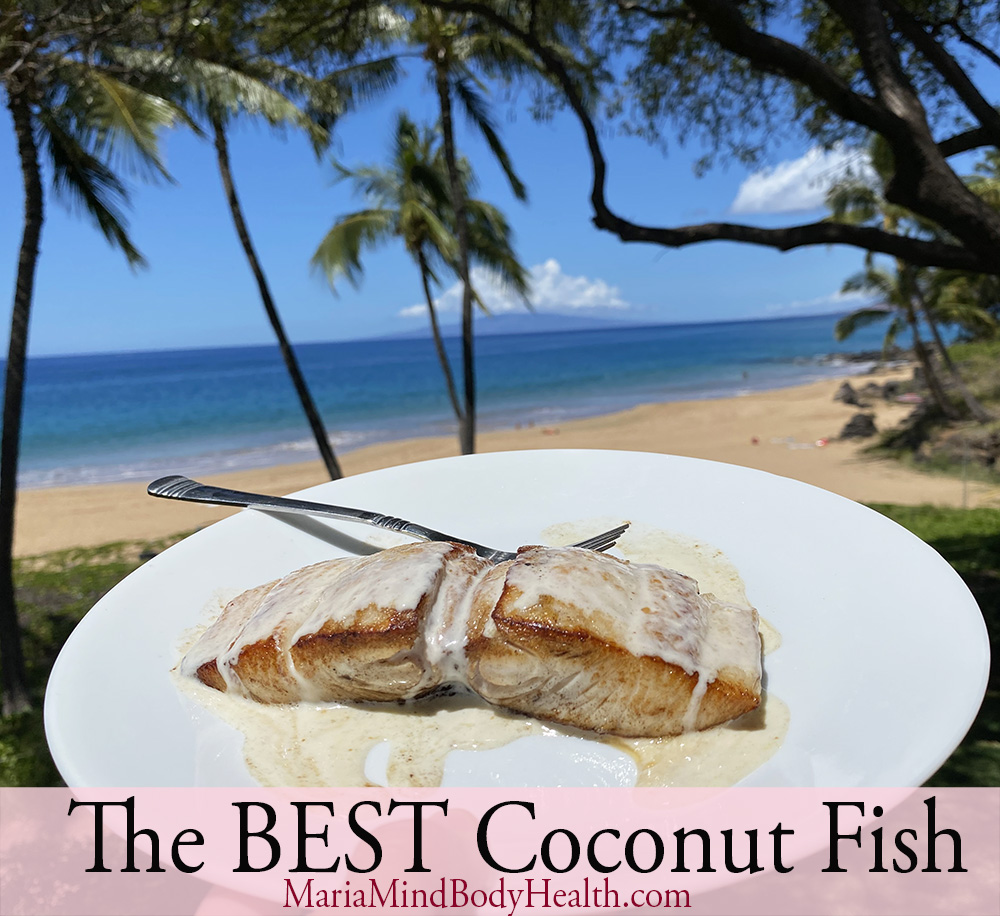 I call this Maui Coconut Fish because when we are at the Keto Condo, I eat this all the time! I ate fish daily in Maui!
I do LOVE to cook, but in Maui, I would rather be on my paddle board with the whales!
Speaking of whales, this is one amazing story of serendipity!
3 years ago, I went out on my paddle board miles into the ocean on a cloudy day. All of the sudden a baby and mother whale came up to me and the baby tried knocking me off my board. It was one of the best experiences of my life!
But the coolest part was a rowboat came towards me. It was a husband and a wife who take their boat out for exercise but they also bring their camera (they are professional photographers). They asked for my email and sent me the photos they took!
The next year, I was out on my board and THE SAME thing happened! Including the rowboat couple who took photos of this magnificent experience! That time they said they live here and never saw such an amazing experience with a whale happen, let alone have it happen twice to one person!
Now this year, I took my son Micah out on the board with me and we had not only one baby and momma whale approach us, we had 3 of them! AND the couple in their rowboat came up to us while we were near one of the whales and took some fantastic photos of the experience!The locals call me the Whale Whisperer!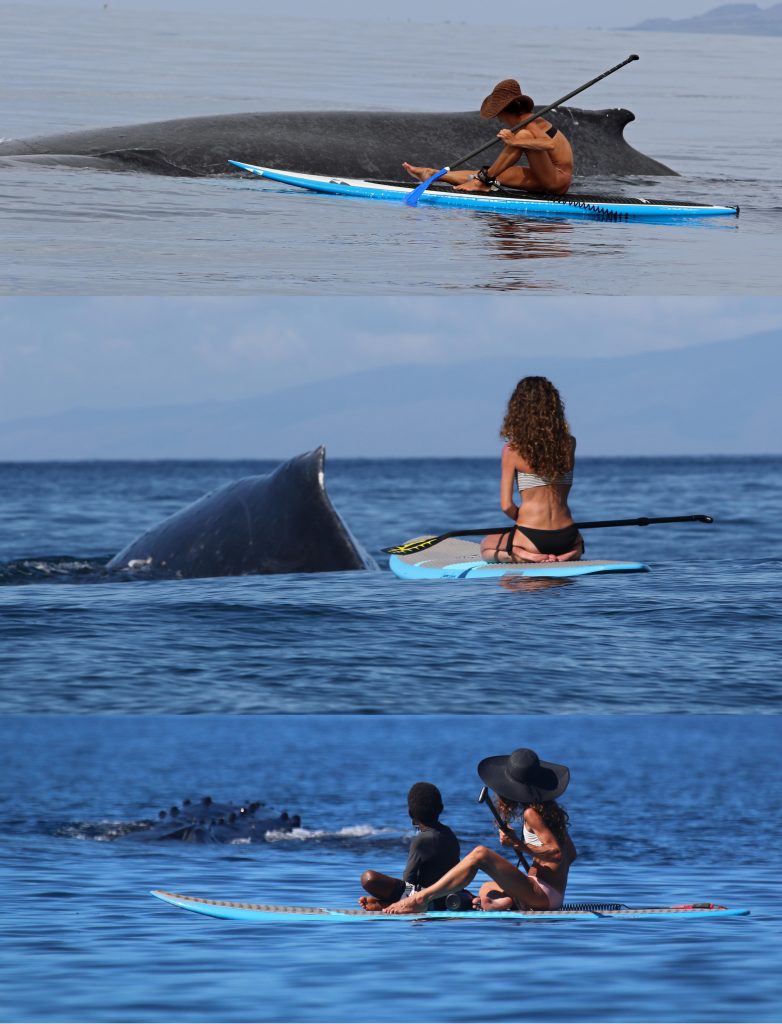 Enough about the Maui whales, back to fish. There is a great fish delivery called Fresh Fish Maui that delivers fish and I order it often when we are at the Keto Condo.
I personally never ever liked fish growing up until I tried Mahi Mahi! It is the most delicious flaky fish! If you do not have access to fresh Mahi Mahi, you can use any type of fish or even shrimp! The coconut ginger sauce is the true star of this recipe!
After spending a long day at the beach, I want everything ready so I can have dinner done quick! So to save time, I make a large batch of the coconut ginger sauce ahead of time. This also thickens in the fridge overnight which I like. All I have to do when we come up from the beach is fry the fish which only takes minutes!
This Maui Coconut Fish is so delicious you MUST try it!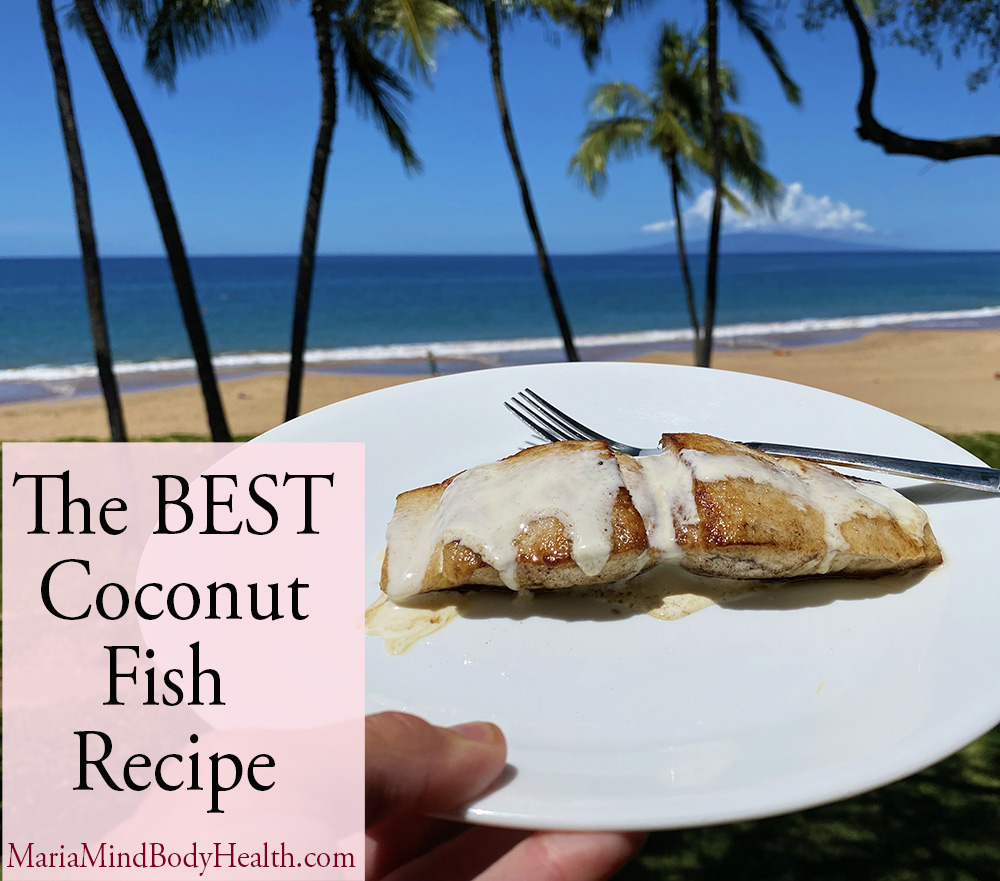 Now that I am no longer in Maui with fresh Mahi Mahi daily, I was REALLY craving fish. I tried EVERYTHING! I bought frozen Mahi Mahi at the grocery store and I bought 3 huge bags because I didn't want to have to go to the store often due to Covid 19. It was SO fishy I couldn't even eat it! I tried frozen cod, that was ok. I tried frozen Red Snapper, that was just ok. THEN I ordered Halibut from from Sizzle Fish! It was PERFECT! Not fishy at all!!!! It also had a texture like Mahi Mahi! I have been eating this EVERY day for the last month! Halibut is the BEST source for magnesium!
I love that I don't to drive to the store to get fish and I love how I can take a piece of halibut out of the freezer and fry it up and have an easy lunch ready in minutes since I always have this sauce in the fridge!
Click HERE to order halibut, king crab legs and all the delicious foods from the sea!  
Be aware when you are purchasing coconut milk for this coconut fish recipe that not all coconut milks are created equal. I've seen them range from 2g carbs up to 7g per serving. But also look at the serving size. Another thing to note is that some coconut milk is too watery. This will cause the sauce to not be as thick.
If you want to watch me make this delicious "Ambrosia Sauce," subscribe to our new YouTube Channel and comment below on what video recipe we should make next!
The BEST Coconut Fish
Ingredients
COCONUT GINGER SAUCE:
1 tablespoon butter (or coconut oil for dairy free)
¼ cup diced onion
2 cloves garlic, minced
2 tablespoons freshly grated ginger
1 can coconut milk
8 ounces cream cheese (or kite hill cream cheese if dairy free)
1 teaspoon fish sauce (or 2 teaspoons if you are like me! or use more salt if you omit fish sauce)
1 teaspoon stevia glycerite (or a few drops liquid stevia)
FISH:
2 tablespoons butter (or coconut oil if dairy free)
Instructions
Heat a sauce pot with the butter over medium high heat. Add the onions and sauté for 1 minute. Add the garlic and ginger and sauté another 3 minutes. Add the coconut milk, fish sauce, 1 teaspoon salt and stevia. Simmer for 15-30 minutes. Add the cream cheese and use a stick blender to purée until smooth. Taste and add sweetness to your liking.
The sauce can be made 3 days ahead of time and kept in the fridge in an airtight container until ready to use. To reheat, place in a sauce pot over medium heat for 3 minutes or until heated through.
While the sauce is simmering, make the fish.
Heat a cast iron skillet to medium high heat. Add the butter. Pat the fish fillets dry and season well on all sides with salt. Place into the hot skillet and cook for 3 to 4 minutes, flip and cook another 4 minutes or until fish is cooked though and no longer opaque inside (timing will depend on thickness of the filet).
Remove fish from the skillet and place on a serving platter. Cover each filet with a few tablespoons of sauce and enjoy!
Notes
Nutritional Information:
586 calories, 42g fat, 36g protein, 4g carbs, 0.2g fiber
TESTIMONY OF THE DAY
This is why dirty keto with bullet proof coffee, fat fasts and fat bombs are NOT recommended.
"Hi Maria! I Lost 11 pounds, clothes fit better, cholesterol and trigs went down, HDL went up, after only one month of 90 percent carnivore.
My doctor commented that he noticed my cholesterol went down. Can't wait to tell him at my appointment that I have been eating carnivore. But check out the 2019 results… I remember I was doing dirty keto at the time (with bulletproof coffee and fat bombs). I now know why my trigs spiked that high." – Shy
Most people I consult are doing keto totally wrong. Get fast results with the my NEW Keto Packages!