The Best Butter Board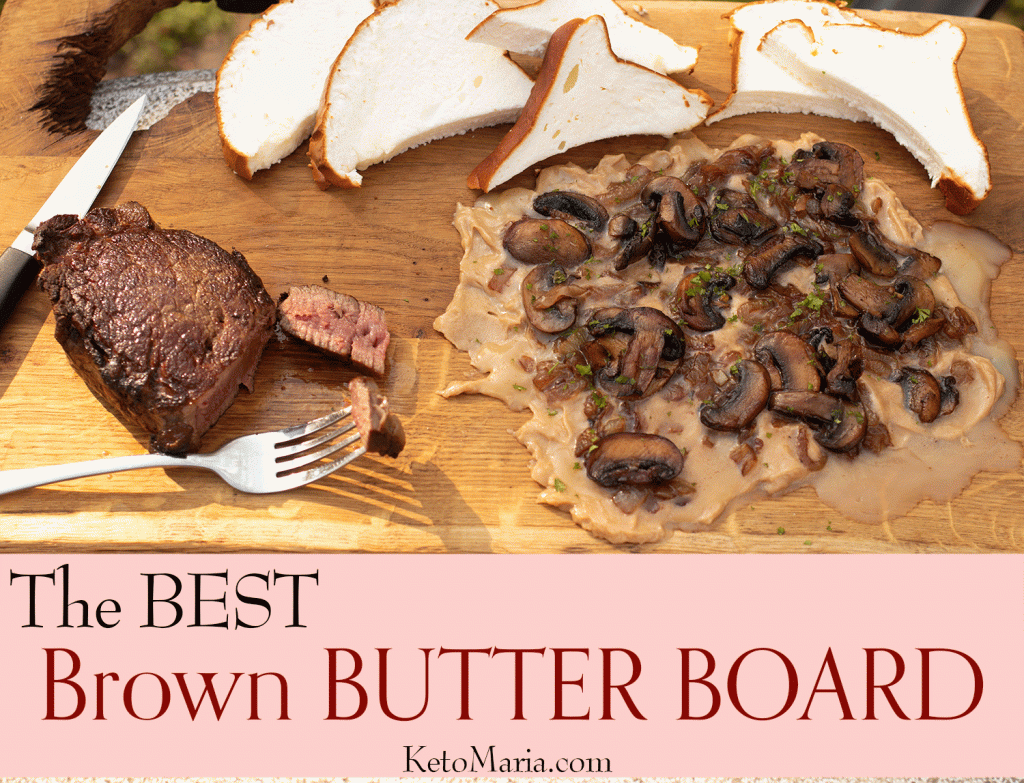 Have you seen the new Butter Board trend?
It is all over TikTok! People are loving butter again but now they are spreading the butter all over a board!
Since I love butter, I knew I had to make a recipe for the best butter board! Click HERE to watch me make the BEST Brown Butter Board on TikTok! 
BROWN BUTTER BOARD
The butter boards are very pretty but many of them have toppings that do not sound appetizing; such as edible flowers. Sure, the flowers make the butter board pretty, but I do not want to eat those.
My favorite butter is brown butter!
Brown butter is a magical thing that butter becomes after you heat it. Brown butter tastes caramelly, nutty and absolutely delicious!
Spreading brown butter on a butter board makes it the best butter board ever!
The Best Butter Board
Ingredients
1/2

cup

salted butter

plus 3 tablespoons for cooking onions and mushrooms

1

small

onion

sliced thin

1/4

cup

beef broth

1

cup

button mushrooms

sliced thin

1

clove

garlic

minced

Fresh parsley leaves chopped fine

or other herb like thyme

Few slices of Protein Sparing Bread

Tenderloin Steak if desired
Instructions
Place 1/2 cup salted butter in a large saucepan and heat on high for about 5 minutes. Whisk often while heating. The butter will start to sizzle and froth up. Watch for brown flecks (not black) and remove from heat. Set aside to cool to room temperature. Stir well once the butter is cool, it will be a thick paste.

Place 3 tablespoons butter into a large skillet. Add the onions and cook over high heat while stirring often. Once the pan is very hot, move the onions aside and slowly drizzle in a tablespoon or 2 of the beef broth. This will deglaze the pan and caramelize the onions. Continue with the rest of the broth 3 more times throughout the cooking. Remove the onions from the skillet once they are brown and caramelized and set aside. Leave the drippings in the skillet.

Place the mushrooms and garlic into the skillet (add more butter if needed). Cook the mushrooms over high heat while stirring often until the mushrooms are browned. Season lightly with salt. Remove from heat and set aside.

Once the onions and mushrooms are at room temperature (not too hot or they will melt the brown butter on the board, start to assemble your butter board.

Use a knife to smear the brown butter paste onto a clean wooden board. Top the brown butter with the onions, then the mushrooms and garnish with fresh herbs if desired.

Serve with slices of protein sparing bread and if you are like me, serve the butter board with a tenderloin steak!
Nutrition
Calories:
303
|
Fat:
32
g
|
Protein:
1
g
|
Carbohydrates:
5
g
|
Fiber:
1
g
|
P:E Ratio:
0
TESTIMONY OF THE DAY
"Thank you Maria! Today marks one year exactly of deciding to make a change!!

I've lost 85 pounds, have no more swelling in my ankles, no more pain in my knees or back (I used to be in pain when I laid down at night, and woke up in pain in the morning), I can breathe when I lay down because my chest and neck aren't suffocating me, I have the energy and mood stability to be a great single mom to my three kids who are now 8, 6 and 4, I get out kayaking for fun, just finished a five day cycling trip, and am entered in my first Spartan obstacle race, all while maintaining a 3.85 GPA in my post secondary courses!

The scale doesn't even matter anymore, because I'm finally living the life I want! I'm happy to get up every day and just live!

Maria and Craig  Emmerich certainly understand how our bodies work best and I am eternally grateful that I started with them rather than all the crazy ways others try to "do keto".

I can't wait to see where I am at in another year!!" – Stephanie
Most people I consult are doing keto totally wrong. Get fast results with the my NEW Keto Packages!