Strawberry Mascarpone Layer Cake
I can't believe my baby boy is turning 9 years old!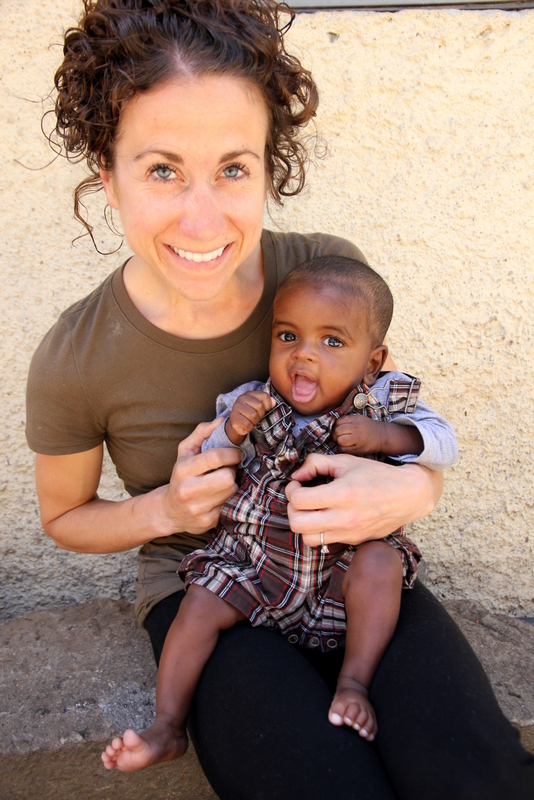 We named him Kai because it means ocean in Hawaiian. I find names interesting and how we often become what our name means. Kai is one with the ocean. He will swim in the Maui ocean all day! He loves it!
Kai also makes me laugh everyday! He is my little goofball that knows how to make anyone happy!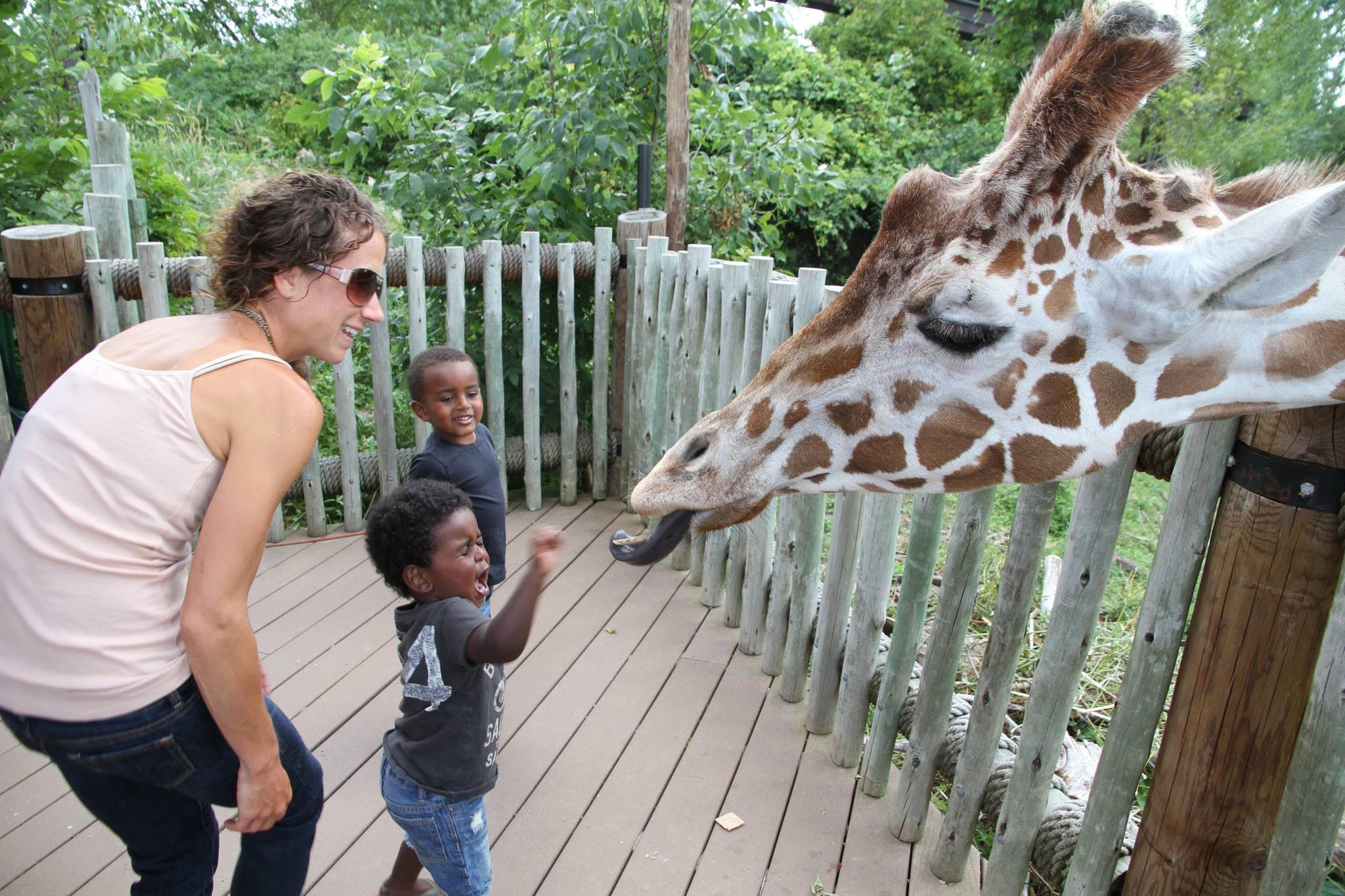 Kai LOVES animals and loves to spend time at the Minnesota and Como Zoo.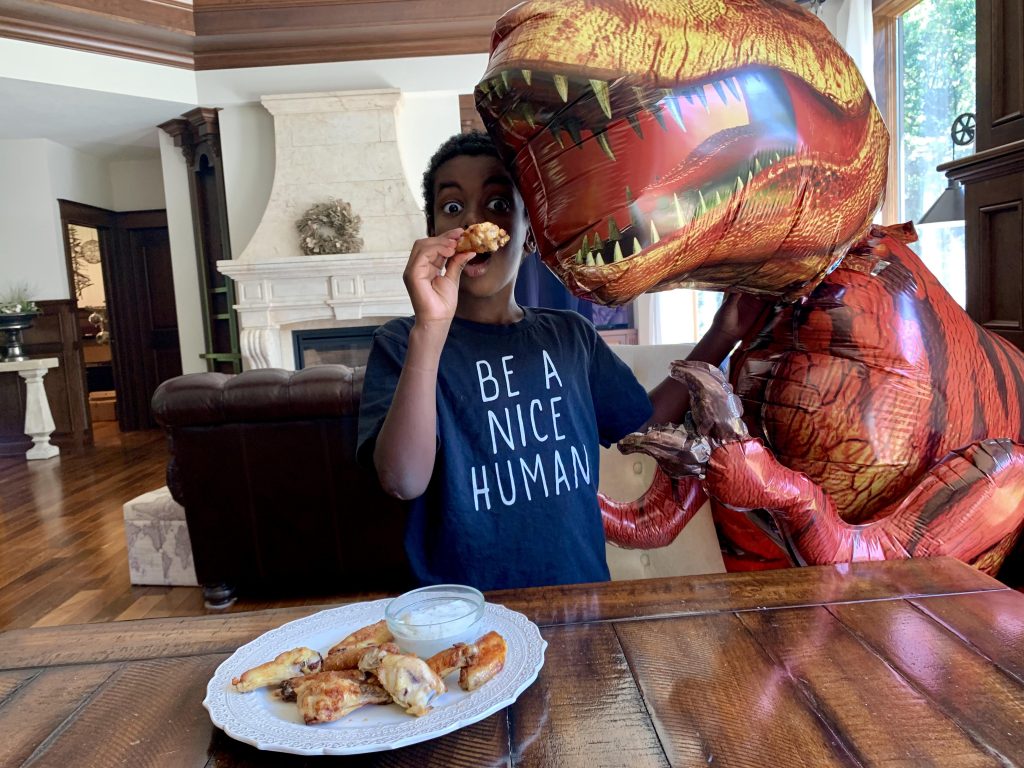 Kai LOVES Chicken Wings and dinosaurs!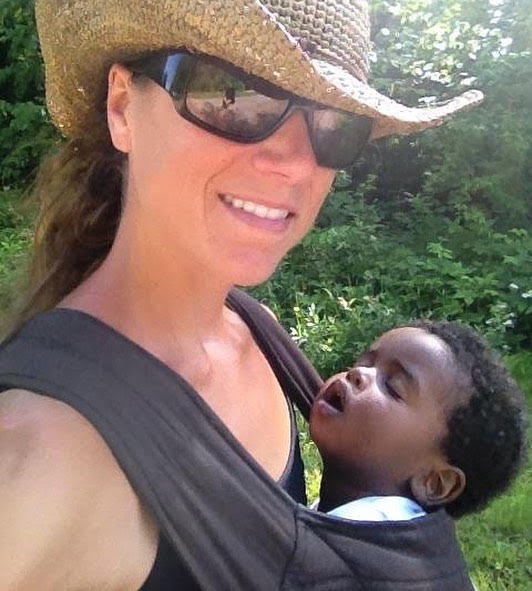 When Kai was a baby he would cry whenever I wasn't holding him. Craig couldn't even hold him, it had to be me. He screamed at nap time because he wasn't near me. At the time, I was overwhelmed and just wanted a little break, but I would do anything to hold him like this again!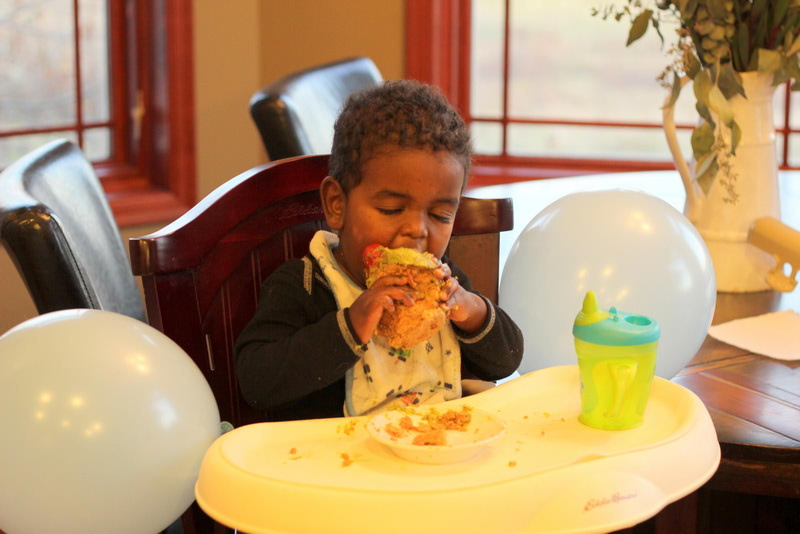 Kai likes more savory foods than he likes sweet so in the past, I have made him Keto Meatloaf Cupcakes for his birthday. He wanted something different this year and Kai also loves strawberries so when I asked him what cake I should make him for his birthday this year, he wanted strawberry or coffee. He is a true Ethiopian that loves coffee! In the end, he wanted a tall strawberry birthday cake so I ended up with a lovely Strawberry Mascarpone Layer cake.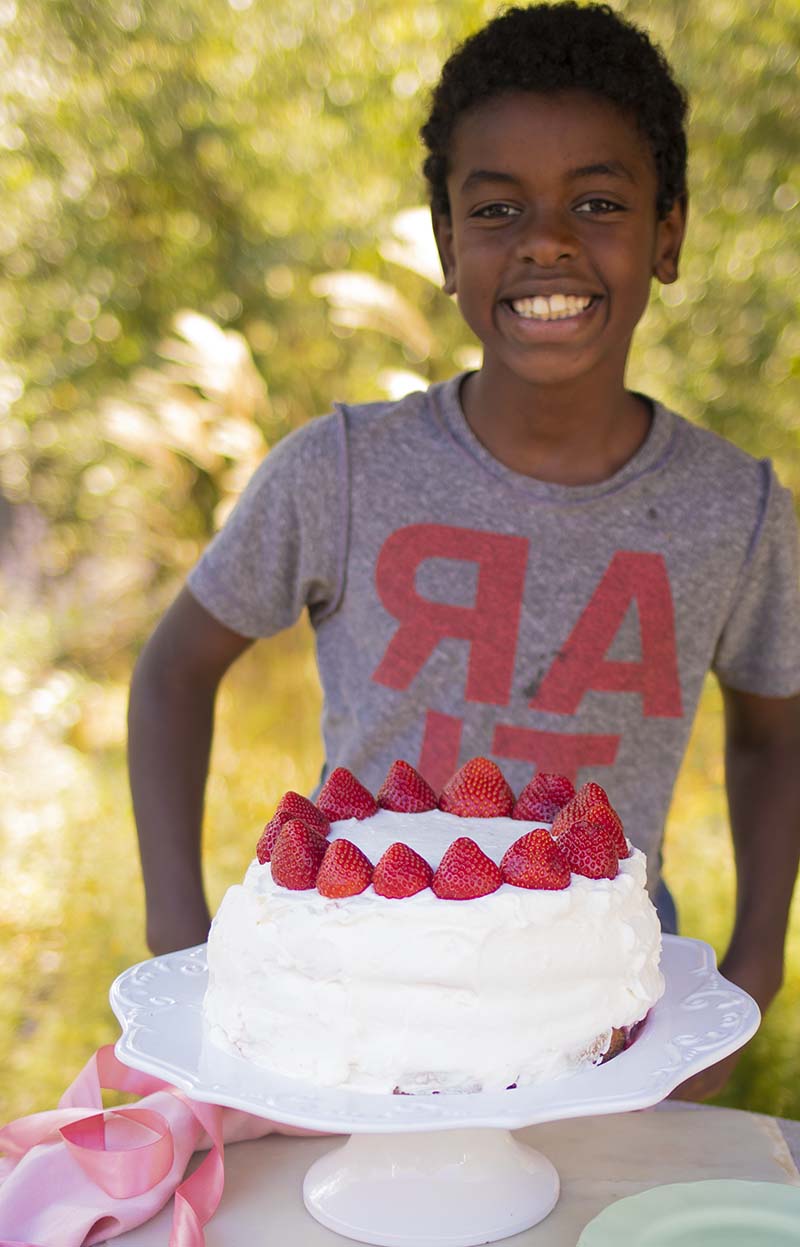 There is a lot of frosting, but it is light and airy and the frosting is our favorite part anyway! I hope you enjoy it as much as I had making it.
Happy Birthday Kai! Mommy loves you!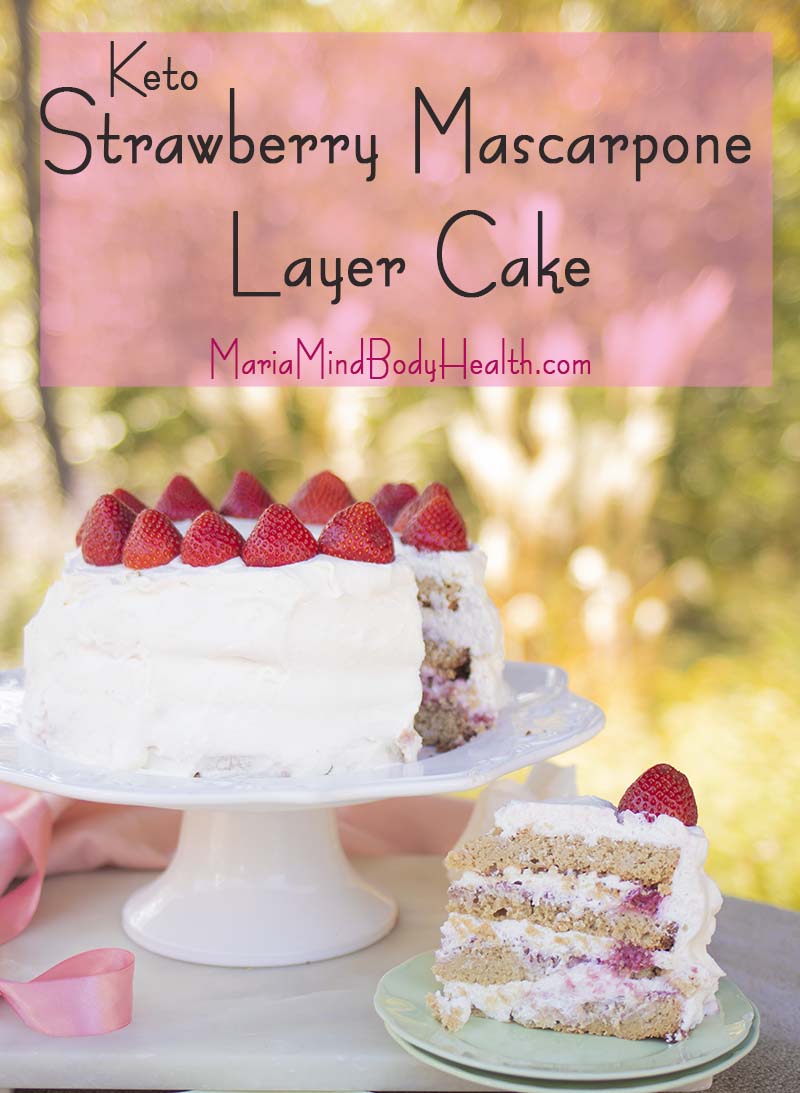 Strawberry Mascarpone Layer Cake
Ingredients
CAKE:

2

cups

Natural Sweetener

½

cup

butter

softened

3

large eggs

1

tablespoon

vanilla or strawberry extract

½

cup

sour cream

2 ½

cups

blanched almond flour

1/2

cup

coconut flour

3

teaspoons

baking powder

1

teaspoon

Redmond Real Salt

1 ¼

cups

unsweetened almond milk

FILLING:

2

cups

strawberries

pureed

1

tablespoon

lemon juice

2

tablespoons

Natural Sweetener

or more to desired sweetness

1

teaspoon

Further Food gelatin

FROSTING:

2

cups

heavy whipping cream

1/2

cup

Natural Sweetener

or more to desired sweetness

1

teaspoon

vanilla extract

or strawberry extract

16

ounces

mascarpone cheese

chilled (or softened cream cheese *see note)
Instructions
For the cake: Preheat the oven to 350°F. Prepare 2 8-inch round baking pans, line the bottom with parchment paper and grease the sides.

In a large mixing bowl, combine the natural sweetener, butter, eggs and vanilla extract. Beat on medium speed until the eggs and butter are well incorporated and the batter is lighter in color, about 2 minutes. Scrape down the bowl as needed.

Next mix in the sour cream and beat until well combined.

Combine the dry ingredients in a separate bowl. Add half the dry ingredients and beat on low speed while pouring in half of the almond milk. Mix until just combined.

Finally add the remaining dry ingredients, mixing on low speed while pouring in the remaining almond milk and beating until all of the ingredients are well combined. Use a spatula to scrape down the sides of the bowl and stir the batter from the bottom to the top to ensure it's well mixed.

Divide the batter evenly between the pans, about 1 2/3 cups of batter per pan. Bake at 350°F for 23-25 minutes. Rotate your pans in the oven halfway through baking.

Test the cake for doneness by inserting a toothpick into the center of the cake. If the toothpick comes out clean, you cake is done. Remove from the oven and allow to cool completely.

Once cool, slice the cakes in half width-wise so you have 4 layers of cake. Set in the freezer to cool. It is easier to frost frozen cakes.

For the filling: Chop and puree the strawberries using an immersion blender or food processor.

In a medium-sized sauce pan, combine pureed strawberries, lemon juice, natural sweetener and gelatin stir well. Cook over medium-high heat until mixture starts to boil, stirring frequently.

Reduce heat and simmer for another 5 minutes, stirring occasionally until the strawberry puree starts to thicken. Place filling in the fridge to cool completely.

For the frosting: Place the mixing bowl and whisk attachment in the freezer for 5 to 10 minutes to chill.

Pour the heavy whipping cream into the chilled bowl and use an electric mixer to beat the heavy cream on medium-high speed until the cream starts to thicken. Slowly add the confectioners Swerve and vanilla and continue beating on high speed until soft peaks form.

Next, spoon the mascarpone into the bowl and continue beating at a high speed until stiff peaks form.Taste and adjust sweetness to your liking.

NOTE: If using cream cheese, stir with a fork to loosen before adding to the heavy cream or you will get lumps.

To assemble the cake, spread 1/3 of the strawberry mixture over the bottom layer of cake, spread a layer of frosting over the strawberry sauce and spread evenly with your offset spatula.

Add the second and third layers of cake and repeat the above steps using all of the remaining strawberry sauce. Next, add the final layer of cake on top. Frost the top and sides of the cake using a knife.

Garnish with fresh strawberries. Store in the fridge until ready to serve.
Notes
Nutritional Information:
571 calories, 54g fat, 12g protein, 11g carbs, 5g fiber
TESTIMONY OF THE DAY
"I have done Maria and Craig's coaching and it is worth every cent!
They teach the optimum for success on all levels. How to build your own business and also give you LOOOOOADS of support. These people know what they are talking about. It can be very hard to sift though all the things for free. Here you have EVERYTHING in one spot and it's all very clear and backed up information. If you are serious about people's health and want to do it with confidence this is your course. Forget the $$ side of it. It will pay for itself when you get out there and spread the good word. Your helping others on their journey and you add to your own! I believe Maria and Craig are one of the best mentors with keto I have ever come across!!!" – Casey
Change your life and become one of our Certified Keto Coaches!
Click HERE to learn more!