Sous Vide Pork Chops
About a year ago I was gifted a sous vide machine and it sat in my pantry for many months until a male phone client begged me to write a sous vide cookbook. Sous vide is a way of cooking food that provides a PERFECT cook all the way through while infusing flavor. A few years ago I watched a fantastic movie called Burnt based off this way of cooking. Bradley Cooper is the main character who only has 2 Michelin stars and with the help of his sous chef is able to discover this way of cooking in order to create perfectly cooked food. After the movie I was intrigued with sous vide cooking but I was always afraid of using it because I didn't like the idea of heating foods in plastic bags. However, one day Craig mentioned he found sous vide bags that were made from a glass material (not plastic).
When I was growing up we always had Pork Chop night which I despised. The pork chops were always dry and chewy so I always thought I hated pork chops. However, I had a bunch of pastured pork chops from Butcherbox that I didn't want to go to waste so Craig and I got out our sous vide machine and started experimenting.
Craig was immediately hooked because he loves gadgets and he adores his iPhone. Our sous vide machine is controlled by an app on our phones called Joule. When the meat is done in the machine, you get a notice on your phone that it is done and will be held at that perfect temperature for another 90 minutes. How cool is that??? It doesn't over cook the pork chop!
If you grew up with chewy pork chops too, you must try this way of cooking! You will have the juiciest pork chop you have ever had! PLUS if you want your husband to get into cooking a sous vide machine is perfect. Craig started cooking all the time. My favorite is when he made my venison tenderloin! As you can see in the photo below it was a perfect medium rare all the way through!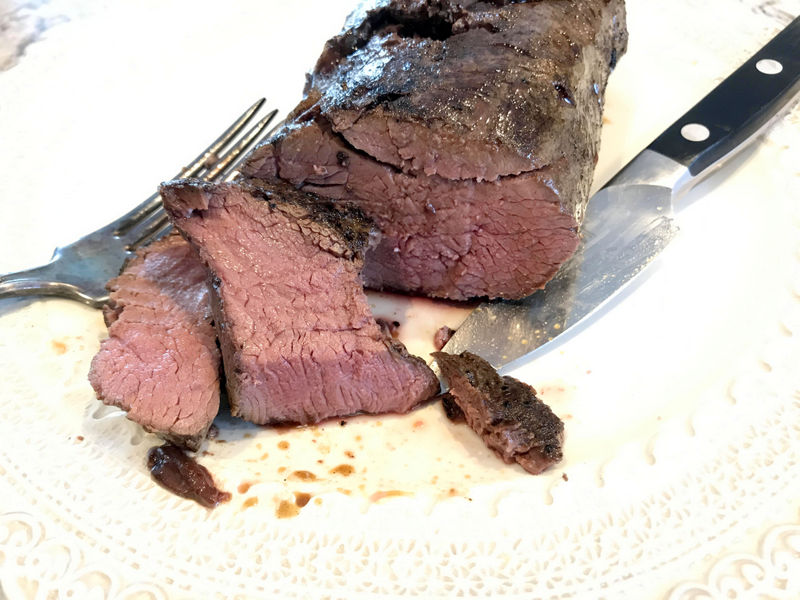 Click HERE to find the Sous Vide Machine we have.
Click HERE to find the silicone (glass) bags.
Click HERE to find the container to cook in water bath.
We get a lot of clients who say they wish their husbands ate keto too. I love a good steak and the best way to get your husbands (or yourself) eating keto like I do is to make a nice grass fed steak full of nutrients. That's right, animal proteins are full of a wide range of nutrients. I wrote our book with Maria called "Keto," where I wrote a whole chapter on nutrient dense foods and beef is one of the top foods, even more than kale! Check out this chart from our book KETO: The Complete Guide to Success on the Ketogenic Diet: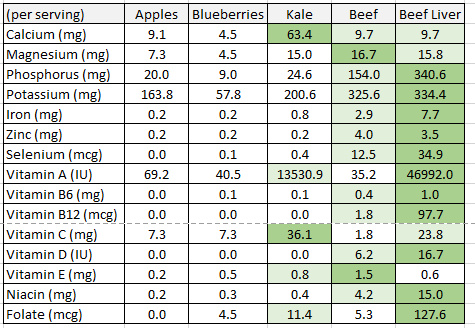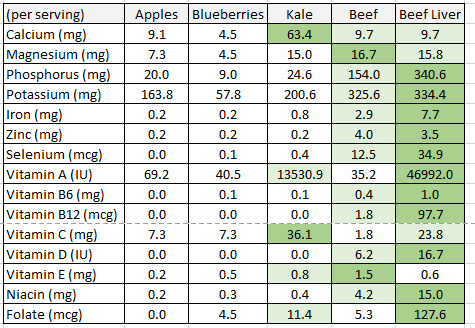 So being a carnivore is also eating lots of nutrient dense foods! We have somehow lost this knowledge over the years. Most people when asked where they get their vitamins and minerals will say "fruits and veggies". But most of it really comes from animal proteins like beef. So if you just focus on the beef and less on the veggies then you are on the right track to not only a great keto lifestyle but a very nutrient dense one too.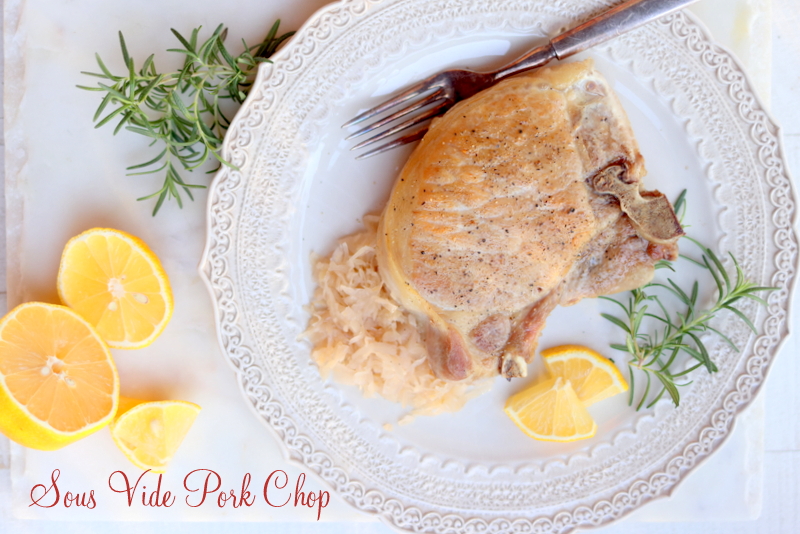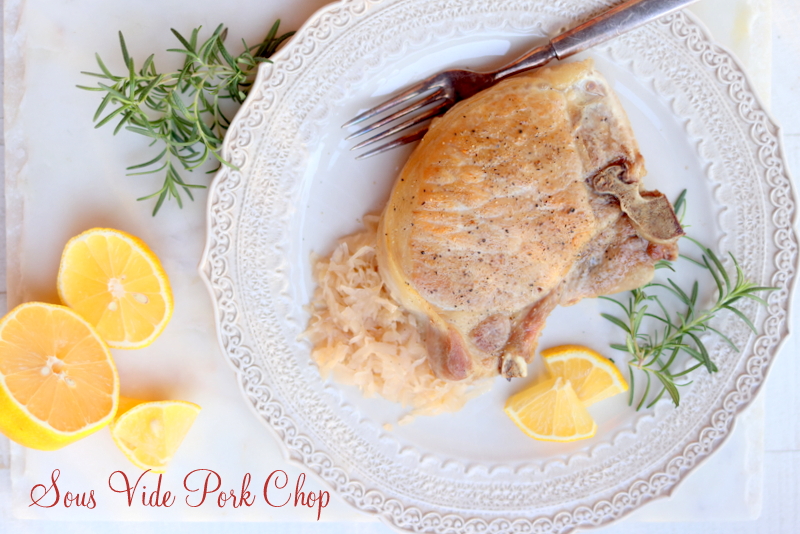 We love using Butcherbox for lots of recipes including this Sous Vide Pork Chop. You can customize your box too!
Sous Vide Pork Chops
Ingredients
1

bone-in pork chop

about 3/4 inch thick

3/4

teaspoon

Redmond Real salt

1/4

teaspoon

fresh ground pepper

1

sprig fresh rosemary

1

slice

lemon

1/2

tablespoon

lard

bacon fat or coconut oil

OPTIONAL SERVING:

Sauerkraut
Instructions
Season pork chop on all sides with salt and pepper. Place in sous vide bag and add the rosemary and lemon. Seal bags closed to make sure no air pockets remain in the bag.

Use the Joule app on your phone and select Pork Chop. Select your desired doneness (I chose 140 degrees which was recommended on the Joule app) and place filled bag in water bath. Allow to come to temp for about 45 minutes. It will hold it at the perfect temp for an additional 90 minutes so don't worry if you are not home when it is finished.

Heat cast iron skillet with 1/2 tablespoon lard to medium high heat. Remove chop from bag and place into the hot oil. Sear on both sides until golden brown and a crust forms, about 1 minute per side. Remove from heat and serve over sauerkraut.
Notes
Nutritional Info:
279 calories, 19g fat, 24g protein, 1g carbs, 0.4g fiber
TESTIMONY OF THE DAY
 I adore waking up to testimonies like this!
Click HERE to get started on your path to healthy healing today!
A year from now you will thank yourself!
"I just have to share this… I've been Keto WOE since June 10, 2017. I'm down 38 pounds, 54.5 inches, and l can move easier and feel healthier overall. But yesterday l cried tears of TOTAL JOYFULNESS!! It's more than what you see and feel; it's what is REALLY MEANS….. my lab work all came back overwhelmingly phenomenal! My A1C went from 6.6 to 4.0, my Cholesterol and Triglycerides are each down about 50 points into low healthy levels!! My organs are all functioning and/or filtering better… and l eat bacon and eggs daily!! My blood pressure medication has been decreased by 2/3 and is a the lowest it's been in years!! Thank you Maria for helping me on this journey of caring for and fueling my body better!" – Debi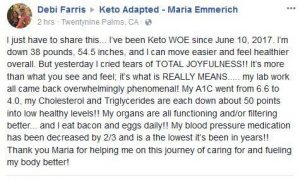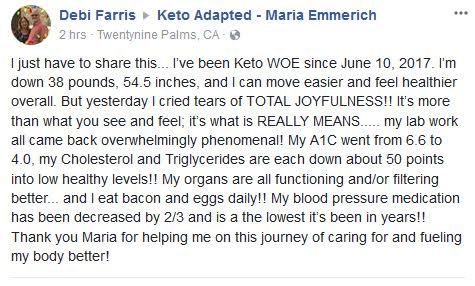 Thank you for your love and support!