Social Media Censorship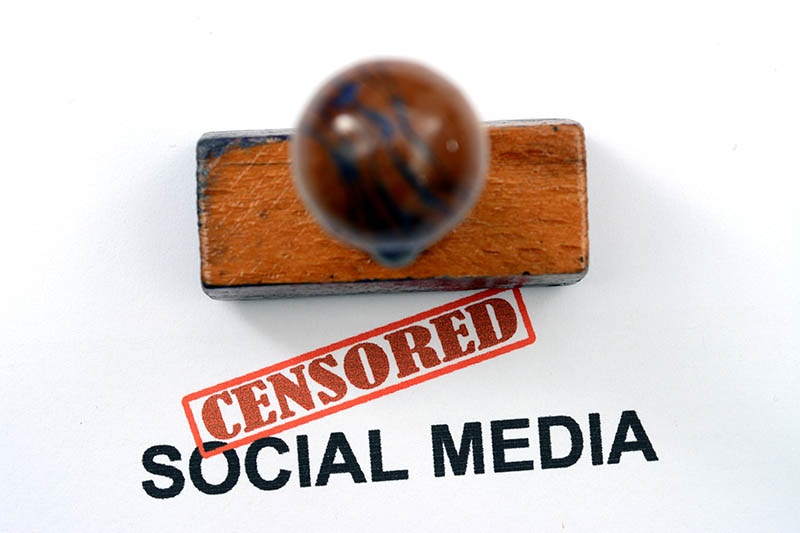 Social media is an important avenue for reaching followers and helping people for free information. It also enables new followers that find you and your information or connect with your story. We have spent 10 years working hard to build our social media presence and our reach in order to help others succeed and get healthy. I now has 198,000 followers of my Facebook page Keto-Adapted and 154,000 followers on my Maria Emmerich Instagram as well as a growing presence on my Maria Emmerich Recipes Instagram page.
But there is a dark side to social media that has recently become worse and worse. These platforms have started censoring content and a rapidly increasing rate. It started with a good intention; stopping fake stories and information from becoming so widespread. But that is not what it is now doing for many people in alternative medicine and lifestyles.
Right around the time our new book The Carnivore Cookbook was published at the beginning of this year Craig and I both started having issues on Facebook. First, Craig got banned from posting in any groups (one of the biggest outlets for reaching people on Facebook) for over 8 weeks now (as of the posting of this article on February 17th). He can't even post in the groups we made like our Keto group, Keto Carnivore group and The 30 Day Ketogenic Cleanse group. The craziest thing is there was no warning. He just went to post some helpful free information in one of our groups like he always does, and he got this message.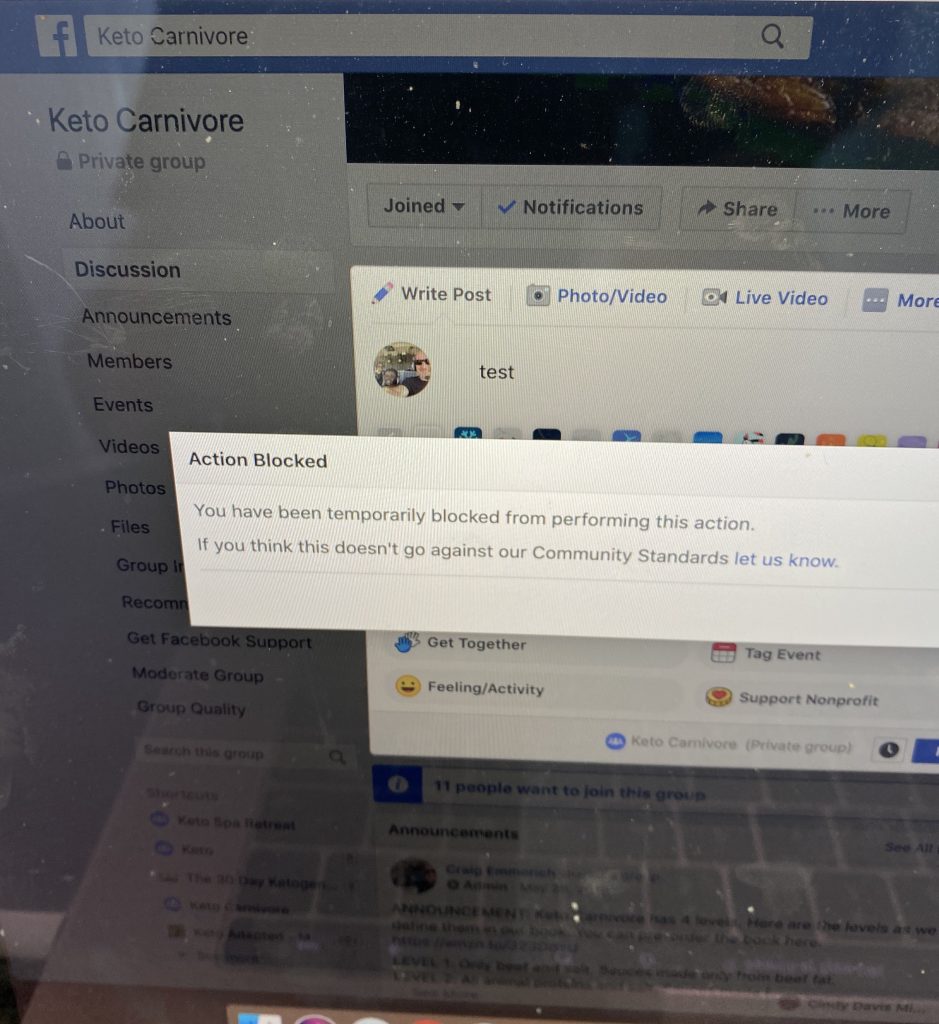 No explanation and no reason given for blocking him with no end in sight. We thought it might be a couple days, but it has been almost two months now. He has clicked the link to let them know, asking why he is blocked, how long he will be blocked among other things. He has done this at least 20 times with zero response from Facebook.
Then I started having issues. About 3 weeks ago I was posting to our page and scheduling posts and I was suddenly logged out. When I try to log back in it asked for verification by sending a photo of myself. I did this and then I got this message: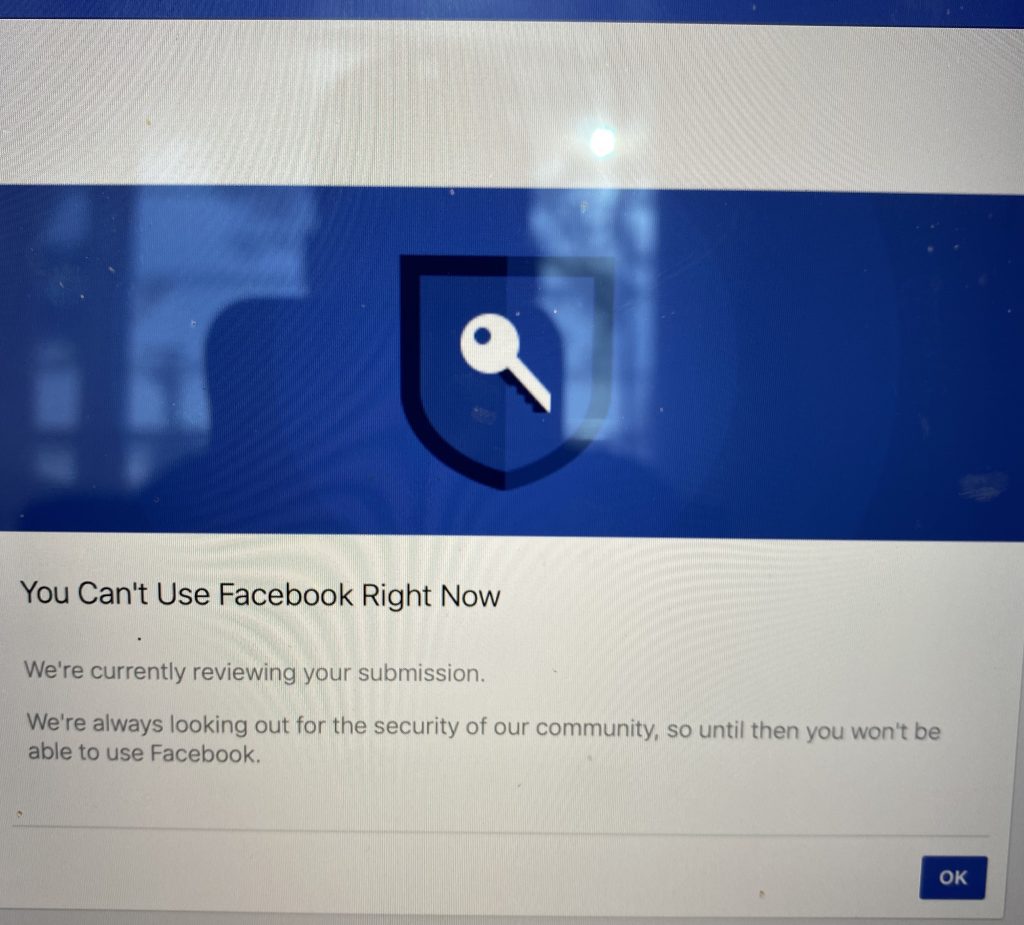 I wasn't able to even log in for 2 days. During this time none of my scheduled posts on my business page (Keto-Adapted) went out, my personal page disappeared from Facebook, all my comments and messages got removed and people couldn't contact me. It was like I was erased. Once they verified it was me, thankfully it all came back including my personal page Maria Wojcik Emmerich. The last few days I was able to log back in but, I was shadow banned. I could post to my personal page but nobody would see it. Not even Craig would see it come up on his wall. I posted the COOLEST Whale Breach next to my paddle board and no one even commented! That's when I knew something was up! Before this, my posts would get 5,000 plus views and I now I am getting 15. Basically, the only people that saw it were those that came to my personal page. Here is what our followers are saying:
"I'm trying to make a comment on your facebook page keto-adapted and they are not letting me do that! Maybe because I'm a fan they blocked me too"
Two Days after this last ban, I am still shadow banned as you can see by this person's chat. She can't reply to me and can't see any of my private messages to her. This is shadow banning.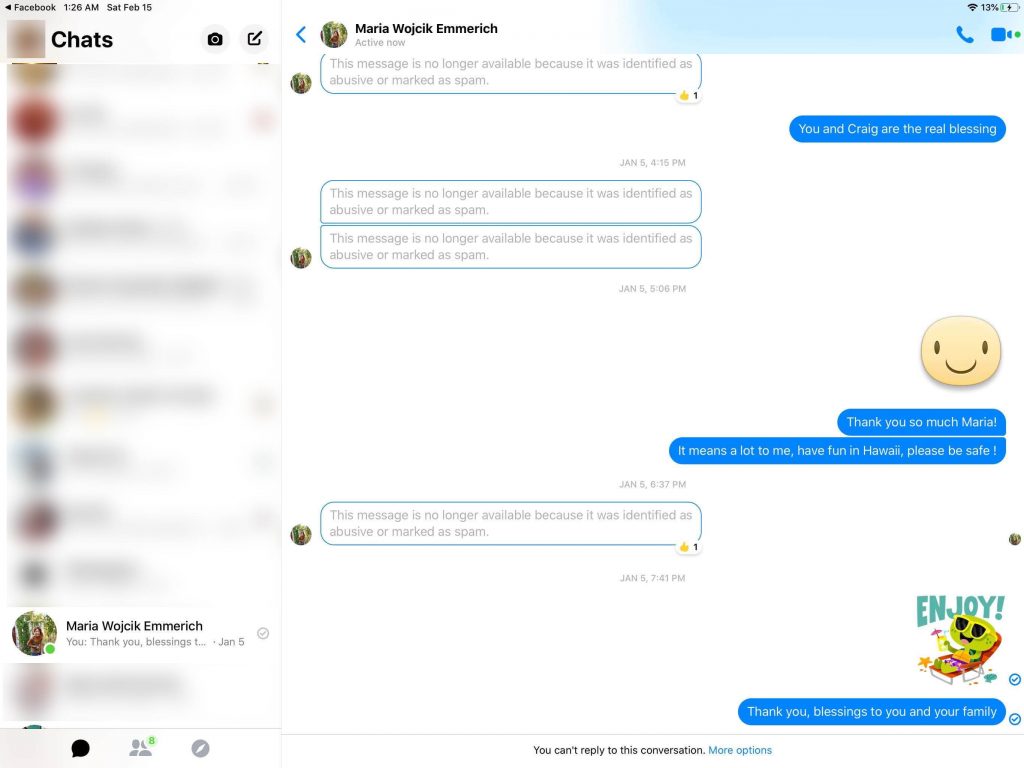 Clearly, as you can see from this person's responses, I must have been saying abusive things. That encouragement and gratitude I gave her. This is where Facebook is reaching too far with censorship. Here is more from one of our Certified Keto Coaches:
"I posted on the addictive nature of sugar and it was blocked within minutes with a big stamp on top of the graphic stating that it was false information. I didn't make a screen shot (which I should have). I ended up deleting the post. I followed it up with a reliable study on the subject. Obviously it is addictive, yet someone doesn't want that fact known?" – Kim Wallace
About 1 1/2 weeks later it happened again; I was totally blocked… for no reason at all. Anyone who runs a small business like we do knows how much that can impact you. Not being able to reach your followers and not having any content going out for days really can hurt a small business. It also stinks because I enjoy seeing my friends Facebook posts!
Some people have mentioned that on Facebook the process for any reported person or post is take it down or disable until reviewed. But that puts way too much power in those with malicious intent. A person that doesn't like me telling people to eat animal proteins could keep reporting me and getting me blocked (and my voice censored) and I have no recourse to stop it. And there are people out there with that intent. We have been told from our fans that vegans are joining carnivore groups to report posts and get them shut down.
This isn't an isolated issue. Many people in the alternative health and lifestyle community are seeing this happen.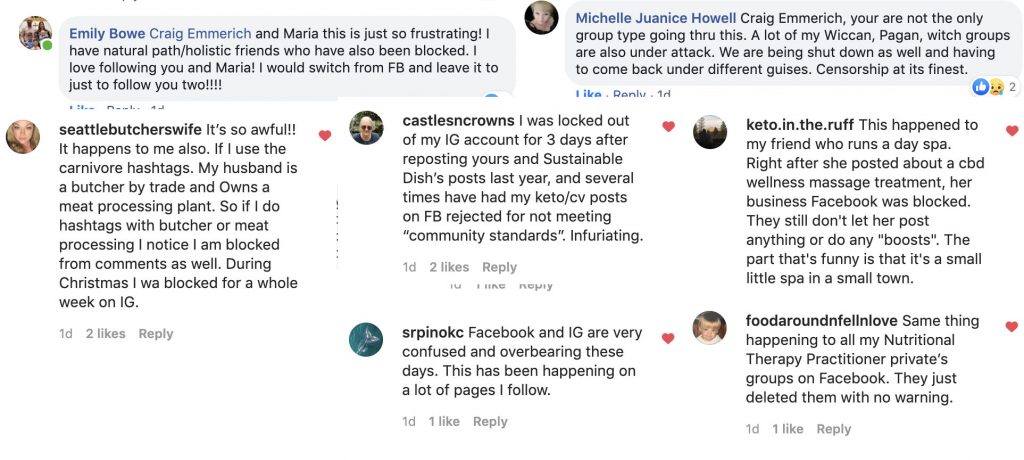 And others that follow carnivore like this: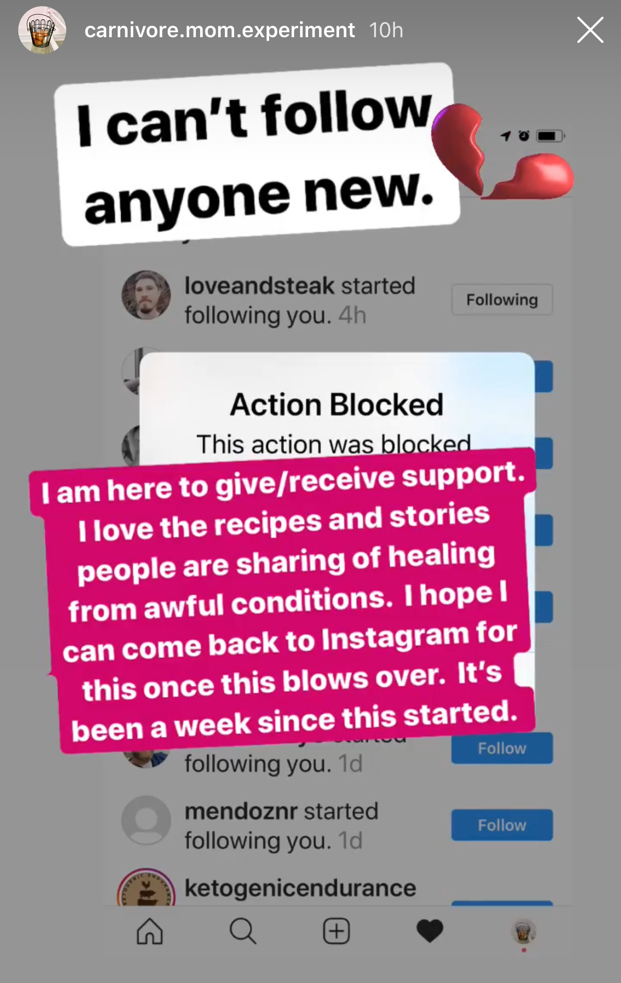 Meanwhile Facebook denies they shadow ban, but just applied for a patent for shadow banning. Facebook is clearly doing shadow banning on a regular basis and extending it to more and more sectors. Extending it to the nutrition space, where nobody knows for sure what the correct diet is for anyone and limit the speech of those promoting Keto and Carnivore diets because they don't think that is the right diet, is dangerous. What is next?  Religious beliefs? Well, that is already happening:

This is a very slippery slope. It started with good intentions, to limit fake news. But now it has gotten into ideological beliefs and that is censorship.
What Can We Do About It?
There are a couple things we can do about this. First, get more media visibility to this issue. We are working on that and it's why we did this article. Hopefully if enough visibility gets on this topic they will reverse these unfair rules and shadow banning.
Next you can sign up for our newsletter! Our newsletter will give you access to all our information, sales, summit and other content that will never be filtered or censored.

Most important, we have a community here that we have developed over the last 6 years that has tons of content, tools and support directly from us. No censoring. Craig and I answer all the questions through this website and it is really affordable. You can join for as little as $8.75 a month (one year of silver).