TESTIMONIES OF THE DAY
30 Day Accelerated Meal Plan Testimony: "Thank you for your program & books. I have lost 10 pounds. One pound more today after a few weeks of stalling. Not a ton, but I am VERY insulin resistant & guess I've gotten older. I wasn't able to lose anything before. Even on 600 calories of low fat per day for 6 weeks. Just over pneumonia & ready to start being active again, so look out!" – Susan
Photo Testimony Update from Dawn: "I'm still going strong and my size 4's are getting loose while I continue to feel excellent, increased energy and down a little over 60 pounds now. Thanks Maria! 
To get started on your path to health and healing, click HERE.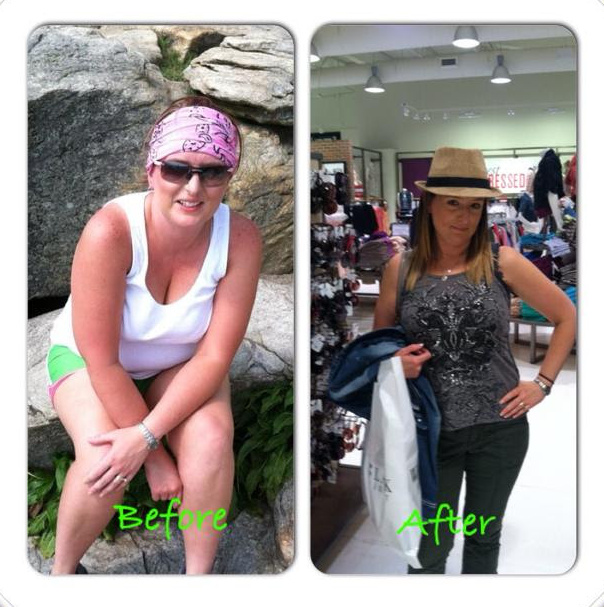 BROWN FAT
Have you ever heard of "CoolSculpting?" It is a new procedure that is less invasive than liposuction where the treatment basically activates brown fat.
There are 2 types of fat in the body:
1. White Adipose Tissue (WAT): WAT is what we normally refer to as "body fat". We want to burn white fat, BUT brown fat is beneficial because it helps burn calories and burn the unhealthy WAT.
2. Brown Adipose Tissue (BAT): BAT is composed of iron-containing mitochondria (powerhouse of cells), which is best known for creating ATP (energy)…the more mitochondria = more energy!
BAT helps use excess calories for heat. If you use proper techniques, you can use BAT to your advantage so excess calories aren't stored as WAT which ends up as undesired belly fat. Cold stimulates BAT to burn excess fat and glucose for energy. This is why Michael Phelps can consume over 12,000 calories/day. He isn't just exercising that much, the cool water of the pool stimulates BAT, therefore, he needs extra calories to keep the weight from piling off.
TIPS:
1. Use ice packs on the back/neck for 30-60 minutes while relaxing at night when insulin levels are higher and more sensitive. Click HERE to find the one I like.
2. Soak your feet in cold water at night or right away in AM when you first wake up. This will stimulate heat throughout the day. Click HERE to find the one I like.
3. Suck on ice cubes throughout the day. I use THIS mini ice cube tray and I sweeten a touch with Fruit Punch stevia drops.
4. Have a snowcone for dessert with Tropical Punch stevia OR flavored stevia drops like Root Beer.
5. Take a cold shower upon arising.
6. Lower the temperature in your house by 5 degrees.
Drinking ice water = burn 60 calories
Sucking on 6 flavored ice cubes = burn 60 calories
Soaking feet in ice water for 5 minutes = burn 90 calories
Placing ice packs on body for 30 minutes = burn 100 calories
Lowering house temperature by 5 degrees = burn 100 calories/day
3 minute shower at 75 degrees F = burn 120 calories
Women typically have twice as much brown fat as men, so take advantage of it!!!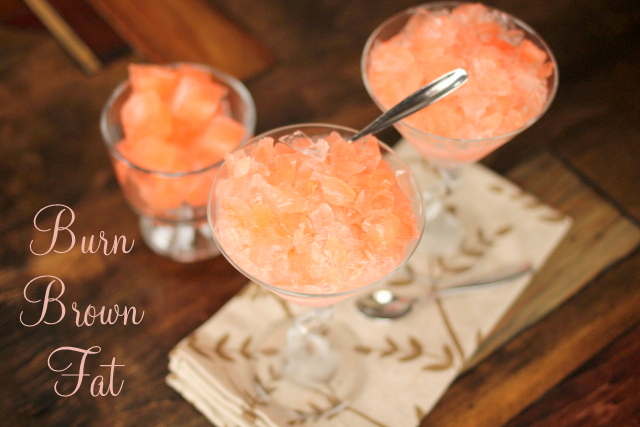 "HEALTHIFIED" SNOWCONE:
4 cups ice
2 strawberry tea bags
1 cup water
1 tsp NOW tropical punch stevia
Place tea bags in very hot water and let steep for 3-5 minutes. Allow to cool in the fridge (I always have strawberry iced tea in the fridge). Sweeten with stevia drops to desired sweetness. Let cool for 3 hours or overnight (some tea will steep in cool water so you don't have to wait to cool it down!).
NOTE: FOR AN EVEN TASTIER SNOWCONE, make the tea into ice cubes and crush to make the ice for the snow-cone!
Place ice in snowcone maker (click HERE to find the one I like). Top the crushed ice with the strawberry iced tea.
NUTRITIONAL COMPARISON (per 8 ounce serving)
Traditional ICE-E = 117 calories, 29 g carb, 0 fiber
"Healthified" ICE-E = 0 calories, 0 carbs, 0 fiber