Shepherd's pie
Healthified Shepherd's Pie recipe.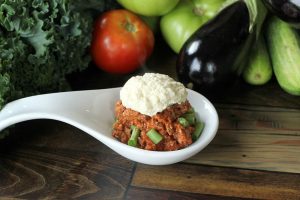 MASH TOPPING:
3 cups cubed daikon OR 1 medium head cauliflower
2 cups broth
1 TBS cream cheese softened
1/4 cup grated Parmesan
1/2 tsp minced garlic
1/8 tsp straight chicken base or bullion (watch for MSG)
1/8 tsp freshly ground pepper
1/2 tsp chopped fresh or dry chives, for garnish
1 egg yolk
Set a stockpot of broth to boil over high heat. Clean and cut daikon or cauliflower into small pieces. Cook in beef or chicken broth for about 6 minutes, or until well done. Drain well; do not let cool and pat cooked veggie very dry between several layers of paper towels. In a food processor, puree the hot veggie with the cream cheese, Parmesan, garlic, chicken base, yolk, and pepper until smooth. Makes 4 servings.
NUTRITIONAL COMPARISON (per serving)
Using Potatoes = 156 calories, 4.5g fat, 8g protein, 21 carbs, 2.3g fiber
Using Cauliflower = 88 calories, 4.5g fat, 7.5g protein, 5 carbs, 2g fiber
Using Daikon = 92 calories, 4.5 g fat, 8g protein, 5.6 carbs, 2.3g fiber
MEAT FILLING:
1 TBS coconut oil or ghee
1 3/4 pounds ground beef or ground lamb
1 carrot, peeled and chopped
1 onion, chopped
2 TBS butter
1 cup beef stock or broth
1 tsp wheat-free Tamari (soy sauce)
1 tsp fish sauce (optional: "umami" flavor)
1/2 cup chopped asparagus
1 tsp paprika
2 TBS chopped fresh parsley leaves
While daikons boil, preheat a large skillet over medium-high heat. Add oil to a hot pan with beef or lamb. Season meat with salt and pepper. Brown and crumble meat for 3 or 4 minutes. If you are using lamb and the pan is fatty, spoon away some of the drippings. Add chopped carrot and onion to the meat. Cook veggies with meat 5 minutes, stirring frequently. In a second small skillet over medium heat cook butter and thickener together 2 minutes. Whisk in broth, Tamari and fish sauce. Thicken gravy 1 minute. Add gravy to meat and vegetables. Stir in peas (if desired).
Preheat broiler to high. Fill a small rectangular casserole with meat and vegetable mixture. Spoon daikon over meat evenly. Top daikon with paprika and broil 6 to 8 inches from the heat until potatoes are evenly browned. A top casserole dish with chopped parsley and serve.
NUTRITIONAL COMPARISON (per serving)
Traditional Shepard's Pie = 569 calories, 21g fat, 63g protein, 23 carbs, 3.3g fiber
"Healthified" Pie = 494 calories, 21g fat, 63g protein, 8.7 carbs, 3.2g fiber