Reverse Sear Tomahawk Steak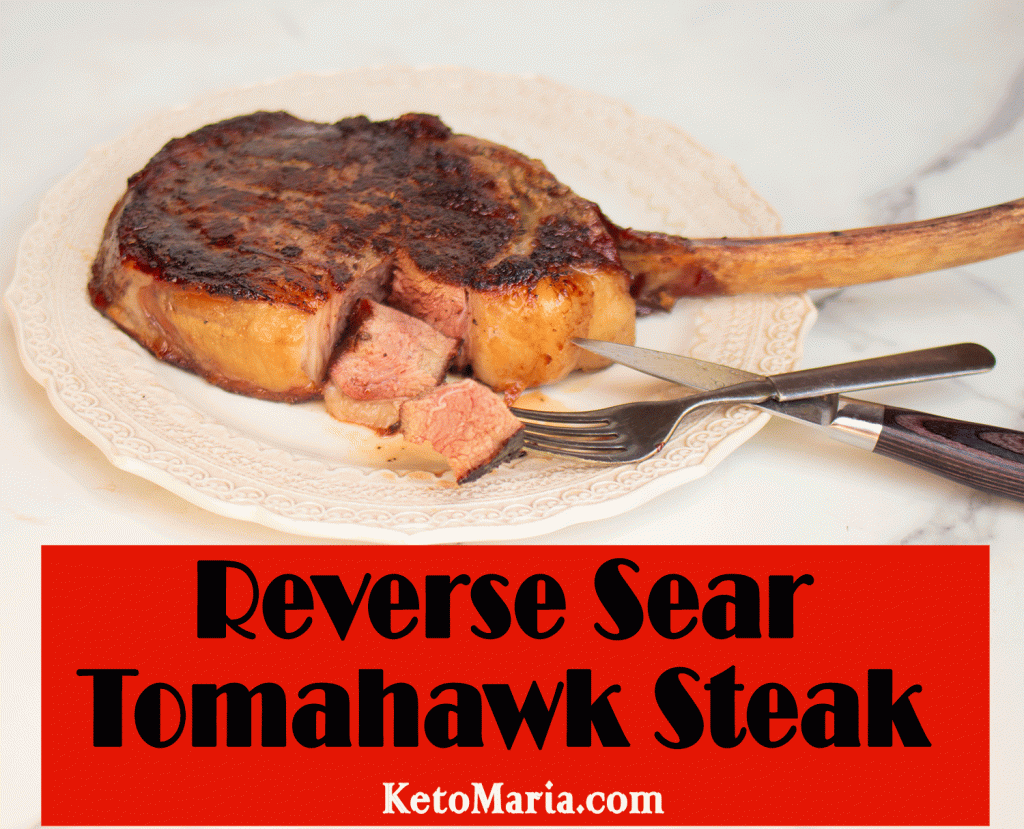 For Father's Day this year, I added a bone-in Tomahawk steak to my Butcherbox order. I wanted to make this steak perfectly so I did a reverse sear which is where you start with a low and slow heat to cook it from the inside out.
The reverse sear method helps prevent that grey area of the meat.
Once you cooked it low and slow, you finish the Tomahawk on a hot grill or cast iron skillet to get a crispy crust.
The Tomahawk steak was so delicious, all of my boys wanted more. So for Micah's birthday, I ordered another Butcherbox bone-in Tomahawk and they devoured it!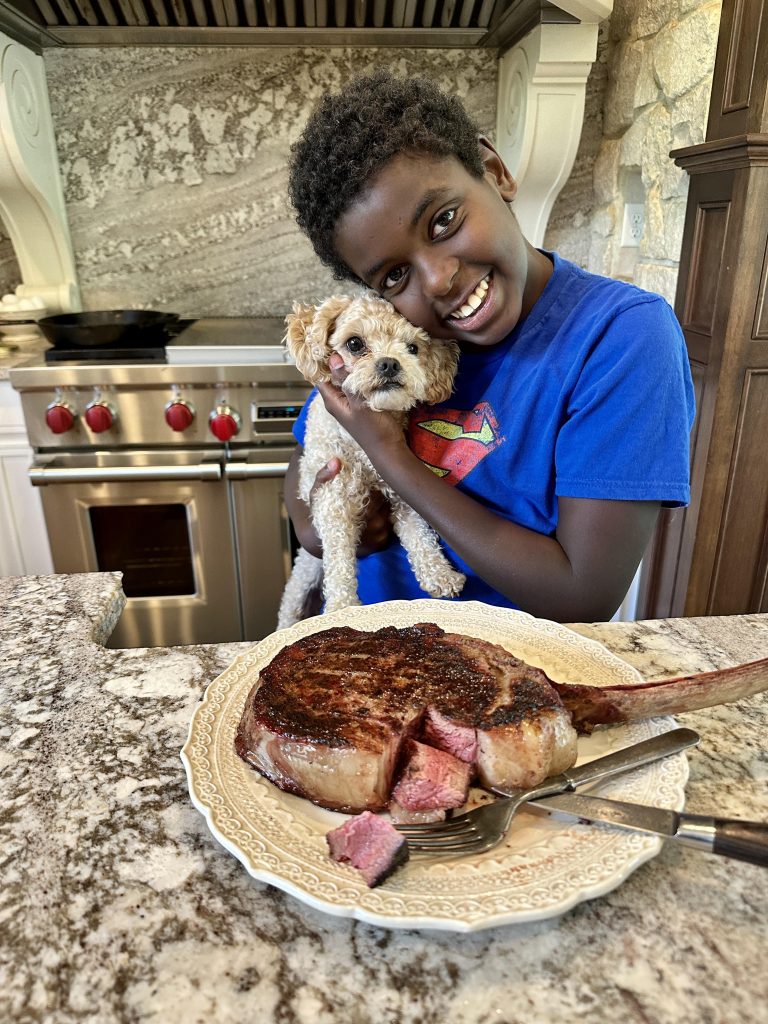 WHERE TO GET INGREDIENTS FOR TOMAHAWK STEAK
If you haven't noticed, I do not allow advertising on my site.
I just didn't agree with some of the products that were advertised. They were keto products, but they were unhealthy and I would never personally eat most of the products. It was hard to say no to blog advertisements; they pay thousands of dollars a month, but I just felt uncomfortable about having the products I didn't recommend on my website.
Instead, I have created a shopping list where you can find all the healthy ingredients that are difficult to find in the grocery store (and if you do find them, they are often very expensive).
I have done a lot of detective work and found the lowest prices on for all of the products I use and love. Everything from food, pantry items, kitchen tools, supplements, and skin products are on my list.
I rarely waste time in the grocery store because I find everything online for a way better price!
All you have to do is click on the words in my recipes and it will take you right to the correct item. If you add them to your cart I get a tiny commission that helps me afford to keep practicing recipes (Recipe experimenting can costing me a fortune!…but I love helping!).
I also have GREAT HOLIDAY GIFT IDEAS on the list!
Happy Shopping and THANK YOU for all your support!!!
Reverse Sear Tomahawk Steak
Equipment
Ingredients
3

pound

bone in Tomahawk Steak

2

tablespoons

Flavor God Seasoning

(or salt and pepper)

Tallow or Lard for searing
Instructions
Remove the steak from the refrigerator about 1 hour before cooking to allow the steak to come to room temperature.

Preheat smoker or grill to 225 degrees F.

Season the steak liberally on all sides with the seasonings and use your hands to press into the meat.

Please the seasoned steak onto the grill. Close and cook until the internal temperature reaches 115 degrees F for medium rare. This will take about an hour. Check temperature after 40 minutes and every 10 minutes after that to prevent over cooking. Remove the steak from the grill.

Preheat a large cast iron skillet to medium-high heat. Once hot, add a few tablespoons of tallow or lard. Add the steak and cook for about 2-3 minutes per side or until you have a nice crust on the outside and the internal temperature reaches your desired doneness.

125 degrees F = RARE

135 degrees F = MEDIUM RARE

145 degrees F = MEDIUM

155 degrees F = MEDIUM WELL

Remove steak from the skillet and allow to rest for 10 minutes before serving.
Video
Nutrition
Calories:
798.5
|
Fat:
37.2
g
|
Protein:
117
g
|
Carbohydrates:
0
g
|
Fiber:
0
g
|
P:E Ratio:
3.1
TESTIMONY OF THE DAY
Doesn't Felicia look AMAZING? She lost 138 pounds! I am SO proud of her
"My KETO journey started in January  2021. I started out at approximately 300 lbs.  (162 lbs now)  Only with the help of Maria Emmerich and Craig Emmerich and Maria's recipes have I been able to maintain this weight loss. I had lost 100 lbs three different times in my life  and always gained it back….plus some.

This post is just to remind others that this WOE (way of eating) really does work. I read and reread their books. I found out that I really can't  incorporate dairy and nuts in my diet. They cause a lot of inflammation. So I am primarily Carnivore now (love their new cookbook! Carnivore for Weight Loss).

Being free from all that extra weight is absolutely amazing.  Fitting into seats at theaters and not needing seat belt extenders in cars or on air planes are just added benefits!

My energy level is through the roof!

As always I want to thank Maria and Craig for freely sharing their knowledge with us.  May you receive many Blessings for all you have done.  You have helped so many people.  You truly helped me do what I thought was impossible! " Felicia
Most people I consult are doing keto totally wrong. Get fast results with the my Mind-blowing Keto School!