Quick and Easy Ketogenic Cooking
If you feel overwhelmed with work, life, family, responsibilities and cooking sounds like another job, I wanted to write a letter to you to help you understand that I am a busy working parent just like many of you. There was a time before kids that I didn't understand the difficulty of finding time to prepare keto meals and when a client would complain that they do not have time to eat healthy, I would think… "it is easy… I do it daily." I worked all the time, and I also worked out daily and still was able to find time to put a keto meal together. But I can't judge, cooking isn't for everyone. I love cooking. There is nothing I adore more than a rainy day cooking in the kitchen with the radio on. I say rainy day because on beautiful sunny days I prefer to be on my kayak or bicycle; sunny days is when my slow cooker is on (which there are many slow cooker recipes in this cookbook)! I understand we all have different passions and cooking isn't for everyone, but that is why this cookbook rules! Even the novice cook can make these recipes and if you prefer to be outside like I do, you will love the bonus chapter where you can smoke foods outside!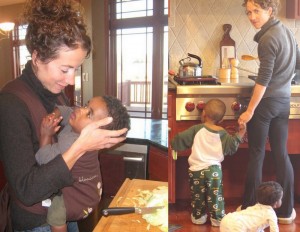 On November 16th 2011 life threw me for a loop. We received an email that we could pick up our 2 baby boys from Ethiopia. On November 19 we were on the plane and life was never the same. We arrived home in the US the night before Thanksgiving. Let's just say Thanksgiving was anything but turkey and gravy. Here is a photo of our first day and first Thanksgiving together. If you would like to watch a full video of our journey click HERE.
It was the most magnificent yet the most difficult time in my life. I now was responsible for a one year old and a toddler who was scared of everything new and everything was new. I remember them crying the first time they were in the bathtub… think about it. Why is this lady putting me in a huge hole and filling it with water? They didn't have a bathtub at the orphanage.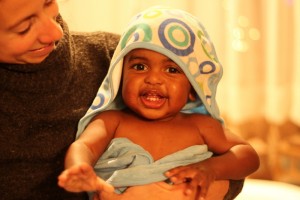 Everything was a new experience to them. Which is why I held Kai in a baby carrier at all times while holding Micah's hand. Try cooking with one hand. Yep, that was what I did. But it was important, they never had such a sense of security before and I needed to make up for years of them not having anyone. Kai would cry the minute someone looked as if they wanted to try take him from my arms to hold him, even Craig couldn't hold him at first. He just wanted mommy.
I'm not complaining, I would give anything to hold baby Kai in a baby carrier again, but I do want you to know it was an eye opening experience to realize how hard it is to make healthy meals while prioritizing family. But it can be done.  Even with all these challenges, cooking one handed with another strapped to my belly, all while also running business, we did it. Which leads me to why I love this book. Many of the recipes can be made with one hand.
And if you are a novice cook, and a visual learner like myself, there will be a wide variety of cooking videos that go along with the cookbook. Click HERE to watch the videos.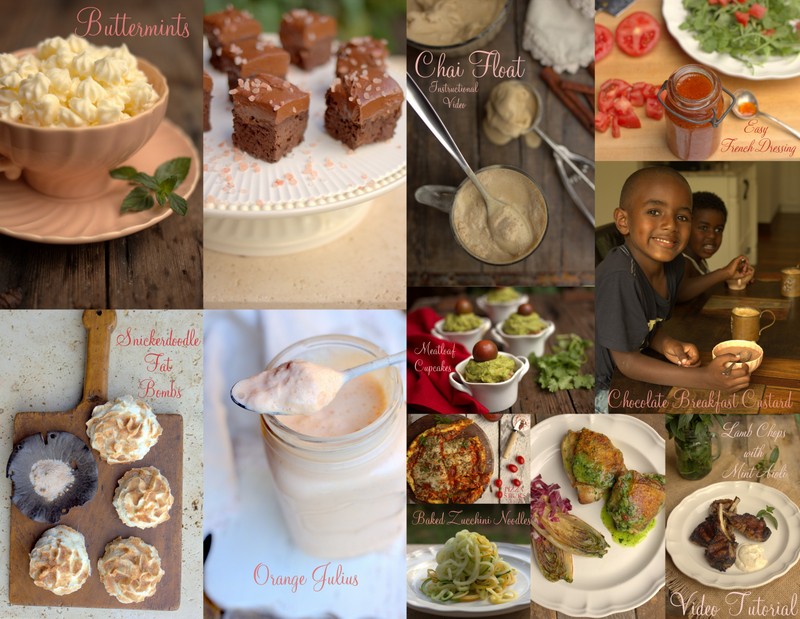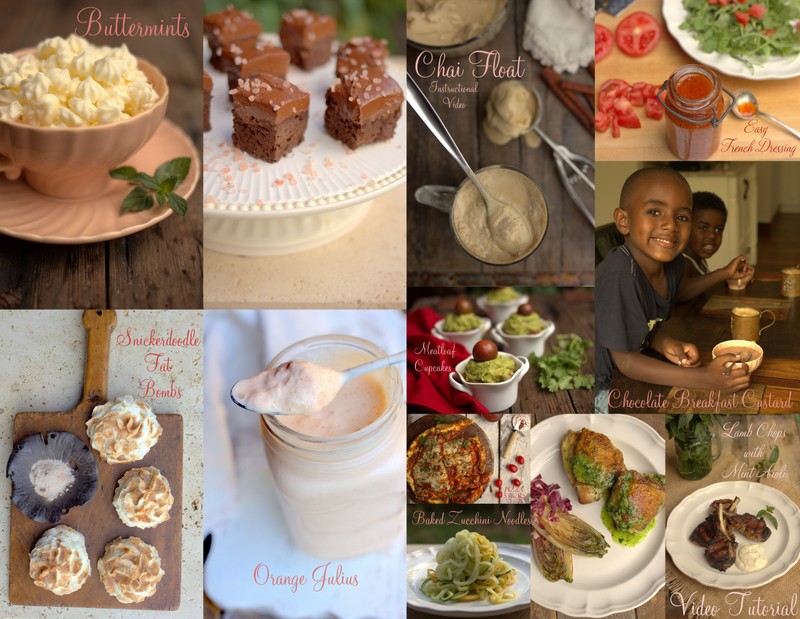 WHY SHOULD YOU EAT KETO?
Want to burn more fat just by eating fat?
It take more energy to produce ketones from fat than glucose:
•There is about 20% energy loss in this process.
•Being in ketosis requires more overall system energy, while still increasing work potential.
•In other words, ketosis increases overall energy expenditure, while at the same time increasing their muscular efficiency.
•Bottom Line: You burn more calories all day (higher BMR) while having more muscle endurance.
A ketogenic diet also increases the energetic output of our mitochondria because these amazing "powerhouse" factories of our cells are essentially designed to use fat as energy. When we switch from using glucose to using fat in the mitochondria, its toxic burden is reduced, the manifestation of energy-producing genes are improved, the output is increased, and the load of inflammatory by-products is decreased.
Glucose needs to be processed first in the cell before it can be passed into the "powerhouse" factory mitochondria. Energy sources from fat don't need this processing: they go straight into the mitochondria for energy. It is more intricate to create energy out of glucose than out of fat, which causes you to get more energy per molecule of fat than glucose. I see so many clients with fibromyalgia, chronic fatigue, rheumatoid arthritis, cancer, multiple sclerosis, and other autoimmune diseases that cause energy shortages. The ketogenic diet acts on numerous levels at once, something that no drug has been able to do without detrimental side effects.
Think of the mitochondria as the main sources of energy for your cells and body. The energy produced by mitochondria is stored in a molecule called adenosine triphosphate (ATP) — you can consider this your body's "battery." Energy-packed ATP can then be transported throughout the cell, releasing energy on-demand of specific enzymes. In addition to the fuel they produce, mitochondria also create a by-product related to oxygen called reactive oxygen species (ROS), commonly known as free radicals. But free radicals are not produced if we use fat for fuel instead of carbohydrates.
In some cells, mitochondria compose 50% of the total volume! When we are low in energy and need a boost, true energy doesn't come from a short-lived sugar boost from carbohydrates. That energy does not last long and is not without its consequences; it is sort of like how drinking coffee gives us false energy. Instead, true long-term energy comes from the mitochondria. I once read, "Let fat be thy medicine and medicine be thy fat!" How true!
To find out what you may have been doing wrong on your "low carb" diet, check out Keto-Adapted. Click HERE to get a copy!
Thank you all for your love and support!