Pumpkin Tiramisu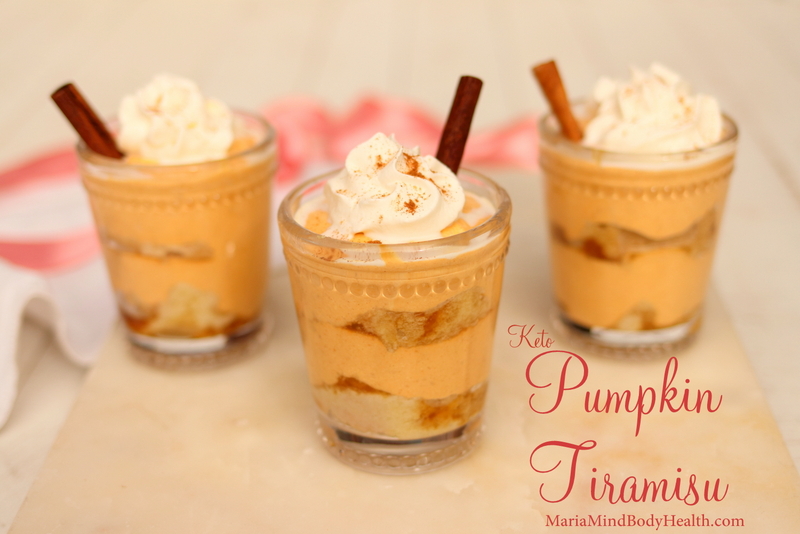 I am a huge fan of Top Chef. On season 5, there was a competition to make Thanksgiving dinner for the Foo Fighters while they were on tour. One of the top chef competitors, Fabio, was from Italy and he made a Pumpkin Tiramisu. I thought it was brilliant! I had to make a keto version of Pumpkin Tiramisu because my Ethiopian-born children love anything coffee and I love anything with mascarpone cheese!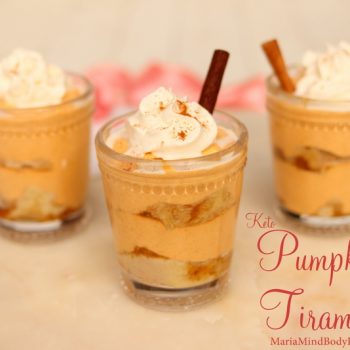 Pumpkin Tiramisu
Ingredients
LadyFingers:

3

large eggs

separated

¼

cup

Natural Sweetener

see page 000

1

teaspoon

vanilla extract

½

cup

blanched almond flour

¼

teaspoon

baking powder

Pumpkin Mousse:

1

15-ounce can pumpkin puree

1 1/4

cup

Natural Sweetener

or equivalent natural sweetener, divided

1 1/2

teaspoon

Pumpkin pie spice

1/8

teaspoon

Redmond Real salt

1 1/2

cups

mascarpone cheese

or cream cheese

2 1/2

cups

heavy cream

1

cup

decaf espresso or coffee

cooled
Instructions
Preheat the oven 375°F. Grease a 9 by 9 inch baking dish and set aside.

Make the ladyfingers: Put the egg whites in a medium-size bowl and the yolks in a larger bowl. Using a hand mixer, I n a medium-sized bowl, beat the 3 egg yolks with the sweetener for about 4 minutes, until lightened in color, then stir in the vanilla. In a separate bowl, beat the 3 egg whites until stiff peaks form. Fold the almond flour and baking powder into the egg whites, making sure not to overmix the batter. Fold in the egg yolk mixture. Pour the batter onto the baking dish. Bake for 25-30 minutes, until light golden. Remove from the oven and allow to cool in the pan. Cut into 3 by 1 inch ladyfingers.

In a large bowl, whisk the pumpkin puree with the natural sweetener, pumpkin pie spice and salt. Add the mascarpone and 1 1/2 cups of the heavy cream. Using an electric mixer, beat the pumpkin mixture at medium speed until soft peaks form.

In a medium bowl, stir the brewed espresso/coffee with 2 tablespoons of the natural sweetener. Dip all sides of the ladyfingers in the coffee and arrange a layer in 10 glass serving glasses. Spread a layer of the pumpkin mousse on top. Repeat the layering, ending with a layer of the pumpkin mousse. Cover and refrigerate the tiramisu overnight.

In a large bowl, using an electric mixer, beat the remaining 1 cup of cream with the remaining 2 tablespoons of natural sweetener until soft peaks form. Dollop the whipped cream over the tiramisu, garnish with pumpkin spice and a cinnamon stick, serve.

Store extras in airtight container in the fridge for up to 4 days. Serve chilled.
Notes
Nutritional Information:
420 calories, 41g fat, 7g protein, 7g carbs, 2g fiber
TESTIMONY OF THE DAY
"Hi Maria! I wanted to thank you for all of your help and encouragement. I feel like a new person and I am finally living life again. More importantly, my A1c is down to 5.4! I also wanted you to know that the medications you had me list off when we first talked … I am almost off of ALL of them! I am so happy I found you. It was life-changing! Mechiel"
Most people I consult are doing keto totally wrong. Get fast results with the my NEW Keto School!