Pumpkin Pie Pots De Creme
Last night I spoke with my keto support group and one of the questions was how do I make life easier and what tips do I have when shopping. Well, I rarely go to the grocery store! I get most of my items online.
You may have seen me mention this before, but we do not have advertisements on my blog. I get approached all the time to have advertisements on my website and I get offered thousands of dollars a month for it, but you know what? I tried it for a few days and I was horrified to see "healthy" chips and things that I would never recommend for people to eat. I found it so intrusive and it covered up the message I want you to leave my website with.
I ADORE that I now can fast forward commercials on the tv shows I record because right before bed I swear they always show foods like pizza and even though I wasn't hungry, I wanted pizza after I saw it. I don't want you to see temping junk food on my website. I want my website to be a safe place to be educated and encouraged on your ketogenic lifestyle. Not tempted by junk.
I made a YouTube video of making my Keto Instant Pot Pumpkin Pie Pots de Creme! The recipe in the video is from my best-selling book Keto Instant Pot! Click HERE to find Keto Instant Pot on SALE! Thank you for your support!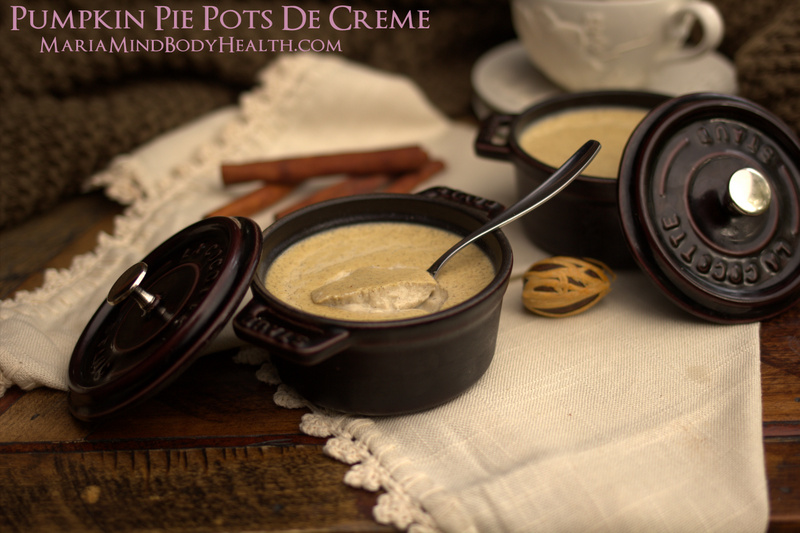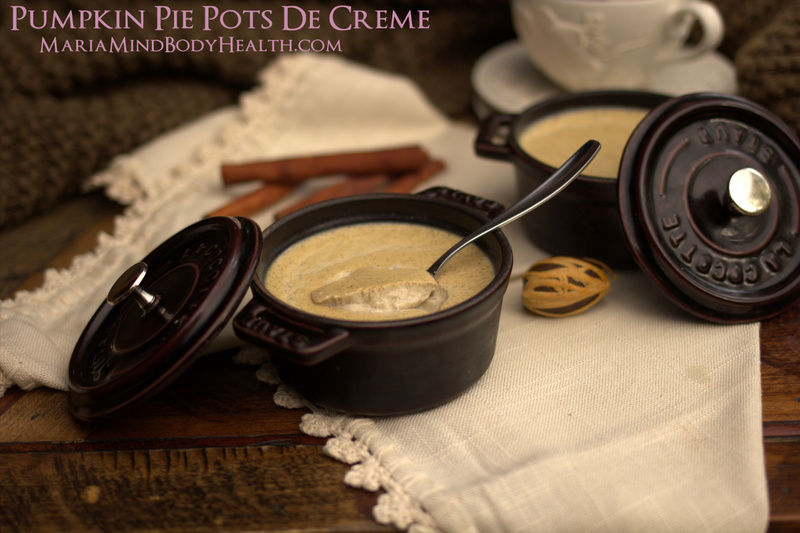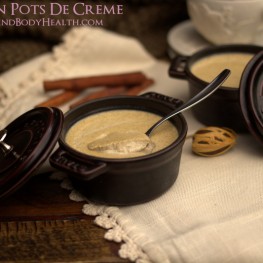 Pumpkin Pie Pots De Creme
Ingredients
2

cups

coconut milk

or organic whipping cream if not dairy sensitive

1/2

cup

unsweetened almond milk

1

vanilla bean

<g class="gr_ gr_63 gr-alert gr_spell gr_inline_cards gr_run_anim ContextualSpelling ins-del" id="63" data-gr-id="63">scrapped</g> clean (or 1 tsp pure vanilla extract)

6

large egg yolks

1/2

cup

Natural Sweetener

1/3

cup

strong brewed chai tea

2

tsp

pumpkin pie spice
Instructions
Preheat oven to 325°F. Bring coconut milk/cream, almond milk <g class="gr_ gr_78 gr-alert gr_gramm gr_inline_cards gr_run_anim Punctuation only-ins replaceWithoutSep" id="78" data-gr-id="78">and</g> vanilla bean just to simmer in heavy medium saucepan over medium heat. Remove from heat.

Whisk yolks and natural sweetener in large bowl to blend. Gradually whisk into coconut milk/cream mixture. Add chai tea. Strain mixture into another bowl. Cool 10 minutes, skimming any foam from surface.

Divide mixture among six 3/4-cup custard cups. Cover each with foil. Place cups in large baking pan. Add hot water to baking pan to come halfway up sides of cups. Bake until custards are set but centers still move slightly when gently <g class="gr_ gr_71 gr-alert gr_gramm gr_inline_cards gr_run_anim Punctuation only-del replaceWithoutSep" id="71" data-gr-id="71">shaken,</g> about 55 minutes. Remove from water. Chill custards until cold, about 3 hours. (Can be made 2 days ahead. Cover and keep chilled.)
Notes
NUTRITIONAL COMPARISON (per serving)
Traditional Pots De Creme = 252 calories, 17.6g fat, 4.4g protein, 21g carbs
"Healthified" Coconut Milk = 240 calories, 23.8g fat, 4.6g protein, 5.1g carbs
"Healthified" Heavy Cream = 194 calories, 19.5g fat, 3.6g protein, 1.8g carbs
90% fat, 7% protein, 3% carbs
TESTIMONY OF THE DAY
"4 years, one month difference, all Keto. Maria, you're amazing! I cannot thank you enough!
No more meds for high blood pressure and insulin resistance, best yet PCOS symptoms are all gone.
I'm almost 39 and I feel more like 25! ♥️ SW 316, CW 246 still going down! Slow and steady!" – Brandy
Most people I consult are doing keto totally wrong. Get fast results with the my NEW Keto Packages!