Pumpkin Pie Panna Cotta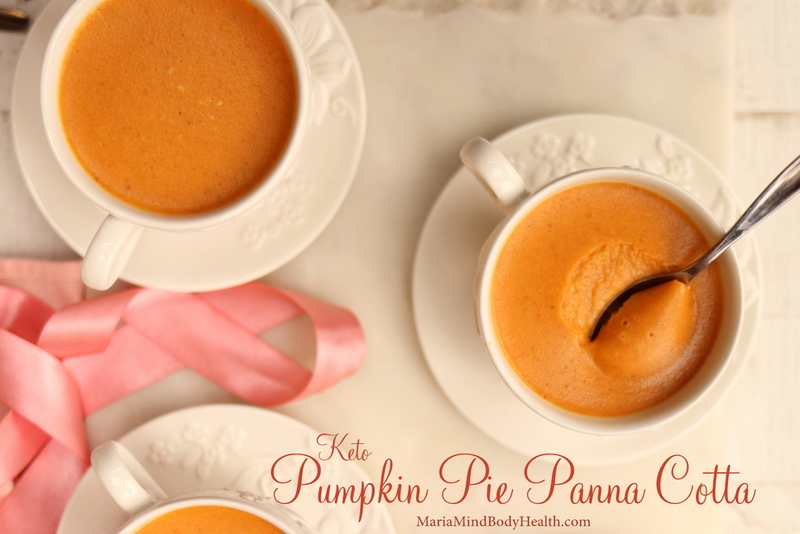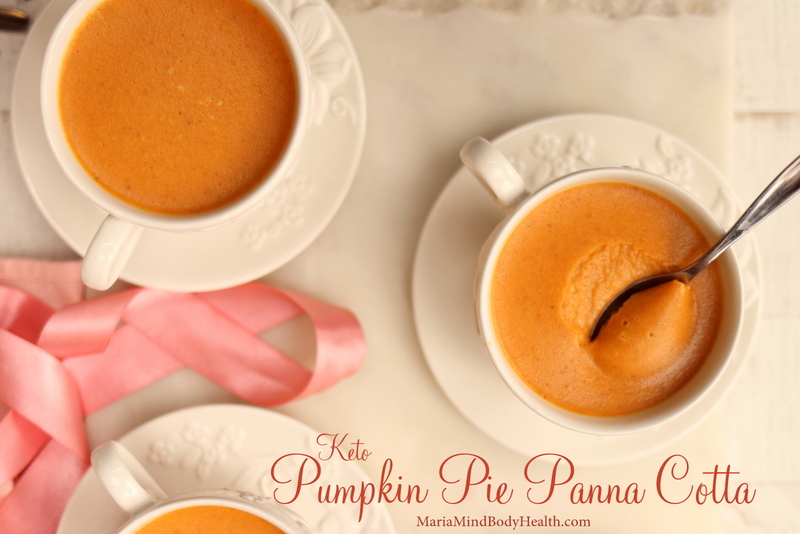 What would be better this time of year than a Pumpkin Pie Panna Cotta??? I never really liked the crust of pie anyway and if you are looking for an easy, yet elegant dessert to serve for your keto Thanksgiving, you must try this panna cotta!
Making food with gelatin wonderful for those of you who can't eat eggs, but foods made with gelatin can easily get too rubbery if they sit in the fridge overnight. If you plan on making this recipe ahead of time and not serving it the same day it is made, I suggest using ¼ teaspoon less gelatin than called for; this quantity will create a perfect creamy texture even after a day or two of resting in the fridge.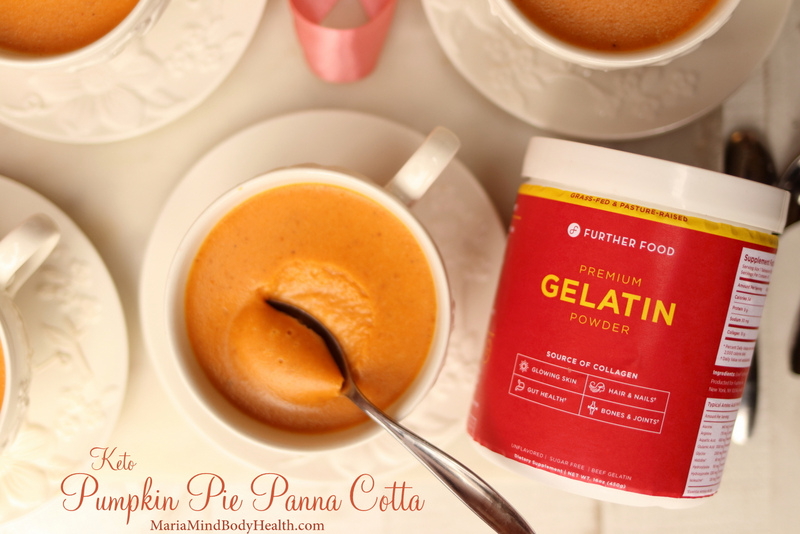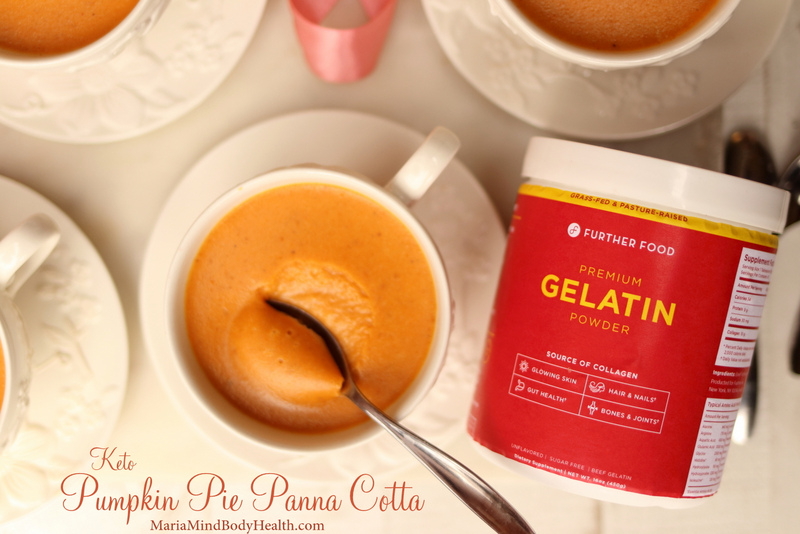 I met the kind owner of Further Foods at KetoCon this past summer and she asked what products I would like to see her make in the future and I suggested an organic gelatin that I can make keto panna cotta with!
For the launch of their new Gelatin product Further Food is doing a special 15% off deal for our fans. Use coupon code MARIA15 for 15% off!!
Click HERE to find organic Further Foods Gelatin!
Use Code:  MARIA15 for 15% off!
Pumpkin Pie Panna Cotta
Instructions
Sift the gelatin over the ½ cup unsweetened almond or cashew milk. Heat the heavy cream in a saucepan over medium heat. Whisk in the softened gelatin and almond milk mixture. Add the ¼ cup sweetener, pumpkin puree, pumpkin pie spice, vanilla, and salt. Stir until well combined.

Pour the mixture evenly into 2 cups. Place in the refrigerator for 1 hour or until the custard is set. Best served at room temperature, but can be served cold. Store extras in the refrigerator, covered tightly, for up to 4 days.

BUSY FAMILY TIP: Can be made 3 days ahead (with caveat—see Gelatin Tip).
Notes
Nutritional Information:
259 calories, 24g fat, 4g protein, 10g carbs, 2g fiber
TESTIMONY OF THE DAY
"Hi, Maria! This is my first keto pregnancy after having 3 children and 1 miscarriage, and it is by far the easiest. I started keto to manage my PCOS, but it's not only enabled me to lose 90 lbs pre-pregnancy, but cured a fatty liver, normalized my A1C levels, cured my chronic hives, enabled me to get pregnant the very first month of trying (where it's taken years for #2 and #3) and now virtually has eliminated my nausea throughout my entire pregnancy so far (whereas for my last pregnancy I was sick and on several meds the whole 9 months).
.
 I also do not have gestational diabetes this time around, where I have before. My increased energy is remarkable, and my other kids love your recipes so much, they often eat them up before I get much of them!
.
Thank you so much for helping me to have such amazing health for my husband, kids, and the ministry work we do! It's completely changed my lifestyle for the better!!
️"
Most people I consult are doing keto totally wrong. Get fast results with the my NEW Keto School!