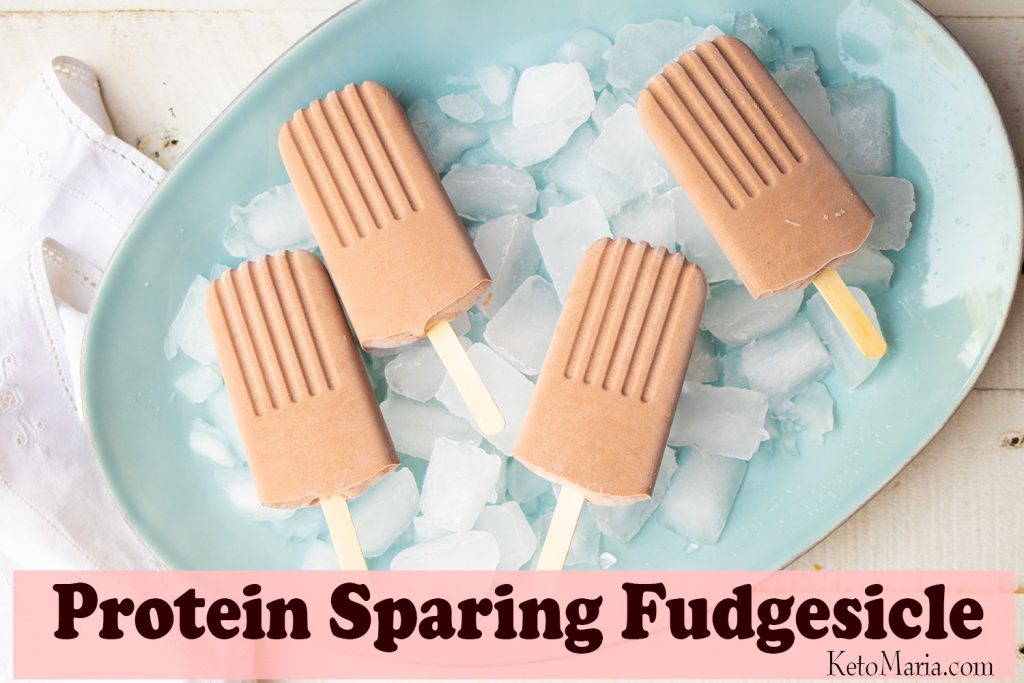 I grew up on fudgesicles! It doesn't matter how cold it is outside, I always love a fudgesicle!
I still do love a fudgesicle! I just make them without sugar now!
But this recipe is extra special because the main ingredient is all protein! These protein sparing fudgesicles are a perfect treat to help you reach your protein macro!
These protein sparing fudgesicles are REALLY important for bone health too!
Did you know that bones are mineralized protein? Not only is protein really important for bone health, but so is sodium and potassium!
When you do not get enough sodium and potassium, you will lose muscle as well as bone.  Click HERE to read more on preventing osteoporosis!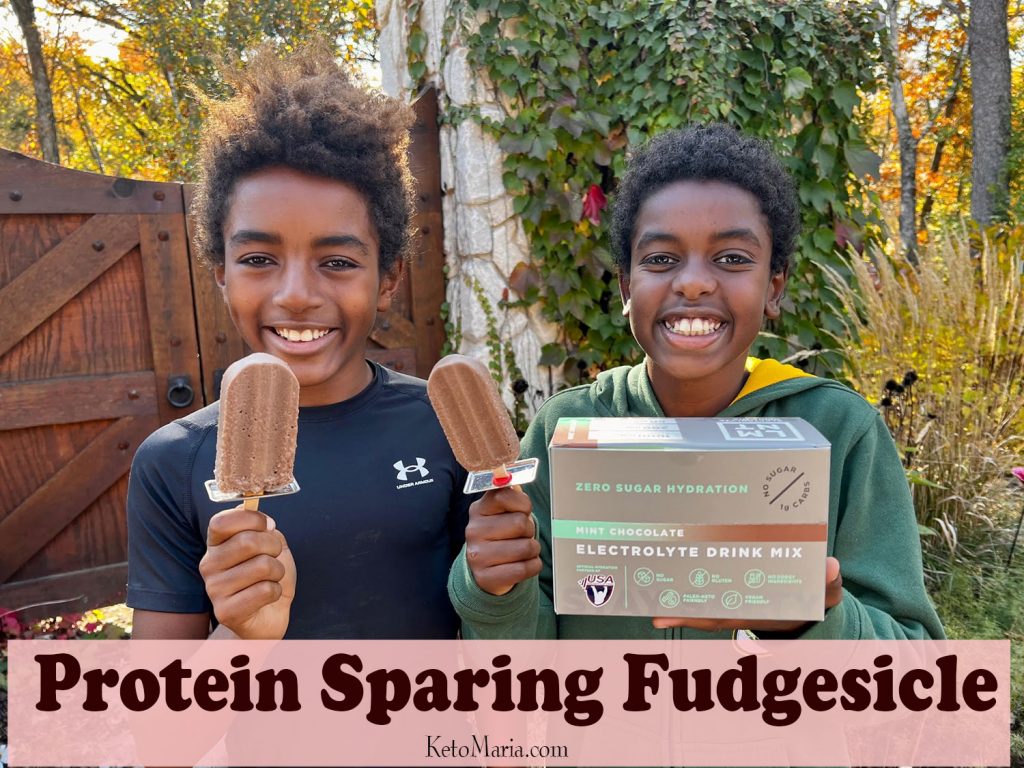 To make my delicious protein sparing fudgesicles, I used the NEW Chocolate Mint LMNT!
My boys LOVE LMNT! It is a natural electrolyte without sugar or harmful food dyes!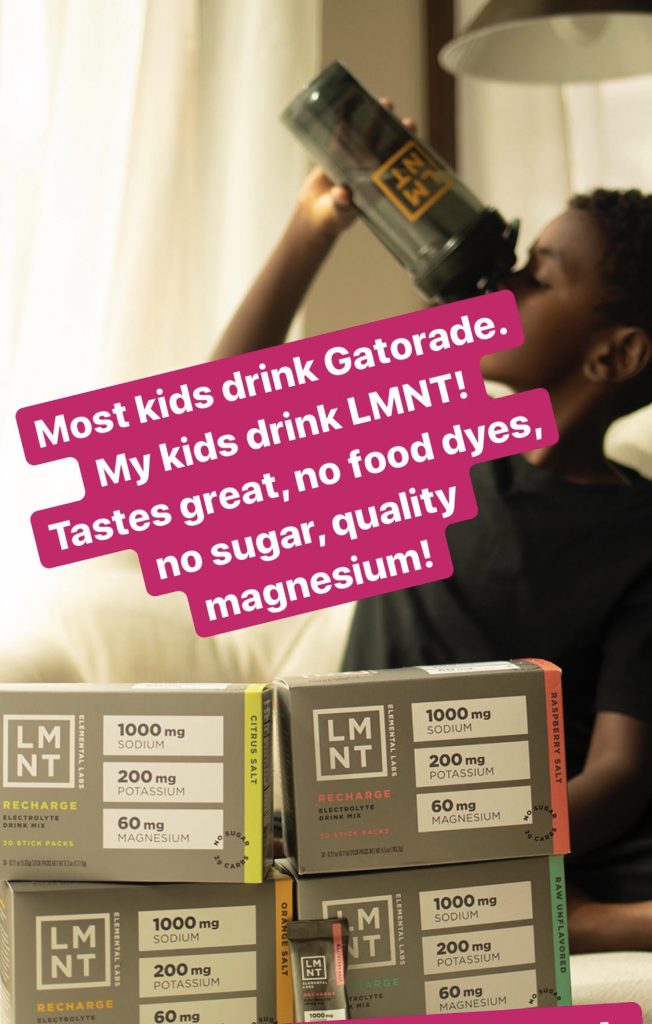 LMNT is the BEST quality electrolyte mix because they use quality minerals and magnesium.
Many of my clients switch from poor electrolyte mixes such as Ultima (which has magnesium citrate and isn't recommended) to LMNT and they are hooked!
Electrolytes are not optional with a well formulated ketogenic or low carb diet. Especially when eating healthy whole foods that don't come with any sodium. But don't add just one electrolyte and ignore the others.
If you do not get enough sodium, you can not absorb magnesium. So balancing electrolytes is essential!
Getting your electrolyte balance right will help eliminate the keto flu symptoms of headaches, low energy, muscle cramps, or low moods.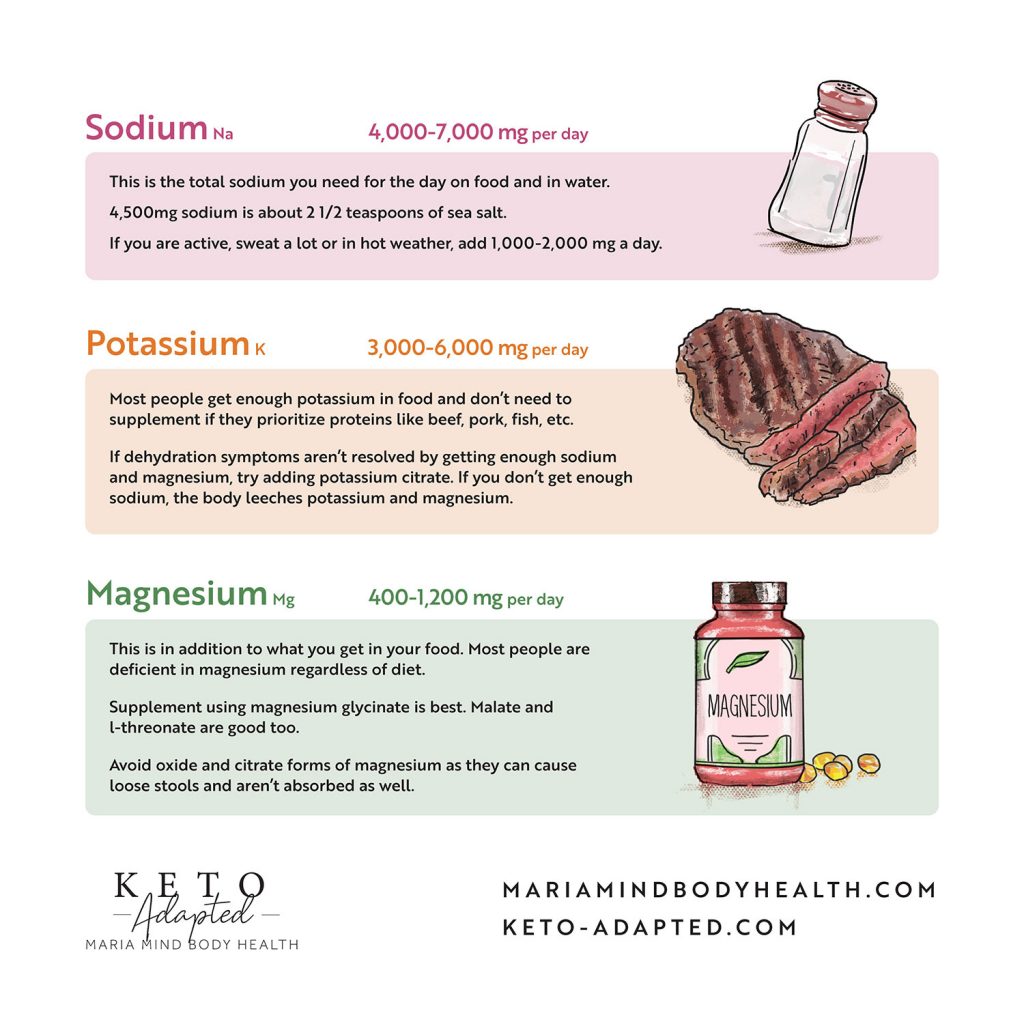 Protein Sparing Fudgesicle
Ingredients
6

large

egg whites

or 1 cup liquid egg whites

1

cup

unsweetened almond milk

or unsweetened cashew milk or hemp milk if nut free

½

cup

Allulose

or more to desired sweetness OR a few drops chocolate stevia

2 ½

tablespoons

unsweetened cocoa powder

2

teaspoon

vanilla or chocolate extract

1

packet LMNT Chocolate Mint
Instructions
Place the egg whites and in a large skillet and cook over medium high heat until scrambled and cooked though. Chill in the fridge until completely chilled.

Place all the ingredients into a blender and puree until very very smooth. Click HERE to find my favorite blender (makes a GREAT gift!). Taste and adjust sweetness to your liking.

Pour into ice pop molds and place in the freezer for 5 hours or until set.

Store in the freezer for up to a month.
Nutrition
Calories:
27
|
Fat:
1
g
|
Protein:
3
g
|
Carbohydrates:
1
g
|
Fiber:
0.4
g
|
P:E Ratio:
1.9
TESTIMONY OF THE DAY
"Hi Maria! This is unreal!
It's been a week and a half since I started the supplements you recommended and two weeks with no sweets and no alcohol and no caffeine and honestly I have gotten more done in the last 4 days than I have in the last several months and today is the first day that I am heading into work without feeling a sense of dread and being completely worn down.
Being a nurse is physically and mentally and emotionally draining and I've always been completely depleted getting home from work but I'm starting to have more energy after a long day and be able to still get stuff done around the house.
I'm really encouraged with how things are going so far.
I just wanted to let you know because I am feeling some Hope For The First Time in years that I am going to feel better and be able to participate in life instead of just trying to survive every day.
I'm already down eight pounds, Greg is already almost to his goal weight (down over 20 lbs!!) and is getting compliments on how much younger and healthier he looks. His skin, his coloring, everything is better. He just turned 45 and I think he looks five years younger now.
Eliminating all that toxic crap from the inside is so visible from the outside! Not to mention the money being saved on alcohol and junk.
 It's not costing any more to eat keto than it was before with all the stuff we've cut out. I know you know this! We are doing the meal plans and even Emerson, my incredibly picky eater, has loved everything!  Just wanted to give you a quick update!  I really appreciate you." Karen
Most people I consult are doing keto totally wrong. Get fast results with the my Mind-blowing Keto School!