Protein Sparing Cocoa Puffs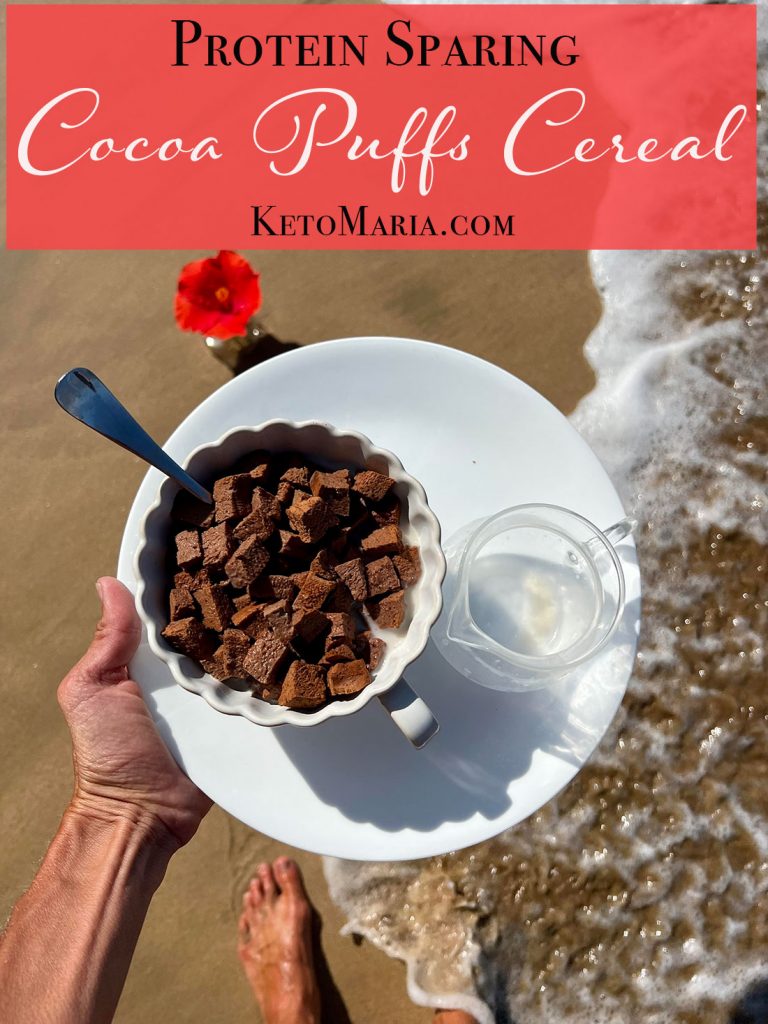 I grew up on cereal for breakfast. Well, actually I loved cereal so much as a teenager, I would have cereal for dinner if I could!
Cocoa Puffs was one of my favorites! So when I told my husband I wanted to create a protein sparing cereal, he yelled out "COCOA PUFFS!" I yelled, "BRILLIANT" and I jumped into the kitchen to start experimenting. This really did happen!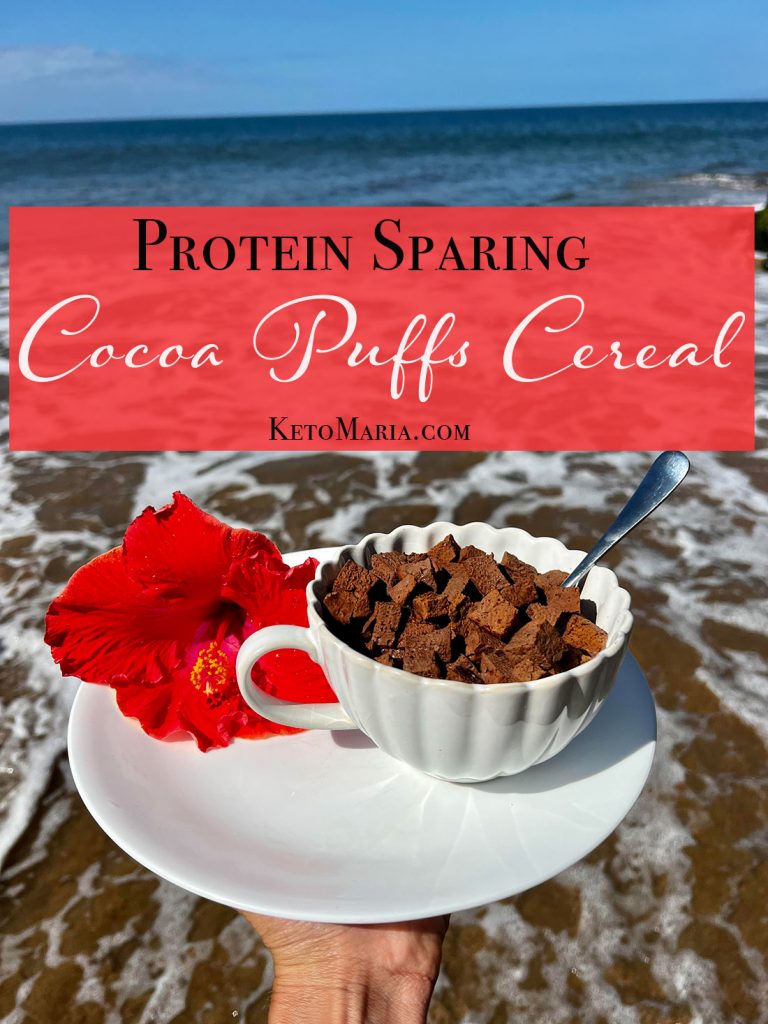 Most of you know we homeschool the boys and what is funny is some of the homeschool pages discuss food and health. We laugh when the books try to tell us that whole-grain cereal is a healthier breakfast that sausages. However, Kai always wanted to try cereal to see what all the hype is about. He tried my Cocoa Puffs and he LOVES this protein packed healthy cereal!

HOW TO MAKE PROTEIN SPARING COCOA PUFFS CEREAL
To make my recipe for protein sparing Cocoa Puffs cereal, I used Further Food gelatin!
Further Food gelatin is sourced from the highest quality, grass-fed, pasture-raised, hormone-free, and antibiotic free bovine.
Adding Further Food Gelatin works perfectly for making my protein sparing Cocoa Puffs Cereal extra delicious and chewy! Do not skip adding the gelatin! It adds a perfect texture just like real cereal!
Use code MARIAMINDBODY is for 20% off site-wide !

Protein Sparing Cocoa Puffs
Ingredients
1½

cups

unflavored

or vanilla egg white protein

¼

cup

allulose

powdered, granular or brown will work

4

tablespoons

Further Food gelatin

½

teaspoon

Redmond Real salt

½

teaspoon

cream of tartar

1½

cups

water

1/4

teaspoon

chocolate stevia

or 1 1/4 teaspoons stevia glycerite

1

cup

unsweetened cocoa powder
FOR SERVING:
Unsweetened almond milk

or unsweetened hemp milk if nut free
Instructions
Preheat oven to 325 degrees F. Line a bread pan parchment and spray with avocado oil spray. Set aside.

Place the egg white protein, allulose, gelatin, salt, and cream of tartar into the bowl of your stand mixer (or any large bowl). Stir to combine well.

Add the water and stevia. Turn the mixer to high (or a hand mixer on high speed) and whip for at least 5 minutes or until stiff peaks form. Click HERE to find the 8 quart stand mixer I have so I can make 2 loaves of psmf bread at once! Makes a GREAT gift!

Add the cocoa powder and turn mixer to low and gently combine, being careful to not deflate the mixture.

Bake for 40 minutes or until cooked though and golden brown for a loaf. (for buns, bake for 15 minutes or until golden and cooked through).

Remove from the oven and cool completely before slicing.

Store extras in an airtight container in the fridge for up to 5 days.

Can be frozen for up to a month.

To make the protein sparing Cocoa Puffs cereal, preheat oven to 250 degrees F. Place a piece of parchment on 2 large rimmed baking sheets and set aside.

Slice the protein sparing chocolate bread into 1 inch slices. Use a rolling pin to roll the slices of bread into dense 1/4 inch slices.

Cube the protein sparing chocolate bread into 1/4 inch cubes. Place the cubes onto the baking sheets. Bake for 45-60 minutes or until completely dry like cereal.

Serve the Cocoa Puffs in a bowl with unsweetened almond milk. NOTE: almond milk absorbs quickly and will cause the Cocoa Puffs to get soft. Make sure to eat right away.

Store extras in an airtight container in the fridge for up to 5 days. Can be frozen for up to a month.
Nutrition
Calories:
118
|
Fat:
2
g
|
Protein:
19
g
|
Carbohydrates:
5
g
|
Fiber:
2
g
|
P:E Ratio:
3.8
TESTIMONY OF THE DAY
"About 5 months ago I found Maria Emmerich and her love, Craig. They have helped save my life!
As of today, I've lost 140 lbs. I have 37 more to reach my original goal of 180. I started wearing a size 32 jeans and am now in size 16.
Once I reach my goal, I'll set a new goal! These are my before and now pics. Thank you to Maria and Craig! You all help so many of us each and every day! Thank you. Keto on!" – Jane
Most people I consult are doing keto totally wrong. Get fast results with the my Mind-blowing Keto School!