Protein Sparing Chicken Enchiladas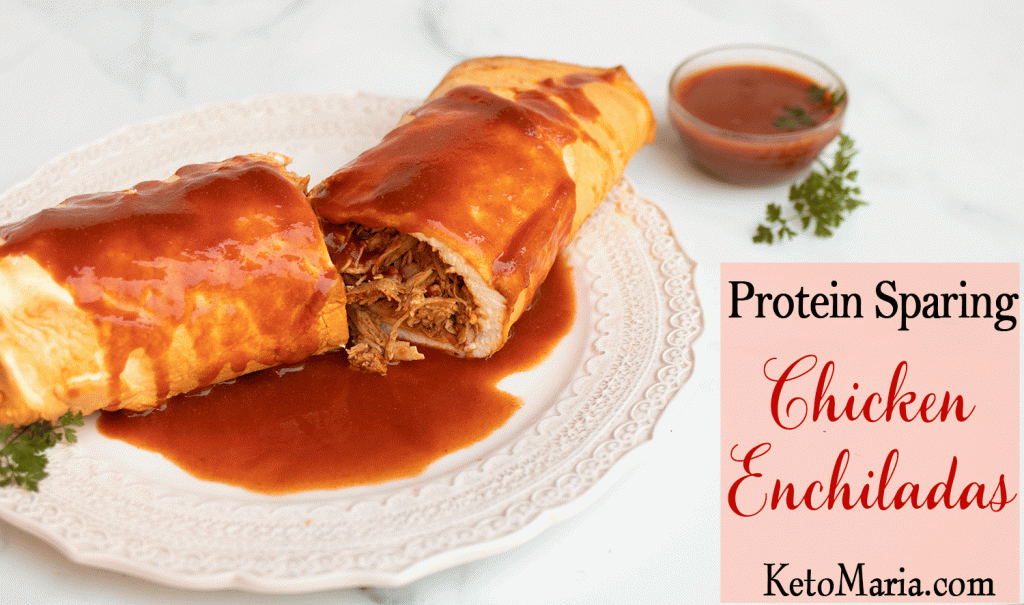 Have you tried my Protein Sparing Tortillas?  They are a huge hit!
I have a great recipe for an easy weeknight dinner that I had to share with you! If you are looking for a delicious, extremely low carb, protein sparing enchilada recipe, you must try this recipe!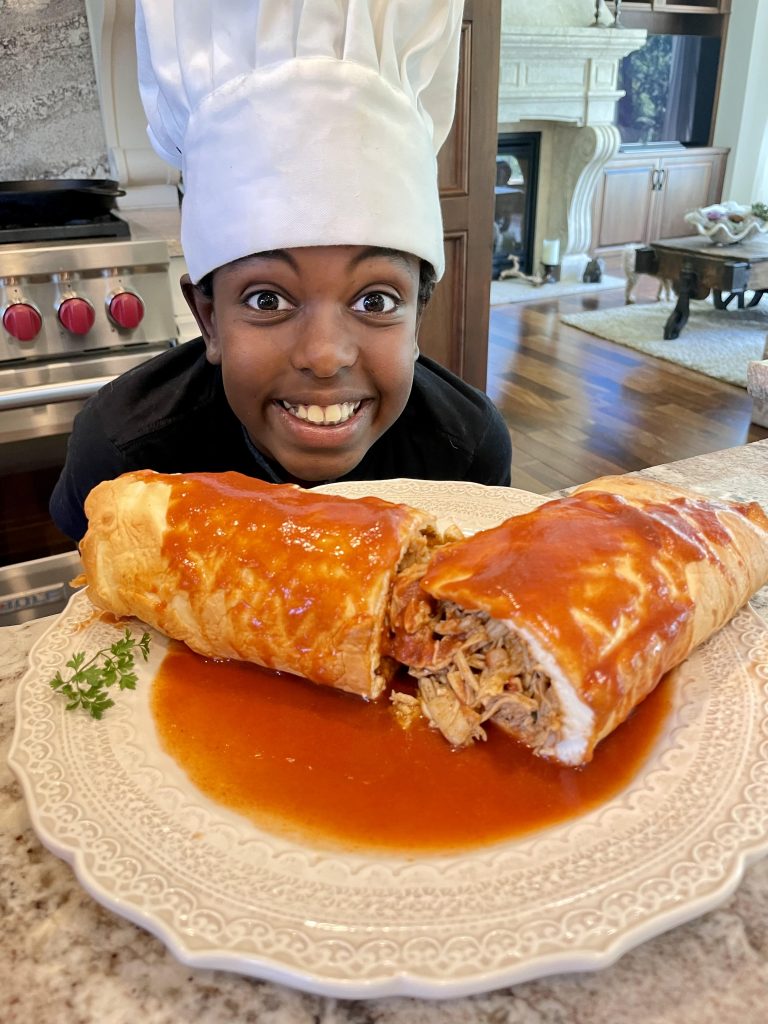 To make my protein sparing chicken enchiladas, I made Butcherbox chicken breasts in the Instant Pot. I forgot to thaw the chicken so I put it in frozen. I also made a large batch so I could freeze the extra chicken for easy protein sparing enchiladas in the future! I always make extra so I can have leftovers for easy meals when life gets busy.
I also always have extra sauces in my fridge like this easy enchilada sauce.
If you are not doing protein sparing days, you can use chicken thighs as well as add cheese, if you aren't dairy free, to these keto enchiladas.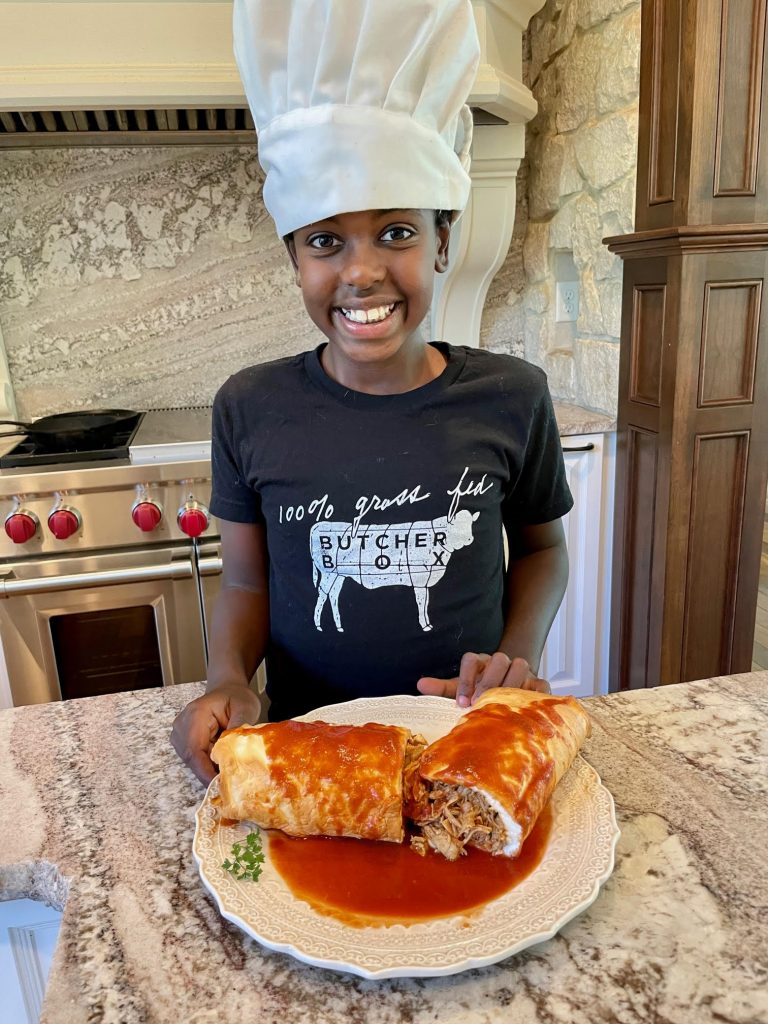 GREAT news!
I have a special deal for my readers! Skip the stores with all the temptations and get quality food mailed to your front door!
If you want FREE bacon (without sugar) mailed to you every month, today is the day to sign up with my FAVORITE delivery!
Go HERE for FREE bacon for LIFE!
If you are a current Butcherbox member, do not feel left out! I have deals for you too!  Click HERE to access member deals and specials. You'll find exclusive and limited time offers as well as new product launches like lobster, ground bison, seafood sampler, cast-iron favorites, their legendary bacon blast (10 packs of bacon for just $5/pack), and so much more. Their member deals are constantly changing so be sure to click HERE!
I hope you love it as much as we do!!! I love being able to take out their burgers and make an easy meal in only minutes! ️
Click HERE to learn more about Protein Sparing Modified Fasting.
Protein Sparing Chicken Enchiladas
Equipment
Ingredients
INSTANT POT CHICKEN ENCHILADAS:
1

cup

salsa or pico de gallo

1

cup

chicken broth

1 1/2

tsp

ground cumin

1 1/2

tsp

chili powder

1 1/2

teaspoon

onion powder

1 1/2

teaspoon

garlic powder

1 1/2

teaspoons

Redmond Real salt

1/2

tsp

Mexican oregano
PROTEIN SPARING TORTILLAS:
ENCHILADA SAUCE:
1/2

tablespoon

chili powder

2

teaspoons

cumin

1 1/2

teaspoons

Redmond Real salt

1

teaspoon

onion powder

1

teaspoon

garlic powder

1

cup

chicken broth

1

cup

tomato sauce

or 1 tomato diced
Instructions
Place the chicken breasts, salsa, chicken broth, and seasonings into the shell of an instant pot (OR a slow cooker).

Secure Instant Pot lid, making sure the valve is set to "sealing". Press the Pressure Cook or Manual button and use the +/- buttons to set the timer for 15 minutes.

Once the timer beeps, let the pot depressurize on it's own for 10 minutes, then release any remaining pressure. When the pin drops, remove lid and set aside.

IF USING A SLOW COOKER: place all the ingredients into a slow cooker. Cover and cook on HIGH for 3 hours or on low for 6 hours, or until chicken shreds easily with a fork.

Remove chicken breasts to a large bowl and shred. Set aside.

To make the protein sparing tortillas, Place the egg whites, gelatin, cream of tartar, salt and allulose in a large bowl. Use a hand mixer on high and whip the whites until double in size and very stiff. Add the egg white powder and blend until just combined.

Heat a large non-stick skillet to medium heat. Spray with avocado oil spray. Use a spatula to spread 1/4th of the protein sparing tortilla dough out on the greased skillet, about 1/8 inch thick. Cook for 3-4 minutes per side or until light golden brown. Remove from skillet and repeat with remaining protein sparing tortilla dough until you have 4 tortillas.

To make the enchilada sauce, the ingredients into a blender and puree until smooth. Taste and adjust seasoning to your liking.

To assemble the enchiladas, place one protein sparing tortilla onto a large plate. Fill the tortilla with 1/4 of the chicken enchilada mixture. Roll up the tortilla like a burrito. Cover with 1/4 of the enchilada sauce. Repeat with remaining protein sparing tortillas, chicken and enchilada sauce.

Store extra chicken, protein sparing tortillas and enchilada sauce in separate airtight containers in the fridge for up to 5 days. Can be frozen for up to a month.
Nutrition
Calories:
287
|
Fat:
5
g
|
Protein:
53
g
|
Carbohydrates:
8
g
|
Fiber:
1
g
|
P:E Ratio:
4.4
TESTIMONY OF THE DAY
"I was miserable, always in pain and beginning to not be able to complete simple daily tasks.
I had been on and off a "diet" my entire life, since when I was 10 years old, my mother took me to Weight Watchers. The shame, and misery that I felt, going for my weekly weigh in's and feeling deprived and hungry was a constant reminder that I was a fat girl that never really felt accepted anywhere. Opening my measly lunch in front of the other kids became traumatic.
It became a constant battle through out my entire teen years, then all throughout my life, up and down on a scale until, I finally gave up and ate my way to 310 lbs.
I needed to do something, as I actually felt like I was going to die. My daughter had lost 40 lbs. on a low carb diet and I was encouraged that I could possible do that too.
I began to research like my life depended on it and came across Maria Emmerich and Craig Emmerich's website (Keto-Adapted.com) and blog. I started what has become, the best decision that I have made in my life!
I have shed 130 lbs. and 100% obliterated more than 45 years of chronic migraines and headaches.
I am 62 years old and feel better than I did when I was 20! I have a whole new lease on life and will never go back to the SAD diet and existence that I was living.
Thanks to people like Maria and Craig for your commitment to every day people like myself that want to live and live healthy!! Forever grateful ❤️" Kim
Most people I consult are doing keto totally wrong. Get fast results with the my NEW Keto Packages!