Protein Sparing Bread Eggs Benedict with Easy Hollandaise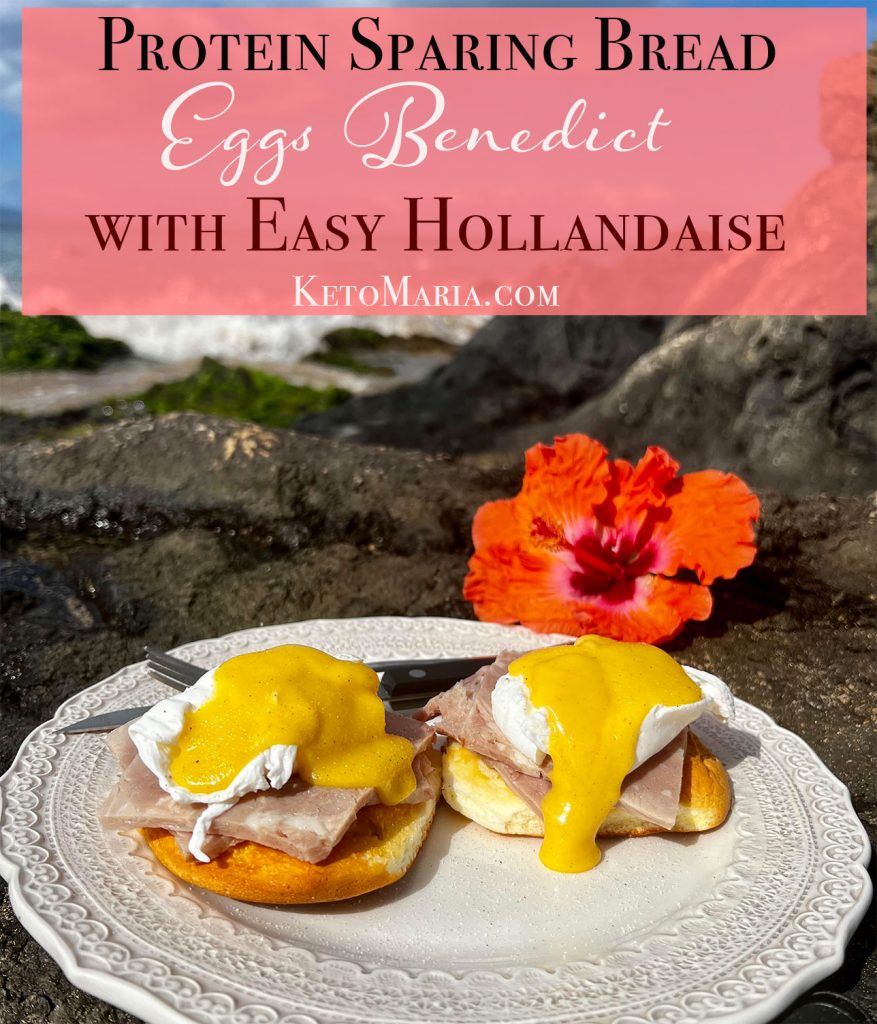 I LOVE Eggs Benedict!
When I travel, I always pack my own protein sparing bread! I often order Eggs Benedict and ask for no bread and use my protein sparing bread!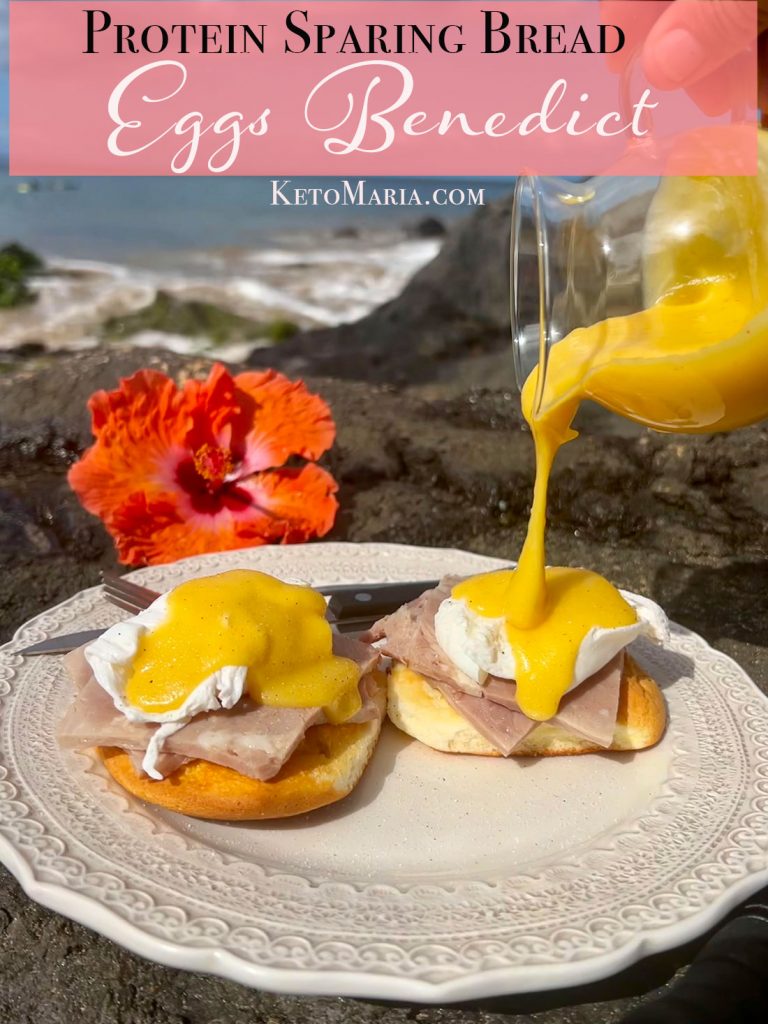 If you are afraid of making hollandaise for Eggs Benedict, do not fear! I have you covered!
My recipe for hollandaise is super easy!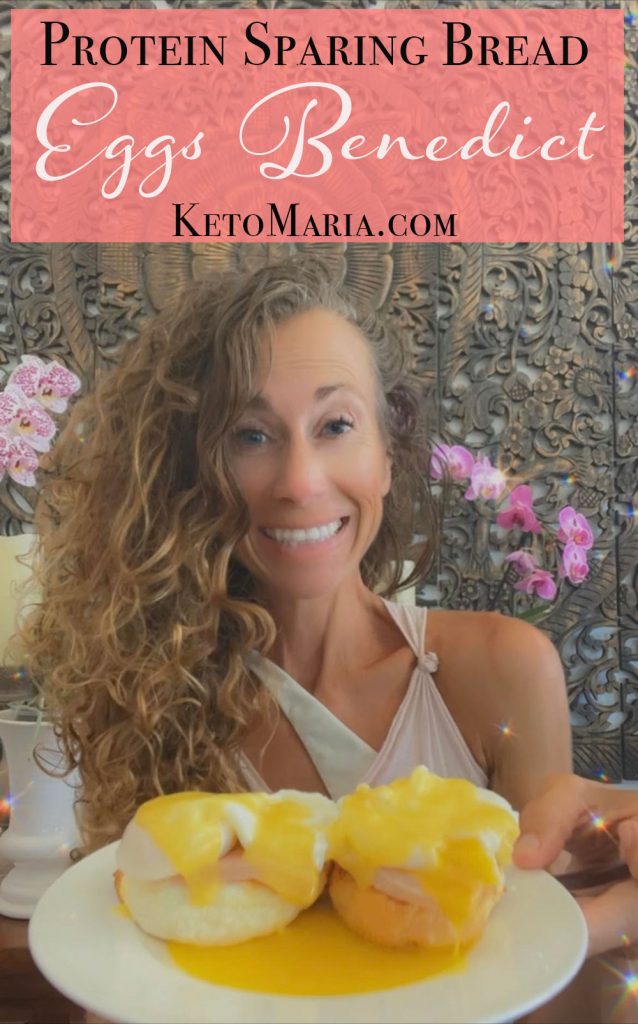 To make my Protein Sparing Buns for my Eggs Benedict, I used Further Food Gelatin!
Adding gelatin to my protein sparing buns adds a delicious chewy texture! It is a new favorite way to make protein sparing bread!
Further Food gelatin and collagen peptides are both excellent sources of collagen. Both their Collagen & Gelatin are sourced from the highest quality, grass-fed, pasture-raised, hormone-free, and antibiotic free bovine collagen.
The benefits of collagen and gelatin are astounding! Just eating my delicious Protein Sparing Bagels helps support skin elasticity & hydration, longer hair & nails, stronger bones & joints, faster recovery between workouts, increased flexibility, improved digestion, and it even keeps you feeling full and satiated for longer!
Further Food Collagen Peptides dissolve instantly in any recipe, and Gelatin Powder naturally thickens recipes. It's perfect for making dairy free ice cream, jello, sugar free gummies, no bake cheesecake, or panna cotta!
Use code MARIAMINDBODY is for 20% off site-wide !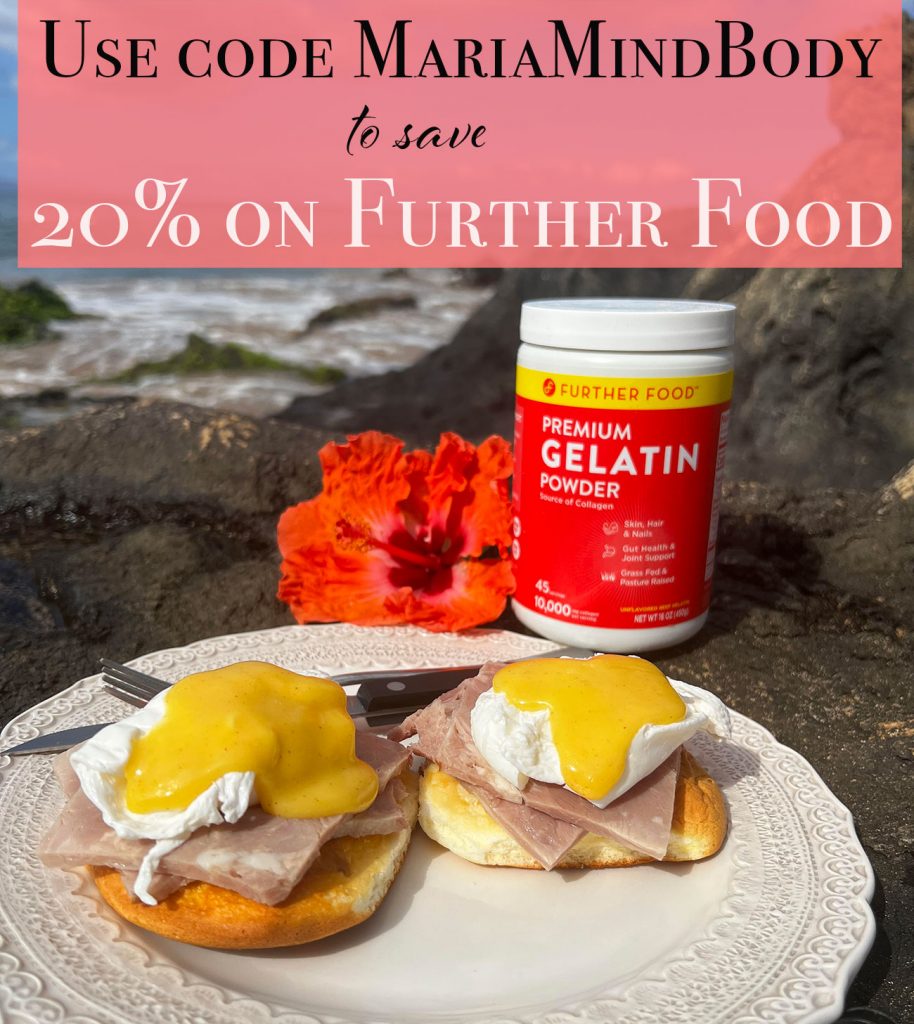 Protein Sparing Bread Eggs Benedict
Ingredients
EASY HOLLANDAISE (this will make extras):
3

large

egg yolks

1

tablespoon

lemon juice

1

teaspoon

Dijon mustard

1/2

cup

melted organic unsalted butter

or melted bacon fat or duck fat if dairy sensitive

1/2

teaspoon

Redmond Real salt

1/8

tsp

cayenne pepper
EGGS BENEDICT:
6

slices

ham

12

large

eggs
Instructions
To make the protein sparing buns, preheat the oven to 325 degrees F. Line a large baking sheet with parchment paper and spray with Primal Kitchen Avocado oil spray and set aside.

Separate the eggs (save 4 yolks for hollandaise), and place the whites into a large bowl or stand mixer.

In a small bowl, mix together the egg white powder, allulose, gelatin, salt and cream of tartar. Add the dry ingredients to the egg whites and whip the whites for a few minutes until VERY stiff.

Use a large 4.6 ounce ice cream scooper (click HERE to find)to place 12 mounds of the dough onto the baking sheet, just so the mounds touch each other.

Bake for 15 minutes or until golden brown. Turn oven off and leave Protein Sparing Buns in the oven for 15 minutes to avoid the bread from falling.

Let completely cool before cutting or the buns will fall.

Make the easy hollandaise sauce: Place the butter in a microwave safe bowl and heat for about 1 minute until very hot.

Place the yolks, lemon juice, dijon, salt and cayenne pepper into a large mason jar with a wide lid. Use a stick blender (click HERE to find) to puree until well combined.

Slowly stream in the hot butter into the mixture while the stick blender is running, slowly moving up and down to emulsify the hollandaise. If the hollandaise breaks, try adding a tablespoon or 2 of water.

To assemble the Protein Sparing Bread Eggs Benedict, place 2 bun halves on each plate and top with ham.

Poach eggs: Bring 1 in. water to boil in a 12-in.-wide pan. Lower heat so that small bubbles form on the bottom of the pan and break to the surface only occasionally. Crack eggs into water 1 at a time, holding shells close to the water's surface and letting eggs slide out gently. Poach eggs, in 2 batches to keep them from crowding, 3 to 4 minutes for soft-cooked. Lift eggs out with a slotted spoon, pat dry with a paper towel, and place 1 egg on each ham covered protein sparing bun.

Top each egg with 2 tablespoons of hollandaise sauce and serve hot.

POACHING EGGS TIP: add a few tablespoons of apple cider vinegar to the simmering water you poach the eggs in. This helps hold the whites together.
Nutrition
Calories:
564
|
Fat:
42
g
|
Protein:
42
g
|
Carbohydrates:
2
g
|
Fiber:
1
g
|
P:E Ratio:
1
TESTIMONY OF THE DAY
Doesn't Jess look AMAZING? I'm so proud of her!
"A little over a month apart and over 20lbs lost!!!

How did I do it?

I made a choice to go all in and sign up with Maria Emmerich and I did a phone consult!

I follow everything she tells me…and the weight is falling off.

Can't wait to see where I am next month!!" Jess
Most people I consult are doing keto totally wrong. Get fast results with the my Mind-blowing Keto School!