Pork Rind Puppy Chow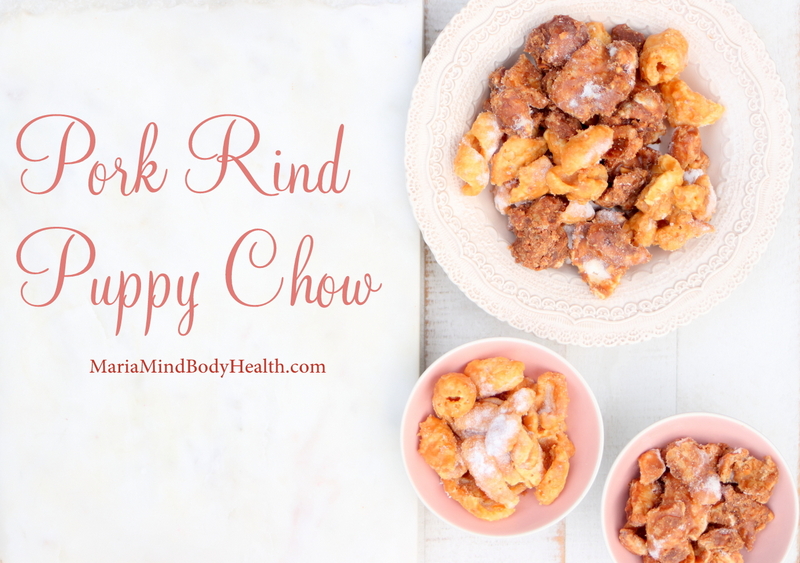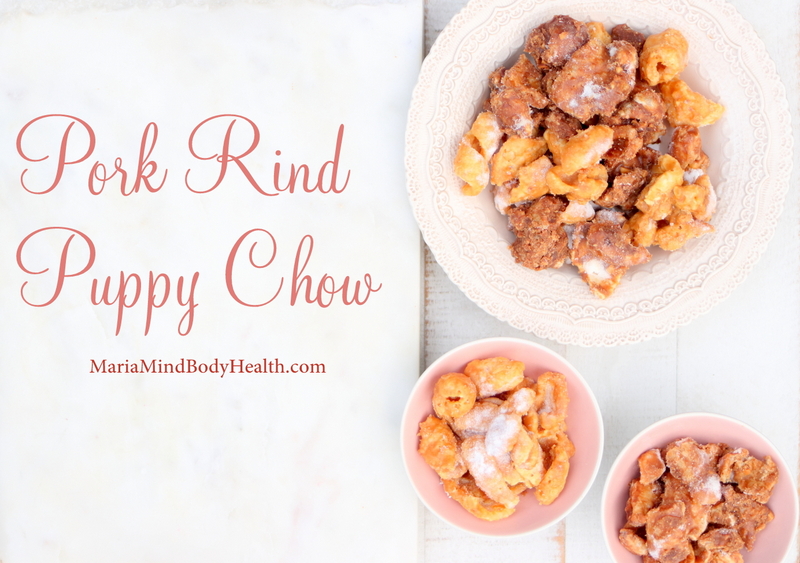 When I was a kid my sister taught me how to make Puppy Chow. It was a crispy snack made with peanut butter and chocolate. It was so good and really easy to make. I was pondering how to make a keto Puppy Chow and my Pork Rind Cereal has been such a hit, I thought I would try to make Pork Rind Puppy Chow!
This Pork Rind Puppy Chow is amazing! Personally, I do not like plain pork rinds, I find the flavor of most unappealing. However, the combination of peanut butter, butterscotch and chocolate make this keto treat irresistible!
I did a podcast with the Gold Metal Olympic athlete Ben Greenfield and he introduced me to this Butterscotch Toffee Stevia and I have been addicted ever since!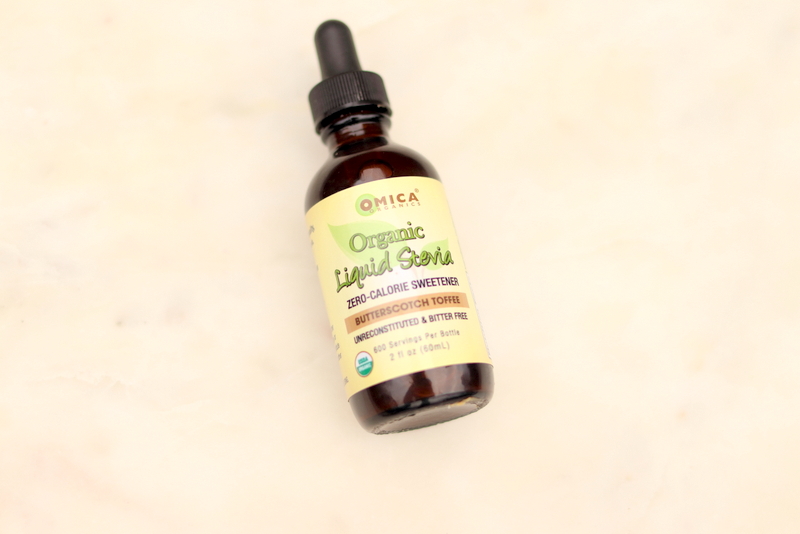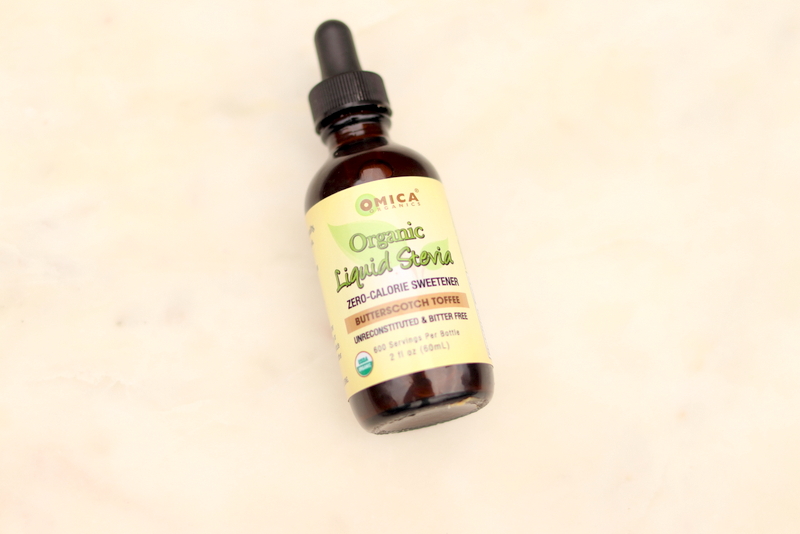 Most of you know that I grew up on cereal and skim milk which is a terrible way to increase blood sugar and cause metabolic syndrome. BUT if you use this keto puppy chow with a cup of unsweetened almond milk it not only tastes amazing it also will also keep your blood sugar stable and in a healthy range.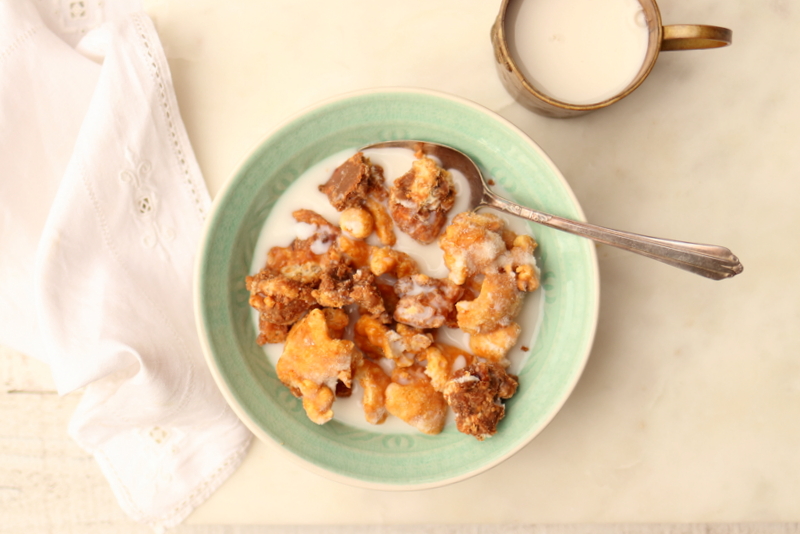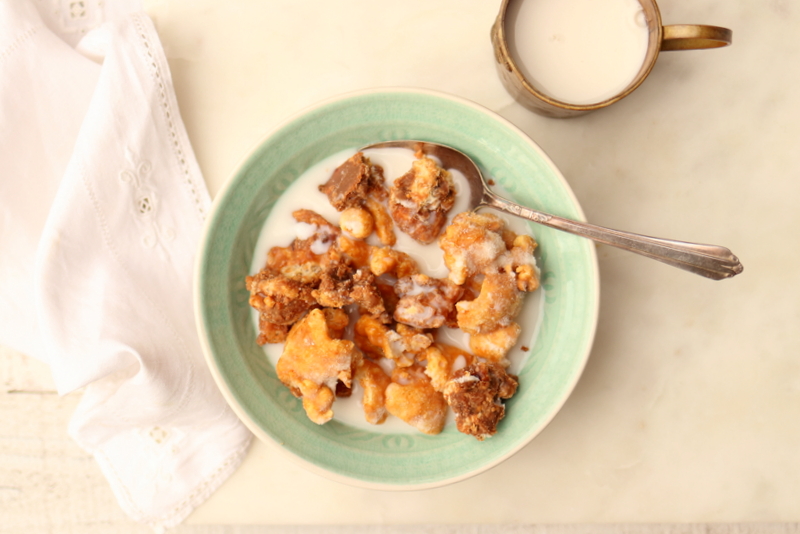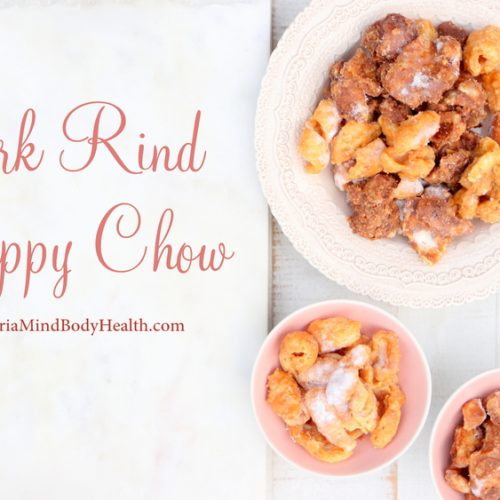 Pork Rind Puppy Chow
Ingredients
4

cups

pork rinds

broken into bite sized pieces

1/2

cup

natural peanut butter

1/2

cup

butter flavored coconut oil

or butter if not dairy sensitive

4

tablespoons

Natural Sweetener

or 1/4 teaspoon butterscotch toffee stevia

1 1/2

tablespoons

unsweetened cocoa powder

1

teaspoon

butterscotch extract
Instructions
Place peanut butter and coconut oil in a small saucepan and heat over medium for 2 minutes until melted (or microwave for 45 seconds).

Stir in sweetener and extract.

Place pork rinds into 2 medium heat safe bowls and drizzle 1/2 the mixture over pork rinds. Toss to coat. Add the cocoa powder to the other 1/2 of the peanut butter mixture and stir well. Drizzle chocolate mixture over the other 1/2 of the pork rinds and toss to coat. Dust with Swerve Confectioners if desired.

Place in the fridge to cool for 20-30 minutes.
Nutrition
Calories:
478
|
Fat:
47
g
|
Protein:
11
g
|
Carbohydrates:
7
g
|
Fiber:
2
g
|
P:E Ratio:
0.2
TESTIMONY OF THE DAY
The 30 Day Ketogenic Cleanse Testimony: "Woo-freekin-HOOOOOO! 



 I completed the cleanse and lost 16.9 lbs!! 
 I procrastinated so hard on the before pics/measurements that I never ended up taking them and I totally regret that 

 However, all my clothes are fitting looser/more comfortably AND my torso/belly has slimmed out significantly, which is my FAVE thing about Keto because that is the area where I carry all my extra weight – and was the hardest to get rid of on any other way of eating I had tried in the past. I am over the moon with my results and will definitely be continuing my whole foods approach and sticking to the dairy free, as well! 



 PS – I also tried the much talked about Chocolate Pudding recipe (added some coconut whipped cream), and all I can say is WOW! So chocolatey, decadent and delicious. You would NEVER know the base is 10 hard boiled eggs! Lol #mindblown Thank you Maria Wojcik Emmerich for this book! It changed my life 

" – Athena
 Thank you for your love and support!