Pizza Hut Breakfast Pie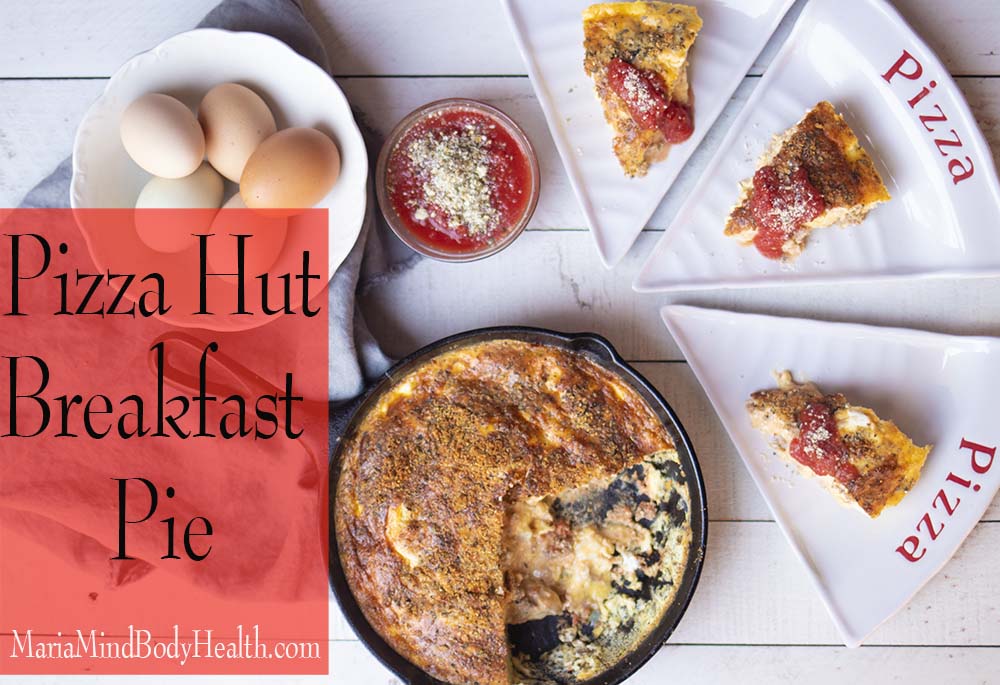 What is better than keto pizza for breakfast? If you are like us and LOVE pizza for breakfast, you must try this easy keto Pizza Hut breakfast pie!
I call it "Pizza Hut" Breakfast Pie because of the special spice mix that goes on top. It is my very special spice mix that tastes just like the spice mix on Pizza Hut breadsticks!
In the past, to time to save time, I browned the ground pork, combined the ingredients, and placed them in the skillet the night before. In the morning, all I had to do is pop the skillet in the oven for an easy breakfast or brunch. This dish makes great leftovers, too!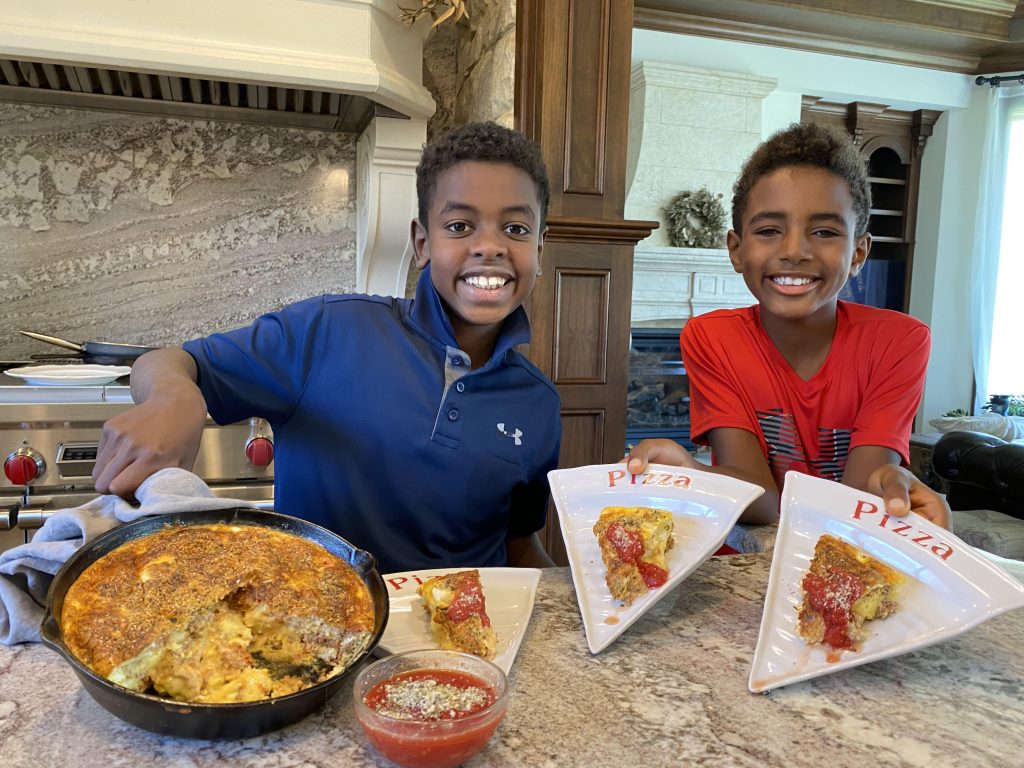 To shorten the cooking time, you can bake as individual pizza hut muffins. Grease a 12-well muffin pan and follow the recipe as written through Step 4. Then transfer the mixture to the greased muffin cups, filling each about two-thirds full. Bake for 10 to 13 minutes, until golden and puffed. Allow to cool slightly in the pan, then transfer the muffins to a serving platter and serve warm. Makes 12 muffins (2 per serving).
We made a NEW Youtube video!!!!  If you want to watch us make this delicious Pizza Hut Breakfast Pie, subscribe to our new YouTube Channel to get updated when the video comes out which will be in a day or two, and comment below on what video recipe we should make next!
Pizza Hut Breakfast Pie
Ingredients
½

pound

ground pork

or ground beef if pork free

1/4

cup

chopped onions

2

tablespoons

Italian seasoning

¼

cup

tomato sauce

8

large eggs

beaten

¼

cup

beef bone broth

I used Kettle and Fire brand

¾

cup

shredded Mozzarella cheese

3 ounces

1

ounce

2 tablespoons cream cheese

1

teaspoon

finely chopped garlic

or cloves from ½ head roasted garlic

1

teaspoon

REDMOND REAL salt

PIZZA HUT SPICE BLEND:

3

tablespoons

powdered Parmesan cheese

2

teaspoons

garlic powder

1

teaspoon

onion powder

1

teaspoon

dried oregano leaves

OPTIONAL SERVING: warm Marinara sauce
Instructions
Preheat the oven to 350°F.

In large oven-safe skillet heat to medium. Add the ground pork, onions, and seasoning and cook until the pork is cooked all the way through and the onions are translucent, about 7 minutes. Add the tomato sauce and stir well to combine. In large bowl, mix together the eggs, broth, cheeses, garlic, salt.

Add the egg mixture to the pork mixture and stir to combine. Cook over medium heat for 3 minutes, until the eggs are just slightly set, stirring continuously.

Meanwhile make the Pizza Hut Spice mix by placing the powdered Parmesan, garlic powder, onion powder and oregano in a small dish and stir well to combine. Place the spice mixture over the top of the breakfast pie.

Place the skillet in the oven and bake for 27 minutes, or until the eggs are cooked through in the center. Remove from the oven and let rest for 3 minutes, then slice and serve. If desired serve with marinara sauce.

Store leftovers in an airtight container in the fridge for up to 3 days. Reheat in a 350°F oven for 3 minutes or in the microwave for 30 seconds, or until heated through.
Notes
Nutritional Information:
395 calories, 29g fat, 34g protein, 4g carbs, 1g fiber
TESTIMONY OF THE DAY
" I have RA, hashi, and fibromyalgia. Emmerich keto has literally saved my life!
I'm off 26 meds/day and have lost 120 lbs. I rarely experience any inflammation or pain and live a full, active life – I exercise, garden, ride a motorcycle, work full time, and feel amazing " – Christine
Most people I consult are doing keto totally wrong. Get fast results with the my NEW Keto Packages!