Testimony of the Day
"I have been following Maria closely for a couple of years now.  I adapted over time to her grain free/sugar free lifestyle.  It definitely didn't happen over night for me, but within time it became an easy habit.  Last August I decided to purchase a package with Maria because I still felt there was a major missing link to my healing.  I knew I was eating pretty good, but I was still having a lot of issues: depression, anxiety, major cravings, sleep issues, a few extra pounds, etc.  I felt like there was something off with my hormones so that is what led me to purchase the package with Maria.  Once I purchased the package Maria sent me a long questionnaire to fill out online.  By the next day she had gotten back to me with a detailed list of supplements to be taking. She also recommended some blood work to have done to test for deficiencies, etc. I ordered the supplements that day (warning-not cheap but so worth it!). I also started eating according to the meal plan she sent, which made it so easy.
I am not exaggerating when I say that I felt improvements almost instantly. Within the first week I felt like a new person. I wasn't completely "cured" but I was well on my way. 
It has now been almost 5 months since I contacted Maria. I am off meds for depression, I sleep so much better, and my anxiety is pretty much gone. I feel happier and more at peace now than I have in years.  My sleep still continues to improve. For me, that was the thing that took the longest to change. I went from sleeping about 4 hours a night and now I am up to between 7-8 each night. For me that is awesome!  I still hope to reach a full 8 hours or more on a consistent basis, and I think I will get there soon.
I would have to say working with Maria is the best money I have ever spent. Mentally and emotionally I am at the best place I have ever been in my life.  I am a better wife and mother in so many ways.  I didn't realize how debilitating my anxiety and depression were until I started feeling good.  I wake up happy every day now!  I could never put a price on that. -Cami"
Click HERE to start your journey to a keto-adapted diet!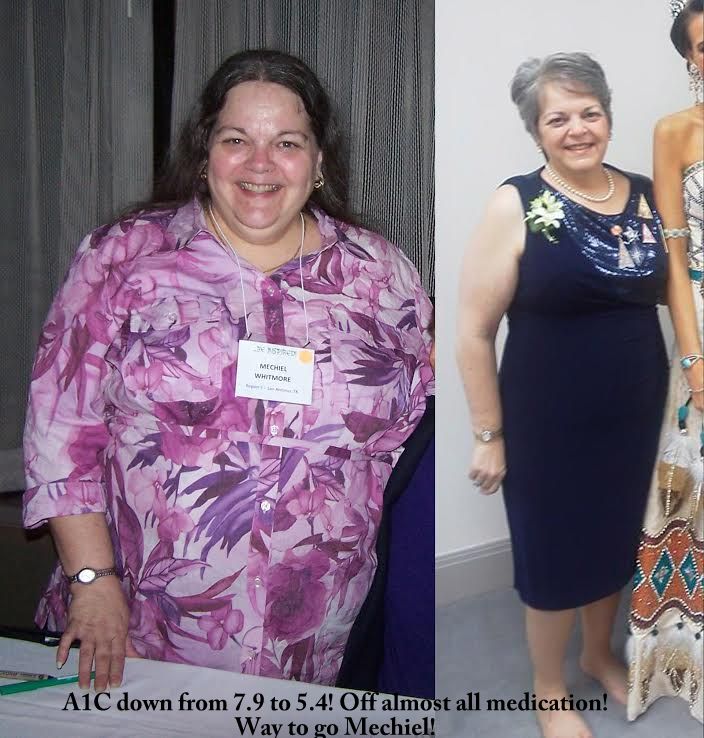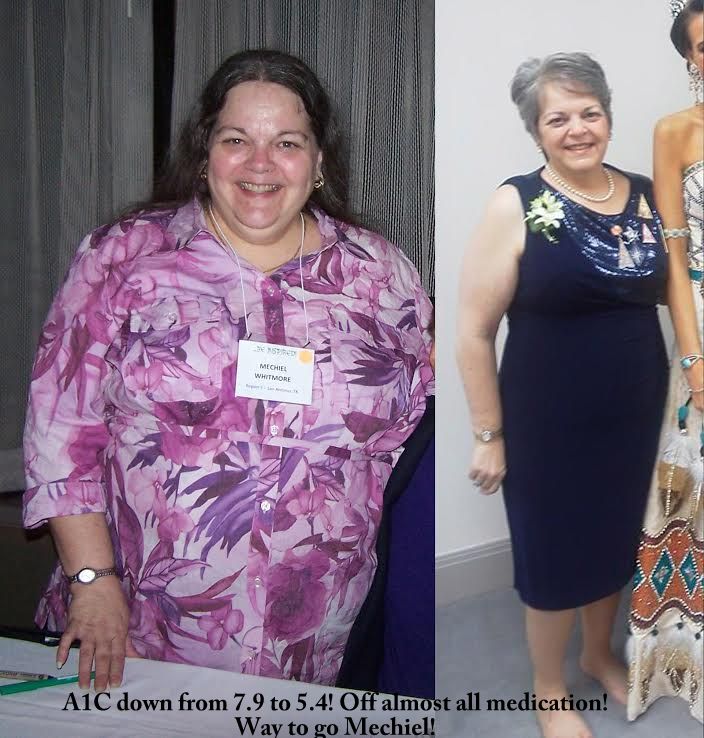 Want to burn more fat just by eating fat?
It take more energy to produce ketones from fat than glucose:
•There is about 20% energy loss in this process.
•Being in ketosis requires more overall system energy, while still increasing work potential.
•In other words, ketosis increases overall energy expenditure, while at the same time increasing their muscular efficiency.
•Bottom Line: You burn more calories all day (higher BMR) while having more muscle endurance.
A ketogenic diet also increases the energetic output of our mitochondria because these amazing "powerhouse" factories of our cells are essentially designed to use fat as energy. When we switch from using glucose to using fat in the mitochondria, its toxic burden is reduced, the manifestation of energy-producing genes are improved, the output is increased, and the load of inflammatory by-products is decreased.
Glucose needs to be processed first in the cell before it can be passed into the "powerhouse" factory mitochondria. Energy sources from fat don't need this processing: they go straight into the mitochondria for energy. It is more intricate to create energy out of glucose than out of fat, which causes you to get more energy per molecule of fat than glucose. I see so many clients with fibromyalgia, chronic fatigue, rheumatoid arthritis, cancer, multiple sclerosis, and other autoimmune diseases that cause energy shortages. The ketogenic diet acts on numerous levels at once, something that no drug has been able to do without detrimental side effects.
Think of the mitochondria as the main sources of energy for your cells and body. The energy produced by mitochondria is stored in a molecule called adenosine triphosphate (ATP) — you can consider this your body's "battery." Energy-packed ATP can then be transported throughout the cell, releasing energy on-demand of specific enzymes. In addition to the fuel they produce, mit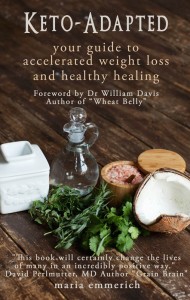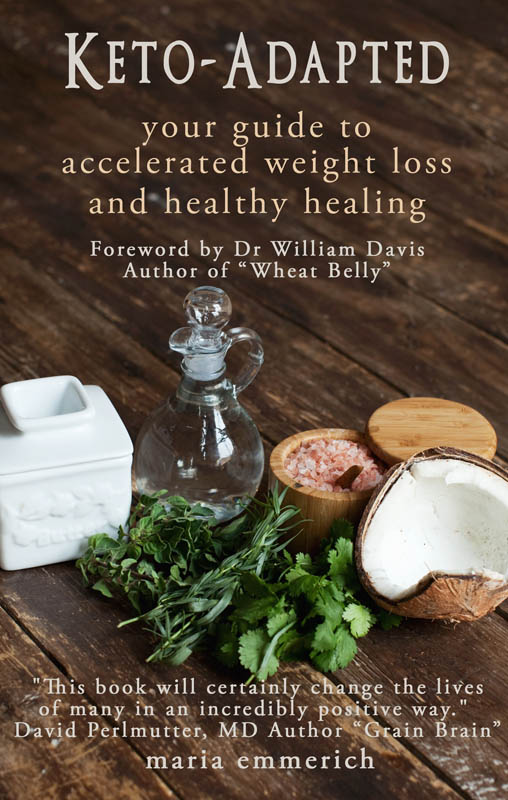 ochondria also create a by-product related to oxygen called reactive oxygen species (ROS), commonly known as free radicals. But free radicals are not produced if we use fat for fuel instead of carbohydrates.
In some cells, mitochondria compose 50% of the total volume! When we are low in energy and need a boost, true energy doesn't come from a short-lived sugar boost from carbohydrates. That energy does not last long and is not without its consequences; it is sort of like how drinking coffee gives us false energy. Instead, true long-term energy comes from the mitochondria. I once read, "Let fat be thy medicine and medicine be thy fat!" How true!
To find out what you may have been doing wrong on your "low carb" diet, check out Keto-Adapted.
Click HERE to get a limited edition Hard Cover.
Click HERE to get a soft cover.
Thank you all for your love and support!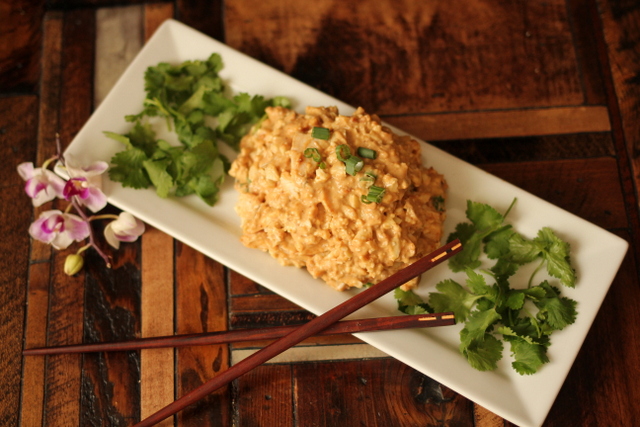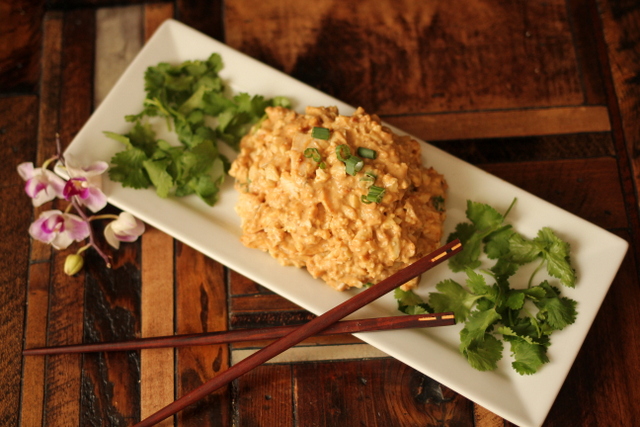 This is an amazingly flavorful dish. I made a few changes to make it "healthified." I used almond milk instead of fat free half-n-half, no  cornstarch, Swerve in place of sugar, one onion in place of 2, and cauliflower in place of white rice. All of these little changes make a HUGE difference in the nutritional information without changing the flavors. Enjoy!
PEANUT CAULIFLOWER RICE
2 lbs cubed chicken (thigh meat)
1 onion, chopped
6 garlic cloves, minced
1 (14 1/2 ounce) can chicken broth
1/2 cup natural peanut butter
1 TBS curry powder
1/2 TBS Thai seasoning
1 1/2 cups vanilla almond milk or coconut milk
1/2 tsp coconut extract
1 tsp Swerve (or a drop of stevia glycerite)
flaked coconut
1 head cauliflower, "riced"
"RICE": Place the cauliflower heads into a food processor (click HERE to find the one I use), pulse until small pieces of 'rice.'
Cube chicken and brown, add onions and garlic, and saute until onion is tender. In large pan, combine chicken broth, peanut butter, and curry seasonings. When well combined, add chicken mixture to the pan. Simmer uncovered, stirring occasionally, for about 30 minutes, until chicken is cooked through and sauce has reduced slightly. Thoroughly combine almond milk, coconut extract and sweetener, cauliflower rice and add to the chicken mixture. Simmer, stirring, until sauce has thickened to desired consistency, 10 minutes or so. Top with grated coconut. Makes 8 servings.
NUTRITIONAL COMPARISON (per serving)
Traditional Chicken and Rice = 528 calories, 67.7 carbs, 1.6 fiber
"Healthified" Chicken and Rice = 291 calories, 10 carbs, 2.6 fiber
NUTRITIONAL COMPARISON (per cup):
White Rice = 242 calories, 53 carbs, 0 fiber
Brown Rice = 218 calories, 46 carbs, 4 fiber
Cauliflower "Rice" = 28 calories, 3 carbs, 1 fiber
Another Great Photo Testimony:
"The keto lifestyle and triathlon training go hand-in-hand! Forcing my body to utilize fat during the long swims, bike rides and runs makes fueling a breeze! No more gels or sports drinks every 30 minutes…and not only does my body remain strong, my mind and energy do as well.
My kids are loving all of the new recipes I have been making, especially the Keto Fudge! And I had to laugh when my husband was skeptical of your Twice-Baked Cauliflower recipe…and then I had to yell at him to save some for the kids because he was going to eat all of it!!! He requests them all the time now!" Kristen