Testimonies of the Day
"Dear Craig & Maria, I have been on your 30-day accelerated plan for 1 week and I am thrilled with the results!!!! I have lost between 6-7 pounds in 1 week! This NEVER has happened before, and Craig is right, I am not hungry or having cravings as long as I stick to the plan.
I didn't believe it at first, but I can honestly say now that this 'way of eating' does work. I have avoided all dairy and don't really miss it at this point. I feel better and am experiencing higher energy levels. I noticed that when I ate a little more than the plan suggests or when I didn't exercise or get all my water in, I gained. I just have to make sure to follow the plan as close as I can now and hope for more shedding of pounds.
I made your chili recipe last night and both my husband & I absolutely loved it! ( He said he didn't even miss all the beans because it was so flavorful and tasty! ) Thank you both for your great advice and meal plans! Danielle"
To get started like Danielle click HERE. I'd be honored to help you too!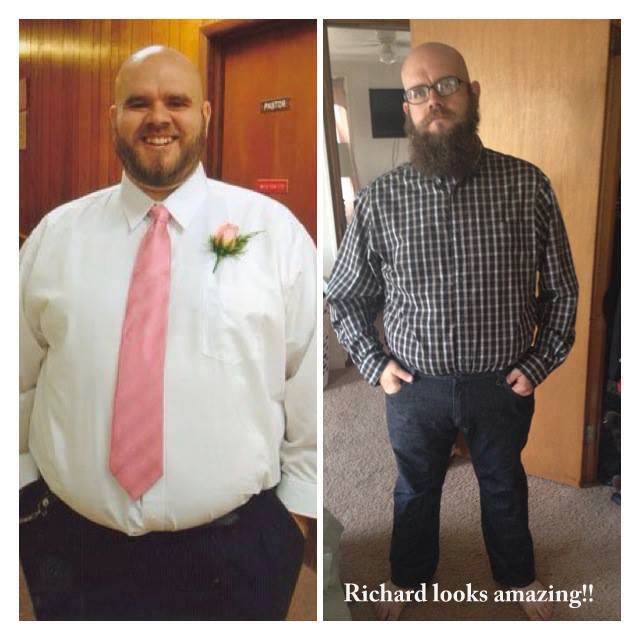 Best Facebook Post of the Day!
"Dairy Queen I've missed you for the last 5 months;(. But when this arrived today, I said whoo hoo! Bring on the healthified chocolate/almond butter sugar-free ice cream treats for the summer! No more missing the frozen tasty treats that I love so much!
Thanks, Maria for letting us know the ice cream maker was on sale! I would spend more on blizzards and larger pants this summer then what this little beauty cost me! 50% off this awesome little kitchen toy! Happy DANCE!" -Lori
Click HERE to get the ice cream maker on sale. When mine broke (because of over-use) they sent me a NEW one for FREE! Love Cuisinart!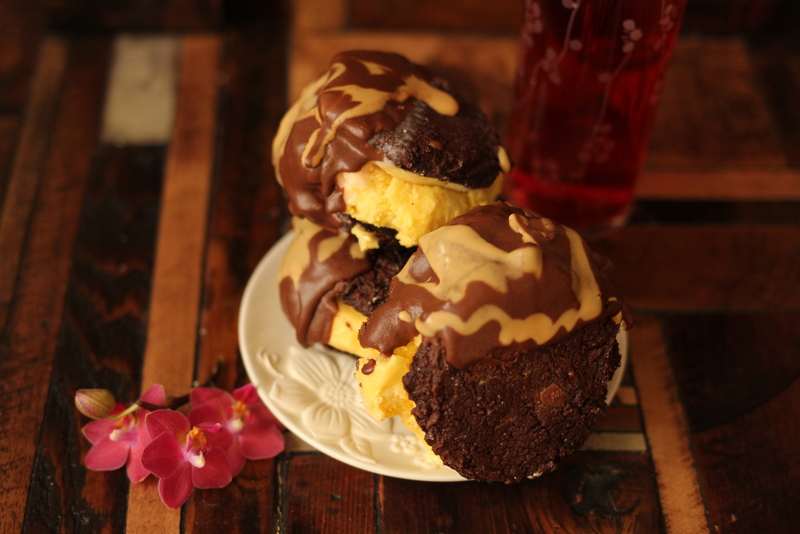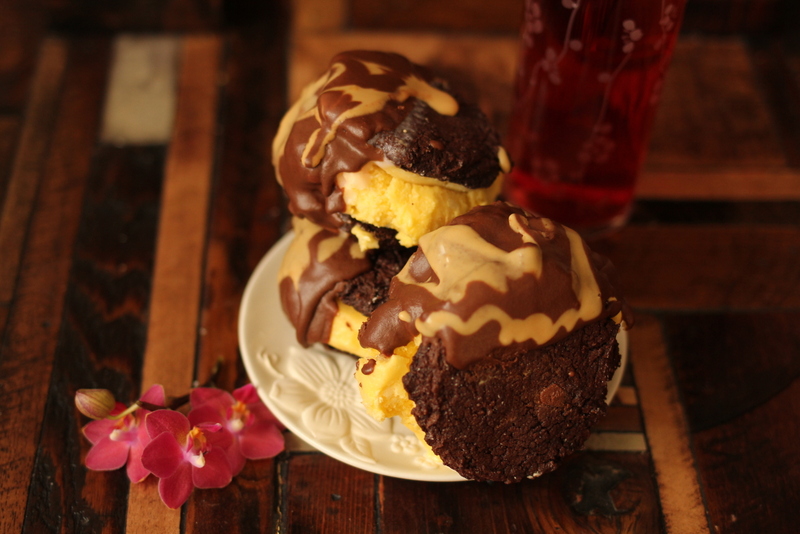 Making low sugar ice cream is tricky. If you use erythritol or ZSweet for a sweetener, it hardens to a ROCK! BUT if you use SWERVE or "Just Like Sugar" (click HERE to find), it stays nice and creamy! Another trick is to always add a pinch of salt to the mixture.
PEANUT BUTTER ICE CREAM: 
5 egg yolks
1 cup Swerve
1 cup heavy whipping cream
1 cup unsweetened almond milk
1/2 cup natural peanut butter
1 tsp Redmond sea salt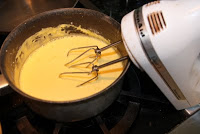 In a medium saucepan place the egg yolks and sweetener into the mix on high with a hand mixer. Whip yolks until light in color and double in size. Stir in the whipping cream. Place the saucepan onto a medium heat on the stove and cook, stirring constantly (I used my hand mixer, see photo). Stir until thickened into a custard. Remove from heat and stir in almond milk, peanut butter, and salt. Let cool completely (I cooled overnight…it was hard to wait!). Place into your ice cream machine (click HERE to find the one I love AND it is 1/2 off the original price!!!) and watch the magic happen within 45 or according to your ice cream maker's directions. Freeze until set. Option: stir in chunks of extra peanut butter if desired. Makes 6 servings.
NUTRITIONAL COMPARISON (per serving)
Traditional PB Ice Cream = 401 calories, 23g fat, 9.5g protein, 40g carbs, 1.3g fiber
"Healthified" PB Ice Cream = 254 calories, 22g fat, 9.5g protein, 5.4g carbs, 1.5g fiber
PEANUT BUTTER COOKIES:
1 1/2 cup peanut flour
1 tsp aluminum-free baking powder
1/2 cup coconut oil or butter
1/2 cup natural peanut butter
1 cup Swerve
1 tsp stevia glycerite
1 egg
1 tsp Redmond sea salt
Preheat the oven to 325 degrees F. In a medium bowl, cream the butter, peanut butter, sweeteners, and egg. Cream for a few minutes until very fluffy. In a separate bowl mix together the peanut flour, baking powder, and salt. Slowly add in the dry ingredients to the wet and mix until smooth. Roll 2 TBS of dough into a ball in your hands (for uniform shape) onto a cookie sheet, then press down to they are about ¾ of an inch thick. Place cookies about 2 inches apart. Bake in preheated oven for 17-20 minutes or until golden around the edges. Cool completely on the baking sheet before removing and enjoy! I keep mine in the freezer (for portion control!:) Makes 24 cookies.
NUTRITIONAL COMPARISON (per cookie)
Traditional PB cookie = 161 calories, 7.5g fat, 3g protein, 21.4 carbs, 0.6g fiber
"Healthified" PB cookie = 90 calories, 7.6g fat, 4.1g protein, 2.3 carbs, 0.9g fiber
To assemble the ice cream sandwiches remove the ice cream from the freezer and let it stand at room temperature for about 5 minutes to soften slightly. Spread a layer of NATURE'S HOLLOW jam (or fresh berries) on the flat side of each peanut butter cookie. Place a scoop of peanut butter ice cream in the center of half the cookies, on top of the jam. Top with the remaining cookies, jam side down. Gently squeeze the cookies together until the ice cream and jam come to the edges of the cookies. Put the ice cream sandwiches back in the freezer for at least 15 minutes to harden the jam. These can be made 2 days ahead. Place them in a large plastic storage bag or airtight container and store in freezer.
NUTRITIONAL COMPARISON (per sandwich)
Traditional PB and J Sandwich = 539 calories, 27g fat, 73.8g carbs, 1.9g fiber
"Healthified" Sandwich = 320 calories, 26.2g fat, 12.8g protein, 8g carbs, 4.4g fiber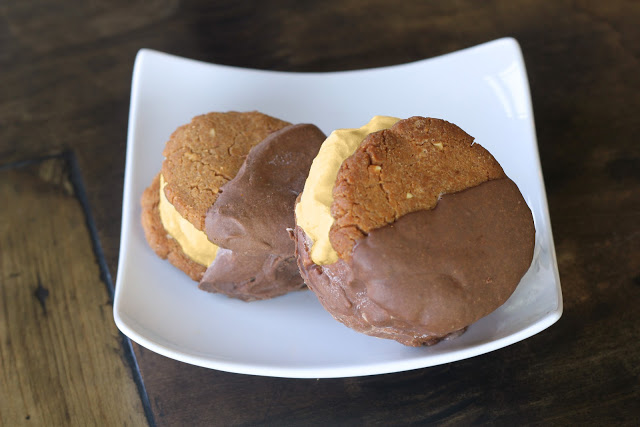 VARIATION: Omit the jelly and dunk into my "healthified" chocolate sauce!