Paleo Scotch Eggs
Paleo Scotch Eggs
THE PERFECT SOFT BOILED EGG
I grew taught to put the eggs into a saucepot with cold water and bring to a boil, cover and let rest for 3 ½ minutes, also known as the "Boil-and-Rest" method. But much to my mother's dismay, I found a better way to make the perfect soft-boiled egg…and with the perfect soft boiled egg, you can make the perfect Paleo Scotch eggs.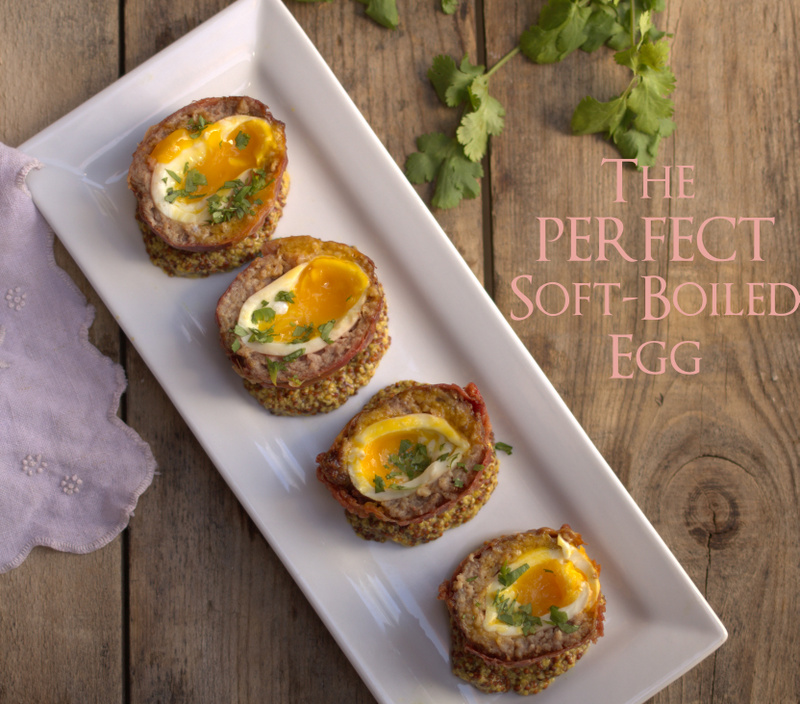 The best way to make the perfect egg without rubbery egg whites is to bring the water to a simmer, not quite a boil, before adding the eggs. When eggs are dropped into boiling water the egg whites coagulate and become rubbery. Drop the eggs into the simmering water and cook for 6 minutes holding the water at a simmer, not a boil. Remove eggs from water and run under cool water.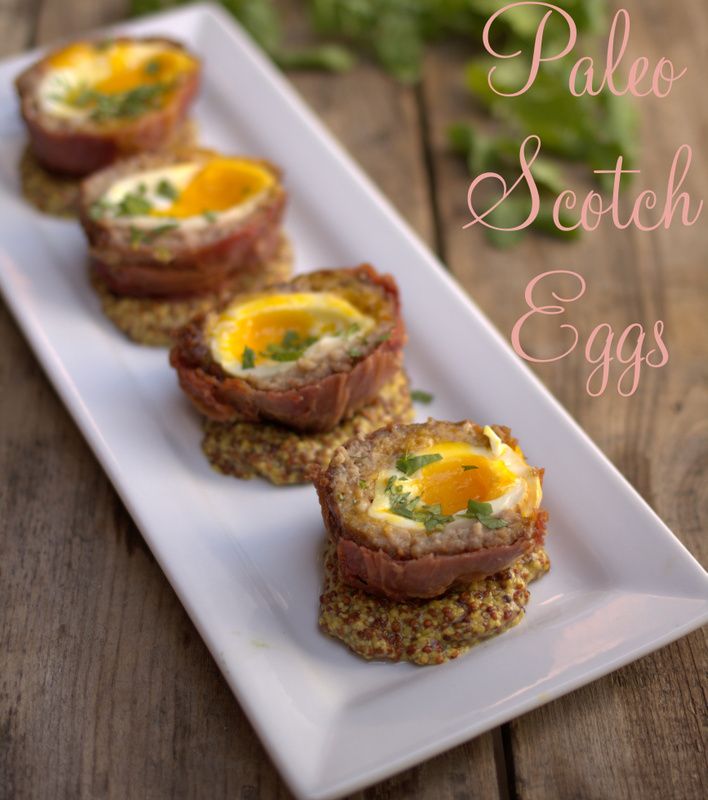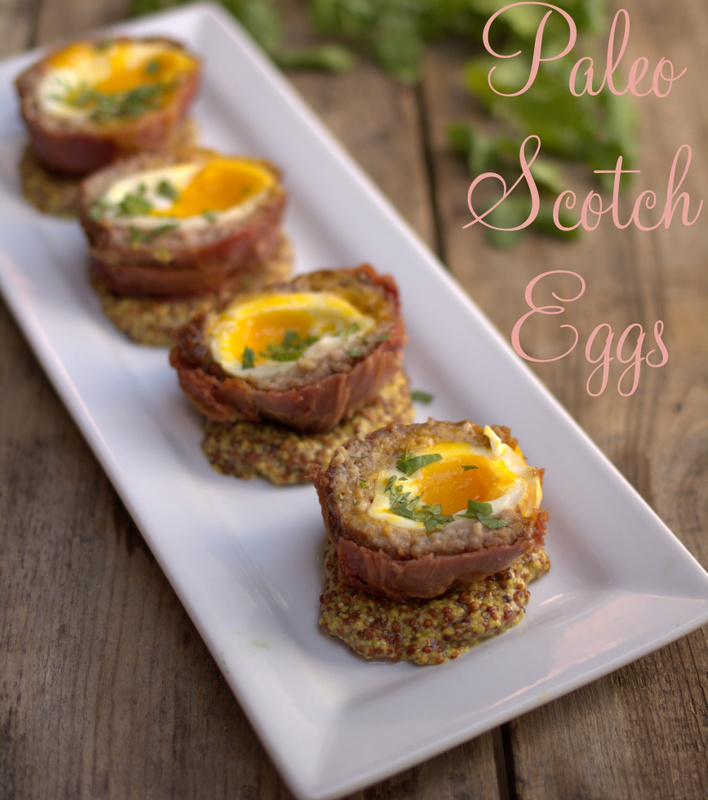 Paleo Scotch Eggs
Ingredients
3 eggs
1 cup coconut oil for frying (or other fat such as lard, tallow, duck fat)
⅓ lb sausage meat
¼ tsp salt
6 slices prosciutto
6 tablespoons stone-ground mustard
Garnish with 1 tablespoon fresh cilantro, chopped fine
Instructions
The first step to making these scotch eggs special is to soft boil them so they have a luscious creamy center. Simmer the eggs for only 5 minutes instead of 6 since they will cook more once you fry the outside.
Preheat oil in a deep cast-iron skillet to 350 degrees. Check the temp, I dropped my first one into too hot of oil and it boiled over, started a fire and cooked the prosciutto so fast that the pork sausage was still raw. Learn from my mistakes
In a medium bowl mix the sausage with salt together. Take ⅓ of the sausage and flatten out as thin as possible into a circle. Place a soft boiled egg into the center and secure the pork to surround the egg by pressing pork together, being careful to not break open the egg.
Lay out 2 pieces of prosciutto like an x. Place the sausage covered egg in the middle. Fold the prosciutto around the egg.
Gently drop one egg in at a time to fry. Fry for 5 to 6 minutes per egg or until the prosciutto is crispy and the pork sausage is cooked though. Remove from oil and set on a paper towel to drain. Slice in ½ with a very sharp serrated knife.
Place 1 tablespoon stone-ground mustard on a serving platter for each ½. Place each ½ on top of the mustard (which also helps the eggs from slipping while serving). Garnish with cilantro or fresh herb of your liking.
If you prefer to bake these instead of frying, preheat oven to 425 degrees F and baking on a baking sheet with edges for 20 minutes or until prosciutto is crisp and sausage is cooked through.
Notes
NUTRITIONAL COMPARISON (per serving)
Traditional Scotch Eggs = 430 calories, 27g fat, 19.2g protein, 27.8g carbs
"Healthified" Scotch Eggs = 351 calories, 28g fat, 23g protein, 0.5g carbs

72.2% fat, 27% protein, 0.8% carbs
Testimony of the Day
A family in South Africa I did a Skype consult with can follow my easy meal plans too!
"Thank you for your program and input, which has really helped. I was thrilled when my daughter told me, the day before yesterday, that, unlike before, when she went to her horse, at the stables, she couldn't last more than half an hour, without eating something, this time, she spent two hours there and was fine and came home, not exhausted. This is so very wonderful to me, that she is beginning to be sustained and properly nourished by the ketogenic diet and I am very grateful for it.
She has had no headaches. Her back hasn't been sore. No sinus, or panic attacks.
We're having fun with it and in no way is it depriving. Not in any sense of the word. Quite the opposite! It's enriching.
I feel a song in my heart, running through my well-oiled body and thank you for it! I'm still monitoring dairy. I've woken with a little headache, this morning. Will see the next few days…
If we need to, we'll purchase another month of email support with you. For now, we're going to see how it goes…
Love, thanks and blessing" Karen from South Africa
 Click HERE to get started on your path to health!