Testimony of the Day
"Hi Maria, I have read ALL the diet books, I've done LOTS of different diets, LOTS. I understood each diet's CONCEPTS, but never understood the science UNTIL I met Maria Emmerich! I was eating arugula, spinach, strawberries, blueberries, Ezekial bread, nuts and seeds and on and on, you name it, if we were suppose to eat it, I ate it, including grass fed grass finished beef and I still couldn't keep the weight off! I could lose weight but I have never been able to maintain it. AND, I would never lose everything I needed to loose.
Now I understand some of the science thanks to Maria, and what IS affecting my chemistry, and I will continue to be a STUDENT with her daily BLOG'S etc.! Before I had a consultation and worked with Maria for 6 weeks, I had been introduced to Maria's BLOG by an acquaintance almost a year prior. I read, read, read her BLOGS etc. and also bought ALL of her books except the children's one at that time. That was a year ago. I started to incorporate her recommendations in to my life, food wise, and even some of the supplements she recommends, and I actually still wasn't loosing. I mentioned this to the acquaintance who introduced me to Maria's BLOG and she theorized that maybe there is something, supplement wise, that Maria could zero in on that would help me loose and maintain, or that maybe I am still doing something wrong, meaning eating something wrong.
WELL, after working with Maria for 6 weeks I think she has zero'd in on the culprit, dairy!!!! Also, I was, occasionally, eating the Trader Joe's sprouted grain bread, so between that and the occasional dairy, we are on to something VERY important for me. I am only getting detailed and personal to help you understand that Maria KNOWS HER STUFF! Maria is exactly what I have been looking for, someone who could/would/and did tailor her services to ME, and for ME! Getting back to ALL the books I have read and diets I have done, I have never read one or talked to anyone who can and does explain the science like Maria does, plus I understand it at the same time!!
I am just mad that I didn't hear about Maria sooner because it could have saved me a lot of money and time AND wear and tear on my body!!! Do what she says as she knows what she is talking about!!! I am just at the early/beginning stage of my journey with Maria, I am running up and down the stairs in my home where before I had to hold on because of the pain, my CRAVINGS are GONE but the fact that I can have something sweet and delicious, "healthified", while losing weight is a Godsend to me!! The best part is that I don't even crave anything anymore!! I AM A STUDENT FOR LIFE and will also try to be a TEACHER of Maria's way and live by example to all my precious children and grandchildren!!! Thank you Maria for ALL that you do and DID for me!! Mary Ellen"
To get started like Mary did, click HERE.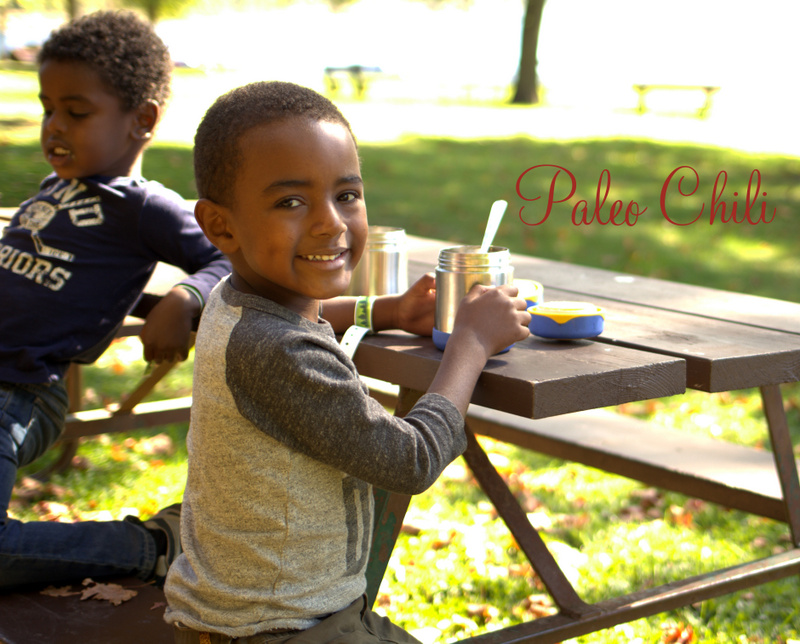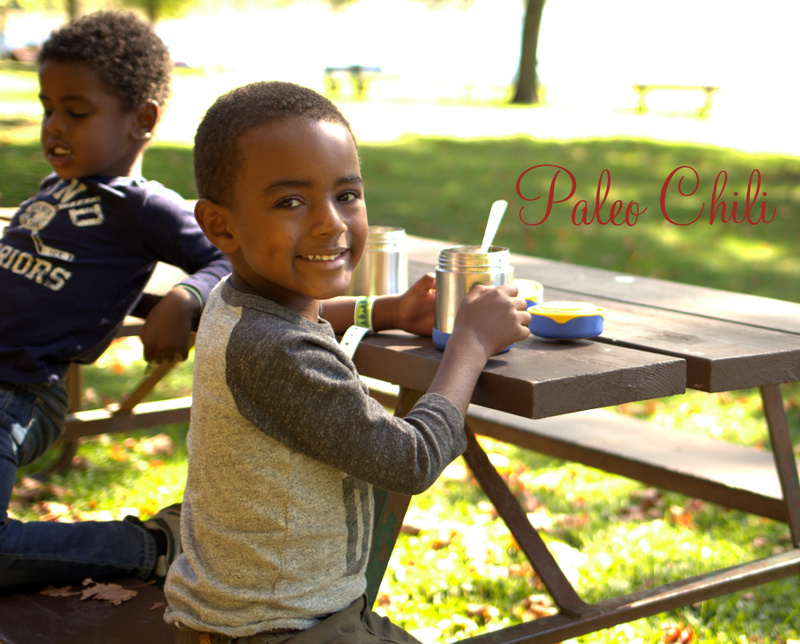 One of the boys favorite foods is this chili!
I pack it in THIS thermos on our hiking trips!What Vitamins Do your kids take? I hope not these! Trans-fat, food dye and ASPARTAME!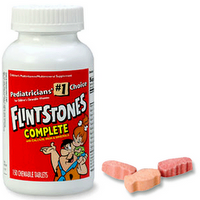 Ingredients: Sorbitol, Dicalcium Phosphate, Magnesium Phosphate, Choline Bitartrate, Sodium Ascorbate, Ferrous Fumarate, Gelatin, Natural & Artificial Flavors (including fruit acids), Pregelatinized Starch, Vitamin E Acetate, Stearic Acid, Carrageenan, Hydrogenated Vegetable Oil (Soybean, Castor), Magnesium Stearate, Zinc Oxide, Niacinamide, FD&C Red #40 Lake, D-Calcium Pantothenate, FD&C Yellow #6 Lake, Aspartame†, Xylitol, FD&C Blue #2 Lake, Cupric Oxide, Pyridoxine Hydrochloride, Sucrose, Riboflavin, Thiamine Mononitrate, Vitamin A Acetate, Beta-Carotene, Monoammonium Glycyrrhizinate, Folic Acid, Potassium Iodide, Biotin, Vitamin D, Magnesium Oxide, Vitamin B12.
Aspartame has been found to "eat" tiny holes in our cellular membrane. When this happens, things like Multiple Sclerosis (MS), cancer, mood disorders and many other serious issues will show up.
One of my clients LOVED her diet Coke. She drank 6 cans a day. As an adult, she developed MS; which became so severe she was bound to a wheelchair. Once I explained to her just what aspartame was doing to her cells she decided to kick her addiction to soda. Guess what? Her body started to heal. She is no longer in a wheelchair. She still has symptoms, but her diagnosis went from "extreme MS" to "moderate!"
Most people I meet say, "I don't have depression, but I do feel lousy, crabby, and "fly-off the handle" over no reason lately." My first suggestion is to kick the aspartame from our lips, which can be very difficult, but in the end, they become a happier person. If you are someone who often chews gum or pops breathmints, check the ingredients! Most have aspartame.
Click HERE to find a good children's multivitamin.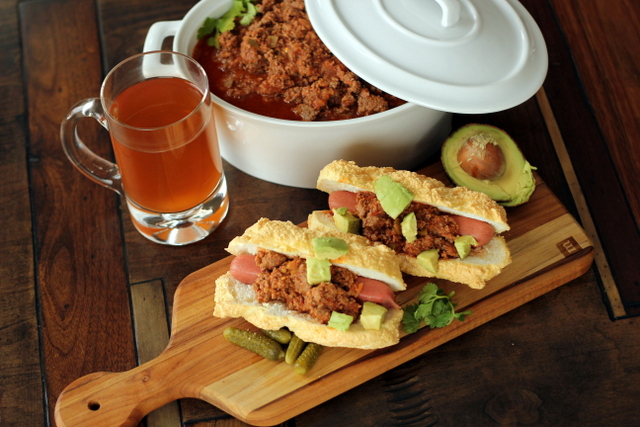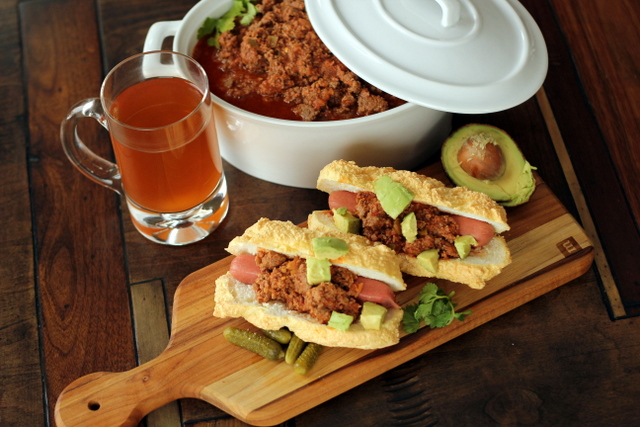 Served with my Protein Bread hot dog buns, organic hot dogs and peach iced tea!
Paleo CHILI
2 pounds grass-fed ground beef
1 pound Italian sausage
2 (28 oz.) diced tomatoes with juice
1 (6 oz.) tomato paste
1 large yellow onion, chopped
3 stalks celery, chopped
1 green bell pepper chopped
1 red bell pepper chopped
2 green chilies chopped
4 pieces bacon (fried, drained and chopped)
1 cup beef broth (homemade if possible!)
¼ cup chili powder
1 TBS minced garlic
1 TBS dried oregano
2 tsp ground cumin
2 tsp hot pepper sauce
1 tsp dried basil
1 tsp Celtic sea salt
1 tsp ground black pepper
1 tsp cayenne pepper
1 tsp paprika
1 tsp stevia glycerite (optional)
1 (8 oz.) block Cheddar cheese, shredded
Heat a large stockpot over medium-high heat. Crumble the ground beef and sausage into the hot pan, and cook until evenly browned.
Drain off excess grease. Pour in the diced tomatoes and tomato paste. Add the onion, celery, green and red bell peppers, chili peppers, bacon bits, and beef broth. Season with chili powder, garlic, oregano, cumin, hot pepper sauce, basil, salt, pepper, cayenne, paprika, and stevia. Stir to blend, then cover and simmer over low heat for at least 2 hours, stirring occasionally.
After 2 hours, taste, and adjust salt, pepper, and chili powder if necessary. The longer the chili simmers, the better it will taste. Remove from heat and serve, or refrigerate, and serve the next day. Serve with "Healthified" Cheez Its!
Makes 12 servings.
NUTRITIONAL COMPARISON (per serving)
Traditional Chili = 409 calories, 21g fat, 23g protein, 28 carbs, 6 g fiber (22 effective carbs)
"Healthified" Chili = 396 calories, 20g fat, 31g protein, 12 carbs, 4 g fiber (8 effective carbs)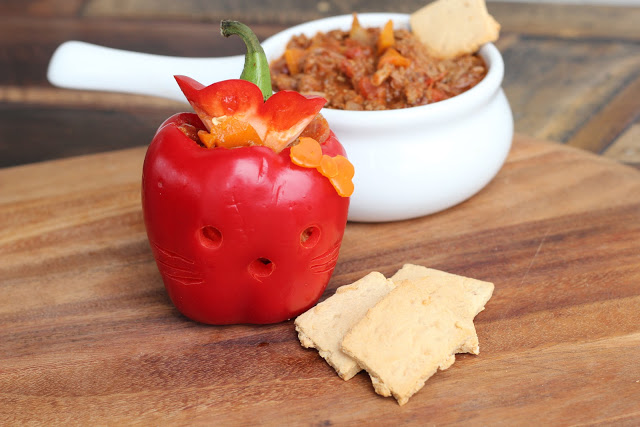 Hello Kitty!