Nut Free Cookies
I thought I would share my delicious nut free cookies recipe with you.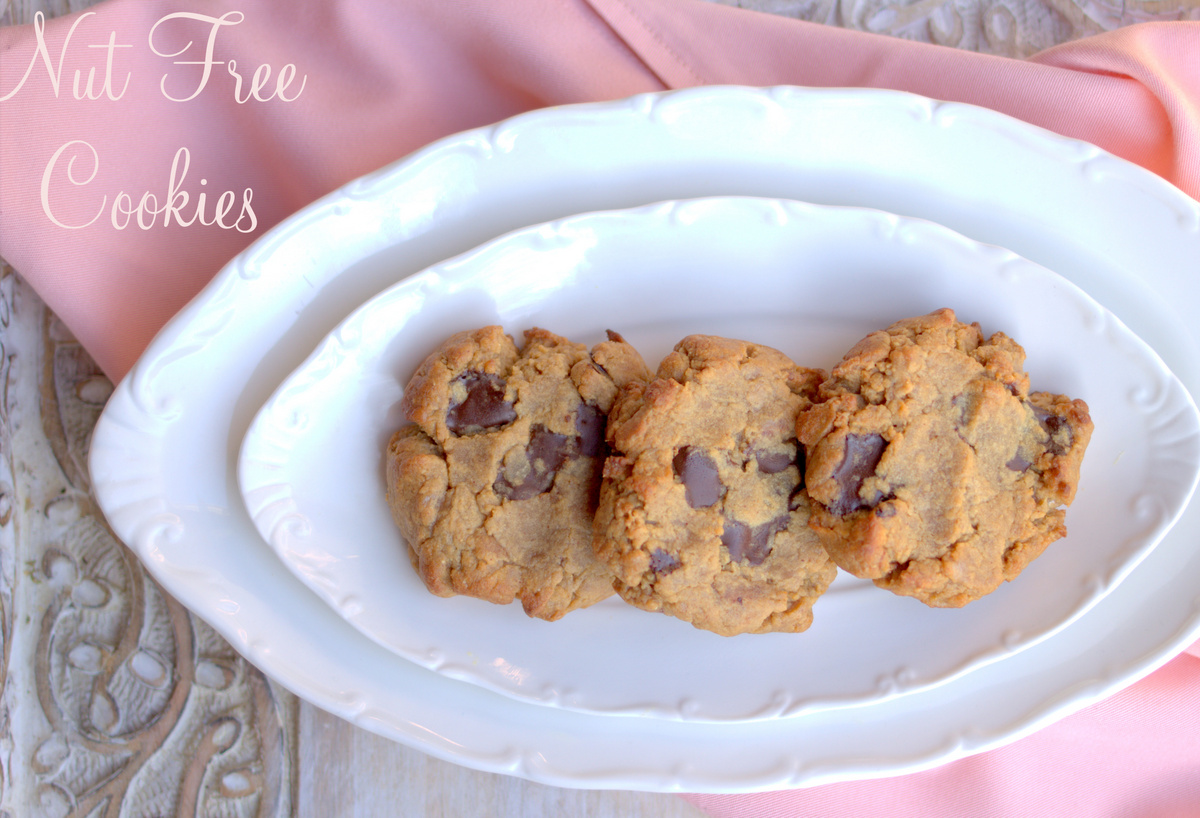 "Healthified" Cookies
1 cup SunButter OR Pumpkin Seed Butter
1 cup Swerve Confectioners or Just Like Brown Sugar
1 tsp stevia glycerite
1 egg
1 tsp vanilla extract
1/2 tsp Celtic sea salt
1 tsp baking soda
1 ChocoPerfection Bar, chopped
Preheat the oven to 350 degrees, and spray a cookie sheet with Coconut Oil cooking spray. Mix the sweeteners and SunButter together until smooth. Add in the egg, vanilla, salt and baking soda. Mix until smooth. Chop a ChocoPerfection bar and mix in the pieces.
Place round mounds of dough on the cookie sheet about 2 inches apart. Bake for 10-12 minutes or until set in the middle of each cookie. Remove from oven and cool.
NUTRITIONAL COMPARISON (per cookie)
Traditional Sunflower Cookie (using Honey) = 278 calories, 11g fat, 5.1g protein, 30 carbs, 3.1g fiber
"Healthified" Cookie = 149 calories, 11g fat, 5.1g protein, 5.7 carbs, 3.7g fiber
PREBIOTICS
If you read labels you might see ingredients like oligofructose and inulin starting to show up on food packages. These 2 words are called 'prebiotics' in the nutrition world. Prebiotics are non-digestible foods that make their way through our digestive system and help good bacteria grow and flourish. Prebiotics keep beneficial bacteria healthy.
Prebiotics help increase probiotics, which are beneficial bacteria that help keep your digestive system healthy. The majority of my clients have malfunctioning digestive systems for a variety of reasons. Our typical 'Western' eating habits and stress can all negatively impact the 'good bacteria' in our gut. Probiotics are helpful micro-organisms that live in our intestinal tract. In a healthy body, good bacteria make up most of the intestines' micro-flora and protect digestive health. If you have primarily good bacteria, your immune system will function optimally and it will help you extract essential nutrients in the foods you eat. In order to feed our cells, we need to absorb the nutrients from our food, otherwise our brain will keep telling us to eat until the cells are fed.
Here are the most common warning signs of a bacterial imbalance, if you suffer one or more of these problems it is quite likely that eating prebiotics and taking a probiotic supplement could help you get your 'system' back on the right track:
1. Allergies and food sensitivities
2. Difficulty losing weight, sugar/carbohydrate craving
3. Frequent fatigue, poor concentration
4. Frequent constipation or diarrhea
5. Faulty digestion, acid reflux and other gut disorders
6. Sleeping poorly, night sweats
7. Painful joint inflammation, stiffness
8. Bad breath, gum disease and dental problems
9. Frequent colds, flu or infections
10. Chronic yeast problems
11. Acne, eczema skin and foot fungus
12. Extreme menstrual or menopausal symptoms
There are many stresses and factors that can kill your 'friendly bacteria' every day. Here is a summary of some of the commonest good-bacteria-KILLERS:
1. Antibiotics
2. Birth control pills
3. Steroidal & hormonal drugs
4. Fluoride (added to toothpaste and sometimes to drinking water!)
5. Chlorine (added to water to kill bacteria…it kills friendly-bacteria too!)
6. Coffee/Tea
7. Carbonated drinks
8. Stress
9. Preservatives
10. Additives (colorings, flavorings and chemicals in processed foods)
11. Pesticides (choose ORGANIC fruit and veggies to avoid this!)
12. Fertilizers (choose ORGANIC fruit and veggies to avoid this!)

Our moods are directly correlated to the intestinal flora of our gut…the nervous system actually come from the gut to the brain; in the past scientists thought the nervous system ran the other way. This is why what we put in our stomach is so essential to our mental health. Having healthy intestinal flora; which you can achieve with probiotics and fermented foods, increase our moods and decrease our cravings.
Testimony of the Day
"Hi Maria, You have been helping me get my life back by getting healthy. My main request was to help me get pregnant. Since starting your way less than 3 months ago I have lost 31 pounds and am off all my autoimmune disease medications. And today, I can tell you that I found out I am expecting. I am only a few weeks along and so I can't share with everyone yet but I owe you my gratitude. After a year long emotional journey, your way restored my body back to health." Carrie
Get started on your path to health today with the recently improved 30 day accelerated package! Now every day has calculations for percent of fat/protein/carbs. It has never been easier to follow the keto-adapted lifestyle.
Dawn looks amazing too!