Testimonies of the Day (yes, they all came the same day!)
"I have been making your recipes for a while now and haven't found one that we don't love. I decided to kick it up a notch and started your 30 day accelerated plan this week and have already lost 5.5 lbs in just 5 days! I only had 10 lbs to lose, so I can't tell you how happy I am to be dropping the weight so fast." -Tiani
 "I am on day 20 of Maria's awesome lifesaving eating plan!! I am waiting until I am done to measure the results, however, I feel great!! If you are hesitating about whether to try Maria's healthy eating plan – don't – it is worth every penny!! -Caroline
"My journey with Maria began 3 months ago. I was hoping to feel better in a month or so … I felt better the very next day! Talk about return for your investment of time and incentive to continue down this path. I have less pain, dropped inches and pounds, more energy and terrific support to continue this Life Style. " Pam
To get started like Tiani, Caroline and Pam, click HERE. I'd be honored to help you too!
Creme De Mint Cheesecake and GIVEAWAY!
Ingredients
CRUST
2

tablespoons

butter

or coconut oil

1

ChocoPerfection bar

chocolate mint, chopped

1

cup

blanched almond flour

or hazelnut meal

1/4

cup

Natural Sweetener

or erythritol and 1/4 tsp stevia glycerite

1

teaspoon

mint extract

1

large

egg
FILLING:
2

ounces

unsweetened baking chocolate

chopped

1/2

cup

unsweetened almond milk

4

8 ounce

cream cheese

room temperature

1 1/2

cups

Natural Sweetener

or erythritol and 1 1/2 tsp stevia glycerite

1/4

cup

unsweetened cocoa powder

3

large

eggs
TOPPING:
1/4

cup

whipping cream

1

ChocoPerfection Bar

chocolate mint, chopped

2

tablespoons

Natural Sweetener

or 1/8 tsp stevia glycerite

1

teaspoons

mint extract
Instructions
Preheat oven to 350 degrees F.

CRUST: Melt the butter/oil with the chopped ChocoPerfection bar.

Stir until the chocolate is melted.

Add in the nut meal, egg, natural sweetener and mint extract.

Press into the bottom of an 8 inch spring form pan with 3 inch sides.

FILLING:

Stir chopped chocolate and almond milk in metal bowl set over saucepan of simmering water until melted and smooth. Remove bowl from over water.

Blend cream cheese, natural sweetener, and cocoa powder in processor until smooth.

Blend in eggs 1 at a time.

Mix in lukewarm chocolate.

Pour filling over crust.

Bake for 60 minutes or until center is just set and just appears dry, about 1 hour. Cool 5 minutes. Run knife around sides of cake to loosen. Chill overnight.

TOPPING:

Stir cream and chocolate in a medium sized saucepan over low heat until smooth, add in the natural sweetener and extract. Cool slightly.

Pour over center of cheesecake, spreading to within 1/2 inch of edge and filling any cracks. Chill until topping is set, about 1 hour.

Do ahead: Can be made 3 days ahead. Cover with foil and keep refrigerated.
Nutrition
Calories:
298
|
Fat:
29
g
|
Protein:
7.7
g
|
Carbohydrates:
7.7
g
|
Fiber:
4.3
g
|
P:E Ratio:
0.2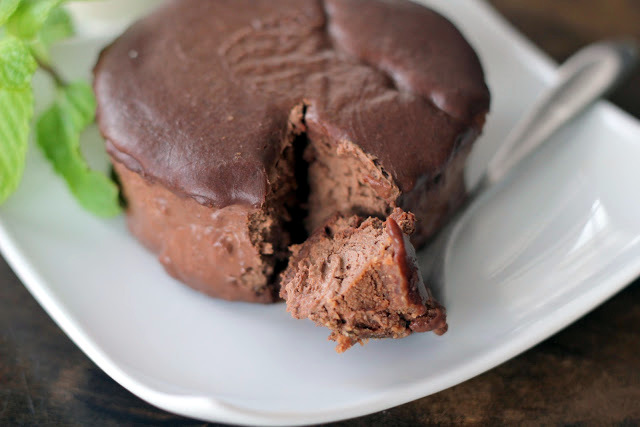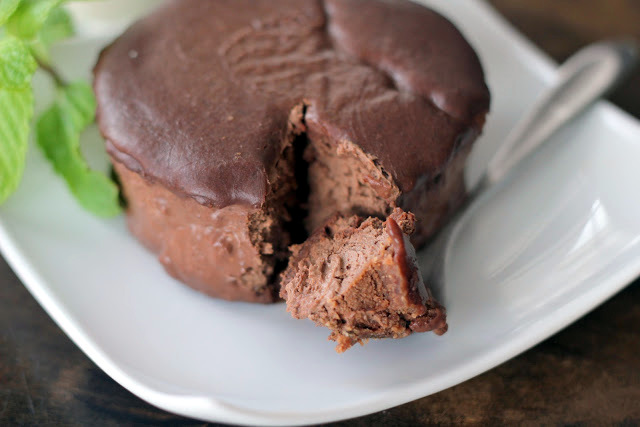 Another Cute Testimony:
"Maria, I have been following your diet for almost THREE WEEKS now. I have lost 11 pounds. I can almost zip my skinny jeans, so the inches are falling off. Thank you so much for changing my life, and changing my way of thinking and living. The aches and pains are disappearing and I have been walking for 30 minutes each day for the last week. I will be 50 in December and now I am not filled with dread, but filled with hope of healing! All of that to say I appreciate your help. I appreciate your wisdom, recipes, and advice. Have a great rest of the week!" Donna
To read more tips on how to feel great while losing weight, check out my book, Keto-Adapted. If you would like to help out a small family, rather than large business, I am happy to announce that you can now get my books as a high quality ebook that works on any platform. Plus, most of the profits don't go to Amazon or apple! Click HERE or select "My Books" above to get your copy now!
Click HERE to get a limited edition of the Hard Cover.
Click HERE to get a soft cover.
Thank you all for your love and support!