Mexican Meatloaf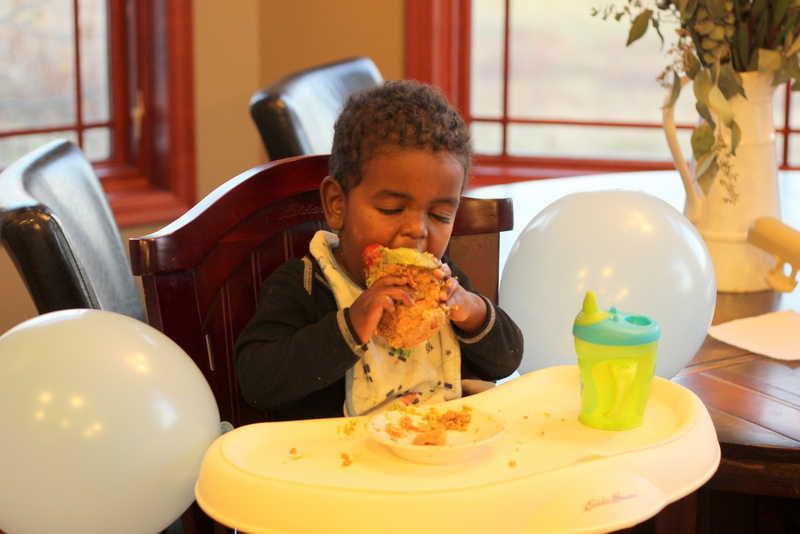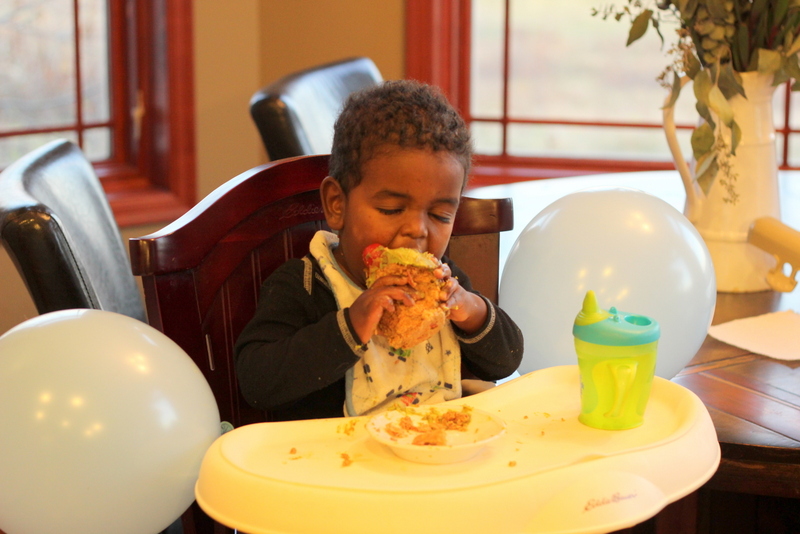 Instead of using breadcrumbs or cracker crumbs in my Mexican meatloaf, I use an egg for the binder along with finely chopped mushrooms (don't worry you don't even taste them, but it makes it very moist) and grated cheese. Mushrooms and aged cheeses have something called "UMAMI." Umami is a pleasant savory taste produced by glutamate and ribonucleotides, chemicals which occur naturally in many foods. Umami is subtle and not generally identified by people when they encounter it, but blends well with other tastes to intensify and enhance flavors; it plays an important role in making food taste delicious.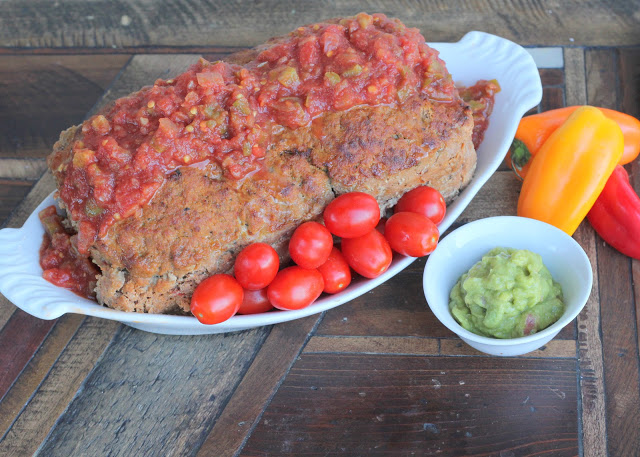 About 8 years ago, Craig's parents gave us the BEST Christmas present! It was a 1/2 grass-fed cow from a farmer! Grass-fed beef is probably the best gift they could have gotten us! I suggest a box of quality beef from Butcherbox as a gift to your family or friend! Each month they will remember you and enjoy healthy meals!
We love using Butcherbox ground beef for lots of recipes including this Ranch Meatloaf. Check out this video with Micah as my assistant on what you get in a box each month! You can customize your box too! We now are getting ribs and ground beef which we eat all the time!
"HEALTHIFIED" MEATLOAF
2 lbs grass fed ground beef
2 eggs, beaten
3/4 cup finely chopped mushrooms
2 c. shredded pepper jack or Mexican cheese
1/4 cup salsa
1 tsp Mexican-style seasoning
1 tsp cumin
1 clove crushed garlic
OPTIONAL: Add lots of fresh herbs to the meat mixture to add lots of phytonutrients. Add  4 TBS cilantro. Cilantro is a super food to provide nutrients when eliminating fruits and root vegetables.
HEALTH TIP: I pick up a ton of organic herbs from the farmers market late in the fall so I can freeze them and add them to my meatloaf, meatballs, soups, and chili.
Preheat oven to 350 degrees F (175 degrees C). In a large bowl, mix together ground beef, eggs, mushrooms, cheese and salsa. Season with Mexican seasoning, cumin, and garlic (and herbs). Press into a 9×5 inch loaf pan, and cover loosely with foil. Bake in the preheated oven approximately 1 hour, or until internal temperature reaches 160 degrees F (70 degrees C). Makes 6 servings.
NUTRITIONAL COMPARISON (per serving)
Traditional Meatloaf = 535 calories, 33g fat, 29g protein, 16.2g carbs, 1.4g fiber, (14.8g effective carbs)
"Healthified" Meatloaf = 475 calories, 31.6g fat, 43.3g protein, 2.3g carbs, 0.5g fiber, (1.8g effective carbs)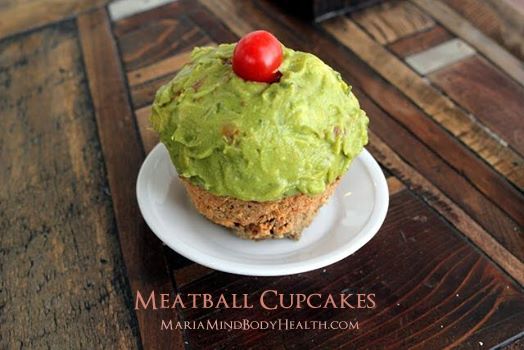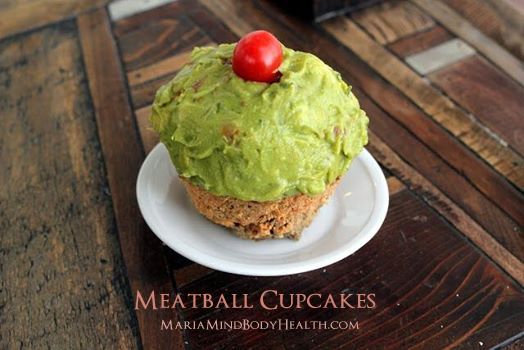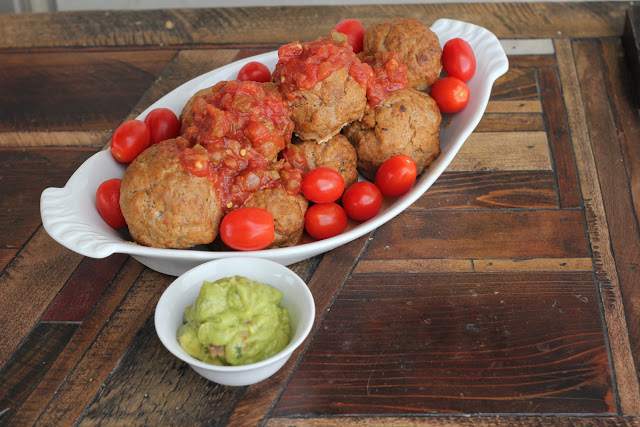 Made into meatballs
Testimony of the Day
"A lot of people may not be aware of this, but it is pretty much a given that at some point in your eating disorder healing you will realize that you don't know HOW TO EAT!!! It truly sounds ridiculous I know! I struggled with Bulimia & Anorexia for 35yrs before I told anyone…when I began to walk-out my healing journey, I said to myself "I don't even know how to freakin eat"!!!!!
When I wasn't bingeing and purging, I severely restricted from food and water. It was a cycle of pure madness, and I never felt good…and yes! I do mean NEVER! Oh, of course I was a bible of calorie and fat scriptures! But, I did not know how to eat. I did not know how food had such a HUGE impact on not only ones body, but ones brain and spiritual health as well!
As I began to follow Maria Mind Body Health I began to purchase her books, and when I began reading her books I began to incorporate some of her healing techniques into the repair of my 35yr struggle of Bulimia and Anorexia. Along, with my clinically diagnosed Bulimia and Anorexia, I was also diagnosed with PTSD. During my 8yr recovery journey, in and out of therapist and treatment centers, I was left with the results of being on six different medications, and a 50lb weight gain. With Maria Mind Body Health I have been off all medication for almost 2yrs. However I am still working on the 50lbs. Because of all the changes I feel Maria has helped and inspired me with, I make sure I refer all my girls in ANAD Healing 4 Women's Group (Online & Offline Group), and all my gals at Women's Empowerment Alliance check her out. Love you Maria Wojcik Emmerich and all you & Craig do. Thank you.♥" -Tamy
Click here to get started on your path to health and healing!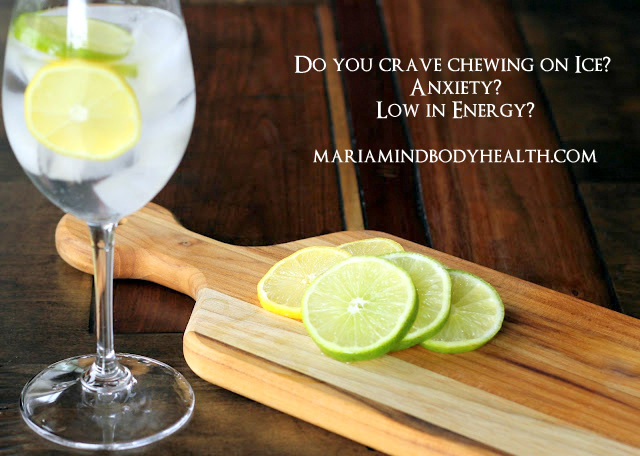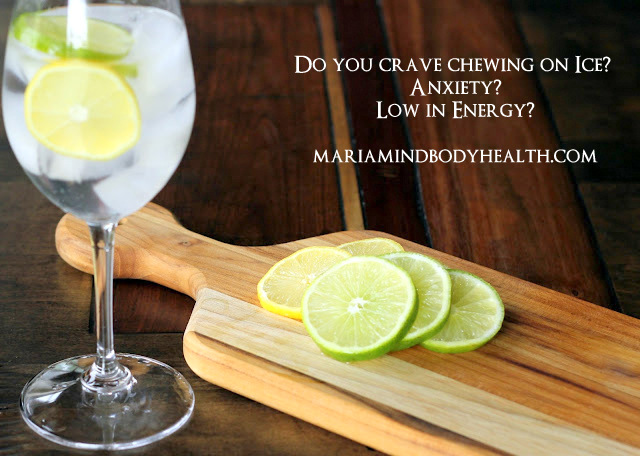 Do you crave chewing on ice, have a bit of anxiety, yet low in energy? You could be low in iron. Gluten has many bad side effects, one of which is how well you absorb iron. Iron helps to carry oxygen to the mitochondria of your cells, which is where fat burning occurs.
If you get a hemoglobin test done and it comes back "normal" you could still be having absorption issues, which is why I require a ferritin test for my clients instead. This test shows me if the iron in your body is getting INTO the cells. If for some reason your hemoglobin is "normal" and your ferritin is "low" I would recommend a 100% elimination diet of gluten. If you are working out a lot, eating low carb and still aren't losing weight, I would get your ferritin checked. Losing weight is all about fat "oxidation"… when you inhale you carry oxygen through the hemoglobin to the mitochondria of your cells, where fat is burned. BUT if you don't have any iron in your cells, you aren't getting the oxygen to the mitochondria. Even though iron numbers may come back fine, this means that you are consuming enough iron in foods, but it isn't getting into the cells… which means there is a food sensitivity inhibiting you from absorbing it.
A few things that deplete you of iron:
1. Heavy menstrual cycles
2. Loss of blood (injury/surgery/pregnancy)
3. Food allergy (damaged intestines/leaky gut)
4. Heavy exercise (running)
5. Not eating red meat/sources of iron
Now, there are 2 different types of iron:
1. Heme iron: form of iron that comes bound to heme proteins and is easily in your digestive tract.  (found in Red Meat)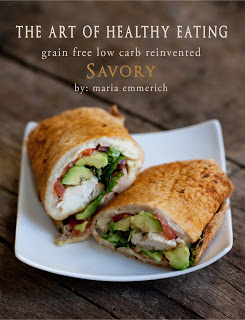 2. Nonheme iron: form of iron not bound to heme proteins, less easily absorbed. (found in spinach and other plant sources)
If you are a vegetarian, I suggest that you pair spinach with foods high in vitamin C to enhance the absorption. Ascorbic acid (vitamin C) forms a complex with iron and chemically modifies iron into a form that your body can more readily absorb. Most people underestimate the power of herbs and spices; things like parsley, dill, rosemary, as well as most spices, have a ton of vitamin C; more than most fruits.
Also adding lemon and lime help with iron absorption. The acid helps to change the iron from nonabsorbable ferric iron to the more absorbable ferrous iron. Eat foods high in iron with coconut, balsamic or apple cider vinegar, or acidic lime or lemon juice. For example, top a spinach salad with a lemon and herb dressing, or use the juice from a lime as the garnish.
NOTE: Do not take iron supplements unless directed by a doctor. Too much iron isn't a good thing!