Testimony on Keto-Adaptation
"A year ago June my then 38 year old husband was in a health crisis. Type 2 diabetic who had just developed high blood pressure. His pressure was so high, his weight was almost 300 pounds and our new Family Doctor went through the roof. He was on the verge of a stroke or heart attack. He also suffers from Severe Sleep Apnea.
I started us on a diet back then which used lean protein shakes. When I learned about you, I switched over to "your way" or now known as the "Maria way or the ME way" (ME= Maria Emmerich) of high fat, moderate protein, low carb.
Almost a year down the road he's lost 50 pounds his blood pressure is much better and his diabetes is under control. He had a sleep study done and his very severe sleep apnea is now moderate when he sleeps on his side and only severe if he sleeps on his back. I also have lost 50 pounds and that's even after spending 3 months this Spring/Summer in bed with a broken ankle after a freak ice storm this past April.
We aren't perfect at following you yet but we've already made such huge strides forward. We are working at changing the habits of a lifetime. So Happy to have found you!!! -Sherrilee"
Click HERE to start your journey to a keto-adapted diet!
THYROID FACTS
Did you know that in 90% of cases, hypothyroidism is an autoimmune disease? Did you know that autoimmune thyroid disease and is linked to a gluten intolerance? Hashimoto's and Graves' are most likely caused by a gluten intolerance.What happens is that the cell structure of gliadin (the protein in gluten) resembles the thyroid gland. If you don't have a healthy intestinal lining, you can create holes; enter Leaky Gut. When this happens food leaks into the bloodstream and since your blood doesn't know what the substances are, it puts your immune system into overdrive to kill the foreign substance (this is why I have my clients get a thyroid 'antibody' test; it helps determine if there is a food allergy). So if you are eating skim milk and cereal for breakfast, you will most likely have a dairy and wheat allergy.These antibodies produced to attach the gliadin in the blood, also causes the body to attack the thyroid. If you continue to eat gluten, your immune system will attack your thyroid. Some clients mistakenly think they can eat small amounts of bread or gluten on the weekend or at a party, BUT nope. The immune response to gluten can last up to 6 months every time you consume it. In order to stop the destruction of the thyroid, you have to be 100% gluten-free. Gluten, even "whole grains," contain phytates that damage our intestinal lining and inhibit nutrient absorption.
Many people make the mistake of running to their doctor for an allergy blood-test to find out if a food allergy is the root of their problems. The main issue with this is that blood tests are about 90 percent INACCURATE! Crazy but true. If I notice a food sensitivity with a client, our success comes by an elimination diet along with nutrition therapy of enhancing vitamins, minerals and amino acids. It is also helpful to consult a doctor, but don't wait for a blood test to tell you what will make you feel your best; start now instead. If anything, I recommend a stool test.
1 in 3 Americans are gluten intolerant. In some clients with autoimmune disease, their immune system is so worn out they can no longer produce many antibodies. This is why everyone should kick the gluten regardless of antibody test results.


To find charts on what foods balance all your hormones (thyroid, leptin, ghrelin, estrogen, testosterone and more) check out my book:
Secrets to a Healthy Metabolism.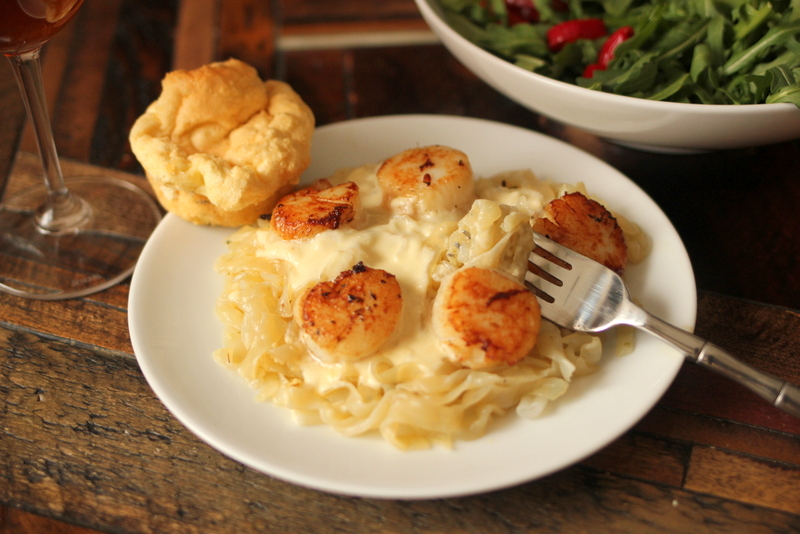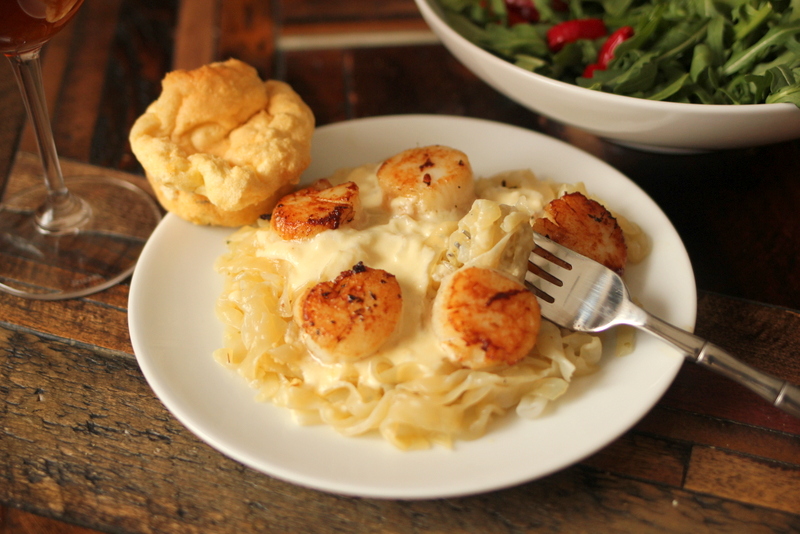 I picked up some scallops at Trader Joe's and the worked great for this dish! Happy Eating! Serve with my Protein Popovers!
NOTE: Scallops have about 4.6g carbs per 3 ounce serving. If you are extremely insulin sensitive, I suggest using shrimp.
HEALTHY SEAFOOD ALFREDO
1 lb scallops (or shrimp)
1 large zucchini, into pasta OR 2 packages MIRACLE NOODLES 
1 cup mascarpone cheese (or cream cheese)
4 TBS butter
1/2 cup freshly grated parmesan cheese
1/4 tsp nutmeg
Celtic sea salt and white pepper, to taste
beef broth as needed
SAUCE: In a medium saucepan melt butter over low heat. Add the mascarpone to the melted butter and stir until it has melted and mixed well. Add nutmeg to the cheese mixture and stir to combine. Add all of the Parmesan cheese at once and stir it into the mixture. Remove from heat (the sauce will clump up if it is gets too hot after the Parmesan is added). Adjust the sauce consistency to your likes with beef broth added in small amounts. Season with salt and white pepper to taste.
PASTA: Peel and cut zucchini into noodles using THIS tool: Joyce Chen Spiral Slicer. Set aside. Heat 2 TBS oil in large skillet over medium-high heat. Add garlic; stir 30 seconds. Remove from heat and set aside.
SCALLOPS: Rinse with cold water and thoroughly pat dry. Add the oil to a 12 to 14-inch saute pan on high heat. Salt and pepper the scallops. Once the oil begins to smoke, gently add the scallops, making sure they are not touching each other. Sear the scallops for 1 1/2 minutes on each side. The scallops should have a 1/4-inch golden crust on each side while still being translucent in the center. Serve immediately over zucchini pasta and top with sauce. Makes 4 servings.
NUTRITIONAL COMPARISON (per serving)
With White Pasta = 604 calories, 25g fat, 32g protein, 63 carbs, 2g fiber
With Zucchini Pasta = 376 calories, 24g fat, 32g protein, 7.8 carbs, 1g fiber
With MIRACLE NOODLES: 367 calories, 25.2g fat, 29.3g protein, 4.8g carbs
NUTRITIONAL COMPARISON (per cup):
White Pasta – 246 calories, 43 carbs, 0 fiber (43 effective carbs)
Zucchini "noodles" = 20 calories, 4 carbs, 2 fiber (2 effective carbs)
My suggestion is to only serve the sauce on the noodles you will eat that night. The leftover noodles and sauce get a little soggy, so reserve both separate.  I recently found a NEW Zucchini cutter that is easier to use! Click HERE to find it:)