Maple Bacon Shortbread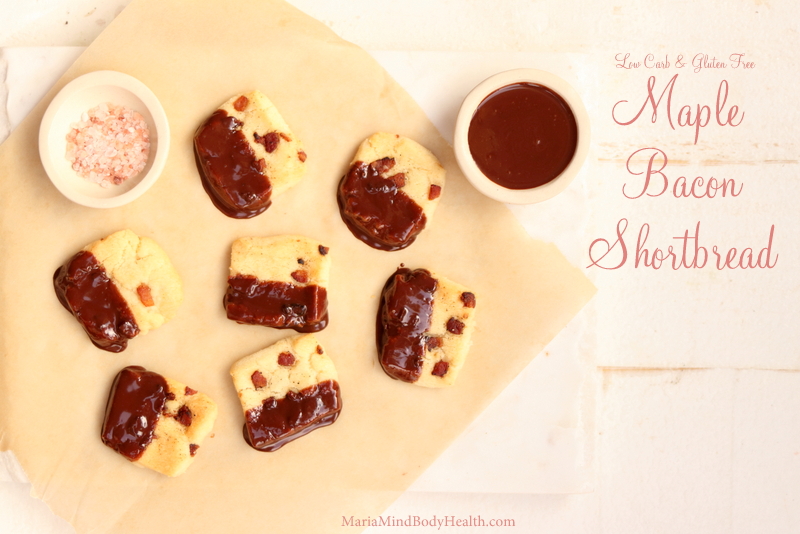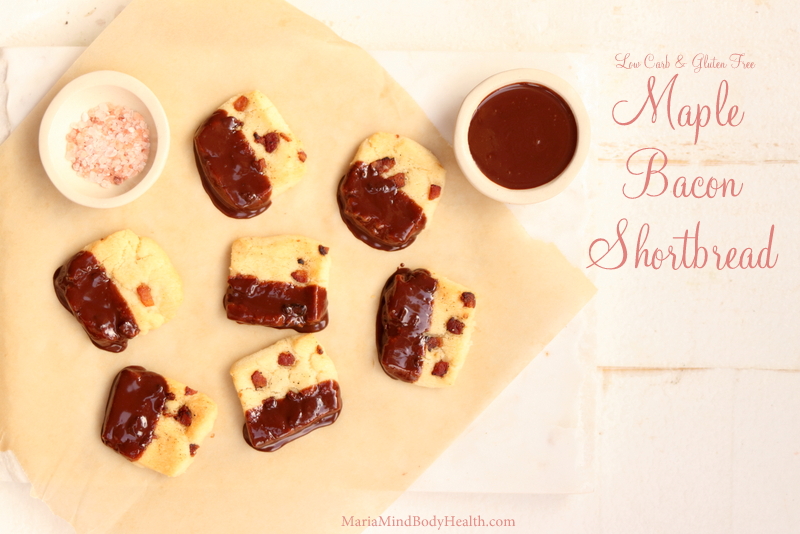 There is a National Food Holiday for everything! Including shortbread! And today is National Shortbread Day! I wanted to celebrate because I adore shortbread!
What's not to love? Maple…bacon… and shortbread! I love these cookies because they not only taste amazing, the smell of maple fills the house! I also love that these maple bacon shortbread cookies can be made with almond meal instead of the expensive blanched almond flour! Click HERE to get almond or pecan meal. 
Happy Baking!
Maple Bacon Shortbread
Ingredients
2

slices

sugar free bacon

diced into 1/4 inch pieces

6

tablespoons

butteror butter flavored coconut oil if dairy free

softened

2

cups

almond flour or almond meal

or pecan meal

⅓

cup

Natural Sweetener

or equivalent

1

teaspoon

maple extract

Pinch

Redmond Real salt

Chocolate Dip:

¾

cup

heavy cream

or full-fat coconut milk if dairy free

1/3

cup

Natural Sweetener

2

ounces

unsweetened chocolate

finely chopped

1

teaspoon

vanilla extract

or maple extract
Instructions
Preheat oven or toaster oven to 350 degrees F. Place a piece of parchment on a cookie sheet.

Place the softened butter into a medium bowl and cream the natural sweetener with the butter until fluffy, about 2 minutes. Add the almond flour, extract and salt. Mix until well combined.

Form into 1 1/2 by 1 1/2 inch squares and place 1/2 inch apart on the parchment. Press the diced bacon into the top of the cookies. Bake for 15 minutes or just turning golden brown. Cool completely before removing from cookie sheet.

Meanwhile make the chocolate dip. Place the cream in a saucepan and heat on high until simmering. Remove from heat and add the chopped chocolate and sweetener and stir until chocolate is completely melted. Add extract and stir to combine. Use to dip cooled cookies into. Dip one end of the cookie into the melted chocolate and place onto a piece of parchment.
Notes
Nutritional Info: 100 calories, 9.7g fat, 2.3g protein, 2.5g carbs, 1.4g fiber
TESTIMONY OF THE DAY
"This book saved my life as a diabetic. i can not tolerate more than 4 carbs per meal. that said, i have learned i can eat wonderful healthy foods which also taste fabulous! when i was first diagnosed as a diabetic, it was very difficult not to be tempted to eat certain foods filled with carbs which were awful for me. consequently, i had many cheat days. that stopped when i found your book and i feel more satisfied than ever eating this way.
your book has taught me there are endless foods and ways to cook for people eating a LCHF diet. i especially appreciate how your book taught me how to shop and stock my pantry and refrigerator so i can make practically any recipe i want in your book at any time.
i also learned i can include sweet foods in my diet. your section about natural sweeteners allowed me to learn how to create the most delicious treats [absolutely carb free]. i make frozen chocolate pudding pops on the regular [ZERO CARB]!
i lost almost 50 pds eating this way with out ever counting one singular calorie. a year ago i could barely move i was in so much pain. all my inflammation is gone now and i feel almost 100% again.
i feel like your book combined with Dr. Bernstein's book [The Diabetes Solution] is all a diabetic needs to return to the best health they can. i recommend your book to every one i know. it's so much more than a recipe book because it also educates the reader about a ketogenic way of eating which has too many health benefits to list. Thank you!" – Gem
Thank you for your love and support!!!