Low Carb Taco Shells
DEPRESSION 
Are you feeling a little "down in the dumps?" or not as "happy-go-lucky" as you once were? What types of foods are you putting in your mouth? Even if you are good 80% of the time and the other 20% you let loose with your diet, you may be filling your cells with trans-fat and those detrimental fats take 9 MONTHS to detox from our body!
When we consume even 1 gram of trans-fat, that plastic molecule finds our way to our cells and takes up the "parking" spot in our cells that were meant for healthy Omega 3 fats. The membranes of our neurons (the specialized brain cells that communicate with each other) are composed of a thin double-layer of fatty acid molecules. The myelin (the protective sheath that covers communicating neurons) is composed of 30% protein and 70% fat. One of the most common fatty acids in myelin is oleic acid, which is also the most abundant fatty acid in human breast milk and in other foods like coconut milk, coconut oil as well as the oils from almonds, peanuts, pecans, macadamias, and avocados.
When we consume trans-fats instead of healthy omega fats filled with oleic acids, our cells no longer communicate, and "Happy Cells are Talking Cells." The increase in depression in North America is in direct correlation with the decline in the consumption of omega 3 fatty acids.


 To read more on what foods cause depression click HERE to check out my book Secrets to Controlling Your Weight Cravings and Mood.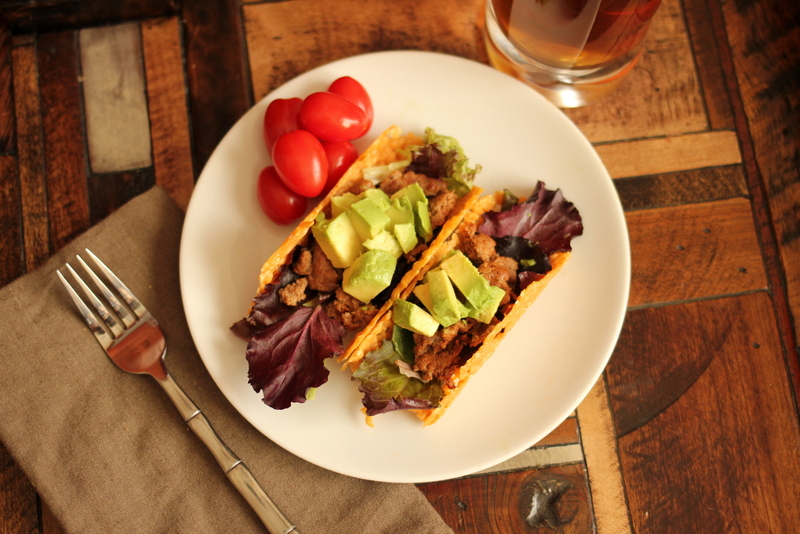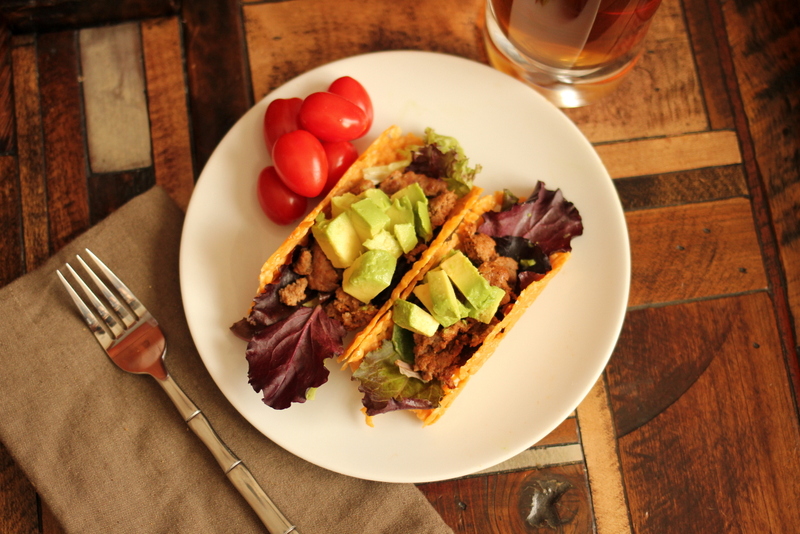 "Healthified" Taco Shells:
1/3 cup almond flour
1/3 cup unflavored whey protein
1/3 cup Parmesan cheese, shredded
1 tsp Celtic sea salt
Water (just enough to hold the dough together)
Optional: Mexican spices
Preheat oven to 350 degrees F. Sifts all the dry ingredients together. Slowly add in water, 1 TBS at a time until dough can hold a ball shape. Grease 2 pieces of parchment paper. Place 4 TBS dough onto greased parchment, top with the second piece of parchment (greased side down). Roll the dough using a rolling pin on top of the parchment. Roll until 1/16th in a thick circle. Remove the top piece of parchment. Place the bottom parchment (with the rolled out dough) onto a cookie sheet, repeat with remaining dough. Place the cookie sheet in the oven and bake for 5 minutes. Remove from oven, form into a taco shell (the dough will be pliable). Place back into the oven for 8-10 more minutes or until golden brown. Remove from oven to completely cool. Makes 4 servings.
NUTRITIONAL COMPARISON (per 2 shells)
Old El Paso Tortilla = 170 calories, 23 carbs, 2 fiber
"Healthified" Taco Shells = 104 calories, 2 carbs, 1g fiber
Testimony of the Day
"I just wanted to send my thank yous. I have been following you for a while, have all of your cookbooks and love your recipes. Recently (the last two months), my weight loss stalled. I've lost 70 lbs since last year and have another 50 to go.
I was keeping my carbs under 30g but didn't pay any attention to my protein and fat. 1 1/2 weeks ago, I started tracking everything. 5% carbs, 10% protein, and 80 percent fat. Although my fat intake isn't quite there, I (counter-intuitively) upped my fat dramatically. Lo and behold, I'm losing again! I've spent decades overweight, following a 1200 calorie diet, low fat, and whole grains. Amazing that now I'm eating almost 2000 calories, low carb/high-fat diet, I'm still shedding the weight! Thank you for all of your advice! This has been an amazing transformation of my life!" –

Click HERE to start your journey to a keto-adapted diet!