Low Carb Pumpkin Mousse
I used to enjoy spending a whole day in the kitchen creating beautiful desserts, but after having kids, I'm all about "quick and easy!" I still love to be in the kitchen, but the boys often want me to play with them; also if they want to help me make something such as a Pumpkin Mousse, I want it to be as easy as possible because I know it is going to take twice as long to make as well as twice as long to clean up their mess.
So if you really want to impress your dinner guests but you are not much of a baker, you must try this dessert. It is everything decadent that Pumpkin Pie has to offer without all of the trouble of making a pie crust. Plus, it is egg free for those of you who sadly can't have eggs!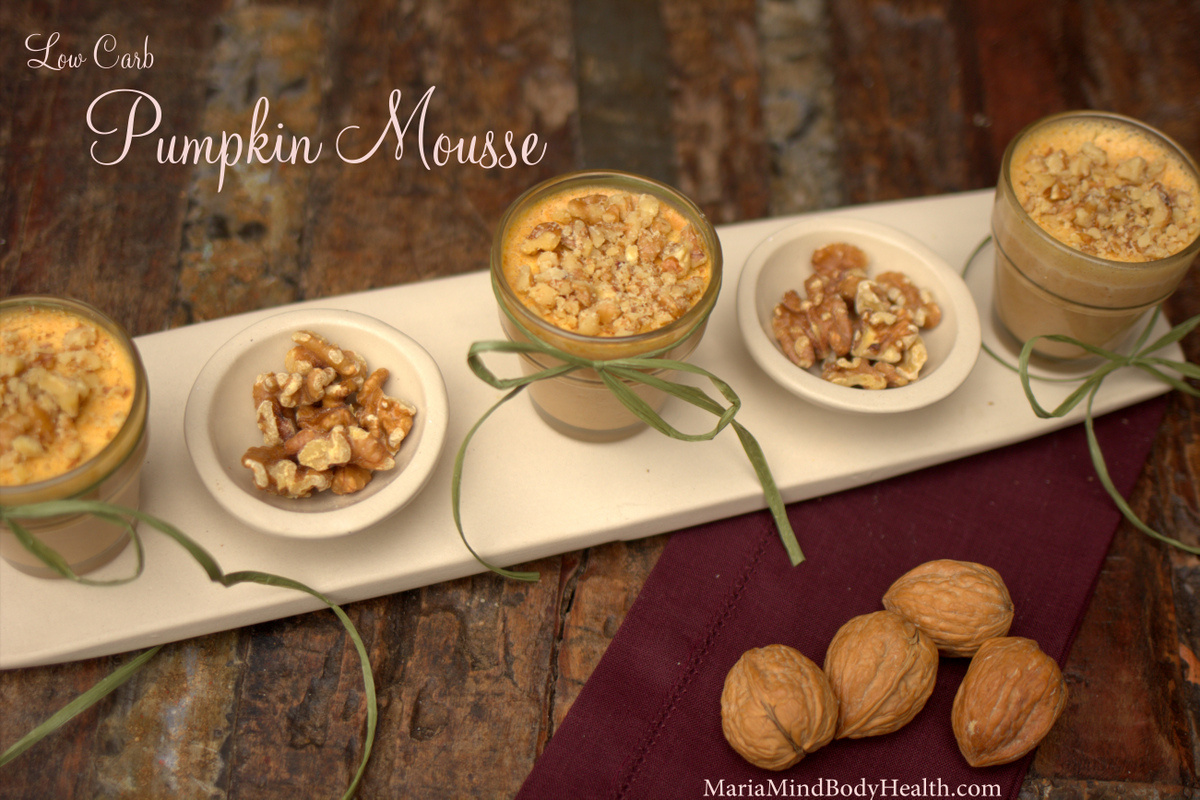 Low Carb Pumpkin Mousse
Ingredients
1 (15-ounce) can pumpkin
3 cups heavy cream
¾ cup Swerve confectioners
½ teaspoon pumpkin pie spice
1 tablespoon vanilla extract
Crushed walnuts or pecans for serving
Instructions
Place the pumpkin, 1 cup cream, natural sweetener and spice in a medium bowl, using a hand mixer, combine until very smooth. Set aside.
Whip remaining heavy cream and vanilla to soft peaks and fold into pumpkin mixture. Pour into a serving dish and sprinkle crushed nuts over the top before serving.
Notes
Nutritional Information:
178 calories, 16.8g fat, 1.5g protein, 5.8g carbs, 1.6g fiber
85% fat, 3% protein, 13% carbs
TESTIMONY OF THE DAY
Celiac Testimony: "Nobody would believe that I had been slowly gaining weight, but I felt and saw it on a daily basis. I have Celiac disease, and before finding you (Maria), I was given a lot of misinformation about the diet I needed to be eating, I was consuming a LOT of whole grains and sugar (if it's gluten free, it's good for you right?). I was miserable, moody, I had severe depression, the inflammation in my joints at 24 yrs old was unreal; I would get off work and be hunched over and limping from the pain. I was having to go up a size in clothes, I took a nap every single day because no matter how much I slept, I was exhausted. I didn't have the motivation to change anything or do anything. I had done many workout programs and your standard government diet recommendations (lots of whole grains, veggies, fruit, and protein, and a small amount of fat). I just got even more moody, more bloated, and felt more deprived than ever! I never had any energy, and was just horribly grumpy all the time.

When I began my journey, I didn't even make major changes to my diet for the first month, I mainly worked on taking out sugar. Through all of this, I learned I have a severe addiction to sugar; if I ate one piece of candy or dessert, I wouldn't even have control over how much I ate. I would eat until there was no more. I hated that feeling, and didn't realize how much of a hold it had on me until I cut it out of my diet! No wonder I was miserable! The second month I slowly worked on taking out most of the grains (still having bad stuff here or there). Even only starting with that, my energy levels skyrocketed, I slowly started losing inches of fat, and I could see several health issues I'd been struggling with start to diminish. Two months later I completely changed my diet to a full low carb/high fat diet.
Now, 9 months later, I don't ever take naps anymore, I accomplish SO much everyday, my focus is better, my mood is stabilized, I have gained muscle very easily, I'm down 10lbs of FAT, 20+ inches all over, those clothes I was having to go up in size? They're now too big! I'm down from a size 5 in jeans to a 1.

Even something as simple as my fingernails GROWING for the first time in my life made me absolutely thrilled! I have a better outlook on life now, just because I changed my diet. I know I'm here for a reason, and I want to help others experience what I have felt.

I have a lot of goals now that I am working hard to accomplish. I have my life back and it's so much better than I ever thought it could be!" – Jessica
Get started on your path to Healthy Healing today! Click HERE to get started!