Testimonies of the Day
Pain Testimony: Hi Maria, For many years, I have been plagued with many auto-immune maladies.  Most of them were just bothers, skin problems, aches, burning tongue. I had been on a low dose of Prednisone since 2002.  About a year and a half ago, I was diagnosed with Pericarditis and then after several months of tests, Giant Cell Arthritis ( which is inflammation of the arteries going through my temple to the brain). The tests showed major inflammation in my body so I was put on very large doses of Prednisone.  That caused many more problems. We have been trying to lower the dose for about 6 months and it has been up and down.  I have had lab tests every two weeks for the last 15 months.
Then, 5 weeks ago, I began my life style change mainly because it was touted to be good for inflammation and I had gained lots of weight with the help of the Prednisone. After the first two weeks into your program, my inflammation tests were still high  but last week, both indicators showed that my levels were in the normal range. That is the first time in more than 10 years. I can't tell you how happy that has made me and my family.  I am a believer!!!!! I feel good. I don't miss either the gluten or the sugar. I can't thank you both enough for the guidance and information. It just proves that you can teach an old dog, new tricks. Thanks again, Molly"
30 Day Accelerated Testimony: (I remember when I could finally wear tall boots too!) "Maria, when this happened I just had to write to update you! I can finally wear tall boots again! And they zip over my calves!
I can't thank you enough for your coaching. My husband is doing great too although he isn't crazy about my boot addiction!" Carrie
To get started on your path to health and healing, click HERE.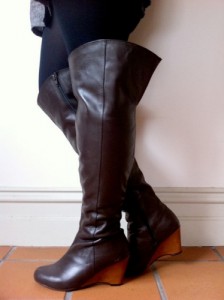 1/2 cup vanilla whey or egg white protein
3/4 cup almond flour
1/4 tsp Celtic sea salt
1/4 cup butter or coconut oil
4 TBS Swerve (or a few drops stevia glycerite)
1-2 TBS water (just enough to hold dough together)
1/4 tsp allspice
1 tsp ground ginger
1/4 tsp ground cloves
1/2 tsp cinnamon
In a large bowl cream the butter and sweetener together until very smooth. Sift the spices, salt and whey into the almond flour, then slowly add the almond flour mixture into the butter mixture. Mix until well combined, then slowly add water just until the dough is soft, yet able to roll out. Form into a tight ball and cool in the fridge to chill.
Preheat oven to 325 degrees F. Place the dough onto a non-stick surface (I used parchment paper), then top it with another piece of non-stick surface (again, I used parchment paper) roll the dough out into about 1/4 inch high. Cut the dough with cookie cutters, and place onto a baking sheet.
Bake the cookies for 7 minutes, or until light brown. Then turn off the oven and leave the cookies in for an additional 10 minutes, this will create a crispier cookie. Set the cookies out to cool and decorate with cream cheese frosting! Makes 12 cookies.
NUTRITIONAL COMPARISON (for 1 large cookie):
Traditional Gingerbread Cookies = 161 calories, 24.4 carbs, 0.6g fiber
"Healthified" Cookies = 86 calories, 7.2g fat, 3.6g protein, 1.8g carbs, 0.8g fiber (75% fat, 17% protein, 8% carbs)