Lemon Poppy Seed Pavlova Cake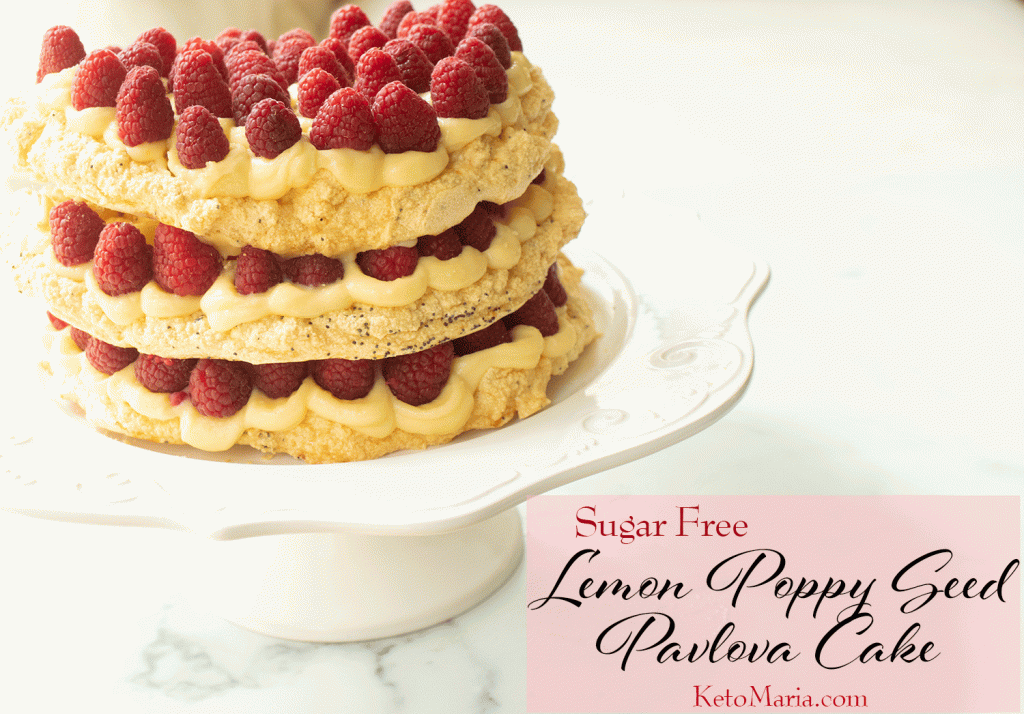 This sugar free Lemon Poppy Seed Pavlova Cake is a show stopper! It is stunning! Just make sure to take photos before you cut into it because pavlova cakes taste delicious but crumble once you cut into them!
I'm always experimenting with protein sparing recipes and this Lemon Poppy Seed Pavlova cake is perfect for those of you looking to add protein without a lot of fat.
There are two options for this Lemon Poppy Seed Pavlova cake. You can use my lemon curd filling or if you want to add even more protein and lower the fat to make this into a protein sparing pavlova cake, you can use my very popular protein sparing egg pudding recipe. I had recipe testers test out this protein sparing lemon pudding recipe and it is great for filling this pavlova cake with.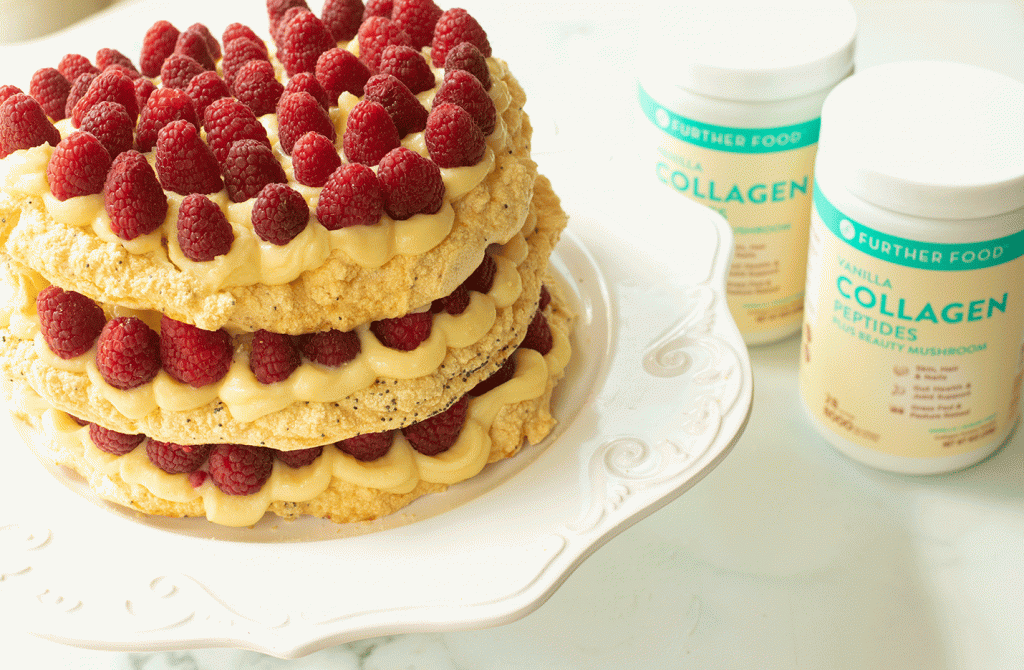 I like to add collagen into my Lemon Poppy Seed Pavlova Cake for an extra punch of health.
I love using collagen for the multiple benefits and we are picky about what brand of collagen I use. You all know that products are not always created equal and that is the same with collagen brands. That is why we use Further Foods collagen and gelatin. The quality and potency is the highest you can find!
Further Foods has an amazing Vanilla Collagen peptide with Beauty Mushroom!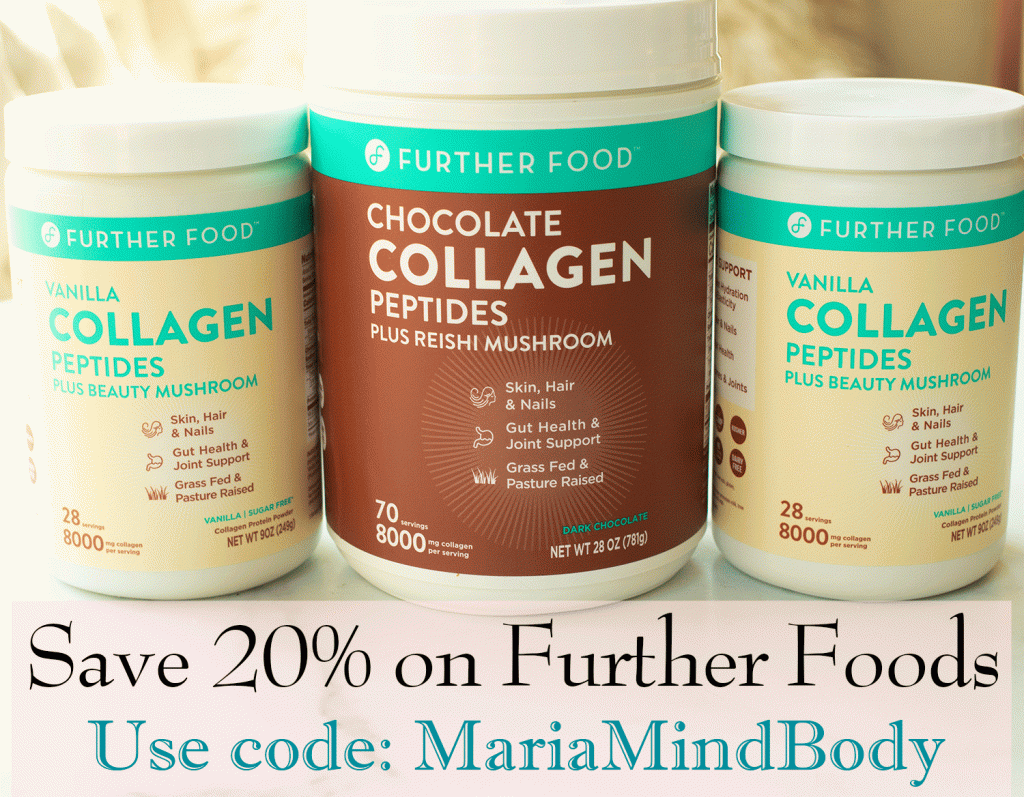 Here are some details about Further Foods Vanilla Collagen:
This expert developed collagen blend combines their high quality grass-fed, pasture-raised collagen peptides with vanilla & beauty-boosting mushroom. It's keto approved, sugar free, and has 0g of net carbs, 0g of sugar! (note, if doing carnivore, I would stick with the plain collagen)
Daily use of collagen peptides can help reduce wrinkles, promote youthful radiant skin, strengthen hair & nails, build stronger bones, and support gut health.
100% CLEAN INGREDIENTS: The ONLY vanilla protein powder made with 100% real food ingredients. And it is sweetened with monk fruit, one of our favorite sweeteners.
It's super easy to use! Add 1-2 scoops of this vanilla goodness to warm almond milk or water to make a delicious drink.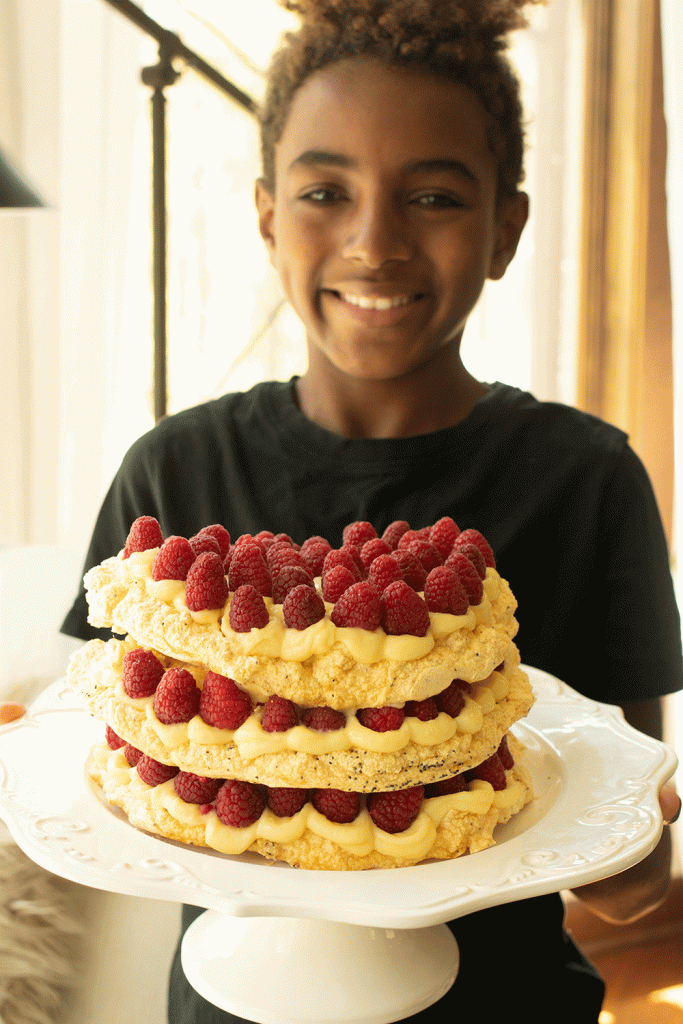 Click HERE to learn more about Protein Sparing Modified Fasting.
Lemon Poppy Seed Pavlova Cake
Ingredients
10

large

egg whites

room temp

1 1/4

cups

powdered erythritol

or powdered allulose

1/4

teaspoon

cream of tartar

1/4

teaspoon

Redmond Real salt

2

scoops

Further Food Vanilla Collagen

use code MARIAMINDBODY for 20% off

3

tablespoons

poppy seeds

Zest from 1 lemon
OPTION 1: LEMON CURD FILLING:
1

cup

Natural Sweetener

or erythritol and 1 tsp stevia glycerite

1/2

cup

lemon juice

4

large

eggs

1

tablespoon

finely grated lemon peel

8

tablespoons

coconut oil

or butter if not dairy free
OPTION 2: PROTEIN SPARING FILLING:
10

large

hard boiled egg whites

or scrambled egg whites

1/2

cup

unsweetened almond milk

or hemp milk if nut free (only use 1/4 cup if using scrambled whites)

1/4

cup

fresh lemon juice

1/2

cup

powdered erythritol

or equivalent amount of liquid or powdered sweetener

2

teaspoons

lemon extract

⅛

teaspoon

Redmond Real salt
Instructions
Preheat oven to 200 °F.

Draw three 9 inch circles with a marker on a piece of parchment paper. Flip the paper over so you aren't placing the cake onto ink. Place the parchment onto a large baking sheet. Set aside.

Place the egg whites, sweetener, salt and cream of tartar into a stand mixer (or large bowl) and mix on high speed until stiff peaks form, about 5-7 minutes. Add the Further Foods collagen, poppy seeds and lemon zest and stir to combine. Room temperature eggs will whip better and faster.

Evenly distribute the meringue mixture onto the three circles on parchment paper. Form the mixture into three cake layers that are 1 inch high circles that are evenly shaped. Flatten the top so the layers sit on top of each other easily when you assemble the cake.

Place the baking sheet into the oven and bake for 3 hours. After 3 hours, turn the oven off and allow the meringue to dry in the oven.

Meanwhile make the filling.

For Lemon Curd: Combine natural sweetener, lemon juice, 4 eggs and lemon peel in heavy medium saucepan and whisk to blend; add coconut oil. Whisk constantly over medium heat until mixture thickens and coats back of spoon thickly (do not boil), about 12 minutes. Pour mixture through strainer into medium bowl. Place bowl in larger bowl filled with ice water and whisk occasionally until lemon curd is cooled completely, about 15 minutes. Can be made 1 day ahead.

For Protein Sparing Filling: Place all the ingredients into a blender and puree until very smooth. Taste and adjust sweetness to your liking.

Place the bowl in the fridge until cakes are cooled.

To assemble, place the one meringue layer on a cake platter. Use a piping bag if you want to be fancy (or use a knife) to spread 1/3 of the lemon curd filling over the first layer. Top with a layer of raspberries. Repeat with remaining cake, filling and raspberries.

Photograph your cake now because once it is cut, it isn't as beautiful, but it tastes great! Use a very sharp knife to cut into slices and serve.
Notes
Protein Sparing Version:
60 calories, 0.5g fat, 8g protein, 6g carbs, 3g fiber
P:E ratio: 2.3
Nutrition
Calories:
166
|
Fat:
14
g
|
Protein:
7
g
|
Carbohydrates:
6
g
|
Fiber:
3
g
|
P:E Ratio:
0.4
TESTIMONY OF THE DAY
"Hi Maria Emmerich!
5/2019 on the left = 329 lbs , multiple medications, diagnosed with hypertension, high cholesterol, diabetes, poor self esteem , insomnia
5/2021 on the right = 116 lbs, NO medications, no more diabetes, no more hypertension, self esteem maxed out , sleeping and happier
Keto changed my life!" – Kim
Most people I consult are doing keto totally wrong. Get fast results with the my NEW Keto Packages!